Broadly defined commodities rebounded last week, posting the strongest gain for the major asset classes.
The iPath Bloomberg Commodity (NYSEARCA:DJP) popped 2.6% over the five trading days through Oct. 13. The rise marks the first weekly gain in four weeks, lifting the exchange-traded note to its highest close since April.
Nearly all corners of the major asset classes posted gains last week. The lone exception: junk bonds in the US via the SPDR Bloomberg Barclays High Yield Bond (NYSEARCA:JNK). The ETF was unchanged on Friday vs. the week-earlier close.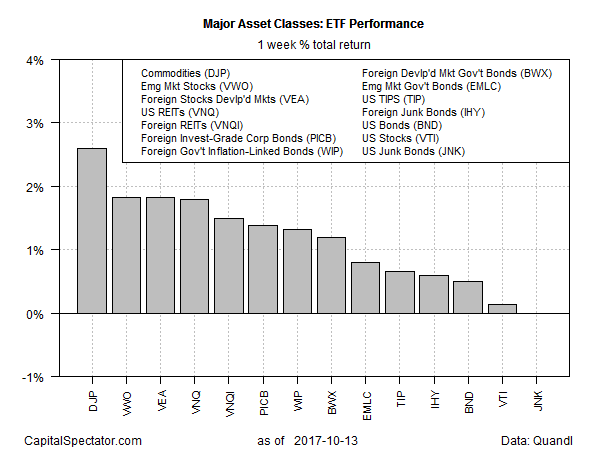 For one-year results, foreign stock markets are in the lead. The Vanguard FTSE Developed Markets (NYSEARCA:VEA) is up 24.5% on a total return basis over the 12 months through Friday. The gain is fractionally ahead of the second place performer in the one-year column: the Vanguard FTSE Emerging Markets (NYSEARCA:VWO), which is currently posting a 24.4% total return.
Meanwhile, commodities - despite last week's gain - remain in last place for one-year changes through Friday. DJP is down slightly, dipping 0.4% vs. its year earlier price.