Micron Technology (MU) shares are seeing heavy option volume once again. In an article first published in our premium member area of SA Marketplace, we noted the heavy directional bullish options volume on October 10.
Strong Offering
Micron shares have surged by nearly 90 percent this year, easily beating the S&P 500 rise of only 14 percent. The company recently priced a $1.2 billion equity offering at $41. The deal was upsized, from an original offering of $1 billion. The upsized deal suggest the stock saw a good deal of demand, while the pricing at $41 was reasonably tight to the stock closing price on the prior day, around $41.50.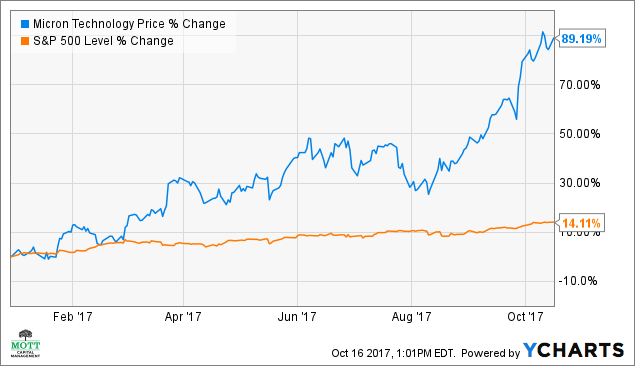 MU
data by
YCharts
Big Option Volume
Option volume for expiration on October 20 is heavy given the short period until expiration. The $41.5 long straddle is implying that shares could rise or fall by nearly 3.25 percent by Friday. The cost of buying one put and call is $1.35. The $40 contracts have traded almost 43,000 contracts in total on October 16. At a price of $1.65, shares of the stock would need to rise to $41.65 just to break even. Given the time value is at nearly zero, a buyer of the calls is paying roughly a $0.20 premium or 13 percent over the intrinsic value of approximately $1.45. That's because implied volatility is nearly 35 percent, which is 5 times more than the S&P 500 implied volatility of 7 percent. It suggests that traders are betting that shares of Micron to continue to rise this week. It is no small bet either because it represents nearly $6.0 million in notional value and the equivalent of 4.3 million shares of common stock.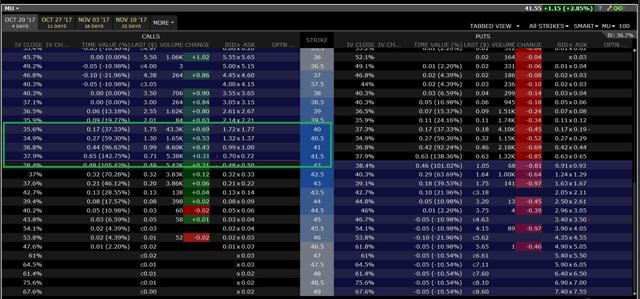 (Interactive Brokers)
The options for November 17 expiration also are seeing high levels of implied volatility at 38 percent. The $44 strike price options have seen nearly 31,000 contracts traded on the day, and at a price of roughly $1.00, suggesting the stock would need to rise to about $45, or 8.5 percent over the next 32 days, just to break even. Like the other options, this represents a notional value of about $3.1 million and represents nearly 3.1 million shares of common stock.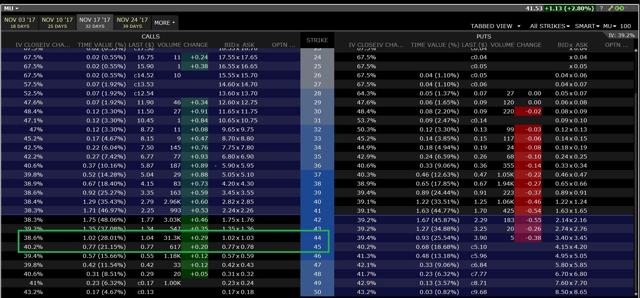 (Interactive Brokers)
Strong Technical View
From a technical view, the stock has found solid support at $40.50, since the deal's pricing, which again suggests there is strong buying interest in the stock. Should the stock break above $42, it indicates the shares could continue to rise like the heavy volume in the options market is betting.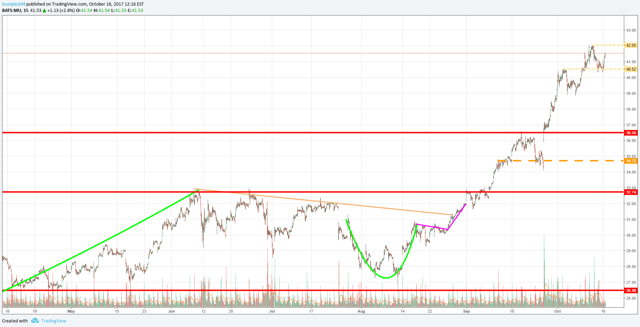 Micron shares look set to continue to rise in the near to medium term, with some traders looking for nearly 10 percent in a just a couple of weeks.
Disclosure: I/we have no positions in any stocks mentioned, and no plans to initiate any positions within the next 72 hours.
I wrote this article myself, and it expresses my own opinions. I am not receiving compensation for it (other than from Seeking Alpha). I have no business relationship with any company whose stock is mentioned in this article.
Additional disclosure: Mott Capital Management, LLC is a registered investment adviser. Information presented is for educational purposes only and does not intend to make an offer or solicitation for the sale or purchase of any specific securities, investments, or investment strategies. Investments involve risk and unless otherwise stated, are not guaranteed. Be sure to first consult with a qualified financial adviser and/or tax professional before implementing any strategy discussed herein. Past performance is not indicative of future performance.