Most sectors have posted strong performances through the first three quarter of the year, but there has been one notable laggard: retail. Many retail names have badly lagged the major indices in past year, with some of them being among the few stocks to post 52-week lows lately. In this commentary we'll examine the sector, focusing on the strongest and weakest areas among actively traded retail stocks. I'll also answer the question that the some investors are asking: "Could retail stock weakness eventually undermine the broad market uptrend?"
A narrative that investors are being fed by the media is that sales at department store retailers are being squeezed by declining shopping mall traffic and by increased competition from Amazon.com (NASDAQ:AMZN) and other online retailers. While there is definitely some truth to this assertion, it doesn't tell the complete story. When we dig deeper we find that there is actually more health than illness within the retail sector.
Let's begin our analysis with a broad sector overview. A quick glance at the following chart is enough to convince the pessimists that the retail sector is under serious pressure. It shows the 1-year performance of the SPDR S&P Retail ETF (XRT). Taken by itself, this graph paints a very misleading picture for the sector. Looking below the surface of the retail group reveals a bifurcated market, with some retail sub-groups performing quite well while others struggle.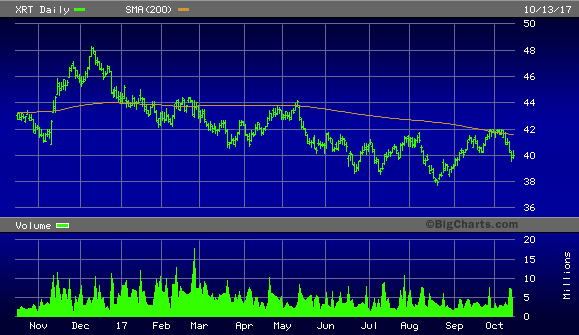 Source: www.BigCharts.com
For instance, when we examine discount and department stores known for significantly marking down prices to serve the lower end of the market, we find a refreshing amount of strength. This strength is reflected in the 1-year graph of the Dow Jones U.S. Broadline Retailers Index (DJUSRB). As can be seen here, the broadline retailers index has been trending higher along its rising 200-day moving average for most of 2016 and 2017 and is just below its all-time high from July. The message this chart sends is that the major weakness being reported in many segments of retail is grossly exaggerated.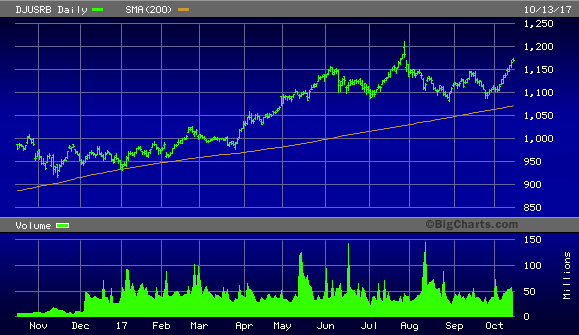 Source: www.BigCharts.com
Consider the case of major broadline retailers like Wal-Mart (WMT), Dollar General (DG), and Dollar Tree (DLTR), each of which has made new highs within the last week. These are just a few examples of companies within this category which are significantly outperforming the sector, due mainly to their focus on cost-cutting for lower-end consumers. For investors in the retail sector, a higher weighting should be assigned to these stocks due to growth potential, momentum, and relative strength factors.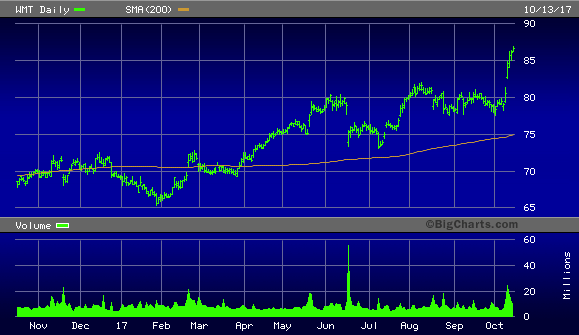 Source: www.BigCharts.com
It's not just the lower end of the retail market which is performing well, however. Retailers which cater to upper-middle and upper-class market segments are doing well, too. Consumer electronics in particular has performed strongly, with Apple Inc. (AAPL) as one of the more notable examples in this sub-category. Apple's sales for the three months ending in August were reported at 35% thanks to strong demand for iPhones. The company reaffirmed its leadership in the smartphone market with its share moving up to 17.7% from 13.4% in the prior year.
Upscale restaurateurs such as Ruth's Chris (RUTH) have also shown relative strength against the broad retail sector. RUTH is only about 5% below its 52-week high and has seen a double-digit increase in sales per share from the year-ago period. My focus on RUTH is because it's one of the components of my Upper Middle Class Index, which is an average of several stocks which cater primarily to an upper-middle class customer base. Components include TGT, SBUX, BMWYY, AAPL, and RUTH. The theory behind this index is that it serves as a reflection of the spending patterns of upper-middle class Americans. Here's what the index looks like as of Oct. 13.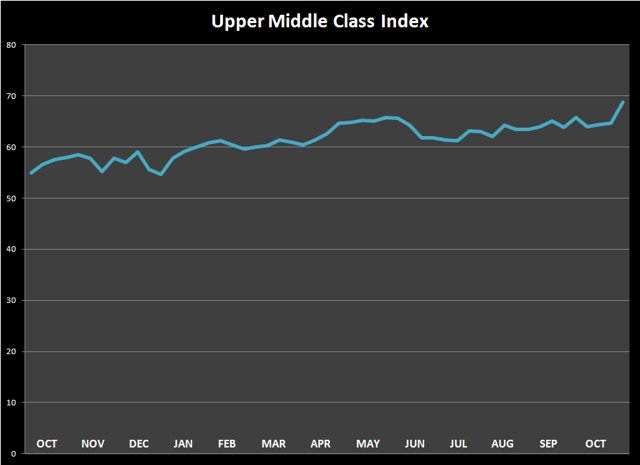 Chart created by Clif Droke
As you can see, the Upper Middle Class Index has made a new 52-week high as of last week. This suggests that the upper-middle class economy is expanding nicely as the U.S. economic recovery continues. It also bodes well for the upcoming U.S. holiday shopping season.
Online retailers have received most of the attention from analysts and investors this year, with Amazon serving as the exemplar. One of the most overlooked stocks in the internet stock category, however, is eBay (EBAY), with its attractive price/earnings ratio of 5.79 and its strong momentum as evidenced by its rolling 52-week highs in recent months. AMZN and EBAY are both components of my New Economy Index (NEI). NEI is a forward-looking measure of the retail economy based on the leading publicly traded online retailers, business service, and business transportation providers.
As can be seen here, the NEI has made a series of new all-time highs throughout this year with the latest one last week. This carries a bullish implication for the big-picture retail outlook going in the intermediate-term (3-6 month) outlook. It shows that consumers and businesses, by and large, have been anything but subdued with their personal and business-related spending. This also reflects more positively on the underlying state of the economy than any consumer confidence poll or government statistic.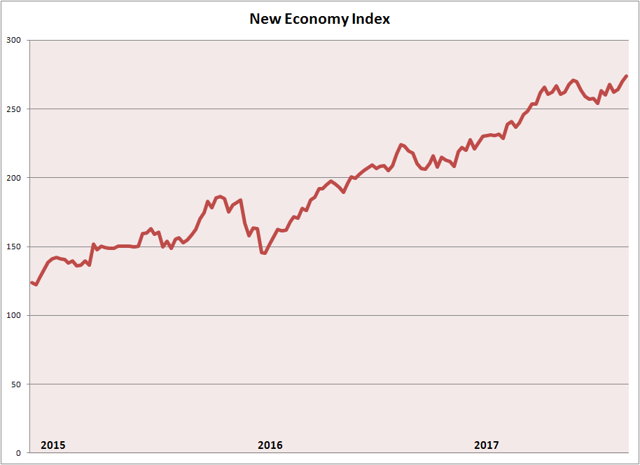 Chart created by Clif Droke
It's no secret that the biggest underperformers within the retail sector have been brick-and-mortar retailers. Among the most recognizable examples in this group are Sears Holdings Corp (NASDAQ:SHLD), Macy's Inc. (M), and JC Penney (JCP). There's no denying that each of these companies seems to be losing market share to the big e-commerce companies like Amazon, and most likely will continue to do so in the coming years. Non-store retailers, which include online shopping outlets, have by contrast seen steady sales growth and have led most retail segments this year. I expect this segment of the retail industry to lead the overall sector in Q4 and heading into 2018. The New Economy Index (NEI) shown above should be considered as a leading indication of what is to come for non-store retailers.
Indeed, e-commerce companies have been one of the retail sectors' most consistent performers. Of significance to the upcoming U.S. holiday season, online sales during festive seasons have increased in recent years, while online payment options, facilities to track shipments, 24/7 customer support and low costs are contributing to growth of the market, according to Zack's.
When we break down the various components of the retail sector it's clear that there's more latent strength than some analysts give credit for. I expect continued intermediate-term growth for ecommerce companies, as well as firms which cater to upper- and lower-income customers mentioned previously. If the signal being flashed by the NEI is correct, then the coming months should see not only outperformance in most segments of the industry, with improvement evident across the broad retail sector as represented by the XRT by early 2018.
Disclosure: I am/we are long DLTR.
I wrote this article myself, and it expresses my own opinions. I am not receiving compensation for it (other than from Seeking Alpha). I have no business relationship with any company whose stock is mentioned in this article.