American Eagle Outfitters (NYSE:AEO) is scheduled to announce earnings on Wednesday, March 7 before the open. The stock has been up and down, but has recently gained in price from a closing low price on January 13 of $12.97 to last Friday's close of $14.69.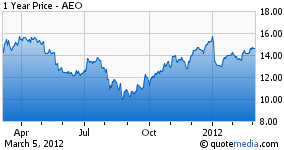 I did some historical analysis of AEO versus some of the other names in the youth apparel industry, including Gap (NYSE:GPS), Abercrombie (NYSE:ANF) and Aeropostale (NYSE:ARO) to see if I could identify any trends. I was struck by remarkable similarities in the two year graph of American Eagle vs. Gap. The pair has traded in tandem for quite a while, and an opportunity may exist for either a pairs trade or an outright buy of AEO.
I compared the market price of over a roughly three year period, from 11/20/08 to 03/02/12 and found that over that time, GPS stock was priced an average of 33% more than AEO, that is, GPS/AEO = 1.33. I chose 11/20/08 for the starting period because it worked out that the ratio was 1.33 at that time.
Over the period, the ratio would go up or down, but returned to the average of 1.33. Generally, the highest amount that the ratio would go out of whack was around 20-25%. Over the three years, the ratio would diverge 11 times, and each time would return to the average.
Is there an Opportunity in AEO Now?
On February 23, 2012 GPS reported a positive earnings call and since then, the stock has appreciated in price from $22.98 to $24.41. AEO also increased in price to a lesser degree, but the GPS/AEO ratio at 3/2/12 has now risen to 1.66.
If past history holds, either AEO is due for an increase of 25%, GPS a pullback of that amount, or some combination of the two.
Since Gap just reported positive earnings, it seems more likely that it can at least hold its current value, and that the opportunity is in an appreciation of American Eagle.
There are no guarantees that past history will hold and that there won't be a divergence between these two similar retailers. But, there is enough historical evidence to indicate an opportunity.
Recommendation: Buy American Eagle before earnings.
Disclosure: I have no positions in any stocks mentioned, but may initiate a long position in AEO over the next 72 hours.