The oil markets continue to improve. US oil prices have continued to struggle as production has remained stubbornly high. Shale has been resilient, as operators have moved to enhanced completions. This has pushed operators to hedge around $50/bbl. Oil prices continue to meet resistance at this level, and traders continue to doubt the possibility of ranging higher. The US Oil ETF (USO) has continued to struggle, and contango continues to siphon returns. When comparing US plays, there are a large number of variables to consider. D&C and LOE are just a couple of costs that differ by geography. Differentials also affect realized oil prices and add to issues associated with figuring out economics. Costs and production can change significantly from section to interval. This is the reason we see relatively large differences in estimates from operator presentations. We provided a rough estimate for the Bakken, Eagle Ford, Midland, and Delaware basins. Although the differences seem great, when we look at payback times, the economics are much more similar.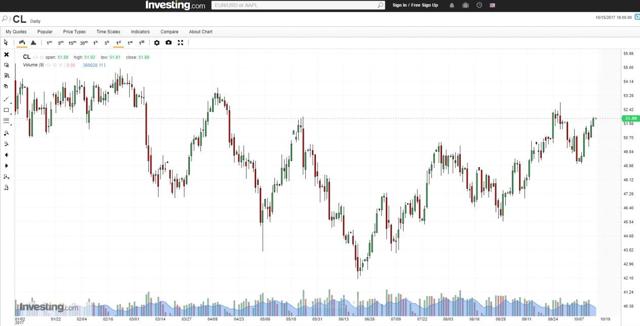 Source: Investing.com
The biggest question is whether West Texas Intermediate will break out to new 52-week highs, or is it possible or probable that US shale production can control world oil prices? Arguments are heated on both sides, and there are good reasons for both. World oil markets are complex and, to some extent, beyond understanding from a predictive stance. While many countries are relatively transparent with respect to production and demand, others provide little to no data. The US oil markets provide significant weekly data via the API and EIA reports.
There are several issues currently reshaping world oil supply and demand. EIA has overestimated US oil production. World demand continues to be revised upward. OPEC continues to adhere to production cuts. The last and most important is the upcoming Saudi Aramco IPO. We will initially cover US Production, focusing on enhanced completions.
The Delaware Basin may have more upside than any play in the US. For additional information on the specifics of the slide before it can be found here. The Delaware Basin as a whole provides a profit of over $1 million in just 18 months.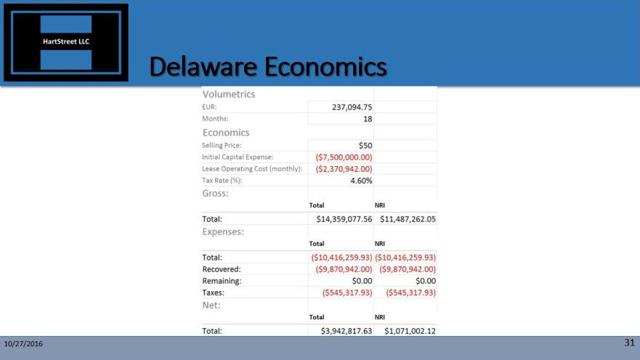 Source: Welldatabase.com
When we look at the Delaware core, the economics improve by approximately $700,000. The analysis can be found here.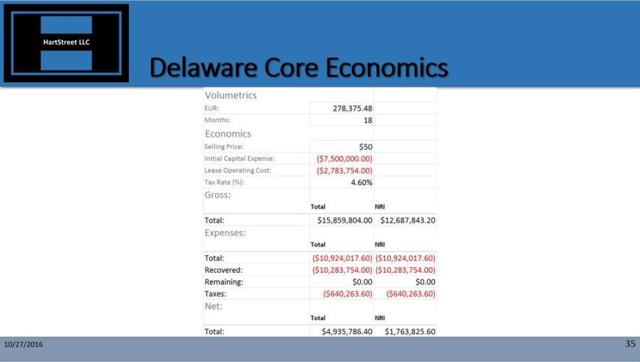 Source: Welldatabase.com
Eagle Ford economics have also improved due to better well design. In 18 months, the average well is at a deficit. It is reasonable these wells payback in less than two years. The data from this analysis is found here.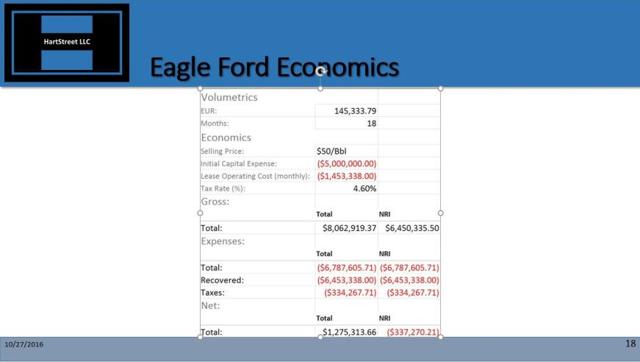 Source: Welldatabase.com
A large improvement was seen in the Eagle Ford core. This shows how much better Karnes and surrounding counties have with respect to geology. These results are shown here. The Eagle Ford core is doing almost as well as the Delaware core. This is not the case with respect to production, but lower costs are the key.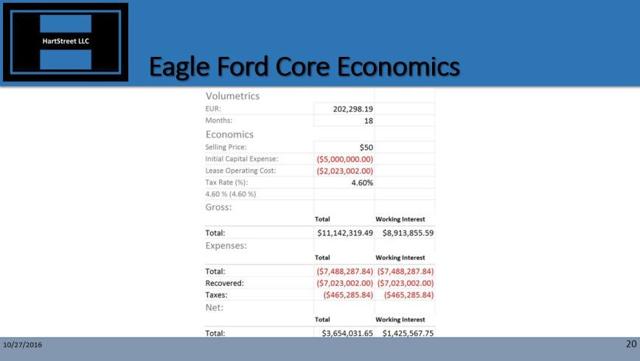 Source: Welldatabase.com
The Bakken is the beneficiary of significant pessimism based on differentials and taxes. Enhanced completions are performing well, even far away from the Nesson Anticline. After 19 months, all enhanced completions average a profit. It is still not the best play, but it can produce at $50 wellhead prices. The results can be found here.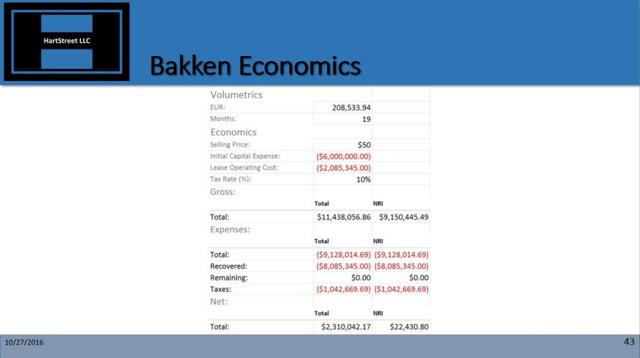 Source: Welldatabase.com
The Bakken core shows an increase in production over the play as a whole. North Dakota locations are not spaced as far apart as operators focus on higher pressured areas, but enhanced completions seem to show production to the west will increase as oil prices move higher. The analysis of the Bakken core can be found here. We did a more comprehensive analysis in North Dakota with respect to changes in well design. There is additional data on stages, proppant, and fluids.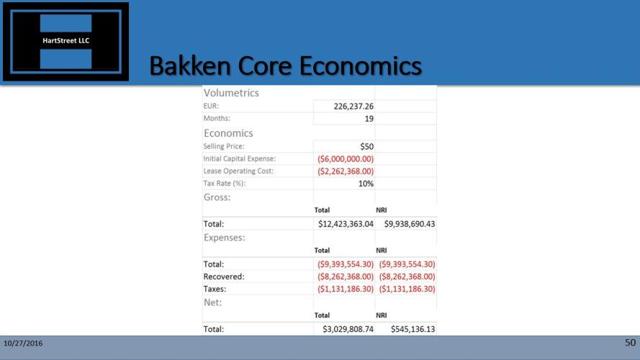 Source: Welldatabase.com
Midland Basin enhanced completions provided production data that was lower than our expectations. There is a half million dollar deficit at 18 months on average. The Midland analysis can be found here.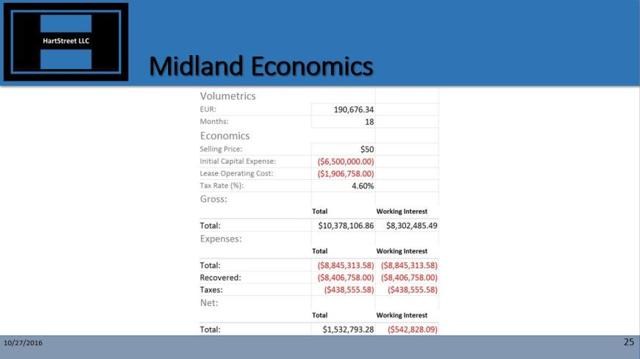 Source: Welldatabase.com
The Midland core saw a relatively large jump in oil production per well. This may show that core geology is much better than marginal areas, at least when compared to other plays. The multiple intervals could be a reason as well. The Midland core had the best economics of all plays and could have much to do with Pioneer (PXD) as it had the majority of completions. The data from this analysis can be found here.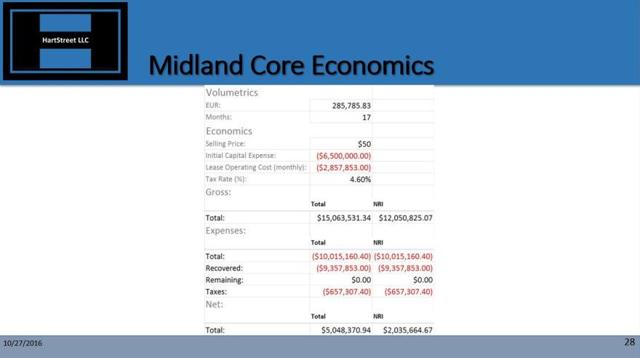 Source: Welldatabase.com
The data from the four plays shows all are well placed at $50/bbl oil. This does not include differentials, but payback times are quick enough to entice operators to keep producing. The move to enhanced completions will continue to improve operator data. Operators that are more successful in increasing production per foot will outperform. Others will disappear. The Delaware and Midland continue to be the best plays and are better placed than areas of the US.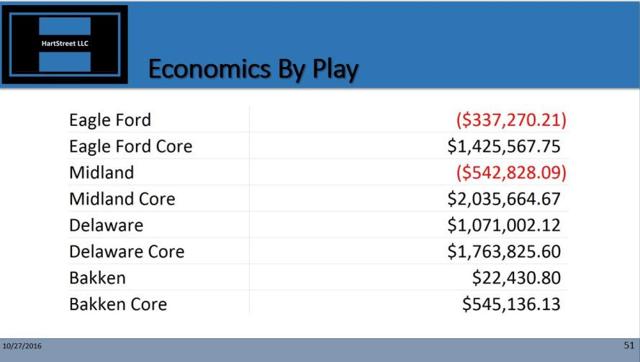 Source: Welldatabase.com
Some would argue that operators have to pump to make debt payments, and this is possible. This is not the case for larger operators that understand surviving the lower price environment leads to consolidation. Although this data looks bearish for oil prices, it doesn't necessarily translate to increasing US production (not including the Gulf). There is a difference between turning a profit and increasing production into a supply driven glut.
OPEC and the IEA continue to increase oil demand forecasts. The IEA has increased demand three months in a row. This is the most in two years. Hurricane Harvey shut down significant refining capacity in the US, and this has helped to decrease refined product inventories close to five-year average levels. Wide crack spreads should keep refining throughput high for this time of year and continue to draw down crude supplies. Chinese crude oil imports jumped to the second highest on record in September. China is on track to increase 2017 oil demand by 820,000 BO/d. Supply disruptions are also an issue. Kurdistan recently deployed troops as a possible Iraqi attack looms. There seems to be no good way to resolve this issue and could create a supply disruption of 600 KBO/d. The hardened stance of the US on Iran, and possible sanctions are another issue. OPEC cuts have seen very good compliance, and the Saudis are motivated to reduce supply as needed for the upcoming IPO. The Saudis understand an economy dominated by oil revenues is a finite game. There is a lot riding on $60 Brent, and currently, it can be accomplished. All of this provides for an interesting situation with respect to world oil prices. The WTI/Brent differential has pushed US oil exports upward and seems to provide the assertion that WTI needs to head higher or Brent lower. Current momentum points to the upside.
In summary, newer well designs have decreased payback times significantly in recent years. We could expect these types of results going forward as operators implement. $50/bbl seems to be the pivot point, as US production will increase at $55 WTI. Increasing US production can be problematic for the OPEC deal; it will be difficult to increase in a meaningful way at that price. We believe WTI will challenge 52-week highs before year end.
Disclosure: I am/we are long USO, PXD. I wrote this article myself, and it expresses my own opinions. I am not receiving compensation for it (other than from Seeking Alpha). I have no business relationship with any company whose stock is mentioned in this article.
Additional disclosure: This article is limited to the dissemination of general information pertaining to its advisory services, together with access to additional investment-related information, publications, and links. Well data is provided by WellDatabase. Accordingly, the publication of articles should not be construed by any consumer and/or prospective client as a solicitation to effect, or attempt to effect transactions in securities, or the rendering of personalized investment advice for compensation, over the internet. This information is provided for guidance and information purposes only. This information is not intended to provide investment, tax, or legal advice. The information contained herein has been compiled from sources deemed reliable and it is accurate to the best of our knowledge and belief. However, I cannot guarantee its accuracy, completeness, and validity and cannot be held liable for any errors or omissions. All information contained herein should be independently verified and confirmed. Hartstreet LLC does not accept any liability for any loss or damage whatsoever caused in reliance upon such information. Readers are advised that the material contained herein should be used solely for informational purposes. Information presented is for educational purposes only and does not intend to make an offer or solicitation for the sale or purchase of any specific securities, investments, or investment strategies. Investments involve risk and unless otherwise stated, are not guaranteed. Be sure to first consult with a qualified financial adviser and/or tax professional before implementing any strategy discussed herein. Welldatabase.com provided the data for this article. There might be a delay between upcoming articles because we are working on securing investments for Hartstreet LLC.