High-Quality Energy Stocks Are Still 30% Undervalued As Oil Enters Into A Cyclical Upturn
Summary
I look at a portfolio of 6 Junior/Intermediate producers that represent both good quality and value.
These producers (along with the universe of Junior Energy stocks) are significantly undervalued relative to WTI prices and forward earnings.
This undervaluation comes as oil inventories accelerate towards the 5-year average and Brent moves into backwardation suggesting a re-balancing is underway.
West Texas Intermediate oil prices have staged a 20%+ rebound since mid-June, but high-quality junior and intermediate energy stocks have lagged the rally significantly, only posting a 4.3% return. In addition to this, despite WTI prices only being down about 5% YTD, junior energy names collectively remain 30% in the red YTD, and as I will demonstrate, are undervalued according to nearly every metric available.
For investors, this undervaluation couldn't come at a better time, as oil is showing objective signs of entering into what should be a sustainable cyclical upturn. Even if the price of oil only gains a few dollars from current levels in 2018, the upside for energy as they return to more normal valuations is significant. If the oil rallies into the $60 range over the coming years, it could be a generational buying opportunity for energy stocks.
Oil Stocks Are Disconnected From Bullish Oil Fundamentals
The current rally in the price of oil is clearly linked to positive fundamental developments, but energy stocks still seem unconvinced a sustainable upturn in oil is underway. To start, U.S. oil inventories have declined relative to the 5-year average for 27 of the past 35 weeks, and 3 of the weeks where they built were hurricane related: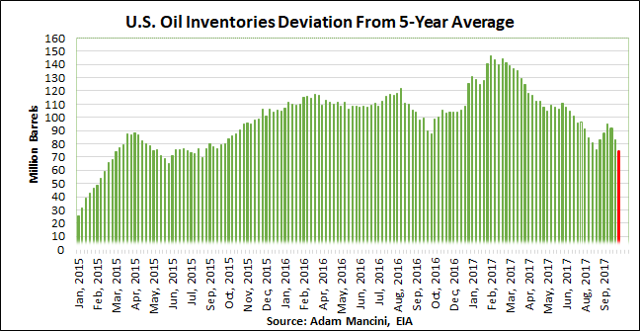 U.S. oil inventories are now the closest they have been to the 5-year average since mid-2015. While oil prices have responded accordingly, energy stocks are trading in a way that is totally oblivious to the underlying developments in the oil market.
Stocks are of course, forward looking, but as John Kemp recently mentioned, all the elements are in place for a cyclical upturn in 2018 and 2019. Most global producers are operating near full-capacity, and as Kemp notes, the excess supply needs to come from U.S. shale, Saudi Arabia (which will need higher prices) and conflict-prone Africa.
U.S. shale is consistently disappointing expectations, with the latest EIA Petroleum Status Monthly showing L48 production up only 54,000 bpd, an annualized rate of only 650,000 bpd.
High Quality E&Ps Are Undervalued According To Every Measure
With the positive oil fundamentals in mind, I looked at 5 energy names that I believe represent a high-quality, good-value sample of the Junior/Intermediate energy space in Canada (where the valuation gap is even more pronounced). The names I selected were: Crescent Point Energy (CPG), Spartan Energy Corp. (OTCPK:PTORF) (SPE.TO), Enerplus Corporation (ERF), Raging River Exploration (OTC:RRENF) (RRX.TO), Baytex Energy Corp. (BTE), and Whitecap Resources Inc. (OTCPK:SPGYF) (WCP.TO).
I have written about some of these names previously, and they all have exposure to top-tier North American oil plays. I summed the prices of these names, and as you can see, prices for the group are currently trading at around the same level they were back in early 2016 when oil was sub-$30 per barrel: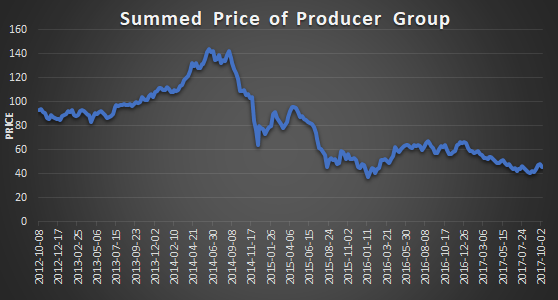 Source: Adam Mancini
These names have barely reacted at all to the recent oil increases. This is more evident when I take the summed price of my producer group and plot it against the price of WTI over the past 5 years. The yellow dot indicates where prices are currently, and it is clear that for a WTI price of ~$50 per barrel, the group as a whole should trade at a significantly higher price. To trade in-line with the yellow trend-line, the producer group as a whole would need to trade about 33% higher, making the group about 30% undervalued: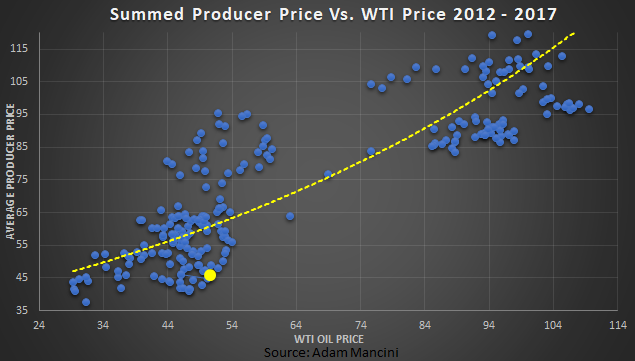 It is important to note that this discount does not just apply to my select group of companies. It even applies to small cap U.S. energy companies as demonstrated in the below chart from Scotiabank. It is important to note that the ratio of small cap energy stocks to WTI was around 14 in early 2016 when oil bottomed.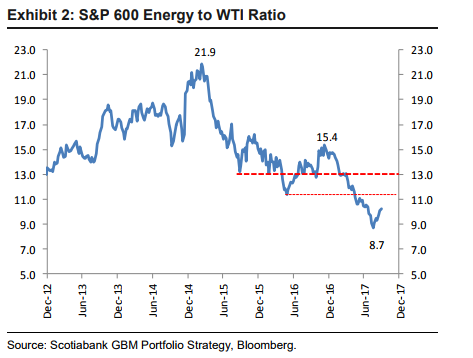 Source: Scotiabank
Energy Stocks Are Also Undervalued Relative to Forward Earnings
Finally, assuming an average oil price of US$55 in 2018, my group of producers is significantly undervalued relative to 2018 forward earnings (which I am measuring using debt-adjusted cash flow). Debt-adjusted cash flow is simply cash flow plus interest expenses, and I am valuing these companies by looking at the enterprise value (market capitalization + debt) to debt-adjusted cash flow ratio (or EV/DACF). Cash flow figures are in millions of dollars, currency is CAD.
| | | | |
| --- | --- | --- | --- |
| Producer | 2018 Debt-Adjusted Cash Flow | 2018 Enterprise Value/Debt Adjusted Cash Flow | Discount to 5-Year Avg |
| CPG | $1,882.00 | 4.903294368 | -40.20% |
| SPE | $213.90 | 6.372136512 | -36.28% |
| WCP | $634.00 | 6.61829653 | -10.56% |
| BTE | $416.00 | 6.334134615 | -22.75% |
| RRX | $335.00 | 5.913432836 | -26.08% |
| ERF | $594.70 | 5.34891542 | -10.85% |
| Sum/Avg | $4,075.60 | | -24.46% |
Source: Adam Mancini, company disclosures, TD Securities cash flow estimates
In the above chart, I took 2018 debt adjusted cash flow estimates at $55 oil for each producer, determined the current EV/DACF ratio, and then compared it to the 5-year average EV/DACF for each company. The group as a whole is currently at a roughly 25% discount to the 5 year average.
It is worth noting this undervaluation also applies when looking at book value as well: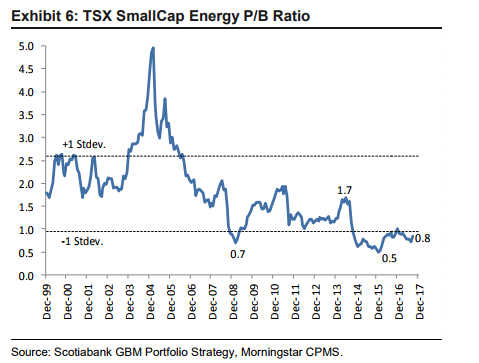 Source: Scotiabank
The Bottom Line
My producer group is currently 33% undervalued relative to WTI and 25% undervalued relative to forward earnings, meaning the sector has significant upside in 2018 with only small increases in the oil price.
Disclosure: I am/we are long CPG, BTE, PTORF. I wrote this article myself, and it expresses my own opinions. I am not receiving compensation for it (other than from Seeking Alpha). I have no business relationship with any company whose stock is mentioned in this article.
Editor's Note: This article discusses one or more securities that do not trade on a major U.S. exchange. Please be aware of the risks associated with these stocks.