The USDA recently released its October World Agricultural Supply and Demand Estimates Report. They reduced preliminary estimates of U.S. soybean (SOYB) production by 290,000 metric tons for the recently concluded 2016/17 marketing year. They also reduced forecasts of soybean production for 2017/18, albeit marginally by 10,000 metric tons. This sent soybean futures surging by $0.27. However, when measured since our analysis in July returns have been flat.
At the time of our last published article on July 27, 2017, entitled, "A Bull & Bear Case for Soybean Futures", the estimate of the average farm price for 2016/17 was $9.50 per bushel, for 2017/18 it was $9.40. September futures were $9.94 per bushel while November futures were $10.07 per bushel.
Friday, a day after the release of the October USDA WASDE report the estimate of the average farm price for 2016/17 was $9.47 per bushel, down $0.03; for 2017/18, it was $9.20, down $0.20. November futures were $10.00 per bushel, down just under $0.07.
So Why Did Prices Surge?
In addition to lower estimated and forecast soybean production for the most recent past and current marketing years, respectively, the USDA reduced U.S. and global ending stock estimates, based largely on surging global export sales. According to the USDA, global soybean exports have increased by 20 million tons over the last two years. Demand for soybeans by China has supported this export growth. China accounts for nearly two thirds of global trade. The USDA estimates that China imported 500,000 metric tons more than estimated in September, bringing the total to 92.5 million metric tons. Brazil and the United States have exclusively supplied this demand growth.
A Soybean Duopoly
Over the last five years, Brazil has captured a greater share of global exports, 49% vs. 40% for the U.S. The USDA attributes this growth to higher growth in production as well as a smaller domestic market. While Brazil does in fact have lower total domestic demand it is worth noting that the annual growth rate of demand in Brazil over the last 3, 5, and 10 years is higher than in the United States as illustrated in figure 1.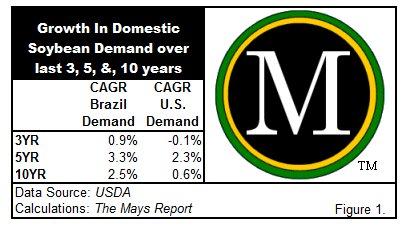 The USDA forecasts further growth in global soybean exports for the next year. They expect imports to rise another 5 million tons to 149 million tons. In my opinion, should current estimates be realized the U.S. would be in a superior position to meet the growth in demand as their year-over-year growth in soybean supplies nearly doubles the growth in domestic demand as illustrated in figure 2. At the same time, forecasts are for growth in Brazilian soybean supplies to shrink compared to domestic demand, also illustrated in figure 2.

According to the USDA, U.S. soybean export bids in September FOB gulf averaged $379 a ton, which was $7 higher than August. In Brazil Paranaguá FOB averaged $384 per ton, up $6 from the earlier month. According to the USDA, Brazilian prices trended higher in September due to weather issues in South America. However, soybean prices have trended lower in early October due to farmer selling.
So, Bull or Bear?
Chinese consumption growth is compelling and reduced production and supply forecasts over the next year may offer some speculative bullish trading opportunities. However, both U.S. and global supplies are still at record levels after this months revisions. I'm maintaining that over the longer term, which I'm defining as one to two marketing years from now, a further price correction towards the long-run average price per bushel, which is $7.34.
Disclosure: I/we have no positions in any stocks mentioned, and no plans to initiate any positions within the next 72 hours. I wrote this article myself, and it expresses my own opinions. I am not receiving compensation for it (other than from Seeking Alpha). I have no business relationship with any company whose stock is mentioned in this article.