The following summary of our Editors' Picks for the previous trading day is a potential new feature that we're currently testing. Each article listed below has been selected by our editorial staff as a widely appealing and highly convincing analysis with a clear actionable takeaway. Please use the comment box at the end of this article to express your thoughts. We are grateful to hear your feedback.
Picks of the Day
Brad Thomas informs us that many outstanding loans originated at the peak of the pre-crisis market are scheduled to mature over the next few years. This will affect REIT investors, he argues. In this valuable article, Thomas presents some background on various REIT investments and includes a more detailed analysis on Apollo Commercial Finance (ARI).
Tags – REITS, Income Investing
CWMF's article presents a detailed analysis on Macerich (MAC), a small REIT with high quality properties which yields around 5% at today's price. The author argues that the REIT is trading at a substantial discount to the fair market value of its net assets and has all the characteristics of a solid play in the space.
Tags – REITs, Income Investing

In the second of three Brad Thomas articles in today's daily roundup, the author details a play for those looking to invest in shopping center REITs. Thomas argues that, "In addition to a small geographic profile" Urstadt Biddle Properties (UBA), a REIT which concentrates on smaller, under the radar properties, has a healthy concentration of supermarket tenants. However, two other REITs which the author previously analyzed (Kimco Realty (NYSE:KIM) and Brixmor Property (NYSE:BRX)) seem to be the better option.
Tags – REITs, Income Investing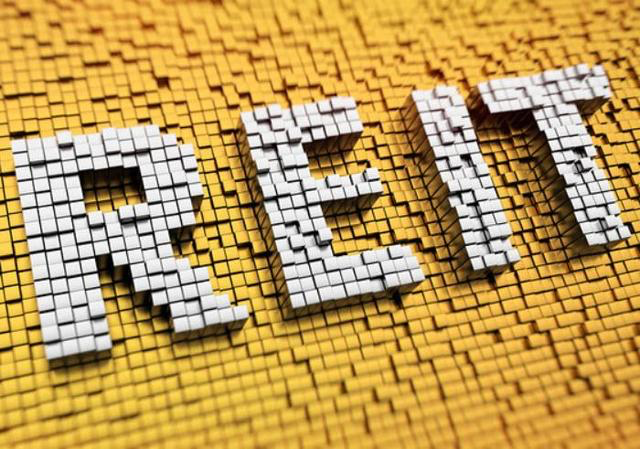 Brad Thomas argues that allocations to infrastructure REITS have been on the rise. Supported by a thorough analysis of popular players in the space, Thomas argues that investors who demand predictable cash flows should look into CorEnergy (CORR) and other infrastructure REITS such as American Tower (AMT), Crown Castle (CCI), and Power REIT (PW).
Tags – REITS, Income Investing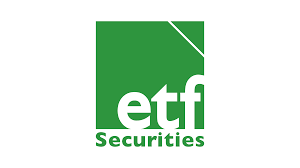 In this PDF report, Maxwell Gold of ETF Securities lays out his monthly Precious Metals Monitor report. In this comprehensive report, the analytics company discusses pertinent fundamental information and opinions on various precious metals, such as Gold (GLD), Silver (SLV), and Palladium (PALL).
Tags – Precious Metals, Commodities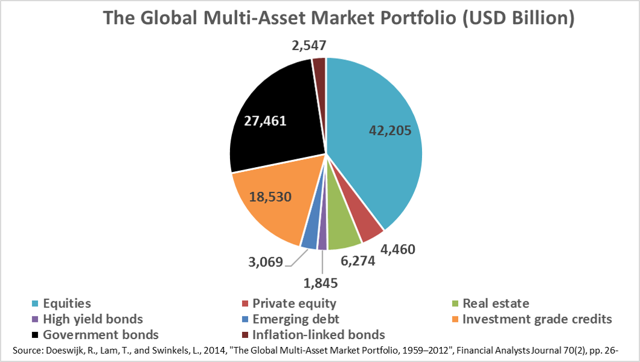 It's no secret that Bitcoin and other cryptocurrencies are a fascinating investment opportunity. Since the launch of the cryptocurrency nearly a decade ago, the number of ways to invest in Bitcoin has multiplied and so has the number of Bitcoin-specific exchanges. Jeroen Blokland discusses how cryptocurrencies and Bitcoin in particular impact traditional investment portfolios. Blokland's article is a must read for those interested in alternative assets.
Tags - Cryptocurrency, Alternative Assets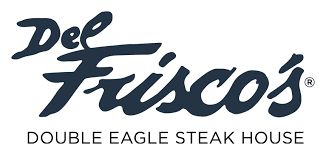 (Source: Del Frisco's)
In a highly convincing article, Pinxter Analytics discusses both the potential effects of Del Frisco's (DFRG) going private and remaining in the public market. Either way, argues the author, the company "has tremendous growth opportunity in its developed and unpenetrated market."
Tags – Long Ideas, Dividend Investing

Maks Financial Services presents us with a highly-detailed objective analysis of PIMCO's Dynamic Credit and Mortgage Income Fund (PCI). This closed-end fund, trading slightly below its NAV, presents risks to investors without compensation and should be avoided.
Tags – Income Investing, Fixed Income, Closed End Fund
While Eric Parnell's titles are generally short and simple, his analysis is anything but. By stepping back and taking an objective view of the grocer industry, Parnell argues that the Amazon-Whole Foods merger isn't disrupting or going to disrupt it as much as some think. This is not to say that Amazon (NASDAQ:AMZN) isn't a good investment, just that others are illogically hyping the merger. Parnell hints at Kroger (NYSE:KR) and Costco (NASDAQ:COST) as two players who have been hit hard and may present investors good value. In the end, Parnell wisely informs investors to "remain diligent, do your own homework, ignore the short-term noise and pursue the substance while protecting against downside risk in working to achieve long-term success."
Tags – Long Ideas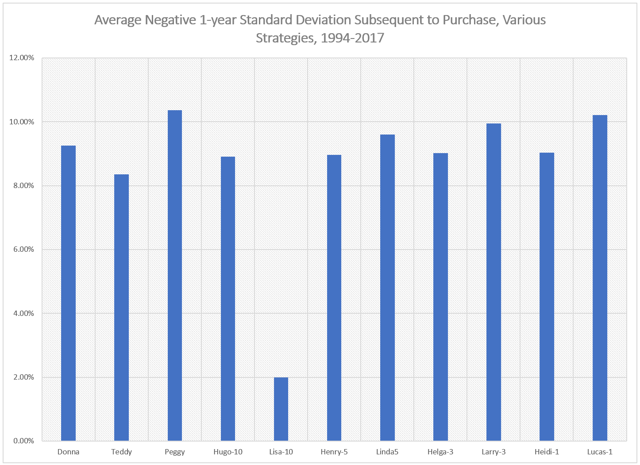 In part two of Investing Doc's series on portfolio strategy, the author analyzed whether dollar cost averaging beat other market timing strategies. By looking at historical price data and hypothetical examples, the author finds that dollar cost averaging may not be the better alternative since it doesn't do well at protecting an investor's downside. While there are a multitude of other factors to take into account before making an investment decision, the author's findings may be interesting to some.
Tags - Portfolio Strategy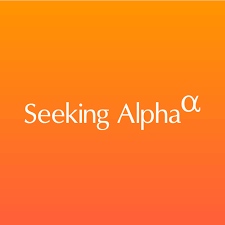 In his Daily Digest, Seeking Alpha's own Gil Weinreich discusses arguably the most important aspect of investing: risk management. Gil hunts the web to curate us with words of wisdom of the most credible financial professionals. Included in this report is advice about building a cash reserve and risk reduction during retirement. It's a valuable read for retirees or those planning to retire in the near future.
Tags – Retirement Planning, Income Investing, Risk Management
Our Pro Pick Of The Day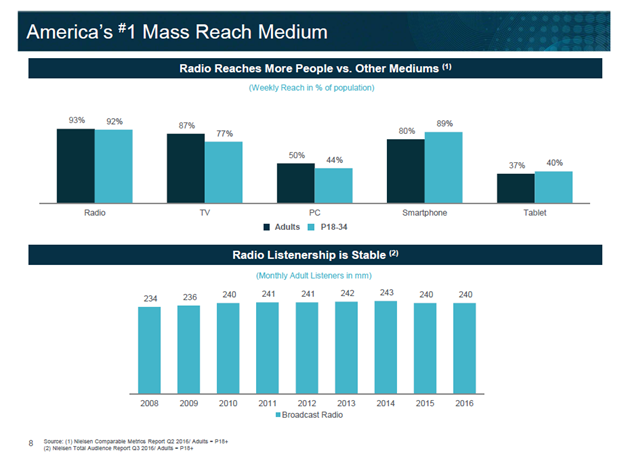 In the Pro pick of the day, Uncorrelated Returns discusses how a transformational merger with CBS may turn an undervalued and underexposed small cap into a power player. The author argues that ETM's leading properties in key markets presents the company with substantial upside. Our editors highly suggest this article to those looking for a compelling long idea.
Theme – Long Ideas, Small Cap
Weekend Roundup
McDonald's Munchies - Debra Borchardt's Idea Of The Month by Debra Borchardt • KO, PEP, YUM
PRO Weekly Digest: Under The Radar Value Investing With The Boyar Value Group by SA PRO Editors • CPLP, OTCQX:AXAHY, CNDT
13 Straight Distribution Hikes, Insiders Buying, 9% Yield, Big Deal Just Completed by Double Dividend Stocks • OTCPK:ANCUF, CST, ETP
Retirement Strategy: Will Your Nest Egg Last A Lifetime? by Regarded Solutions • JNJ, MO, O
The Land Where Cash Is King by SA Marketplace • LNG, AMLP, AMZA
Safe, Secure 7% Yield From This Bond-Like BDC by
Energy Recap: Is The Saudi Aramco International IPO In Doubt? by
SA Editor Michelle Carini • USO, UNG, OIL
Who To Follow: My Favorite Pseudonyms by SA Editor George Moriarty • SPY, QQQ, DIA
Have any thoughts about these articles? Email us at editorspicks@seekingalpha.com, and we'll do our best to get back to you quickly. In the comment section below, let us know which articles you thought were the most convincing and valuable to our community.
Click here to see editorial picks from Friday, October 13, 2017.
Disclosure: I/we have no positions in any stocks mentioned, and no plans to initiate any positions within the next 72 hours. I wrote this article myself, and it expresses my own opinions. I am not receiving compensation for it. I have no business relationship with any company whose stock is mentioned in this article.
Editor's Note: This article discusses one or more securities that do not trade on a major U.S. exchange. Please be aware of the risks associated with these stocks.