When a formerly high-flying stock has been trashed, it pays to figure out "why" before committing new money to that name.
Once the reason is established, you can decide if the downturn represents a great buying opportunity or a value trap.
CVS Health (CVS) is down substantially from its 2015 peak near $114. It closed last week at just $72.60, a plunge of 36% over 26-months. While broad market indices were climbing to new heights, CVS experienced a severe bear market decline.
The company is financially sound. Until recently, its shares had trended predictably higher over time as revenues, dividends and EPS grew over time.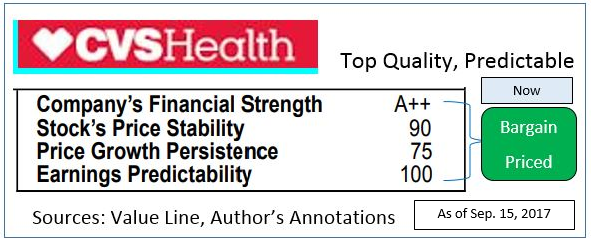 The high scores shown above were well earned. From 2010 through 2016 CVS's EPS climbed from $2.69 top $5.84. Sales grew by over 136%. Annual dividends increased from 35-cents to $2.00. The shares advanced from south of $27 to north of $113. All was well with the world.
The stock's average P/E during those seven years was a moderate 15.1x. A typical yield ran about 1.43%.
At its Oct. 13, 2017, close of $72.60 CVS is available for just 12.4x this year's, and 11.4x its 2018 EPS estimate. Shareholders are pocketing generous 2.75% current yields.
That yield is better than what was earned by jumping into CVS if you caught the to-the-penny low during 2008's crash. Today's multiple is similar to the stock's four "best buying opportunities" (green-starred) in 2010, 2011, 2013, 2014 and 2015.
CVS's two "should have sold" moments (red-starred) originated when the shares were clearly overpriced based on historical valuation parameters.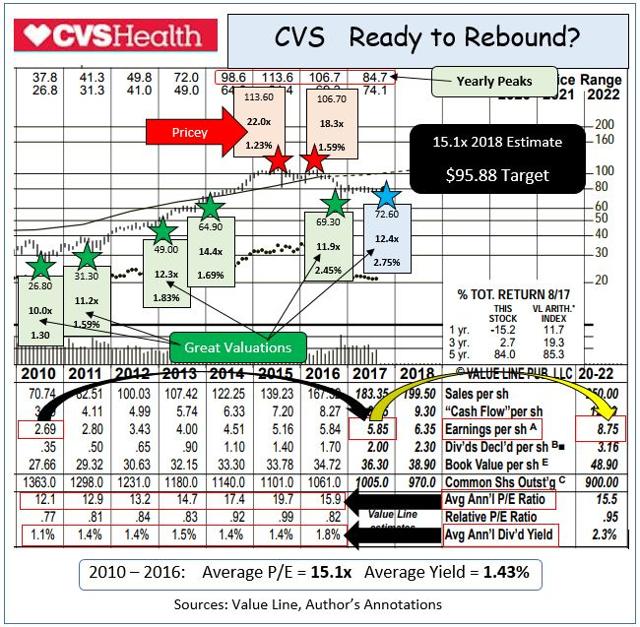 A simple regression-to-the-mean P/E supports a 12 to 18-month target price near $96. A reversion to a more normalized yield suggests $130 to $140 would not be out of the question within a few years.
Those goals are well within Value Line's long-term projections for CVS. Their research expects CVS's profits will flourish, dividends will continue expanding and the firm's P/E will revert back to at least its old normal.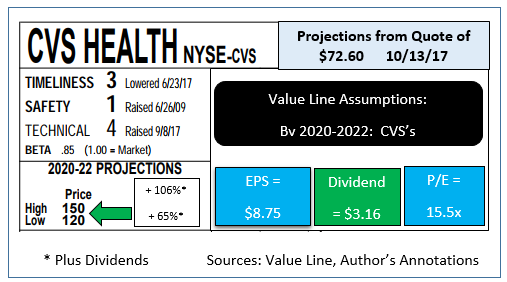 That positive view on the company's future prospects is not an isolated one. Standard & Poors research calls for an EPS rebound to $6.38, a few cents higher than Value Line's projection. S&P's computer-generated, present-day, "fair value" estimate for CVS weighs in at $87.16. That's more than 20% above last week's price.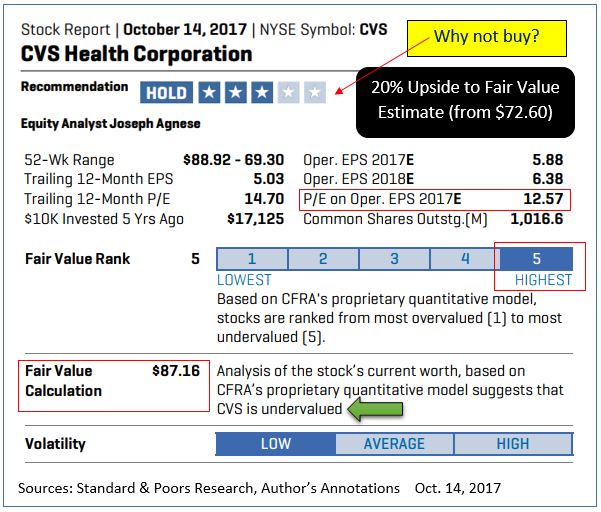 Independent research outfit Morningstar took last week's sell-off as a reason to upgrade CVS to 5-star status, their highest buy rating. They outgun S&P with a present-day, fair value projection for CVS of $109.
A return to that level represents a 50% rise from $72.60, even without taking into account CVS's very attractive, and well-covered 2.75% yield.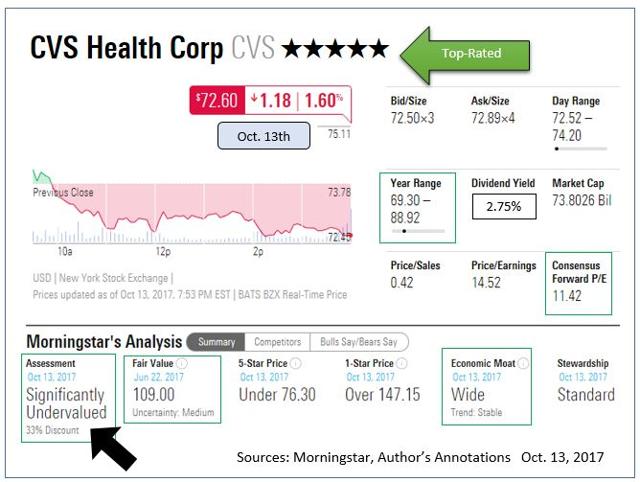 How can CVS, with its fine history and solid balance sheet, be selling for such a modest valuation?
Financial media has filled the internet and airwaves with talk that Amazon (AMZN) is thinking about entering this industry by setting up an online pharmacy service or a combination physical/internet presence to compete with the likes of Walgreens Boots Alliance (WBA), CVS Health, Rite Aid (RAD) and McKesson (MCK).
The idea that AMZN might enter the field weighed heavily on the three drug store stocks. Rite Aid's decline was worse than the others as the FTC denied Walgreen's proposed outright acquisition of the firm.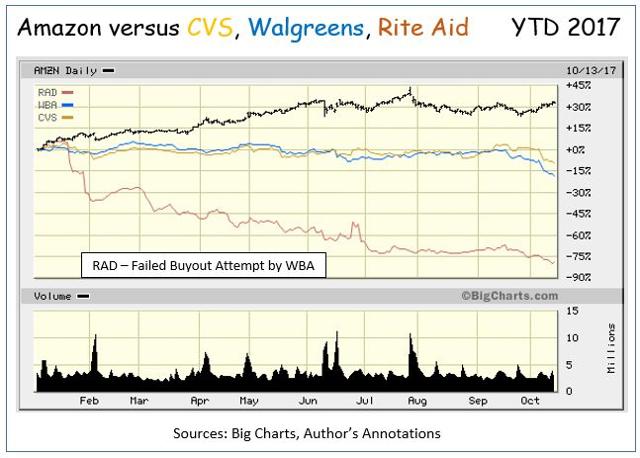 Two questions remain unanswered.
Will Amazon actually try to compete in this field? What effect would that have on the largest players?
The Wall Street rumor mills say Amazon will make a decision on whether to proceed within a few months. It would be a daunting and capital intensive task even for the likes of Amazon.
The three firms mentioned will post about $343 billion in combined 2017 revenues. They own, or deal with, huge pharmacy benefits managers (PBM) which act as intermediaries between pharmacies, consumers, drug and medical insurance companies.
The trio operates over 22,000 physical locations spread across all 50 states, Puerto Rico and the District of Columbia. WBA also runs European operations. Morningstar rates CVS as a "wide economic moat" company.
If AMZN decides not to proceed in this field, both WBA and CVS would probably pop by 10% – 20% virtually overnight, and by much more over time.
If AMZN chooses to go ahead, it will take years to ramp up the business and their degree of success would be far from assured.
Consumers tend to select pharmacies based mainly on location. As long as insurance is paying the bills, convenience is much more important than price. People want a neighborhood store.
There are already plenty of low-cost alternatives available for mail-order prescriptions. Amazon would not be breaking new ground.
Option savvy traders can get paid big premiums for selling CVS Jan. 2019, expiration date puts at strikes of $70 or $75. They were collecting either $635 or $895 per 100-share contract for those last week.
That provided additional 9% to 12.3% margins of safety versus the already cheap quote on CVS. CVS hasn't changed hands for less than $66 since the early days of 2014 when EPS were on track for just $4.51 and the annual dividend rate ran $1.10 rather than $2.00.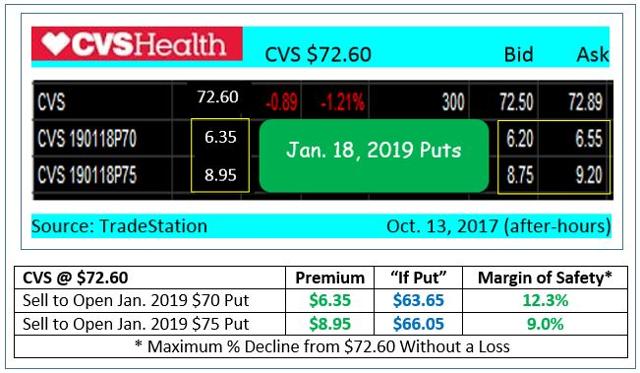 It appears that the sell-offs in WBA and CVS have more than discounted any near-term damage from Amazon. There could be big immediate gains if the competition fails to materialize. From presently depressed valuation levels there is likely decent upside even if Amazon decides to proceed.
Wall Street has taken a "shoot first, ask questions later" approach to dealing with the elephant in the room. Brave contrarians should consider buying into CVS, WBA or both on the "sell the rumor, buy the news" theory. The first part of that saying has already taken place.
You only get so many chances to own top quality stocks at very low price points. Those opportunities rarely come without some baggage. Risk/reward on CVS appears quite favorable regardless of Amazon's final decision.
Disclosure: Long shares of CVS and MCK. Short Puts on WBA, MCK, and CVS. No positions in AMZN or RAD shares or options.
Disclosure: I am/we are long CVS.
I wrote this article myself, and it expresses my own opinions. I am not receiving compensation for it (other than from Seeking Alpha). I have no business relationship with any company whose stock is mentioned in this article.
Additional disclosure: Long shares of CVS and MCK. Short Puts on WBA, MCK, and CVS.
Editor's Note: This article covers one or more stocks trading at less than $1 per share and/or with less than a $100 million market cap. Please be aware of the risks associated with these stocks.