By Mary Fjelstad, senior research analyst
The word "passive" is probably one of the most innocuous words in the English language. One might, therefore, assume that investments described as passive would not be considered dangerous in any way. However, a quick Google search on "the dangers of passive investing" yields 300,000 links and over 10,000 from 2017 alone.[1] Focus on this topic has been driven by the enormous growth of passive investments over the last 18 years. In this and a subsequent blog post we will explore how passive investments have grown and the potential benefits and disadvantages this growth might present to the market and the economy overall.
For our purposes here, passive investments are defined as any investment in an open-ended mutual fund [OEF] or exchange traded fund (ETF) that is designed to replicate or track the performance of a broad-based capitalization-weighted index. We can see below that the passive market share of US equities has increased from just 12% in 1998 to 46% at the end of 2016. ETFs have been an important component of this growth, representing just 4% of the passive market at the beginning of the period to approximately 40% in 2016.[2]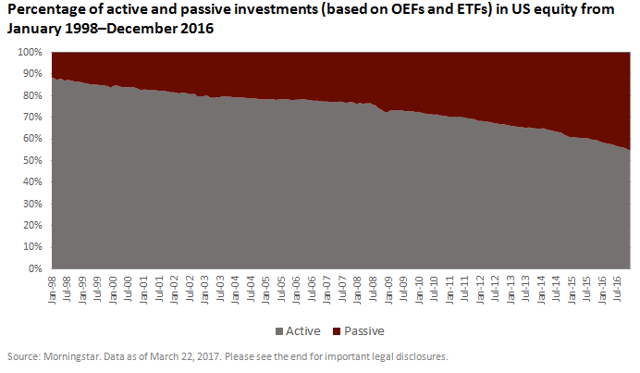 What effect has this large shift away from active management had on the US equity market? William Sharpe's seminal work on the arithmetic of active management showed that a major benefit of passive investing is the potential for higher returns over active investments on average, due to lower associated management fees.[3] Research on international markets also provides evidence that the growth of index-based funds in non-US markets has been associated with declining active management fees, as well as a reduction in "closet" indexing by active managers (i.e. supposedly active funds that in fact track an index).[4] However, some have argued that passive investing could potentially lead to a decline in corporate governance and, even more concerning, to widespread security price-distortion.
This is a somewhat contentious issue which we have discussed in an earlier blog about the SNAP IPO in the US. At first glance, it is reasonable to suspect that passive investors would be less engaged in monitoring company management policies than active investors. Recent research, however, suggests that passive investors can actually have a positive impact on governance issues.[5] Institutional investors and mutual fund/ETF providers have, for example, responded to concerns by increasing the transparency and reporting of their governance policies and actions.
At the same time, passive investments have also run into considerable criticism for their presumed impact on security pricing. The criticism stems from the buy-and-hold nature of passive investments and the assumption that they do not add or remove stocks based on an estimation of securities' undervalued or overvalued status. Since the issue of security price-distortion is complex, we will explore it in greater detail in the next blog post on the growth of passive investing.
For more detail on this topic, please see the FTSE Russell research paper: "The growth of passive investing: Has there been an impact on the US equity market?"
[1] As of July 13, 2017; www.google.com
[2] Source: Morningstar. Data as of March 22, 2017.
[3] Sharpe 1991.
[4] Cremers, M., A. Petajisto., and E. Zitzewitz, "Should benchmark indices have alpha? revisiting performance evaluation," 2012, Critical Finance Review.
[5] Appel, I.R., T. A. Gormley, and D. B. Keim, "Passive investors, not passive owners," 2016, Journal of Financial Economics, July.
© 2017 London Stock Exchange Group plc and its applicable group undertakings (the "LSE Group"). The LSE Group includes (1) FTSE International Limited ("FTSE"), (2) Frank Russell Company ("Russell"), (3) FTSE TMX Global Debt Capital Markets Inc. and FTSE TMX Global Debt Capital Markets Limited (together, "FTSE TMX") and (4) MTSNext Limited ("MTSNext"). All rights reserved.
FTSE Russell® is a trading name of FTSE, Russell, FTSE TMX and MTS Next Limited. "FTSE®", "Russell®", "FTSE Russell®" "MTS®", "FTSE TMX®", "FTSE4Good®" and "ICB®" and all other trademarks and service marks used herein (whether registered or unregistered) are trade marks and/or service marks owned or licensed by the applicable member of the LSE Group or their respective licensors and are owned, or used under licence, by FTSE, Russell, MTSNext, or FTSE TMX.
All information is provided for information purposes only. Every effort is made to ensure that all information given in this publication is accurate, but no responsibility or liability can be accepted by any member of the LSE Group nor their respective directors, officers, employees, partners or licensors for any errors or for any loss from use of this publication or any of the information or data contained herein.
No member of the LSE Group nor their respective directors, officers, employees, partners or licensors make any claim, prediction, warranty or representation whatsoever, expressly or impliedly, either as to the results to be obtained from the use of the FTSE Russell indexes or the fitness or suitability of the indexes for any particular purpose to which they might be put.
No member of the LSE Group nor their respective directors, officers, employees, partners or licensors provide investment advice and nothing in this communication should be taken as constituting financial or investment advice. No member of the LSE Group nor their respective directors, officers, employees, partners or licensors make any representation regarding the advisability of investing in any asset. A decision to invest in any such asset should not be made in reliance on any information herein. Indexes cannot be invested in directly. Inclusion of an asset in an index is not a recommendation to buy, sell or hold that asset. The general information contained in this publication should not be acted upon without obtaining specific legal, tax, and investment advice from a licensed professional.
No part of this information may be reproduced, stored in a retrieval system or transmitted in any form or by any means, electronic, mechanical, photocopying, recording or otherwise, without prior written permission of the applicable member of the LSE Group. Use and distribution of the LSE Group index data and the use of their data to create financial products require a licence from FTSE, Russell, FTSE TMX, MTSNext and/or their respective licensors.
Past performance is no guarantee of future results. Charts and graphs are provided for illustrative purposes only. Index returns shown may not represent the results of the actual trading of investable assets. Certain returns shown may reflect back-tested performance. All performance presented prior to the index inception date is back-tested performance. Back-tested performance is not actual performance, but is hypothetical. The back-test calculations are based on the same methodology that was in effect when the index was officially launched. However, back- tested data may reflect the application of the index methodology with the benefit of hindsight, and the historic calculations of an index may change from month to month based on revisions to the underlying economic data used in the calculation of the index.
Morningstar is the copyright owner of the Morningstar information used by FTSE Russell to calculate the data included in this presentation. All rights reserved 2016. The Morningstar information contained herein: (1) is proprietary to Morningstar and/or its content providers; (2) may not be copied or distributed; and (3) is not warranted to be accurate, complete or timely. Neither Morningstar nor its content providers are responsible for any damages or losses arising from any use of this information. Past performance is no guarantee of future results.