Park National Corporation (NYSE:PRK) is the 7th largest bank operation in Ohio and the single largest bank with operations solely in the state. It operates roughly 113 branches spread across the state in key counties and cities: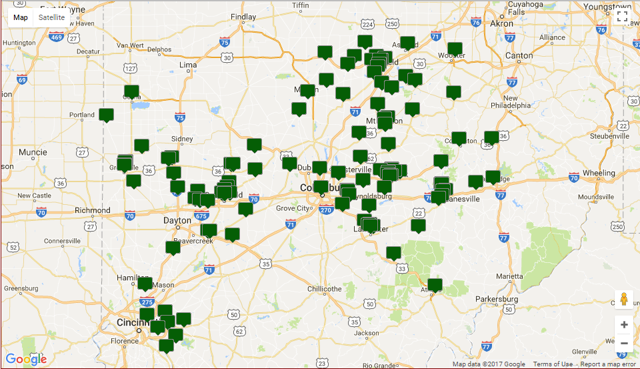 (Source: US Bank Location website)
The bank operates in 2 of the state's largest growing cities - Columbus (Nation's 14th largest city) and Cincinnati (Nation's 65th largest city). Columbus's population grew 8.5% since the 2010 census, outpacing most other cities in the US and creating a prime growth opportunity for a bank like Park National.
Although percentage population change in Ohio trails other major states, it remains fairly steady growing in its populated cities and counties where Park National conducts the majority of its banking operations: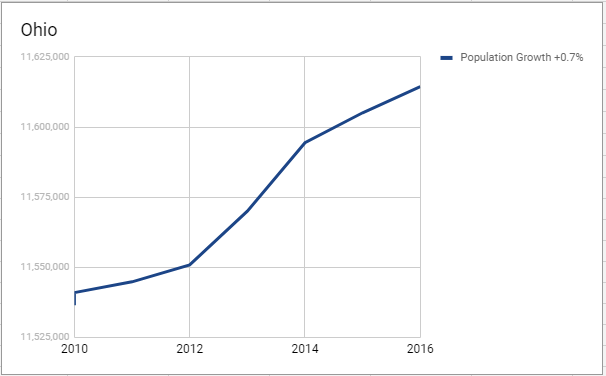 (Source: Author generated based on census estimates)
Bank Segment Overview
Park National operates through 3 major subsidiaries and 2 minor ones:
Park National Bank - Engages in commercial banking operations in the Ohio area for large and small community businesses.
Guardian Financial - Consumer banking division of the financial holdings company which provides banking solutions and loans for individuals.
SE Property Holdings - Focuses primarily on OREO (Other Real Estate Owned) from its previously owned Vision Bank. The company got approved in 2012 to provide real estate credit offerings for consumers. The company provides roughly $12.4 million in real estate loans.
Scope Leasing - Corporate aircraft financing operations with $255 million in loans and financing currently being supported.
Park Investments - An asset management service overseeing $188 million in assets invested primarily in PII municipal securities.
Park National's major offerings are set to take advantage of the rising population and healthy financial services demand in the state of Ohio. The rise in population organically increases businesses, both large and small, calling for an increase in initial funding, financial support and liquidity options.
Implications: Rise in Loan Growth
This increase has allowed for organic loan growth at Park National. Beyond a recovering financial environment, natural population growth has aided a 4.25% growth in overall loans by the bank for 2016:

A breakdown of the bank's loans origination shows a sufficient market environment for growth as population growth calls for higher residential real estate and commercial loans for up and coming businesses: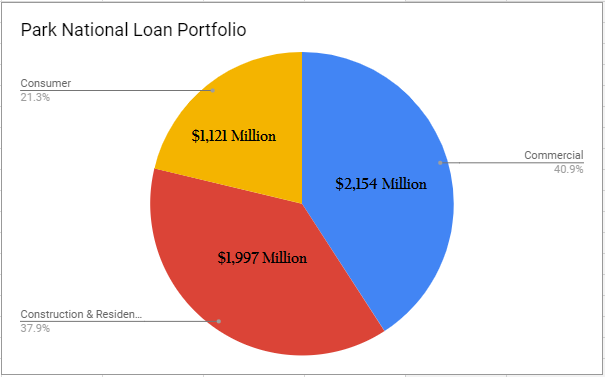 (Source: Author generated based on company 10-K)
The consistent rise in loans and loan demand drives Park National's income. A 4.08% average rate of interest on its loans, a significantly higher margin than its deposits, allows the company to organically drive interest income YoY: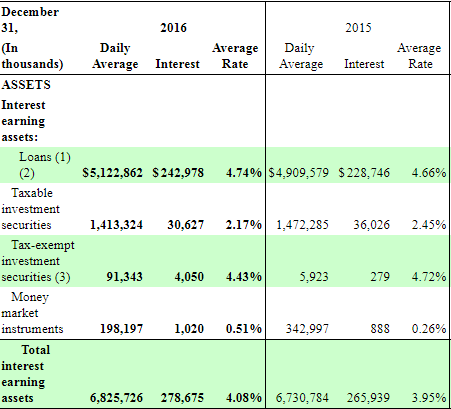 Park National is committed to allow for a loan 'product mix' to best benefit its customers while remaining competitive with other loan issuers in Ohio.
Liquidity: A Rise in Deposits
Alongside a healthy rise in loans, the bank exhibited a 2.1% rise in deposits when compared to 2015 to $5,580 million. Even though deposits have risen slower than loan growth, net deposits remain higher than net loans.

A noteworthy application of the bank's operations is its drive to reduce organic costs of deposit interest. In 2015, 26.26% of deposits were non-interest-bearings and in 2016, even with a rise in interest rates, that number rose to 27.59%, allowing the bank to organically save interest expense.
The bank is exhibiting a rise in deposit interest expense as interest rates rise, and the aforementioned non-interest bearing deposits are set to save the company a fair amount of income moving forward as rate rise:
| | | |
| --- | --- | --- |
| 2014 | 2015 | 2016 |
| 0.29% | 0.30% | 0.32% |
Further Aids to Sales and Income
Interest Income has risen with the recent Federal Reserve rates increases from 0-25 bps to 100-125 bps over the past 2 years, resulting in a boost to interest income for banks across the nation. Park National gained almost $10 million in 2016 from 2015 due to the rise in interest rates domestically.

A continued trend of higher interest rates is expected to boost the bank's interest income further. Based on current projections, the company can see an organic growth of an additional $11 million annually over the next 2 years, boosting the company's income by 100-150 basis points.
The company's physical assets of offices around Ohio allows the company's liquidity to remain strong even through turbulent times. The company owns 94 of its 119 offices in the state of Ohio, amounting to ~$66.8 million in Real Estate and Office Equipment (real assets).
A Top and Bottom Line Growth Review
Park National has been driving revenues through its offerings at a solid pace since the 2007-2009 global financial crisis, outpacing competitors: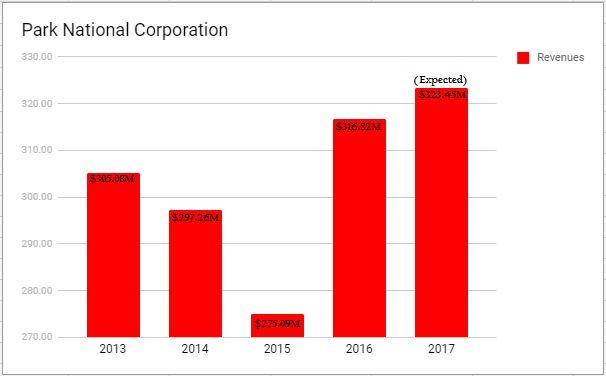 (Source: Author generated based on data & guidance)
The company expects 2017 sales to increase 2.09% to $323.45 million after a recovery in 2016 from 2015's lackluster sales on behalf of Guardian Financial's performance in the consumer banking arena.
The growth in sales is expected to be met with an even higher growth in net income as cost cutting and the company's continued effort to maximize interest income and limit expenses plays into its strengths: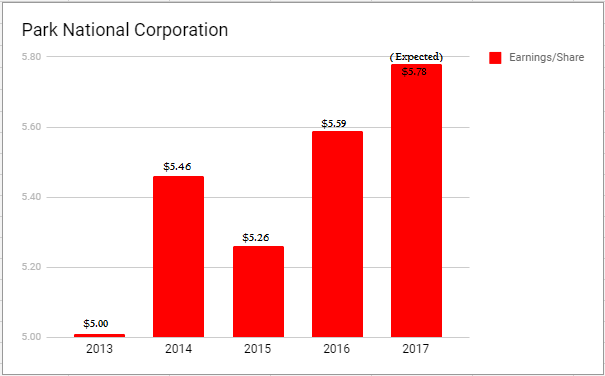 (Source: Author generated based on data & guidance)
EPS is expected to rise 3.40% to $5.78 for 2017, after a solid uptick over the past ~5 years.
As earnings/share rise, the company will continue to assess keeping its payout ratio stable, allowing the company to potentially hike annual dividend payments and increase share repurchase authority.
Shareholder Value: Opportunity and Sustainability
The number one shareholder value the company offers is its annual dividend of $3.76 per share which it has been paying for the last 3 years. The company has been paying a dividend since the first quarter the company went public and management is committed to keeping a high payout ratio.
Beyond the company's high yielding dividend payment, Park National has a remainder of 488,050 shares it is able to repurchase under its previous authorization, amounting to roughly 3.2% of shares outstanding. In 2017, management has cleared the company to repurchase additional shares.
A sustainability review clears the company of potential decreases in dividend and allows Park National to pay down its long-term debt, which it has done remarkably well over the past 3 years:

A look at income available versus long-term debt interest and shareholder payout shows a continued option for the company to pay down around $10 million in debt annually. (Note: Savings from lower debt load).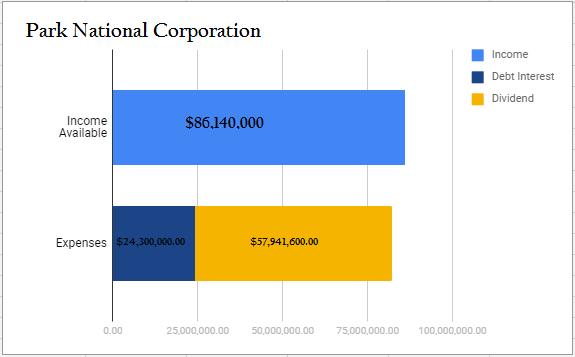 Key Risk Factors
Park National faces some tough competition in the state of Ohio from financial services companies like Huntington National (HBAN), PNC Bank (PNC), Fifth Third Bank (FITB), U.S. Bank (USB), JPMorgan Chase (JPM) and KeyBank (KEY) all with larger Ohio operations than Park National. However, major brand named banks are limited in the bank's key operating markets and Park National enjoys a fairly free marketing and operational environment.
Park National's management acknowledges key economic conditions linked to their customers' liquidity as their prime risk factor alongside over-regulation, change in interest rates and the integrity of its online and digital systems.
The company has worked hard with the various regulatory authorities to face off any possible risks and have a $91.1 million loan limit for a single entity which in theory, based on management's latest report, does not exceed $30 million as of December 30th, 2016.
Management further requires income verification for individual loans and Free Cash Flow risk assignments for commercial credit offerings to minimize potential risks or a repeat of issues it had in 2007 through 2009.
Conclusion and Investment Thesis Summary
I believe population growth in Park National's key operating markets will drive an increase in deposits and loans for the foreseeable future. The company's emphasis on expense containment and loan growth will allow it to compete with local financial services firms and serve its surrounding communities.
With the company's prime shareholder payout of 3.4% annually and the growth opportunities ahead in the Ohio banking market, Park National is a prime investment opportunity to gain interest rate exposure with little investment-side risk. I believe these factors will allow Park National to easily outperform the market for the next 3-5 years.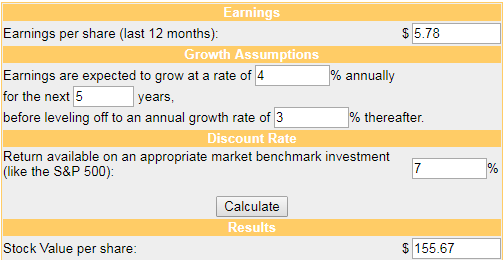 Disclosure: I/we have no positions in any stocks mentioned, but may initiate a long position in PRK over the next 72 hours.
I wrote this article myself, and it expresses my own opinions. I am not receiving compensation for it (other than from Seeking Alpha). I have no business relationship with any company whose stock is mentioned in this article.