By Lars Moffatt
Business Overview
Based out of Toronto, Ontario, Canada and founded in 1887, Manulife Financial (NYSE:MFC) is a Canadian financial institution which provides a plethora of financial products and services, including investment management, insurance, group benefits, small business & personal banking, pension products, annuities, mutual funds and personal/group retirement funds. Despite having a very small personal banking presence in comparison to some of the other Canadian financial Institutions such as Royal Bank of Canada (NYSE:RY), Toronto Dominion (NYSE:TD), Scotiabank (NYSE:BNS), etc., Manulife still has a strong global reach, especially in Asia (in its wealth management, insurance, and benefit plans). It is key to note that in the United States, Manulife operates under the name of 'John Hancock', but globally as Manulife. Manulife has more than 22 million customers worldwide and continues to grow steadily.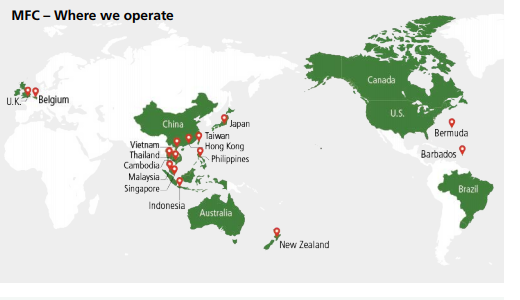 Source: Q2 2017 Global Company Fact Sheet
Growth Prospects
Despite its small size in comparison to some of the other financial institutions, Manulife is growing at a rapid pace in the Asian markets. Manulife's second quarter financial statements indicate that in these Asian markets, every line of its business has grown tremendously in comparison to the first two quarters of 2016. Other keynotes that can be found in its 2017 second quarter press release are the following:
30

th

consecutive quarter of positive net flows in the wealth and asset management businesses.
Insurance sales were up 46% in comparison to the second quarter of 2016.
New business sales were very strong, up another 24% in comparison to 2Q16.
U.S., Canadian, and Asian Core earnings all increased in comparison to the second quarter of 2016.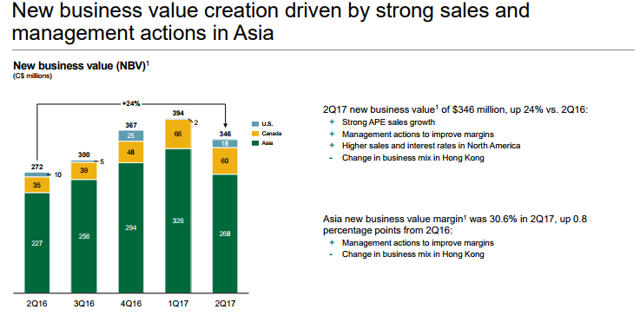 Source: Manulife Second Quarter 2017 Operating Results (Slide 13)
The growth in Asian markets will be key in the future as the company continues to grow its operations on the global scale. They have also partnered with several large banks in Asia to help increase growth.
Source: Manulife 2016 Annual Report (Page 2)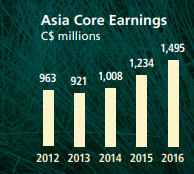 Source: Manulife 2016 Annual Report (Page 3)
The company also recently appointed a new CEO (Roy Gori) on October 1st. His previous work as the Senior Executive at Manulife's Asia division is key as he will help to continue the strong growth in the high-potential Asian markets.
Manulife has also launched a new national advertising campaign that will hopefully highlight some of its unique products. This could help the company increase insurance sales as well wealth management products to a new class of clients.
Alongside growth, earnings per share have continued to either stay constant or increase since 2011. The board of directors also recently increased the quarterly dividend payout by $0.02 a share (10.8%), increasing the annual payout to an expected $0.62 per share for 2017.
Dividends Paid 2013 - $0.49
Dividends Paid 2014 - $0.51
Dividends Paid 2015 - $0.52
Dividends Paid 2016 - $0.56
Dividends to be Paid for 2017 (Estimated) – $0.62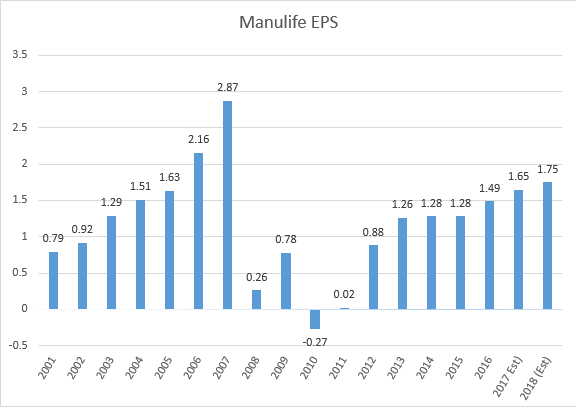 Source: Value Line sheet – Manulife – October 2017
Recession Performance
Manulife performed in the 2007-2009 recession as follows:
2006 adjusted earnings per share: $2.16
2007 adjusted earnings per share: $2.87 (32.9% increase)
2008 adjusted earnings per share : $0.26 (90.6% decrease)
2009 adjusted earnings per share : $0.73 (200 % increase)
2010 adjusted earnings per share : $0.94 (134.6% decrease)
It would make sense why Manulife would struggle the way they did during the financial crisis, as a large portion of income is either provided by investments, funds, mortgages, or banking. These would all take a huge hit during any recession. Any recession in the future would most likely do similar damage to Manulife.
The company also varied in its dividend payments during the recession to the following:
2006 Annual dividend per share - $0.64/share
2007 Annual dividend per share - $0.83/share (29.7% increase)
2008 Annual dividend per share - $0.94/share (13.25% increase)
2009 Annual dividend per share - $0.68/share (38.25% decrease)
2010 Annual dividend per share - $0.50/share (36% decrease)
Due to its extreme drop between 2009 & 2010, the company might not be the most recession-resistant insurer/institution as they cut its dividend in 2007-2009 crisis and earnings have failed to return back to pre-recession levels.
Rumors
There have been rumors that Manulife plans to visit the idea of providing an initial public offering or spin-off of its John Hancock financial services division. The company has over $400 billion worth of assets and is struggling, caused by low-interest rates and increasing competition in the United States. With an IPO, the company believes that it would allow for future growth opportunities in Asia/Pacific region.
Although it has been discussed before, it seems more likely that it would occur now as there is an increase of Asian business in its operations. There are also rumors that John Hancock may remove some of its services which are less profitable, including long-term care insurance and lifetime-income guarantees.
Competition/ Rank vs. other Canadian Financial Institutions
Manulife has the lowest price to book value in comparison to any of the other big Canadian banks. They also have the highest price to earnings ratio, as well as the lowest dividend payout. It is key to note that although the other banks can be used as a comparable, Manulife's operations focus more on its investment, retirement, and group benefits. Many of these institutions also have these division within its operations, however, they do not rely on these as heavily in comparison to Manulife. On the other hand, Manulife's personal banking is extremely minuscule in comparison to competitors.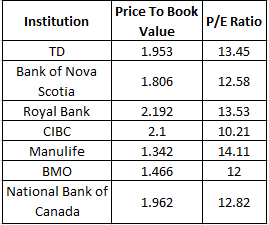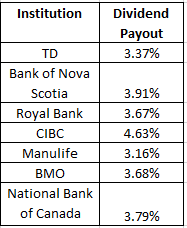 Despite its small personal banking market share in Canada, Manulife still controls a large portion of wealth management and retirement banking, where 1 in 3 Canadian adults have some sort of business with the company. Proving its strength in the Asian Markets, 1 in 4 adults in Hong Kong have some sort of financial relationship to Manulife as well.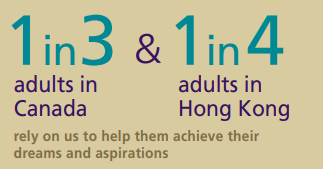 Source: Manulife 2016 Annual Report - Page 3
Valuation & Expected Total Returns
S&P 500 EPS avg. (2017) – 28.96
S&P 500 Price to earnings ratio avg. (2017) – 15.68
S&P 500 Price to book ratio avg. (2017) – 2.76
Overall, Manulife competes significantly well against the S&P 500, where its EPS, P/E and P/B are all significantly lower.
Expected total returns are as follows:
(Current P/E Ratio X Expected Earnings per share) + Annual Dividend = Expected Total Returns
(14.11 X 1.65) + 0.62 (Based on estimate for 4th quarter of 2017) = Expected future price (1 year) 23.90
Current Price: (20.72) As of Opening on Oct 16th, 2017
Expected Return for 1 year – $3.18, or 15.35%
Final Thoughts
With the indication that its Asian market is growing rapidly, Manulife appears to be a company that is extremely attractive for any investor who is looking for a financial institution with high potential and a very company that is much lower than the S&P 500 ratios. Despite the fact that they provide a slightly lower dividend ratio at in comparison to other large Canadian financial institutions, the potential for growth should not be overlooked as they have increased cumulative annual EPS by 28.6% in the last 3 years. Some projections see Manulife's stock value climbing 15.35% within a year and the stock going as high $35/share between 2020-2022. Overall, if you are looking for a solid long-term stock that has a high potential for growth and also receives a fair dividend, then Manulife would definitely be an excellent investment for your portfolio in the long-term rather than in the short.
Disclosure: I/we have no positions in any stocks mentioned, and no plans to initiate any positions within the next 72 hours.
I wrote this article myself, and it expresses my own opinions. I am not receiving compensation for it (other than from Seeking Alpha). I have no business relationship with any company whose stock is mentioned in this article.