Quick Take
Document database firm MongoDB (NASDAQ:MDB) has filed an amended S-1 registration for its prospective $168 million IPO.
MongoDB has developed an open source-based family of database software and related services designed for enterprises and more recently smaller firms via DaaS, or Database-as-a-Service offering.
Given the strong revenue and margin growth of the firm, the industry space for NoSQL and the proposed valuation multiple, my opinion on the IPO is a BUY.
Company Recap
MongoDB was founded in 2007 to create a next-generation, NoSQL database suite using commodity servers.
Below is a brief overview video of MongoDB's Atlas Database-as-a-Service:
(Source: MongoDB)
MongoDB provides three primary offering:
Enterprise Advanced - Flagship System
Stitch - Database Backend
Atlas - Database-as-a-Service
MongoDB has received more than $300 million in funding from venture capital firms and late stage investors such as T. Rowe Price.
IPO Details and Commentary
MongoDB wants to sell 8 million shares of Class A stock at a midpoint price of $21 per share, for gross proceeds of $168 million excluding customary underwriter share over-allotments.
It plans to have approximately 50 million Class A and B shares outstanding after a successful IPO, so its post-IPO market capitalization would be approximately $1 billion.
Against trailing twelve-month (As of July 31, 2017) revenues of $124.4 million, this represents a proposed Price/Sales multiple of 8.4x.
Given MongoDB's topline revenue growth rate for 1H FYE 2017 vs. prior of 51%, this is not an unreasonable valuation.
By comparison, even industry incumbent Oracle (ORCL), with a growth rate of only 6.9%, has a P/S multiple of 5.33x.
Even more interesting is that it has been valued by late-stage investor Fidelity at $1.6 billion, as the chart below indicates: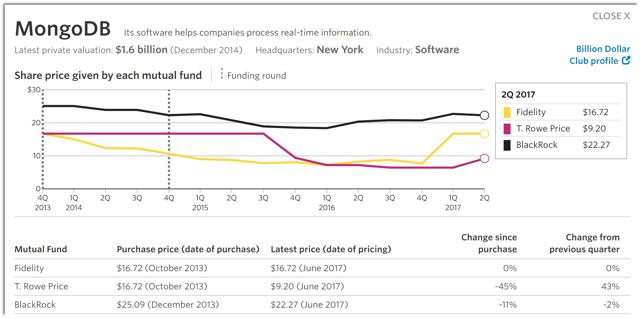 (Source: WSJ Startup Stock Tracker)
In my view, valuation at the proposed midpoint price is reasonable.
I previously wrote about MongoDB's IPO prospects in my article, MongoDB Publicly Files For $100 Million IPO.
In that article, I highlighted forecasted NoSQL database CAGR of 35.1% from 2014 through 2020 by Allied Market Research as a strong positive tailwind for the space.
I also noted MongoDB's strong revenue growth rate and high gross margins as typical of technology 'unicorns' seeking to go public. Its increased cash burn in 2017 was a notable exception to its rosy outlook.
Also, management is selling Class A shares while retaining Class share voting power for itself and existing institutional shareholders. The S&P 500 Index refuses to let new companies that have multiple share classes into its index, so this is a caution.
Notably, the firm intends to use some of the net proceeds for its efforts at 'driving usage of MongoDB Atlas,' its new managed database offering for smaller businesses. It appears management has identified going down market as a specific focus for its post-IPO sales and marketing efforts.
In my view, MongoDB is an attractive IPO opportunity at the proposed midpoint share price of $21, due to its high growth rate and margins, industry outlook and potential for expanding its footprint in the Database-as-a-Service market.
At the price of $21 per share, my opinion on the MongoDB is a BUY.
I write about IPOs, corporate investment in technology startups and M&A deals. If you want to receive future articles automatically, click the Follow button at the top of the article.