Warren Buffett sold about a third of his Berkshire Hathaway (BRK.A) (BRK.B) stake in IBM (NYSE:IBM) earlier this year. The stock is down 4% in the last three months as it continues to work on a transition toward higher margin software-focused businesses - such as cloud computing.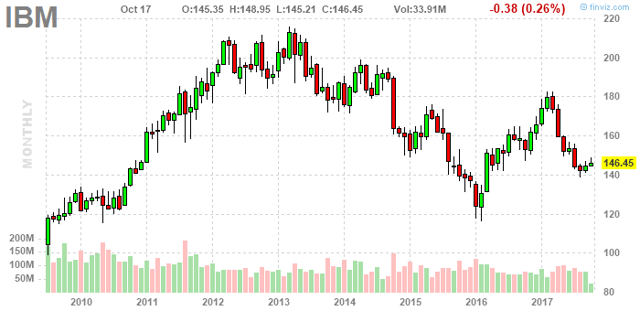 The plan is to get aggressive and unload the low-margin hardware business, which it started doing in 2014. However, even with this, margins have been shrinking at IBM. But it has been investing in research and development since then, and its showing some signs of bearing fruit, with a market lead position in cloud and blockchain technology.
The cloud remains the center of the software pivot, but the blockchain is the new high growth story. The think tank that led the personal PC revolution in the 80s, embraced the internet early in the 90s, and transitioned from the old PC architecture to the cloud in the early 2000s is reinventing computing again. IBM is emerging as the leader in the biggest technology development in enterprise computing since the internet, the blockchain. Companies expect the transparent and tamper-proof digital ledger to impact costs, security and risks by as much as 70-90%, reports IBM.
Investing in the Future of Enterprise Computing
These accomplishments highlight IBM's proven ability to maintain a sustainable competitive advantage. Reinventing industries, though, has taken IBM on a few earnings rollercoasters. Beyond earnings, economic value added (EVA) has sometimes been a more accurate gauge of how IBM's underlying business is performing.
Since the hardware divestitures in 2014, economic profit has fallen from $5.4 billion to $478 million in 2016. This change can mostly be explained by a 30% fall in net operating profit to $11.2 billion, and a 10 percent increase in invested capital to $106 billion.
Beyond the profitability decline expected during a major business restructuring, analysts are forecasting a five-year average earnings growth forecast of 5%. In other words, analysts expect the higher capital investment to start delivering healthy economic profit for IBM. A return on invested capital - ROIC - of 23.6% (also at year end 2016) confirms that IBM is indeed generating excess returns over what it pays for capital on its investments.
Analysts have generally had faith as Big Blue has steered its business in a new direction, but their recent notes have impressed upon the need to stem the decline in margins. In the second quarter of 2017, gross margins expanded across business segments. When the company reports third quarter earnings tomorrow, analysts will be looking for further margin improvement.
A return to profitability is key to unlocking equity market value in its software and reinvented hardware businesses. The First Trust ISE Cloud Computing Index Fund, for example, is up 24.6% year to date versus down 9% for IBM. Investors are showing confidence; in September the stock return did turn positive.
The Biggest Kid on the Block
IBM has made more than a dozen acquisitions over the past decade to enhance its cloud infrastructure and services. Cloud services made up 20% of 2Q 2017 revenues of $19.3 billion. Blockchain applications, a key platform of IBM's enterprise cloud solutions, could start generating revenues in 2018/2019. Worldwide, 2016 enterprise application blockchain revenues were estimated to be $2.5 billion. McKinsey estimates full commercial deployment by 2020 but since its January report several startups have announced supply chain and other enterprise blockchain solutions testing live at client sites.
Over seven enterprise sectors including B2B payments and trade finance, McKinsey estimated a blockchain revenue impact of between $80-$100 billion. The smart ledger, which was developed to process bitcoin trades, has the potential to significantly change business processes and economics. In trade finance, for example, where IBM-led banking consortiums are taking the lead, the blockchain collapses the huge mounds of paper across many trade partners and trade intermediaries into one smart contract.
A number of consortiums formed by IBM are working on transitioning trade finance to the blockchain. More than a dozen major banks are members, including Deutsche Bank, HSBC, Rabobank, Société Générale, CommerzBank, and UBS Group to name a few. Ninety-one percent of banks will be investing in the blockchain in 2018 and 14% of financial institutions will have blockchain applications in commercial production, according to IBM. McKinsey estimates 65% of banks will have blockchains under development within three years.
IBM is considered the leader in enterprise solutions on the blockchain among 43% of companies considering deploying blockchain solutions, according to a Juniper Research study of 400 executives, followed by Microsoft (MSFT) (20%) and Accenture. IBM has prototype projects running across a number of verticals, including banking (trade finance, lending, clearance and settlement), food, and music. Initiatives in other verticals will no doubt link up with the blockchain. In October, IBM announced an insurance platform on the IBM cloud in which it will integrate its cognitive computing, data analytics and blockchain technology.
Hardware Moves to an Open Architecture
IBM's hardware business is also being realigned to support enterprise business over the cloud and blockchain. The x86 server and microprocessor businesses were divested in 2014. The Power8 systems behind its big data and cloud businesses use an open source architecture. The blockchain solutions IBM is developing run on the Linux-based Hyperledger. Mainframe technology has undergone a significant upgrade for the blockchain, which IBM puts on par with the reinvention of IT architecture by Linux. According to CEO Ginny Rometty, the "breakthrough" z14 mainframe technology is "…capable of encrypting all data associated with any application, service or database all of the time and with no application change and no performance impact."
This is a critical advancement in supporting applications on the blockchain, on which a distributed ledger system encrypts transaction data related to an asset in real time at nodes, or blocks, while linking each tamper-proof transaction to the next in the chain. Only a consensus among each permission party can alter the contract, making it harder for cyber-piracy and other types of fraud to be perpetrated.
IBM's business segments have been realigned since the 2014 Hardware divestitures. Blockchain revenues from 2018 and beyond will impact the Technology Services & Cloud Platform and reinvented Systems & Technology Hardware segments. While blockchain is the sexy technology story, IBM's new Cognitive Solutions segment, which is making early inroads into healthcare (WatsonHealth) and Finance (WatsonFinance), deserves equal attention. Fifty percent of enterprise data analytic solutions will be powered by cognitive intelligence by 2020, as big data grows at a compound annual growth rate of 23.1 percent to $48.6 billion by 2019, according to IDC.
IBM Business Segment Breakdown by Revenues
2Q 2014

2Q 2017

Global Services

$13.9bn

$4.6bn

Cognitive Solutions*

Global Technology Services

$9.4bn

$8.4bn

(Technology Services & Cloud Platform)

Global Business Services

$4.5bn

$4.1bn

Software

$6.5bn

n/a

Systems & Technology Hardware*

$3.3bn

$1.7bn

Global Financing

$504mm

$415mm

$24.4bn

$19.3bn
*Includes solutions software and transaction processing software
*Includes systems hardware and operating systems software
Strategic Imperatives Up
2Q 2017 results show that quarter-over-quarter, profit is being generated after the bold hardware restructuring as the transition from middleware licensing to a software-as-a-service (or SaaS) model gains traction. Revenues increased 6% to $19.3 billion on an operating income increase of 64% to $25 billion. Analysts are now watching for operating margins, declining since 2014, to rebound.
This rebound is assured if growth continues in the growth engine of the software-centric strategy-the Strategic Imperatives group (cloud, analytics, mobile, security and social), comprising 45%, up from 41% in 2016, of revenues. Cloud revenues increased 15% to $15.1 billion over the year while the run rate for the software-as-a-service business increased 32% to $8.8 billion over Q2 2016.
The Cloud + Outlook
In the end, Wall Street still has faith in Big Blue, which consistently ranks in PwC's top 10 most innovative companies as a top R&D spender, and its sustainable competitive advantage. IBM is forecasting full year 2017 earnings to increase 1.4% to $13.78 per share versus $13.59, versus an industry decline of 4.80%. Meanwhile, investors are being compensated by a doubling of the dividend yield to $4 since 2014. IBM has strong free cash flow and returned $5 billion to shareholders in the first half of 2017 through dividends and share buybacks. It's a big company that's effectively pivoting the business model, but investors, like Buffett, have to realize it won't happen overnight.