Companies operating in Western Canadian Sedimentary Basic (WCSB) appear to be massively undervalued on both trailing and leading metrics (i.e., they screen well). They have been able to grow production more quickly and cheaply than just about any other peer group. However, there such thing as too much of a good thing. The basin's largest operators are guiding for massive gas-weighted production growth through 2020. A survey of top acreage holders indicates that production will grow 50-60% through 2018, which is likely to swamp the region's already swamped logistical nodes. Even at current levels of production, depressed regional gas prices are signaling a massive dislocation between supply and takeaway capacity; recently, negative spot prices have become manifest at the AECO/NOVA hub.
Salvation does not appear to be nigh at hand. Warmer winter weather rules out a near-term demand-driven recovery. Pipeline expansion projects are likely to be inadequate in the near-to-mid term. Regulatory hurdles are stymieing prospects for transformational LNG projects over the long term. The possibility of a Western Canadian crude-by-rail boom and growing demand for diluent from the region's oil sands will likely provide relief for liquids prices. However, there is no relief in sight for gassy growth.
The only remaining possibility is that producers will be compelled to shut in excess capacity in the near term until some semblance of balance is restored.
It is ironic that companies operating in the WCSB are likely to become the victims of their own success. However, actions which are consistent with this conclusion run counter to the prevailing ethos of upstream executives and industry-standard compensation incentives.
Western Canada's Resource Potential
A flurry of activity in the WCSB by highly motivated and efficient operators is likely to lead to lower prices and thereby deteriorate the basin's economics.
In last week's Negative AECO Gas Prices To Force Canadian Gas Producers Into Early Hibernation, I demonstrated that recent production growth from WCSB has reversed the direction of decades of conventional production decline from Alberta and British Columbia. Production growth from the Montney formation is primarily responsible. In addition, improvements in drilling and completions have revived legacy reservoirs (e.g., Cardium) and have given lift to frontier payzones in the Duvernay and elsewhere.
Figure 1: Stack Pay Potential of Western Canadian Sedimentary Basin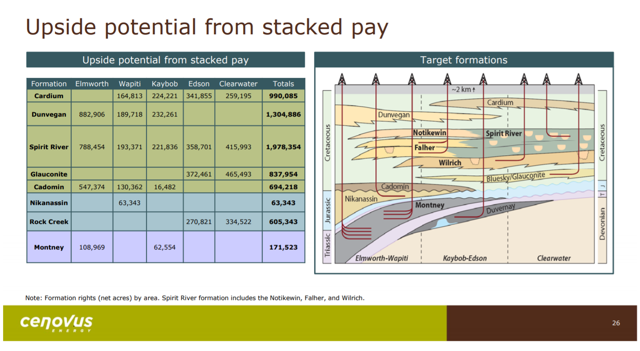 (Source: Cenovus Investor Relations. September 2017 Corporate Presentation. Slide 26. October 2017)
The flurry of activity in the WCSB is motivated by world-class cost advantages. In August 2015, Credit Suisse estimated that Montney gas has NYMEX natural gas breakeven prices between US$0.75 and $3.50 per Mcf. Drawing on confidential industry data, TransCanada's (NYSE:TRP) NOVA stated in an application to Canada's National Energy Board (NEB) that the Montney's full-cycle cost of supply had dropped to US$2.07 per Mcf in 2013. While the economics vary by operator and acreage, it is apparent that the WCSB is competitive with other premier North American gas reservoirs such as in the Marcellus and Utica.
Historical production growth and efficiency gains are only the beginning. Canadian horizontal drilling and multi-stage hydraulic fracturing began in 2004 in the Montney Formation. Since that time, estimates for the WCSB's ultimate resource potential have skyrocketed. Future recovery is expected to occur much more rapidly and in much greater volumes than in the past.
Figure 2: Published Estimates for Ultimately Recoverable Natural Gas in the WCSB (each dot represents a published estimate)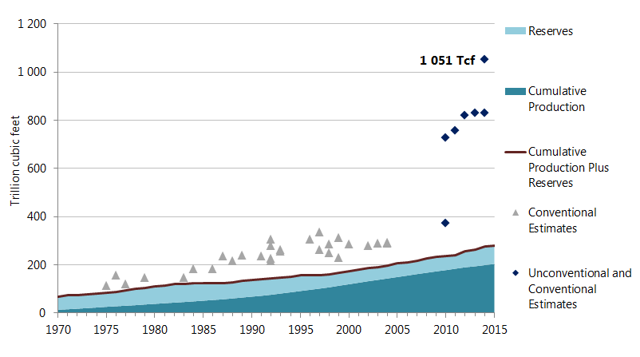 (Source: Government of Canada - National Energy Board. 2016 Review: Western Canada's ultimate potential for natural gas jumps. January 12, 2017)
Production growth would not normally be an issue, since there is plenty of global demand. Getting gas to advantageous markets, however, is proving to be difficult. While Alberta's and BC's historical production has exceeded current levels in the last decades, current production growth is occurring in logistically underserved areas. There is also unprecedented competition from North American gas producers in the Lower 48 States (L48). This confluence of events has left producers with inadequate takeaway optionality to bring gas to market, thus backing up provincial natural gas markets.
Figure 3: Natural Gas Flows from Western Canada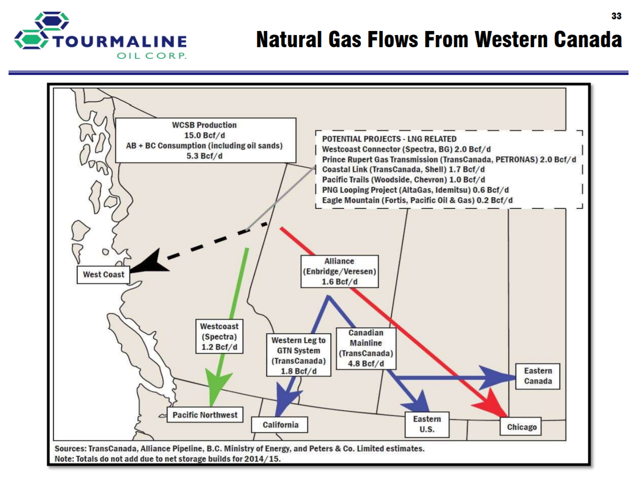 (Source: Tourmaline Oil Corp. Investor Relations. October 2017 Corporate Presentation. Slide 33. October 2017)
Logistical bottlenecks have been disrupting West Coast Station 2 prices since 2015; the disruptions have recently begun to spill over into the region's bellwether market at the AECO/NOVA hub.
Figure 4: Figure 15 Intra-Alberta and Station 2 Natural Gas Prices in 2015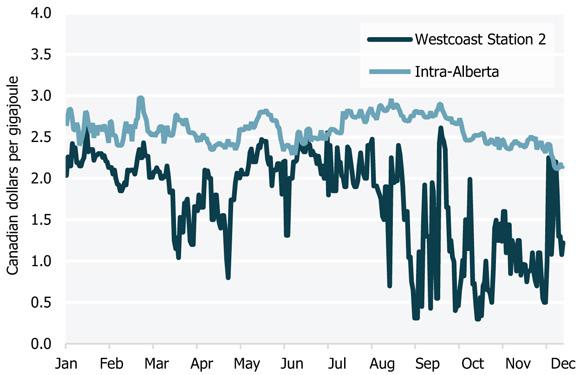 (Source: Government of Canada - National Energy Board. Canadian Energy Dynamics: Highlights of 2015 - Energy Market Analysis. February 2016)
Figure 5: NGX AECO Spot and Futures (Front Month) Market Prices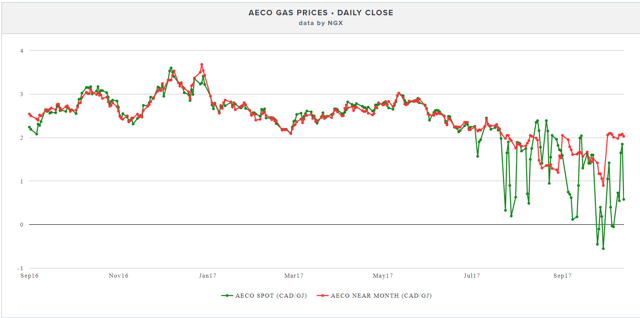 (Source: Oil Sands Magazine. Oil and Gas Prices. October 14, 2017)
Extreme prices signal that production growth has outstripped takeaway capacity growth. Low prices incentivize midstream investment, but (sadly) one must factor in significant lag for securing regulatory approvals. Provincial governments carry out their own regulatory approval processes, and they do not always work well together.
Too Much of a Good Thing
Production growth, coupled with falling costs, would normally be seen in a positive light. However, there is such a thing as too much of a good thing. Company guidance speaks to a narrative of accelerating growth. A survey of (midpoint) production guidance from some of the region's largest operators indicates that full production could grow by nearly 60% through 2018. If management delivers on guidance, the company is likely to inundate provincial markets even more than they currently are.
Most of the region's acreage is consolidated under several companies, thus the following study should provide a representative cross-section of the region's hydrocarbon production.
Figure 6: Top Montney Acreage Holders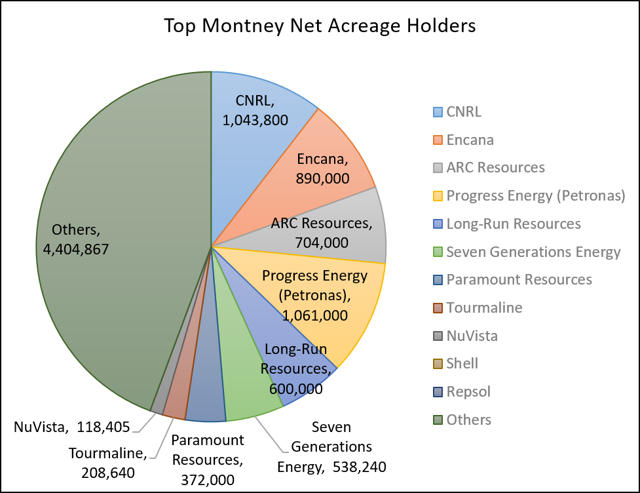 (Sources: Company reports; author's estimates)
A survey of several of the region's largest gas-weighted producers indicates that full production could grow by as much as 60% through 2018. Their gas production is expected to grow by somewhat less (around 50%).
Figure 7a: WCSB Producers Estimated Gas + Liquids Production Through 2018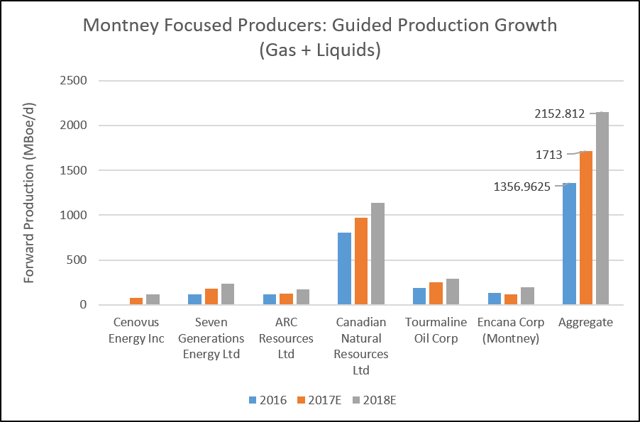 (Sources: Company reports; author's estimates)
Figure 7b: WCSB Producers Estimated Gas Production Through 2018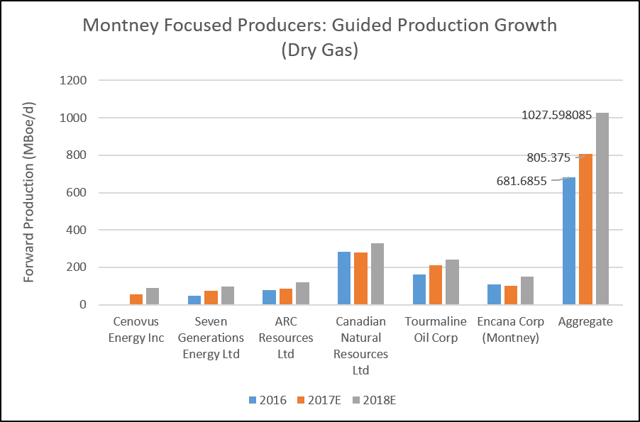 (Sources: Company reports; author's estimates)
Production growth of 800 Boe/d (40-45% gas) from selected producers does not account for declining production from conventional reservoirs. A recent BMO assessment may be more comprehensive: it predicts that Western Canadian gas production will grow from 15.8 Bcf/d in 2017 to 18.7 Bcf/d in 2019 (i.e., ~500 MBoe/d in growth). Either assessment smashes the present-day (regulatory) consensus. NEB's guidance for zero to negative deliverability growth through 2018 appears to be a pure fiction based on naive trend extrapolation.
So the question remains... where will 500 MBoe/d in demand growth and/or midstream capacity come from? Until the market comes up with a viable solution, regional gas prices are likely to continue being depressed.
Winter Is (Not) Coming
While over the long run Alberta gas consumption is projected to increase by ~380 Mboe/d (to 6.94 Bcf/d from 4.67 Bcf/d) by 2025, a moderate winter season is unlikely to ameliorate the present imbalance. The next several months are expected to be slightly warmer than normal in Western Canada and the Pacific Northwest.
Figure 8: United States Winter Weather Outlook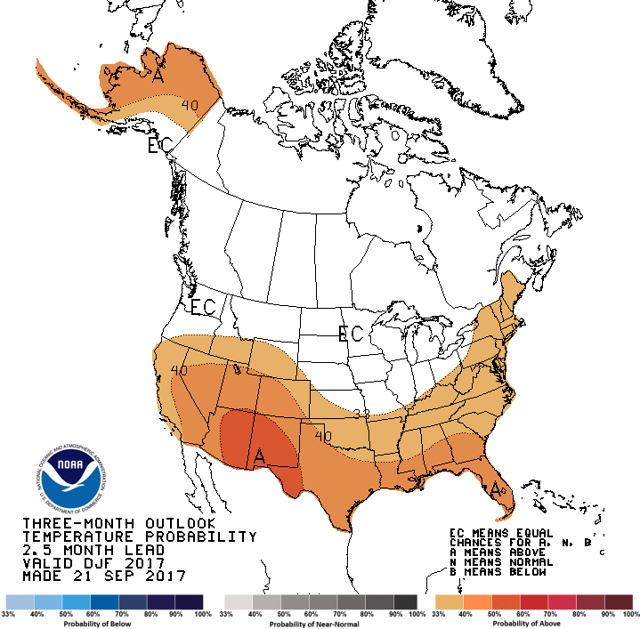 (Source: NOAA - National Weather Service - Climate Prediction Center. Three-Month Outlook for Dec-Jan-Feb 2017-18. Accessed: October 16, 2017)
Figure 9: Canada Winter Weather Outlook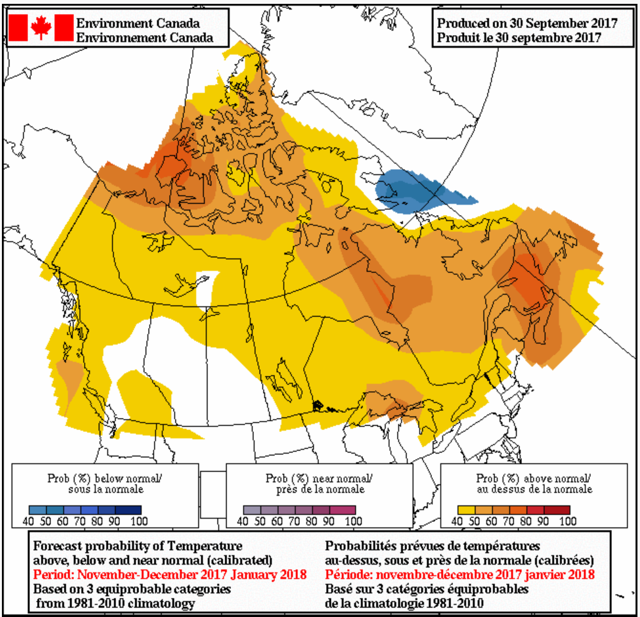 (Source: Government of Canada. Temperature Probabilistic Forecasts - Current - 2-4 month. Accessed: October 16, 2017)
Midstream Shortfalls
The underlying issue driving prices lower is oversupply, but the headlines are focused on near-term (proximate) service interruptions of TransCanada Corp.'s NO-VA Gas Transmission Ltd. (NGTL) pipeline system. Once maintenance and expansion work is completed, capacity in the northwest part of the NGTL system will increase by 700 million cubic feet a day (~117 Boe/d).
The 87 km Towerbirch Expansion line is expected to increase the region's takeaway capacity by another 355 MMcf/d (~60 MBoe/d). Originally, it was scheduled to go into service by November 1, 2017, but NEB regulatory updates suggest that completion will be pushed back.
Transformational projects are even further out, and many of them are intended to serve LNG export terminals which have not even passed FID. For example, the Prince Rupert Gas Transmission Project would initially move 2 Bcf (~333 MBoe/d) of supply from the North Montney to the proposed Pacific Northwest LNG export terminal. The proposed GasLink Pipeline Project would move 1.7 Bcf (~283 MBoe/d) of Montney and Horn River gas to Shell's (RDS.A, RDS.B) planned 12 million ton/year LNG export facility near Kitimat.
Positive FIDs on both pipelines and LNG facilities are appearing less likely. Last July, Petronas (OTC:PNADF) cancelled the $37 billion Pacific Northwest LNG project, even though it was already vested in Western Canadian gas production through its $11 billion investment in Montney-focused upstream subsidiary Progress Energy. Petronas cited deteriorating global LNG prices due to overcapacity, but regulatory hurdles were likely also contributing factors. For example, the relatively small Woodfibre project is the only Western Canadian LNG project to reach FID, but it has been plagued by delays; First Nations' ill-preparedness to issue clear guidance to provincial governments is likely a prime factor.
Assuming Western Canadian LNG is still years (if ever) out, the combined short-term midstream expansion projects still leave more than 380 MBoe/d of excess supply unaccounted for. Therefore, recent finger-pointing at TransCanada's NOVA bottlenecks is a red herring which belies the underlying problem of overcapacity.
Relief for Liquids
Liquids should fare better.
Reuters analysts have recently predicted that this excess supply growth is likely to result in a Western Canadian crude-by-rail boom, like what occurred a decade ago in North Dakota.
Furthermore, the region's oils sands producers would willingly absorb production growth from condensates. Condensate is used as a diluent for bitumen upgrading, which, in turn, is required for pipeline transportation.
Shut-Ins Are Imminent
With relief for gas is nowhere in sight, the remaining balance of 380 MBoe/d of gas production growth through 2018 could become stranded. With no viable market options, producers will be compelled to shut in excess capacity.
Canadian producers have proven resilient to price signals in the past. One explanation is that the cost curve keeps improving. But also important is that executive compensation is usually tied to reserves and production growth. Even as Canadian natural gas prices have collapsed, regional producers have delivered on the high side of growth guidance.
Further resilience in order to retain market share through operating losses would be counterproductive. Although cheap and plentiful natural gas is actually good for most of the hydrocarbon value chain (i.e., consumers, midstream operators, utility providers and petrochemical manufacturers), benefits to society come at the expense of the upstream industry's stakeholders.
On Long-Term Value Creation
I was drawn to producers in the WCSB because they looked incredibly cheap based on trailing and leading valuation metrics, especially compared to L48 operators. This assumed that AECO benchmark commodities prices would stabilize in the range between $2.00 and $3.00 / GJ for the foreseeable future. Upon deeper analysis, however, I believe the market will call for extraordinarily low prices until some semblance of balance returns. This basically overturns the broad investment thesis, and is a stern reminder that economics are a function of both costs and revenues.
The conventional wisdom is that resource economics are mainly determined by costs. Operators can do little to control price realizations, so value creation is achieved by controlling costs: the lowest-cost producers can grow the most over the long term and are therefore most likely to win the long war of value creation. However, this simplistic view ignores how collective actions influence market equilibria. In this case, operators are likely to have been the victims of their own success and the reality of inflexible natural gas infrastructure.
I thus find it ironic that the market is poised to shut in some of the world's lowest-cost petroleum resources.
As an upstream investor, this realization is actually constructive in that it implies a road map for identifying long-term value creators. Producers who "keep their powder dry" (i.e., shut in excess capacity, defer growth, and pivot towards liquids production) are more likely to find themselves in a position to take advantage of an eventual recovery.
The prescribed "don't try if you want to succeed" approach - vaguely reminiscent of Taoism - implies that contrarian, outsider management teams are more likely to act in the economic best interests of shareholders. Furthermore, executive compensation which is tied to market incentives (versus growth) favors counter-cyclical decision making (versus herd following).
On Future Installments
Identifying upstream value creators has not been easy, but I would like to reaffirm my bullish stance on Painted Pony Energy (OTCPK:PDPYF).
In my recent October 9 article, "Painted Pony Petroleum Offers Compelling Upside At The Cost Of Significant Commodity Price Risk," I assessed that the company was immensity undervalued at $2.50 / GJ AECO. Having reviewed executive compensation and insider ownership, I now believe Painted Pony's executives are aligned with long-term shareholder value. CEO Patrick Ward, who has been the president and chief executive officer of the corporation since May 6, 2007, holds 1.140 million shares (~.71% of outstanding). Even though executive compensation is partly tied to growth, bonuses and incentives are primarily market-based.
Painted Pony is also the top-performing E&P stock on the TSX over the previous 10 years. Speculation has caused the stock to be quite volatile over this time. But over the long term, it has created more value for shareholders than any of its peers. Long-term share price appreciation is a bellwether characteristic of outsider management.
Figure 10: Top Ten Share Price Appreciators of Canadian EPs on TSX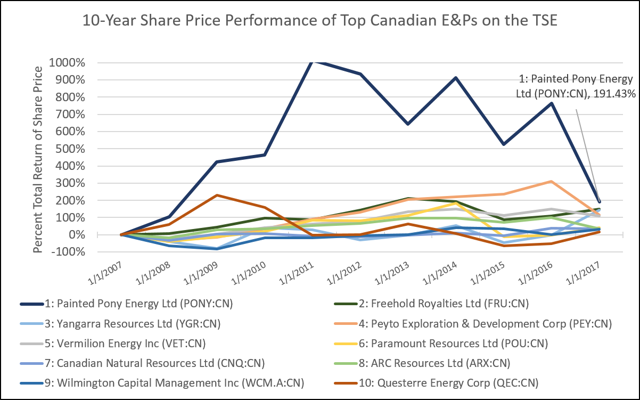 (Source: Portfolio123.com)
I remain committed to identifying and sharing findings of potential value. Going forward, I feel that that alternating between macro-analysis and company-specific investment ideas is a good format to maximize reader engagement. Please check back next week for another investment idea. As always, feedback is much appreciated.
Disclosure: I/we have no positions in any stocks mentioned, but may initiate a long position in PDPYF over the next 72 hours.
I wrote this article myself, and it expresses my own opinions. I am not receiving compensation for it (other than from Seeking Alpha). I have no business relationship with any company whose stock is mentioned in this article.
Editor's Note: This article discusses one or more securities that do not trade on a major U.S. exchange. Please be aware of the risks associated with these stocks.