TWC Enterprises (OTC:CLKXF) is a Canadian company that owns two businesses in dramatically different fields. The first business is a group of golf courses it owns, which runs under the name "Clublink," while the second is the White Pass & Yukon railway, a tourist line linking Skagway, Alaska, into the Yukon. The primary customers of the railway are tourists arriving on cruise ships.
The company's shares also trade on the Toronto Stock Exchange under the symbol TWC at a current price of $12.12 CAD, and given its financials are in CAD and liquidity is better in Toronto, all figures in this report are in that currency unless otherwise stated. The stock has appreciated 14.7% since my previous article covering it 11 months ago.
The primary catalyst for that run-up was the announcement that the company was exploring strategic alternatives for its railway. The linked press releases specifically called out two potential options: business selling the railway or spinning it out into a separate publicly traded vehicle. That is great news because having these two businesses together never made much sense. The railway is a growing free cash flow machine, whereas the golf course operations need to be valued on an asset basis, as they are primarily a way to bank land for potential future development while having the carrying costs covered.
To truly determine the value of the company, and whether it is a good buy at the current price, I have valued both segments separately. While sum-of-the-parts analysis is sometimes overused, in this case it is very reasonable because the parts are quite different, and the company has now explicitly said it is considering separating them. This should provide a catalyst for closing the discount between the current market price and the sum-of-the-parts value.
Golf Courses
It is worth mentioning that there is also a potential catalyst for the golf course business. Having the business potential split into two parts opens up the option of a takeover of the golf business. It has historically been one that has attracted interest from private equity funds, maybe because of the steady revenue potential from membership sales and land assets than can act as security for debt. As just a couple of examples, ClubCorp (MYCC) was acquired for approximately 7.5X EBITDA earlier this year, and the company had been private equity owned in the past as well. Additionally, Texas private fund Lone Star owns a UK chain of golf clubs, which it is rumored to be shopping for sale.
The combination of TWC's Canadian and US golf courses did $27.6 MM in EBITDA over the trailing twelve month period [TTM]. At the same 7.5X EBITDA that ClubCorp sold for the private market value of TWC's golf courses is $207 MM. It is worth noting that I excluded a few million in gains from selling real estate in 2016, and that is probably the highest and best use of many of its golf courses. It is also worth noting that almost all of that EBITDA was generated in Canada. While it has been cutting costs in the US, those operations are still barely breaking even on an EBITDA basis, and aren't earning a reasonable return on the capital invested in them. Those courses probably still have sale value for real estate purposes.
Even more likely to have strong value for real estate purposes are the company's courses in Canada, where real estate prices are currently very high. While its operation of the golf courses as golf courses doesn't depend on Canadian housing prices, selling golf course land for residential development and booking huge gains from that would. It is worth noting here that the majority owner of TWC is K. Rai Sahi, a real estate billionaire whose primary vehicle is Morguard (OTC:MRCBF). He is someone who can maximise real estate value if he wants to, and recent developments indicate that he does want to.
There are a couple of examples of that. It has a current IFRS book value of $8.7 MM in a development joint venture in Aurora, Ontario, which is part of the Greater Toronto Area. This is a former golf course parcel that is now under development for 159 single-family homes and a 114 unit multi-family business. From a land perspective, that will be worth dramatically more than book value. The median housing price in Aurora for single-family homes was $868,000 CAD, and new houses in a new high greenspace development will likely sell for more. I suspect these lots will be worth a quarter million each or more, but will use its book value for conservatism.
The company also has a much more valuable site that it is working through the development process, with the Glen Abbey golf course. It applied for 107,000 square foot of office space, 69,000 square feet of retail, and 3,222 housing units for that space. Although it will likely take a number of years for this development to come to fruition, even at less than $100,000 in profits per housing unit only the residential portion of the development would cover the entire valuation of the golf course segment from a portion of one course. It doesn't have approval to do this from the government yet, a process which will likely take years. I am estimating $100 per buildable square foot in land value for office and retail, and $100,000 in land value per housing unit. I will further assume for conservatism that it takes it 10 years to get the approval (and discount the value by 10% per year for the time value of money), and the final approval will only be for 75% of the total value, with more land going to parks and non-productive uses as a compromise. That provides a value of $339.8 MM, and with the various discounts works out to $98.3 MM.
The company also has a significant amount of excess land. This is mostly former golf courses or planned golf courses that never came to fruition. There are two parcels in particular that I think are exceptionally valuable, one in Montreal and one on the outskirts of Toronto. The Township of King land (outskirts of Toronto) would sell in bulk for between $20,000 and $45,000 per acre as a large parcel. Taking the lowest value, that suggests its 278 acres is worth at least $5.6 MM. The cheapest lot I could find in its suburb of Montreal was for sale for $10,000 per acre, which would make its 400 acres worth at least $4 MM. Finally, it has a total of 413 excess acres in Sun City Center, Florida, which is just outside of Tampa. Sun City real estate is considerably less valuable, so I won't add a valuation for these parcels, but merely mention them as potential upside to my valuation.
Railway
The railway is a truly unique business. Aside from the breath-taking scenery, of which you can see a sample below, it also is unique from a permitting point of view. It would be very expensive to build a new scenic railway in Alaska, and that alone likely deters the entry of competitors. But more importantly, it would likely be impossible to get environmental permits to drive a new railway through the wilderness. That provides the company with a monopoly.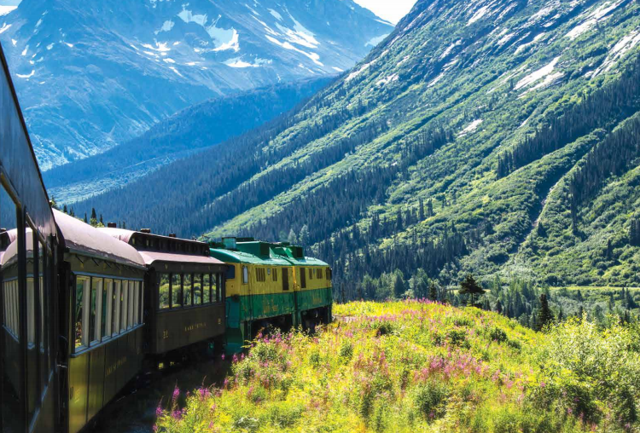 Source: Cover of Most Recent Quarterly Financials
While Alaskan sightseeing rail tours are not in any way an essential service, it is something that most people who take an Alaska cruise are interested in doing. I can write that with confidence because more than half of the people who stop in Skagway on a cruise ship take a train trip. Its capture of potential business is actually improving, as so far in 2017 50.4% of passengers who dock in Skagway have taken a rail tour, up from 49.1% in the comparable period of 2016. That is remarkable, as the trips are already quite expensive, and they are getting more expensive every year as the company exercises its pricing power. The growth in absolute passenger numbers and percentage share suggests to me that the company has not reached the limit of its pricing power. That intuitively makes sense, as an Alaska cruise is often a once in a lifetime trip, and for an extra few hundred dollars many will want to have the "full experience" as insurance against later regretting not taking the rail tour.
Quantitatively speaking, its total rail and port segment revenue per rail passenger is up 4.9% so far this year. The current prices range from $122 to $229 for its main excursions, although it also offers some cheaper options for hikers and other niche groups. Its average revenue per passenger is $135, which is remarkable given the relatively significant commission structure the cruise lines are likely to charge it. I would suggest its ability to raise prices and volume while maintaining 40%+ operating margins makes this an exception business worth of a high multiple.
It also makes the business easily able to support a material amount of debt, which is why many similar businesses are owned by private equity. As one example, Merlin Entertainments (OTCPK:MERLY)(OTCPK:MIINF) was previously held by private equity firm Apax partners. Merlin is a reasonable comp because quality attractions are a major part of its business. Some of its business is less differentiated (local aquariums, for example) but some is top quality assets like this railway, for example, The London Eye. The likely best comparable would be the Brewster assets in Canada's national parks, but they are only a small part of Viad's (VVI) business, which makes it a less useful comparable.
I calculated Merlin's enterprise value at 13.3X its trailing twelve-month enterprise value. I think in many ways this is conservative because 100% of this TWC segment comes from what could be called "once in a lifetime, one in the world" attractions, whereas a material portion of Merlin's EBITDA is regional scale attractions and amusement parks with greater capital spending obligations and higher levels of competition.
A second company I believe is comparable is Six Flags (SIX). While this regional amusement park chain doesn't have the one-of-a-kind nature of a tourist railway through Alaska, its assets do have moats of a sort, in that they would generally be impossible to replace economically, preventing new competition. I think TWC's rail assets have a better moat in the form of impossible environmental permitting, but SIX's is of reasonable quality as well. SIX trades at an EV/EBITDA of 17.8X. I think SIX is a better comparable than either DIS or SEAS because DIS has all sorts of other operations, and Seaworld has a potentially existential crisis if whale and dolphin captivity were to end.
The only other public company I believe is comparable is Tivoli A/S, traded in Denmark. Its Tivoli Gardens amusement and recreation park is a one-of-a-kind asset in Copenhagen. It has similar pricing power, in that it is a must-see for visitors to Copenhagen. The company had 187 MM DKK of EBITDA in its last annual results, and has an enterprise value of 3.45 billion DKK, giving it an EV/EBITDA ratio of 18.4.
I have personally experienced the London Eye, Tivoli Gardens, and the Yukon and White Pass rail tour, and I never considered not doing any of them when I had the opportunity, as they are truly world-class attractions. (I haven't been to a Six Flags location, so can't comment directly). I believe there is a scarcity value to unique experiences, especially in a generation where unique experiences have become a form of currency granting social status via posts on Facebook. The average EV/EBITDA multiple of the three comparables is 16.5X.
The rail segment has $27.8 MM of EBITDA over the trailing twelve month period, which at 16.5X works out to a value for the segment of $458.7 MM. I think this is conservative, as the only comparable that is solely what I would call 'truly unique' is Tivoli. So I think as a standalone business this could be worth an additional two turns of EBITDA.
Valuation Deductions
The company also has $311.8 MM of debt which needs to be deducted from the valuation. Additionally, it had a loss in its corporate segment from otherwise unallocated G&A of $2.94 MM. G&A is more consistent than any of its income streams, so I will capitalize it at a higher multiple than any of them, and use 20X. That suggests a deduction from the valuation of $44.1 MM for corporate costs. I have compiled the valuation from the segments in the table below.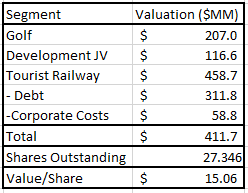 Source: Corporate Filings, Author's Analysis
This sum of the parts comes to a total valuation of $15.06 CAD, which would be 24% appreciation from the current $12.12 CAD stock price. Given the potential catalysts of redevelopment surfacing value and a potential sale or spin-off of the railway asset, that is a discount worth considering. I also think this is worth having on a watch list because if it does spin off the railway business its long-term positive characteristics have the potential for a long-term compounder type investment.
Conclusion
TWC Enterprises is undervalued at its current price. The company has two significant catalysts in the next year: the potential sale or spin-off of the rail division, and the sale of lots at Aurora. While the rail division is the bigger number, good numbers coming out of Aurora have the potential to get the market to pay attention to the potential development revenue from its other golf courses as well. The company pays a small dividend, (<1%) and is majority-owned by its chairman, the aforementioned Mr. Sahi. I believe (and his track record at Morguard supports this) that he is an excellent capital allocator, and I am excited to see it begin to monetize the land under its golf course portfolio.
The stock jumped as high as $13.64 CAD on the announcement of the strategic review, but has been drifting down lately as short-term traders lose interest. Realistically, canvasing the market for a one-of-a-kind asset was never going to be a 3-4 month process, so I don't consider the fact that it hasn't announced anything yet to be indicative of much, except that we are now closer to hearing the results. The quality of that business provides a solid backdrop even if it doesn't sell it or spin it off.
Disclosure: I/we have no positions in any stocks mentioned, but may initiate a long position in CLKXF over the next 72 hours.
I wrote this article myself, and it expresses my own opinions. I am not receiving compensation for it (other than from Seeking Alpha). I have no business relationship with any company whose stock is mentioned in this article.
Editor's Note: This article discusses one or more securities that do not trade on a major U.S. exchange. Please be aware of the risks associated with these stocks.