Summary
Most investors have a home country bias and have little exposure to international stock markets.
Furthermore, this extends into the bond category where most investors do not hold bonds at all and those that do likely do not have any international bonds.
The recent past has seen international markets drastically underperform the U.S., providing an opportunity for investors to increase their international exposure.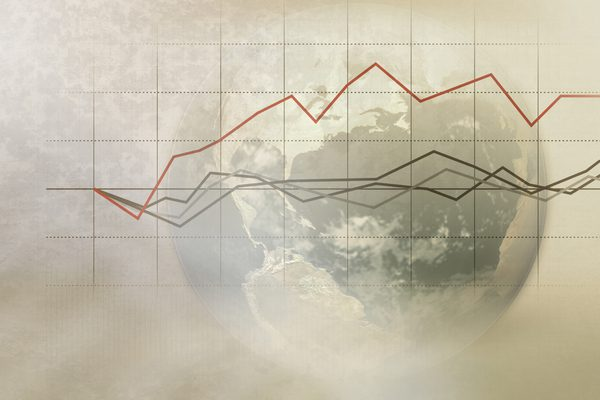 International investing is something that most U.S. investors do not do enough of. When you spend time with investors and look over their portfolios the one thing that sticks out more than anything else; the lack of international exposure. For most investors the home country bias is very real. Most investors will justify their over allocation to U.S. equities by citing international markets lower returns over the past decade. They also reason, why invest overseas when I can get exposure to those markets through U.S. equities? While some of these arguments, such as the exposure of U.S. businesses to international consumers have merit, many of the other arguments that investors use to justify their lower allocation to international stocks are actually reasons why they should own more of them, such as their low performance over the past decade. Investing also offers a unique set of behavioral challenges for investors and wealth managers alike.
In investing, stocks going down signals a panic for many, yet investors should see this as a time to buy quality businesses at sale prices, and international markets remain on sale. When your favorite ice cream goes on sale you tend to buy more of it, not less. Yet investors fail to use the same logic when investing in stocks.
When the market runs up, most investors will rush to get in, reasoning they don't want to miss out on the fantastic gains their neighbor is getting. In reality this is the time that investors should stay cautious, as stocks have become more expensive, and thus offer less return potential in the future. Using our ice cream example, when your favorite ice cream goes up in price you may rethink your decision to purchase it, reasoning it is now "too expensive".
This same thinking needs to come into play when investing. Stocks are nothing more than shares of ownership in a business, when the market discounts the stock, assuming there is no change in the material value of the business, this constitutes a sale of sorts, being able to buy more ownership in a fundamentally good business for a discounted price. It is important for investors to devise this mental model and execute their strategy with sound discipline, not allowing emotions to corrupt the framework that is in place. One of my favorite quotes from Warren Buffett summarizes this point.

In this piece, I want to go over why investors should be overweight to international markets, and provide investors with some ideas on vehicles to attain that exposure, as well as look at where I am seeing value today.
The opportunity to invest in international markets is a wonderful opportunity for value investors. It offers U.S. investors a compelling opportunity of both competitive value versus the U.S. market, and provides additional diversification benefits. Given the fact that I think in decades rather than in weeks or months, I continue to invest more than 50% of my equity positions outside the U.S. for two main reasons.
1. Majority of World GDP Outside the U.S.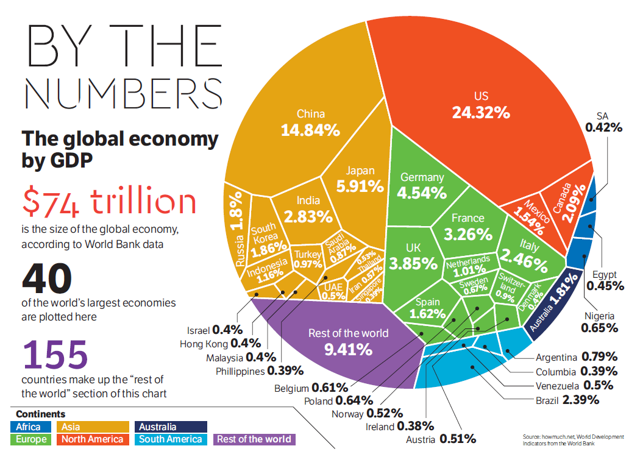 Today the majority of GDP produced is outside the U.S. and while I continue to expect the United States to play a major role in the world economy and be the center of innovation and entrepreneurship, we must acknowledge the rapid transformation of the world economy. Emerging market countries, particularly China will make up a larger and larger percentage of world GDP. Emerging market countries have a developing middle class, and are growing their economy at much higher growth rates than we are in the U.S. These countries also tend to have lower Debt to GDP ratios. While the road will be bumpy for some of them, and regulatory and legal concerns are still present, these economies represent a spectacular opportunity for investors to partake in the long term development of this part of the world. This also represents an outstanding opportunity for U.S. and developed market large cap international firms to sell goods and services to the developing world where rising incomes and low debt levels present a far better investment opportunity.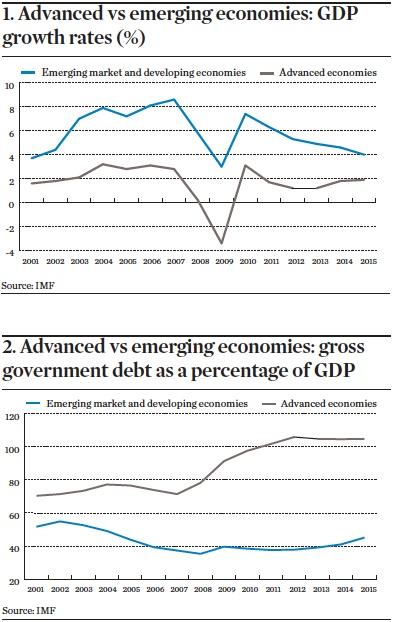 It is important for investors to stay nimble, and be able to take advantage of any opportunities in the market. For example, political chaos in Brazil has created an outstanding opportunity for investors to make long term investments in the country. While risks remain and political instability is a concern, especially ahead of the country's 2018 elections, for those willing to handle the increased volatility and use it as a selective buying opportunity, Brazil offers investors, what I believe to be, a wonderful investment opportunity.
iShares MSCI Brazil (EWZ) and iShares MSCI Brazil Small Cap (EWZS) provide investors with an opportunity to invest in Brazil. For investors looking for a broader Latin America option, and want an active manager, T. Rowe Price Latin America (PRLAX) is a fund to be considered. However in a departure from my usual preference for active management, I like the ETFs here because they offer more targeted exposure to Brazil, particularly the small cap ETF which I own.
2. Valuation Far More Compelling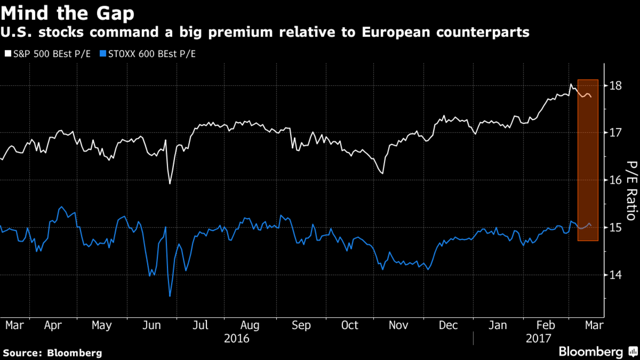 Nearly ten years ago we had the greatest financial crisis since the great depression. As ripples spread across the globe, the world economy slowly sunk into recession. As U.S. markets have rebounded quickly due to Federal Reserve easing and fiscal stimulus, foreign markets have been slow to recover, resulting in highly depressed prices for outstanding businesses. While much of the gap has since closed on the largest companies in the developed world, there remains excellent opportunities for investors to buy quality run businesses for a fraction of the price of a comparative firm in the United States. Given this gap in valuation, I continue to believe that international equities offer investors a competitive value opportunity for the long run.
Nestle (OTCPK:NSRGY), Heineken Holding N.V. (OTCQX:HKHHF), and Novartis AG (NVS) are all examples of excellent business offering investors a compelling thesis going forward. Additionally, companies like Royal Dutch Shell PLC Class A (NYSE:RDS.A) have been hit along with the rest of the oil patch, and I would argue that at current valuation, which has the company at less than 1.0x sales and paying a very nice dividend north of 6%, there is tremendous value. Even if you can argue that the dividend has to come down from current levels, while this will introduce likely volatility into the stock, it still offers a compelling valuation and I would be using any movement lower to buy more for the long run. RDSA remains well positioned to meet the long run energy needs of the world. They have recently purchased NewMotion an electric charging network showing their continued investment in the future of electric cars. The company also had $20.6 Billion in operating cash flow in 2016 and has continued to show cash flow growth.
What about Currency Risk?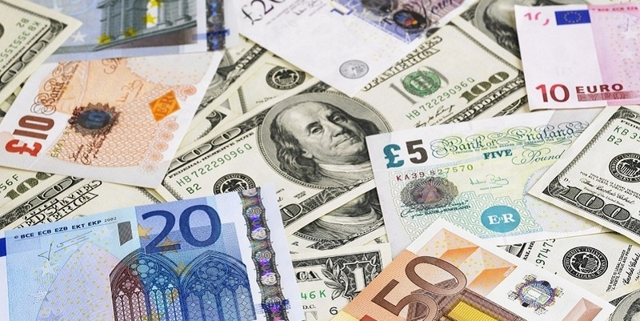 There is a case to be made that investors can use the currency exposure of international stocks as another form of diversification. My favorite mutual fund to invest in international markets is the Dodge & Cox International Fund (DODFX) for those with access to the fund (it remains closed to new investors), I think it represents a compelling low cost option to gain exposure to the entire international market including emerging markets. Given that it is closed to new investors, a reasonable alternative to the fund is the Dodge & Cox Global fund (DODWX) which offers exposure to companies around the world from both developed and emerging markets.
However, one of the many reasons that investors do not invest in international markets is that they are worried about international currency exposure. To mitigate this risk many then turn to hedged currency funds such as Tweedy Browne Global Value (TBGVX) or other lower cost ETF's that hedge currency such as Wisdom Tree Hedged Europe (HEDJ) or Wisdom Tree Japan Hedged (DXJ). There is certainly nothing wrong with this approach and there is sufficient evidence to conclude that this may be a superior way to invest in international markets. It gives investors exposure to the companies and markets, without dealing with currency risk. There is a limit, however, to the benefits of currency hedging, therefore I would not advocate this strategy with ETF's. An active manager like Tweedy Browne offers a far more compelling option for investors looking for hedged international portfolios.
Currency hedging only works up to a point at which time it becomes deleterious to investment returns and risk exposure. Generally the optimal value is thought to be 50%. This is for three main reasons.
"...the "optimal" solution of a 50%-hedged benchmark is supported by three other factors: First, the 50%-hedged benchmark reduces the pain from choosing the wrong benchmark at the wrong time. This is the situation where a plan selects an unhedged benchmark just before a period of sustained foreign currency weakness and the returns on hedged international assets massively outperform their unhedged equivalent - or when the exact opposite situation proves to be the case. While the plan may have a long-term horizon, it is still hard to accept 3 or 4 years of bad returns which resulted from choosing the worst performing benchmark. In order to avoid this "regret" syndrome, the plan can minimize the possibility of selecting a poorly performing benchmark by opting for the 50%-hedged benchmark. This will never be the best performing benchmark, but offers the comfort of never being the worst.

Second, over a full currency cycle (i.e. when currencies rise and fall such that the unhedged and fully hedged benchmarks have identical performance), the 50%-hedged benchmark actually outperforms both alternatives by a small margin (+/-0.10% per annum). This is due to an effect similar to that of a passive re-balancing strategy where the asset which has risen is sold and the asset which has fallen is bought.

Third, for plans with an active currency program, the 50%-hedged approach allows them to evaluate the currency manager's skill in the usual 3-5 year period. For active programs with a 0% or 100% hedged benchmark, it is only over periods of a perfectly complete currency cycle that one can calculate value added in an unbiased way."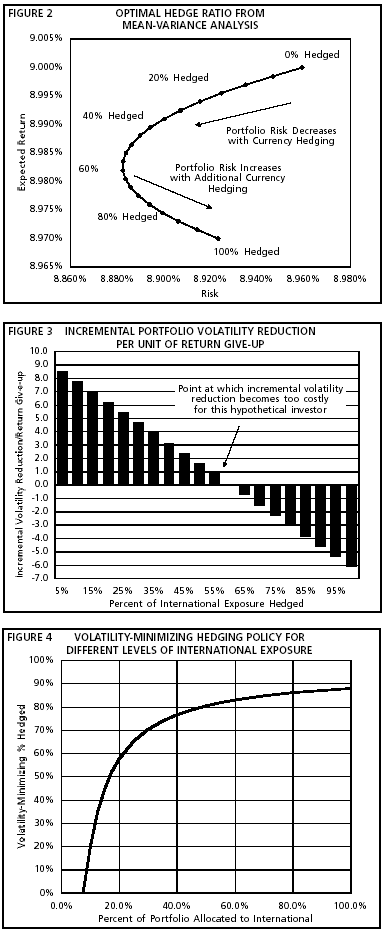 It is important to study a firms philosophy towards hedging. Firms like Tweedy Browne take a disciplined approach towards currency hedging, and engage in it selectively, and only when it is practical and is deemed to add value. Conversely, currency hedged ETFs offer investors far more hedging than evidence would deem is necessary, given the return opportunity set in the market. This replicates the index returns more often than not, at higher costs and possibly greater risk.
For mutual fund investors combining Tweedy Browne Global Value with Dodge & Cox International will provide investors with partial hedging to the international equity portfolio, which provides additional benefits both from reducing risk due to hedging, while allowing part of the portfolio to benefit from being un-hedged. This creates the potential for higher returns as a result of following a balanced hedging policy.
Regardless of which way you choose to go on hedging, it is important that you fully understand the risks being taken and why you are choosing to invest a specific way. Do not let the question of hedging determine your willingness to invest in international markets. In the end, it simply does not matter enough for the average investor. For those managing larger family office, and institutional portfolios, or professional money managers, it is more of a topic for consideration.
Currency Risk and Bonds
The issue of currency risk also relates to bonds. Most investors either do not hold bonds at all, or if they do likely stick to the domestic bond market. I believe this is a mistake. The international debt market offers some of the most compelling opportunities within the fixed income space, especially in corporate credit. The U.S. Bond market is estimated to be about $40 trillion while the international debt market is around $60 trillion. Investors cannot afford to not have a piece of a $60 Trillion pie, especially with rates on domestic fixed income at ultra low levels and lower returns going forward.
Many investors who do decide to include international bonds, opt for currency hedged international bond portfolios because of research from Vanguard which concludes that the majority of the volatility from investing in international bonds comes from currency risk. Understanding this research allows investors to determine whether they want a hedged or un-hedged bond portfolio. It is important to begin this discussion by understanding the elements of return within a bond portfolio.

The return is made up of the income from the bonds, the capital appreciation of the bonds, and then if you chose to hedge, a hedging component. This can vary materially in the short run, allowing investors to attain out sized gains or losses from a particular hedging strategy.

As a result of their research, Vanguard suggests you follow an index based hedged bond strategy. However, when we take a look at the Vanguard Total International Bond Index (VTABX) you can see that only four countries, Japan, France, Germany, and Italy, make up over 50% of the total portfolio, with Japan accounting for just under a quarter of the total portfolio. Buying bonds in such an indiscriminate manner to their value proposition, provides investors little value, and incredible single country risk. Bond investing in international markets is no different than stock investing in international markets, in that actively managing the portfolio using a disciplined strategy of searching for value, will provide, what I believe to be, the best returns over a full investment cycle.

I believe that investors would benefit from an un-hedged solution to investing in bonds around the globe. Un-hedged international bonds in addition to a U.S. centric portfolio of corporate credit and U.S. Treasury bonds along with other U.S. Government bonds, provides investors with, what I believe to be, a superior bond portfolio that maximizes both the opportunity set, as well as the potential benefits from diversification of global corporate and government bonds.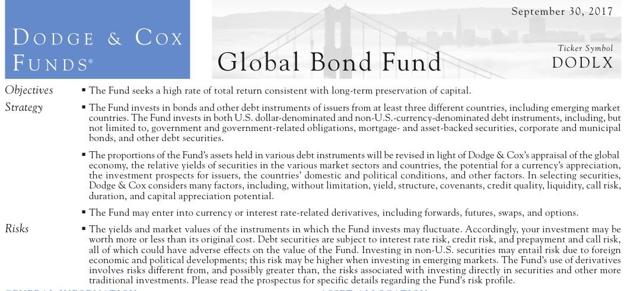 My favorite solution for investors in this space is the Dodge & Cox Global Bond Fund (DODLX) which is a currency un-hedged product providing investors with a range of bonds from across the globe. D&C tends to favor corporate credit, but they also own government bonds when value is presented. While the funds un-hedged stance leaves it open to larger swings in volatility in the short run, I am confident that a regression of returns for this fund over the long run will result in a higher overall total return than its hedged counterparts. Currency cycles also tend to offer greater opportunities for active managers to outperform over a complete investment cycle.
If we look at the comparison of returns between holding a mix of 50% Vanguard Total Bond Market (VBMFX) and 50% Vanguard Total International Bond Index (VTABX) and compare this strategy to simply holding Dodge & Cox Global Bond (DODLX) since the fund's inception, we would see the value of holding an active, un-hedged, bond strategy. The Vanguard funds approach generated a cumulative return of only 6.42%, while Dodge & Cox Global Bond was able to generate cumulative returns of over 10.17%, allowing Dodge & Cox to beat out the index fund benchmark global portfolio by 375Bps.
| | | | | |
| --- | --- | --- | --- | --- |
| | 2015 | 2016 | 2017 YTD | Cumulative Returns |
| Vanguard Total Bond Market Index (VBMFX) | 0.30% | 2.50% | 3.07% | 5.87% |
| Vanguard Total International Bond Market Index (VTABX) | 1.06% | 4.66% | 1.25% | 6.97% |
| Dodge & Cox Global Bond (DODLX) | -6.21% | 8.64% | 7.74% | 10.17% |
International Equities Offer Compelling Value for the Long Run
For the long term investor who wants to have exposure to the growing middle class in China, India, and other emerging markets, or for investors looking to gain more direct exposure to international markets, international small cap funds, offer a compelling option. Because these companies are smaller, they tend to offer more direct access to the real on the ground consumer. Many international mega cap firms such as Nestle N.A. are really selling to consumers around the globe. In this way they are not much different from a Coca-Cola (KO) or other global consumer goods company despite their foreign headquarters. But if we look at a company I own, like Q Technology, a local camera module manufacturer in China, you are getting direct access to the growing middle class in China that is purchasing a smart phone. In order to invest in small cap companies in emerging markets you should not use an index fund for this. You need specialists that are on the ground and can research individual companies that are supplying their local market with goods and services. As you can see Q Technology for example focuses on the mid-to high end camera module market in China alone.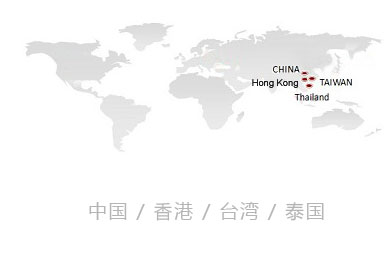 For investors interested in investing in small cap international markets, I offer a few mutual fund options. I generally do not recommend ETF's or other means for investing in this space, and unless you are going to do your own research, investors should likely not be buying individual names in this market as the issues for each business, country, and market are different and need to be analyzed by a professional.
1. Matthews Asia Small Companies (MSMLX)
There is no better firm positioned to give investors advice on the Asia market than Matthews Asia. With over two decades of investing experience in the Asia continent, Matthews offers investors a range of options for investing in the particular countries of Asia or the region as a whole. Matthews has a number of funds all of which have their own reason for investors to consider them. It is important that investors who are considering using Matthews Asia's funds, take the time to consider which strategy may be best for them over the long run.
The Matthews Asia Small Companies fund is an example of a wonderful holding that allows investors to access the developed, and emerging markets of Asia's small companies through a single vehicle. The fund does not include access to the Japanese market as it is pegged to the MSCI All Country Asia Ex-Japan Small Cap Index.
2. Matthews China Small Cap (MUTF:MCSMX)
For investors who want to get more granular in their exposure in selecting individual countries, the Matthews China Small Cap fund is a superb option to participate in the Chinese market. The fund trades at 13.41x earnings offering investors considerable value given the long term opportunity for above average rates of growth in China.
3. Brandes International Small Cap (BISMX)
For investors looking for a value tilt to their investing in international markets and want a vehicle that is looking for value all over the international world, the Brandes International Small Cap fund is a wonderful option. Charles Brandes is one of the greatest value investors in the world, so it is no surprise that Brandes International Small Cap tilts its portfolio towards where the manager sees the most value all over the international market. At times the fund will take large positions in countries that others are shunning, it is the role of a value investor to stick to their convictions and ignore the crowd. Brandes did this last year with their large stake in Brazil, which paid off handsomely for investors as the fund outpaced the MSCI EAFE Small Cap Index by 487Bps. The fund remains well positioned for future growth as it trades at only 13.29x earnings, and only 0.82x Book Value.
For investors who want a more tame way to play the growth themes in emerging markets American Funds New World fund is a good way to go. The fund invests in not only emerging market fare, but also to a limited extent in U.S. companies that derive a significant amount of their revenue from emerging markets.
Conclusion
Investors are ignoring an unbelievable opportunity in the international market to own quality businesses at lower valuations than the U.S. is currently providing. Investing in international markets is particularly attractive for dividend investors. Dividend yields in the international markets far surpass those in the U.S. combining both dividend yield with low valuation. The Tweedy Browne Worldwide High Dividend Yield Value Fund (TBHDX) is an interesting option for investors who want to combine a value investment philosophy with a global approach to dividend investing. The fund has only a 0.65 beta, and is up 16.74% this year with yield on stocks in the fund of 3.75%.
Tweedy Browne has a long history of successfully managing portfolios in this manner, and while the fund's performance since inception is lacking along with the rest of the international markets, its process, and prospects for growth, give me confidence in this holding over the long run. The firm has also conducted a great amount of research on the importance of dividends and the efficacy of their approach. It is a holding worthy of consideration for investors who do not want to manage their own portfolio. Many index investors would dismiss the holding based on its cost but I believe this is both short sighted, and misguided. Investing in international markets offers investors compelling value in a world of overvaluation.
Disclosure: I am/we are long MATTHEWS ASIA FUNDS, TWEEDY BROWNE FUNDS, T. ROWE PRICE FUNDS, DODGE & COX FUNDS, AMERICAN FUNDS, NVS, HKHHF, QTCHF, NSRGF, RDSA. I wrote this article myself, and it expresses my own opinions. I am not receiving compensation for it (other than from Seeking Alpha). I have no business relationship with any company whose stock is mentioned in this article.
Additional disclosure: This article is for informational purposes only and is not an offer to buy or sell any security. It is not intended to be financial advice, and it is not financial advice. Before acting on any information contained herein, be sure to consult your own financial advisor. This article does not constitute tax advice. Every investor should consult their tax advisor or CPA before acting on any information contained herein.