Value investing is one of the most popular investment strategies around, and for good reasons. No strategy can beat the market in each and every year, and value has been out of favour lately. However, there is a massive amount of statistical evidence proving that undervalued stocks tend to produce above-average returns in the long term.
Importantly, even if value investing can be simple in concept, implementing a sound value investing strategy is not as easy as it may sound. Cheap stocks are many times cheap for a good reason, and it can be hard to differentiate fundamentally solid companies from those facing a permanent decline.
With this in mind, I have developed a new value-focused quantitative system for subscribers in my research service, The Data Driven Investor. The system is quite intuitive and not particularly complex, and it has produced impressive back tested performance over the long term.
To begin with, the system excludes over-the-counter stocks from the universe in order to guarantee a minimum liquidity level and reduce risk.
Then we require every company in the system to offer valuation ratios below the industry average across four main indicators: Price to Earnings, Price to Earnings Growth, Price to Sales, and Price to Book Value.

Companies in different industries generally trade at much dissimilar valuation levels, so we want to make sure that the company is cheap by its own industry standards. Also, by looking at multiple valuation indicators at the same time we require consistency among the ratios. If all the ratios say that the stock is cheap, then multiple signals are pointing in the same direction.

From a starting universe of nearly 6,000 stocks we are left with only 649 companies after filtering for these requirements. Among those names, the systems selects the 50 best ranking names based on the Power Factors ranking system, a proprietary ranking system that ranks companies according to three main factors: valuation, financial quality, and momentum.

The backtesting assumes that positions are equally-weighted and rebalanced every four weeks. Also, the portfolio is assumed to have an annual carry cost of 1.5% to account for trading costs, slippage, and similar considerations.

Performance numbers are fairly impressive. The backtesting generated an average annual return of 30.47% since 1999, while the iShares Russell 1000 Value ETF (IWD), a widely diversified value-focused ETF, gained a much smaller 6.64% in the same period.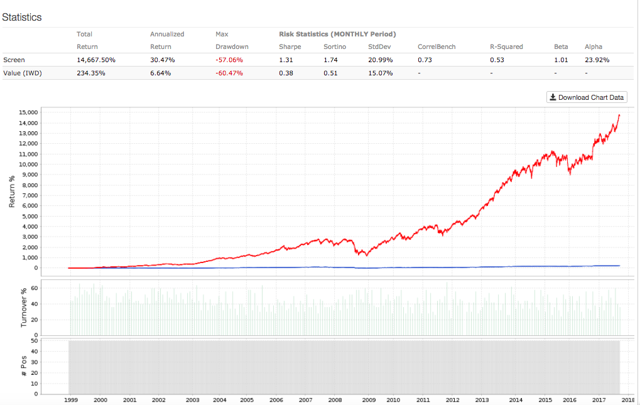 Putting the numbers in perspective, a $100,000 investment in the iShares Russell 1000 Value ETF would currently be worth around $334,100, while the same amount of money allocated to the portfolio recommended by the system would have an exponentially larger value of over $14.7 million.
Data and charts are from Portfolio123, and the complete list of companies is available to subscribers in The Data Driven Investor.
Case Study: Amgen Looks Undervalued
Amgen (AMGN), one of names currently included in the screen, is one of the top players in the biotech space, with a big presence in areas such as renal disease and cancer supportive care products. Amgen's portfolio is quite diversified; the company's main product, Enbrel, accounts for nearly 26% of revenue, which is a relatively low concentration risk by industry standards.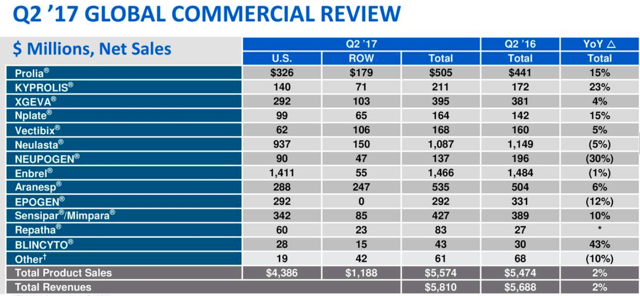 Source: Amgen
Being a mature player in the sector, Amgen is facing increasing pressure from biosimilar competitors, and this is hurting revenue growth. But the company has an interesting pipeline with multiple products in big markets such as oncology, cardiovascular health, bone health, and neuroscience.
While it's hard to tell how any of these products in particular may work in the future, it's good to know that the company is betting on a wide variety of alternatives.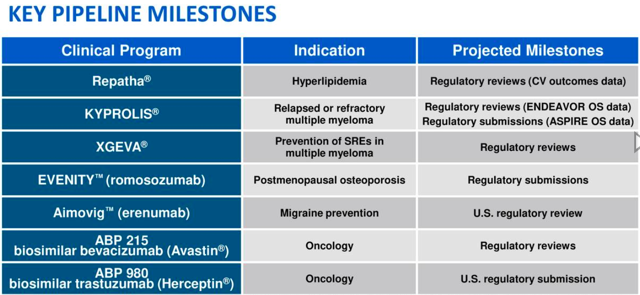 Source: Amgen
Amgen is also leveraging its biologics capabilities to launch biosimilar products targeting areas with enormous potential in the years ahead. This means that the company is not only playing defense, but also focusing on the offensive when it comes to innovation and competition in biosimilars.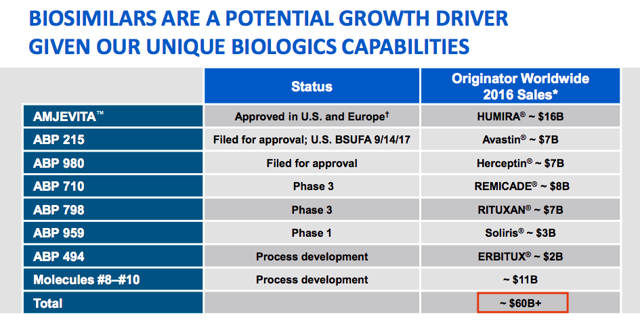 Source: Amgen
The company is implementing an aggressive cost-cutting program aimed at increasing profit margins and cash generation. Revenue increased by an uninspiring 2% during the second quarter of 2017, but adjusted operating profit grew 9% and adjusted earnings per share jumped by a vigorous 15% on the back of expanding profit margins.

Management intends to jump-start revenue growth through volume increases in the near future. In the meantime, margin expansion is allowing Amgen to reward shareholders with solid earnings growth in spite of lackluster sales performance.

Importantly, cost competitiveness is a key source of strategic advantage in biosimilars, so a more efficient business is a big plus from Amgen considering the company's plans in that area.
The company's financial performance will be hard to predict over the coming quarters, but the buisness remains fundamentally solid, and uncertainty is already incorporated into valuation to a good degree.
The following table compares Amgen versus other big biotech companies such as Celgene (CELG), Biogen (BIIB), and Regeneron (REGN) in terms of valuation ratios. Looking at price to earnings, forward price to earnings, price to sales, and price to book value, Amgen is clearly the cheapest company in the group.
| | | | | |
| --- | --- | --- | --- | --- |
| | P/E | Forward P/E | Price to Sales | Price to BV |
| Amgen | 16.5 | 14.2 | 5.75 | 4.2 |
| Celgene | 42.5 | 15.3 | 8.9 | 12.6 |
| Biogen | 22.04 | 14.47 | 6.07 | 6.14 |
| Regeneron | 44.7 | 27.07 | 9.21 | 8.56 |

Amgen stock is not only quite cheap in terms of traditional valuation ratios, the company has an impressive track record when it comes to cash flow distributions over the long term. Management intends to distribute nearly 60% of adjusted earnings to investors via dividends and buybacks, and this has substantially benefited shareholders in Amgen over the years.
The company started paying dividends in 2011, and it has increased those dividends by nearly 300% since the dividend policy was put in place. Also, buybacks have reduced the amount of shares outstanding by an impressive 33% of the total since 2009.
AMGN Shares Outstanding data by YCharts

It's one thing to say that the stock is cheap when looking at ratios such as price to earnings and price to free cash flow. However, when those cash flows are aggressively distributed to investors through dividends and buybacks, then that cheapness becomes far more tangible.


For 2018 management is aiming to deliver a double digit increase in adjusted earnings per share, with adjusted operating margin accounting for 52% to 54% of revenue and generating $1.5 billion in cost savings. The company said in its second quarter earnings report that it's on track to hitting those targets.

If Amgen can in fact deliver in accordance to guidance for next year, current valuation levels could turn out to be a buying opportunity for investors.
Disclosure: I/we have no positions in any stocks mentioned, and no plans to initiate any positions within the next 72 hours.
I wrote this article myself, and it expresses my own opinions. I am not receiving compensation for it (other than from Seeking Alpha). I have no business relationship with any company whose stock is mentioned in this article.