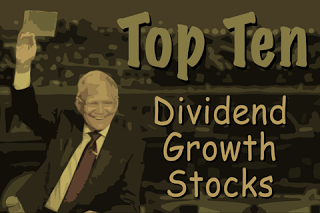 David Fish maintains a list of stocks with at least five consecutive years of higher dividend payments. Colloquially called the CCC list, it contains more than 800 dividend growth stocks trading on U.S. exchanges. While the CCC list and the accompanying spreadsheet is a wonderful source for dividend growth investors, analyzing so many stocks would be nearly impossible.
My monthly 10 Dividend Growth Stocks series identifies 10 CCC stocks worthy of further research. I select stocks from the CCC list, rank them, and assign a 7-star rating to each stock. It would be too demanding to rank all the CCC stocks, so I use different screens every month to trim the CCC list to a smaller number of candidates.
Trimming the CCC List
The latest CCC list (dated 9/29/17) contains 816 stocks.
With the markets trading at all-time highs, I thought it might be interesting to repeat last October's selection process, namely to focus on stocks I believe to be trading at or below fair value. First, though, I trimmed the CCC list using the screener available at the Dividend Kingdom.

The screener allows users to define one or more filters based on metrics available in the CCC spreadsheet, such as consecutive years, dividend growth rate, and dividend yield. It uploads the latest version of the CCC list to your browser's local storage so you can screen quickly. What I like about Dividend Kingdom's screener is that it uses the latest closing price instead of the end-of-month closing price as captured in the CCC spreadsheet. This provides a more up-to-date view of metrics such as a stock's dividend yield.
Here are the filters I used this month: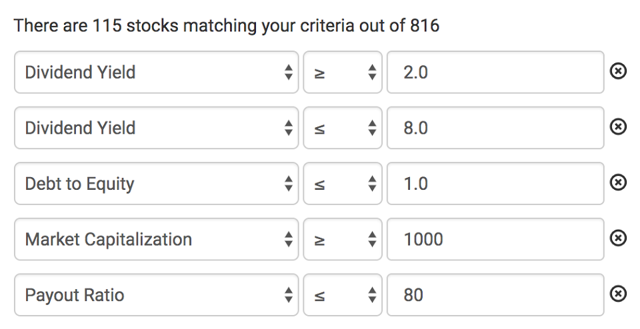 This trimmed the CCC list of 816 stocks to 115 candidates.
Subsequently, I performed a preliminary ranking of the 115 candidates using data available in the CCC spreadsheet. The preliminary ranking included a basic fair value analysis using a multi-stage DDM (dividend discount model) with a required rate of return of 10% and a terminal growth rate of 3% after 10 years. Of the 115 candidates, 33 stocks traded below fair value, at least based on my preliminary fair value estimates.
Here is an analysis of the 33 candidates, courtesy of finbox.io: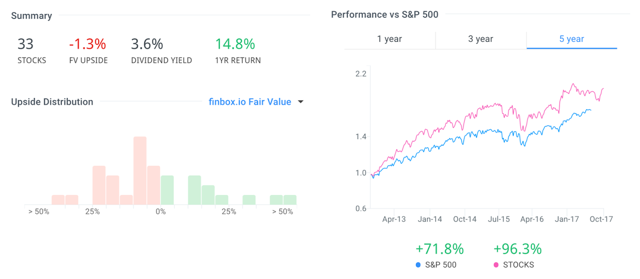 Collectively, the 33 stocks have a fair value downside of about 1%, but they show a solid 1-year return of 14.8%. Furthermore, the stocks have outperformed the S&P 500 by about 24.5% over the last five years.
The Ranking Process
I ranked the 33 candidates using data available in the CCC spreadsheet and additional sources like Morningstar, S&P Capital IQ, F.A.S.T. Graphs, finbox.io, and Simply Safe Dividends.
My ranking system favors established dividend paying stocks with strong fundamentals and stocks potentially trading at or below fair value. Dividend safety is another important factor.
Here are the top 10 ranked stocks for October 2017:
Stocks I own in my DivGro portfolio are highlighted.
Two stocks from last month's top 10 appear in this month's top 10. These stocks are identified with a subscript that represents last month's ranking. For example, TXN6 means TXN was ranked sixth last month.
Ratings and Sectors
Here are the top 10 ranked stocks by sector, along with my star ratings for each stock (out of 7 stars). The top 3 stocks each earned 6 stars, while the remaining stocks each earned 5 stars. I consider stocks with a 5-star rating or better worthy of further analysis:
1 • Altria (NYSE:MO) ✭✭✭✭✭✭✩ Consumer Staples
Dividend Champion MO was founded in 1919 and is headquartered in Richmond, Virginia. The company manufactures and sells cigarettes, smokeless products, and wine in the United States. In March 2008, MO spun off the subsidiary Phillip Morris to protect it from litigation in the United States.
2 • AmTrust Financial Services (NASDAQ:AFSI) ✭✭✭✭✭✭✩ Financials
AFSI, a multinational insurance holding company that underwrites and provides property and casualty insurance products worldwide. The company operates in three segments: Small Commercial Business; Specialty Risk and Extended Warranty; and Specialty Program. AFSI was founded in 1998 and is based in New York, New York.
3 • Lazard Ltd (NYSE:LAZ) ✭✭✭✭✭✭✩ Financials
LAZ is an international holding company based in Hamilton, Bermuda. The company's Financial Advisory segment provides services related to mergers and acquisitions, restructurings, capital structure, and other strategic matters. Its Asset Management segment offers various investment solutions and investment management services. LAZ was founded in 1848 in New Orleans.
4 • Texas Instruments (NYSE:TXN) ✭✭✭✭✭✩✩ Information Technology
TXN designs, manufactures, and sells semiconductors to electronics designers and manufacturers globally. The company operates through two segments, Analog and Embedded Processing. It markets and sells semiconductor products through a direct sales force and through distributors, as well as online. TXN was founded in 1930 and is headquartered in Dallas, Texas.
5 • Chico's FAS (NYSE:CHS) ✭✭✭✭✭✩✩ Consumer Discretionary
CHS is a specialty retailer of women's private branded, casual-to-dressy clothing, intimates, complementary accessories, and other non-clothing items. The company's portfolio of brands includes Chico's, White House Black Market, Soma Intimates, and Boston Proper. CHS was founded in 1983 and is headquartered in Fort Myers, Florida.
6 • Legg Mason (NYSE:LM) ✭✭✭✭✭✩✩ Information Technology
LM is an asset management holding company with operations in the United States and the United Kingdom, and several other countries. The company provides investment management and related services to institutional and individual clients, company-sponsored mutual funds and other pooled investments. LM was founded in 1899 and is based in Baltimore, Maryland.
7 • First American Financial (NYSE:FAF) ✭✭✭✭✭✩✩ Financials
Incorporated in 2008 and based in Santa Ana, California, FAF provides financial services through its subsidiaries. The company issues title insurance policies and provides escrow and real estate closing services on residential and commercial property. FAF also provides property and casualty insurance, and home warranty products to homeowners and renters.
8 • Cisco Systems (NASDAQ:CSCO) ✭✭✭✭✭✩✩ Information Technology
CSCO designs, manufactures, and sells Internet protocol-based products and services. The company also delivers integrated solutions to develop and connect networks around the world. CSCO serves businesses of various sizes, public institutions, governments, and communications service providers. The company was founded in 1984 and is headquartered in San Jose, California.
9 • Cheesecake Factory (NASDAQ:CAKE) ✭✭✭✭✭✩✩ Consumer Discretionary
CAKE operates restaurants and bakery production facilities, primarily in the United States. The company's restaurants offer lunch and dinner, as well as Sunday brunch. The bakeries produce desserts for its restaurants, international licensees, and third-party bakery customers. CAKE was founded in 1972 and is headquartered in Agoura Hills, California.
10 • Principal Financial (NYSE:PFG) ✭✭✭✭✭✩✩ Financials
Based in Des Moines, Iowa, PFG is a leading provider of retirement services, insurance solutions, and asset management services. In addition, the company offers individual life and disability insurance, group life and health insurance, and residential mortgage loan origination and servicing products in the United States. PFG was founded in 1879.
Key Statistics and Fair Value Estimates
The table below presents some key statistics as well as fair value estimates for the top 10 stocks. To estimate fair value, I use a multi-stage DDM analysis with proprietary adjustments. I set a required rate of return of 10% and use estimates of the annual EPS growth rate for the next 5 years. Thereafter, I taper the growth rate to a perpetual growth rate of 3% after 10 years. Adjustments to the calculated fair value are based on various factors, including an assessment of dividend safety.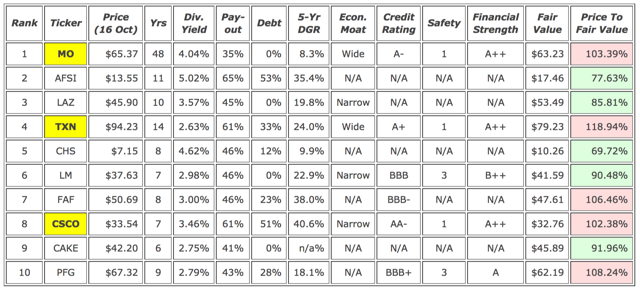 Looking Back
Since the one-year anniversary of my monthly 10 Dividend Growth Stocks article series, I've been looking back to see how my year-ago selections performed. Here's a chart showing the price performance (excluding dividends) of my top 10 ranked stocks from October 2016: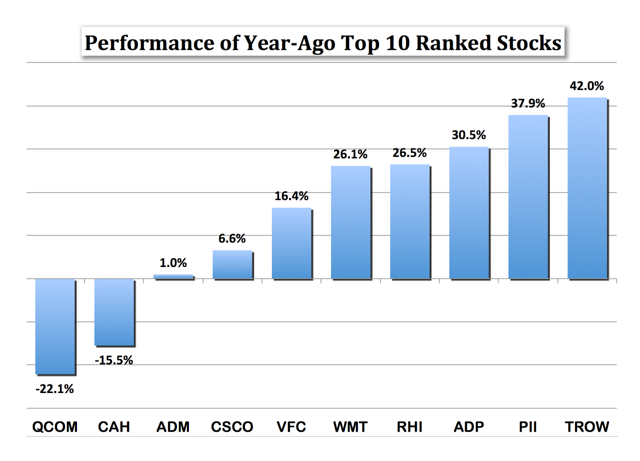 The arithmetic average of these returns is 15%. In comparison, the Vanguard Dividend Appreciation ETF (VIG) also returned 15% over the same period (excluding dividends).

Please note that I'm comparing the performance of last year's top 10 ranked stocks to VIG's performance for fun. At the time of publication, not all of the top 10 ranked stocks are suitably priced for investment, as illustrated with this month's top 10.
Concluding Remarks
With my monthly 10 Dividend Growth Stocks articles, I rank a selection of the CCC stocks and present the top 10 ranked stocks as candidates for further analysis. This month's screen favors a selection of CCC stocks trading near or below fair value.
Of the top 10 ranked stocks I don't own, LAZ and LM look quite interesting. Both stocks have zero debt, offer decent yields, and are trading at a discount of at least 10%. They also have excellent 5-year dividend growth rates of about 20%.
Please note that the top 10 ranked stocks are candidates for further analysis, not recommendations.
Thanks for reading! If you liked this article and would like to read similar articles in future, please click the Follow link at the top of this article.

Disclosure: I am/we are long CSCO, MO, TXN.
I wrote this article myself, and it expresses my own opinions. I am not receiving compensation for it (other than from Seeking Alpha). I have no business relationship with any company whose stock is mentioned in this article.