Summary
We review the EIA's Weekly Petroleum Status Report for the week of October 6, 2017.
Crude inventories continue to decrease as refinery utilization increases slightly.  Crude exports decline from record levels last week, and imports increase slightly.
Hurricane Nate to disrupt oil production in the Gulf of Mexico for the week of October 13th, this week is the calm before the storm.
Continuing our weekly series, Open Insights, we'll take a look at the EIA's Weekly Petroleum Status Report ("WPSR") for the week of October 6, 2017.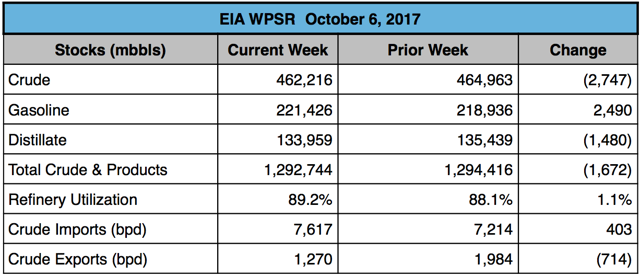 If last week was all about exports, this week was effectively the calm before the storm. The cutoff time for the WPSR is Friday morning, and for the week of October 6, this was right before Hurricane Nate worked its way through the Gulf of Mexico ("GOM") to effectively shut-down most of GOM oil/nat gas production. Severe disruptions will almost certainly be seen in the October 13th report that's due out tomorrow. We anticipate crude draws to exceed +10M barrels.
For October 6 week we continue to see crude inventories draw down by 2.75M barrels, this despite US Strategic Petroleum Reserves ("SPR") releasing 1.2M barrels. Absent the SPR release, crude inventories would have declined by close to 4M barrels. Crude exports fell back from the all time high reached last week to still a robust 1.27M bpd, while imports increased by 403K bpd. As for exports, we can parrot what we said last week. Given the continuing spread between the Brent and WTI prices (i.e., $5-6/barrel), we anticipate export activity to remain elevated for the foreseeable future. The continuation of the spread is further evidence that inventories remain tighter outside the US. For the week of October 13th, we'd expect to see a reduction of exports given the Hurricane effects. Refinery utilization increased slightly to 89.2%, higher than the 5-year historical average for this time of year (i.e., 87.6% from 2012-2016).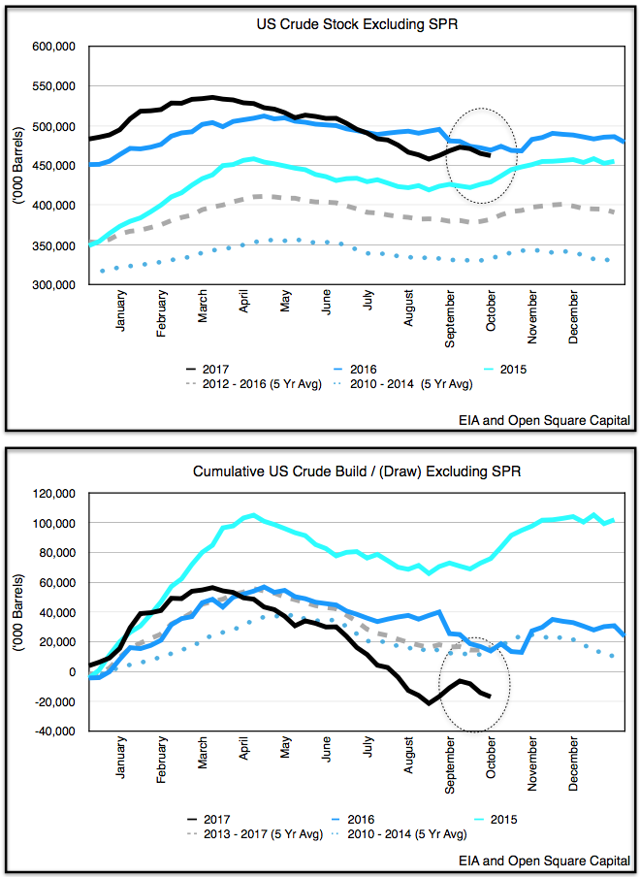 Gasoline inventories increased by 2.49M barrels, and distillates decreased by 1.48M barrels. Gasoline stocks were effectively "balanced", but the 4 weeks of straight increases has gasoline stocks now slightly higher than the 5-year averages. We'll continue to monitor gasoline stocks to see if this is a temporary issue or whether it's indicative of a demand fall-off.
Here's our updated chart for total US crude and products.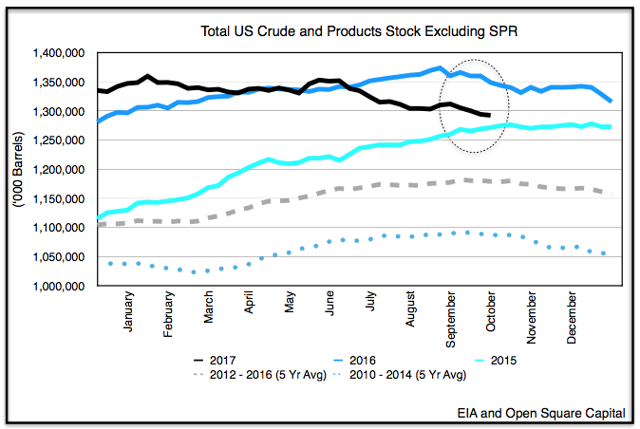 As always, we'll leave you with some food for thought.
1,134B barrels. That's the weekly ending stocks of crude oil in the US including the SPR, and it's about 2M barrels lower than what we had about 6 weeks ago before Hurricane Harvey came ashore and disrupted GOM and Texas refinery operations. On a 5-year average (2012-2016), crude inventories typically fall by 1M during the same time. Think about that for a second. It only took 2 hurricanes to arrest the decline in crude oil stocks that we've been seeing. Yet, the oil supply chain is like a long balloon, constrict one side and you'll see the effects show up on the other. Crude demand fall off because of refinery closures? See petroleum product stocks fall. As Yoda would say, fall by 15M it has. Compared to a 5-year average build of 4M barrels, we're seeing close to a 20M delta.
We've been on this oil ride for a while folks, and it's easy to get used to the week-in/week-out stock draws. Like a ship that can make the Kessel Run in less than twelve parsecs, this isn't normal. Inventories "shouldn't" be declining at this pace, and certainly not at this time of year. If we step back a bit and look at the data in totality, you really begin to notice the speed. Maybe then you'll say to yourself ... if these stock draws aren't normal, maybe these oil prices aren't normal. If you're an oil bear and you're still not afraid? You will be.
As always, we welcome your comments. If you would like to read more of our articles, please be sure to hit the "Follow" button above.
Relevance: USO, OIL, XLE, UCO, VDE, ERX, OIH, SCO, XOP, BNO, DBO, ERY, DIG, DTO, USL, DUG, BGR, IYE, IEO, FENY, DNO, PXE, FIF, OLO, PXJ, RYE, SZO, NDP, GUSH, DRIP, DDG, FXN, OLEM, CRAK
Disclosure: I/we have no positions in any stocks mentioned, and no plans to initiate any positions within the next 72 hours. I wrote this article myself, and it expresses my own opinions. I am not receiving compensation for it (other than from Seeking Alpha). I have no business relationship with any company whose stock is mentioned in this article.