Introduction
This is the second article in a three-part series on Greece (GREK). Our objective is to solve the mystery of the missing keys to Greece's next economic boom. In the prelude to this article, we alluded to the fact that we are beginning to see an increasing number of signs that point to an economic uptick in Greece. In this article, we will focus on two key areas that we think will offer the biggest delta on Greece's next economic boom: Trade and Tourism.
For many years now, Greece's economy, at best, could have been described as having been in a firm state of stagnation. The counter-intuitive austerity measures of the Troika-led creditors, if anything, must have contributed to that state. So, what's changed? Why is Greece's economy finally ticking up? Is it that the economy is self healing or is it that the economy is getting a boost from extraneous factors?
Our view is that there are a bunch of extraneous factors at play here and to understand those factors we must first make a round trip around the world and learn a bit about the ancient trading routes and their new evolving paradigms.
A Digression - Xi Jinping Meets Marco Polo
The Old Silk Road.
The Belt and Road Initiative.
The New Silk Road Economic Belt.

The China Pakistan Economic Corridor.
The Bangladesh-China-India-Myanmar Economic Corridor.

The Maritime Silk Road.
The Old Silk Road

The Silk Road was an ancient network of trade routes and passages that connected the Eurasian countries. It stretched from the Korean peninsula in the east to the Mediterranean Sea in the west and facilitated cultural and commercial exchange among the inhabitants of Eurasia. It was The Silk Road that played a major role in the development of Korean, Japanese, Indian, Chinese, Persian, European, Arabic, and African civilizations.
The Belt and Road Initiative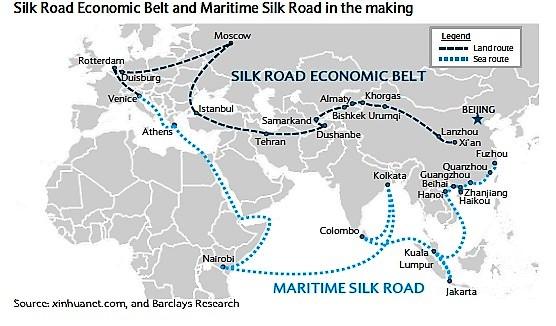 The Belt and Road Initiative (BRI) is Xi Jinping's most ambitious game plan to make China the center of global trade and commerce. The BRI aims to revive the Old Silk Road and comprises of the New Silk Road Economic Belt, which focuses on a network of trade routes on land, and the Maritime Silk Road, which focuses on a network of trade routes on the sea. By some estimates, the BRI when completed will include 60 countries, 2/3rds of the world's population, and 55% of global GDP.
The New Silk Road Economic Belt
The New Silk Road Economic Belt, focuses on the Eurasian land connection and is made up of railways, highways, oil and gas pipelines, and major energy projects. The New Silk Road beginning at Xian, a large city and capital of Shaanxi province in central China and the legendary starting point of the Old Silk Road, will have two major routes: a) across China to Kazakhstan and then Moscow, and b) through Mongolia and southern Russia to Moscow. Both routes then go on to Europe and end at Budapest, Hamburg and Rotterdam.
The route through China (FXI, ASHR, CAF) will branch off into two more routes: a) a route that will cross Iran and Turkey, and end in Europe, and b) a route that will connect the Pakistani port of Gwadar to the Chinese city of Kashgar in the western province of Xinjiang.
The Maritime Silk Road
The Maritime Silk Road focuses on enhancing the Old Silk Road through a network of sea routes. This network begins in China's eastern ports, goes on to Southeast Asia, South Asia, East Africa and then on to West Asia and the Mediterranean, and ultimately leading to Greece.
Greece, thanks to its unique geographical position, is situated close to the Suez Canal, a major trade route in the Mediterranean; it is a junction that connects three major continents: Europe, Asia, and Africa. It is little wonder then that China sees Greece as a gateway to Europe and wants it to be the western end point of its BRI. This is why Greece will matter... once again.
It is becoming increasingly clear that China needs Greece to access Europe and that Greece needs China to deal with its European debt mess and we are seeing plenty of signs of a strong Greco-Chinese partnership emerge.
Greco-Chinese Partnership
Anecdotal Evidence: Greece blocks EU's criticism of China's human rights record
At a recent meeting of the United Nations Human Rights Council in Switzerland, Greece blocked a European Union statement to the United Nations criticizing China's human rights record in light of its recent crackdown on activists. This was the first time ever that the European Union failed to make its statement to the United Nations Human Rights Council.
Greece's position is that unproductive and in many cases, selective criticism against specific countries does not facilitate the promotion of human rights in these states, nor the development of their relationship with the EU...
Anecdotal Evidence: Air China to launch direct Beijing-Athens flights this September
Chinese flagship airline Air China is launching direct flights between Beijing and Athens this September in cooperation with the Athens International Airport (AIA), one more landmark in the bilateral ties which is expected to help bring people of the two nations closer.
Extraneous Factors - Foreign Direct Investment Driven by Trade and Tourism
China's ambition of world dominance and Greece's desperation for a rescuer have resulted in an uncanny partnership between the two countries. China's interest in Greece primarily stems from its aspiration of dominating global trade and so, we see Trade as one of the main factors that will drive Greece's growth going forward.
Greece, like Hungary, has been one of the beneficiaries of massive Chinese investments. Chinese companies have been buying up Greek assets for the past two years. Foreign Direct Investment, not only from China but the other power brokers like Germany must have been one of the key reasons why unemployment has come down, and consumption and savings are going up. As a country opens itself to connect with new partners, its ports of entry need to be tweaked to better reflect this new relationship. Significant investments will be needed in both ports and airports over the next several years primarily driven by the need to expand to cater for any meaningful increase in the volumes of trade and/or travel.
Trade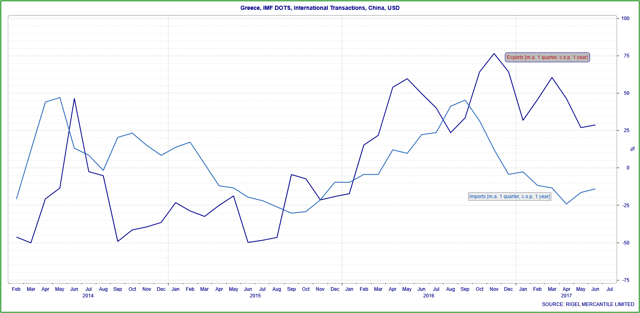 Tourism
It is a well-known fact that China runs a large current account surplus, but it might be a lesser known fact that Goods account for +198% of its total current account balance meaning that Services account for -98% of its total current account balance.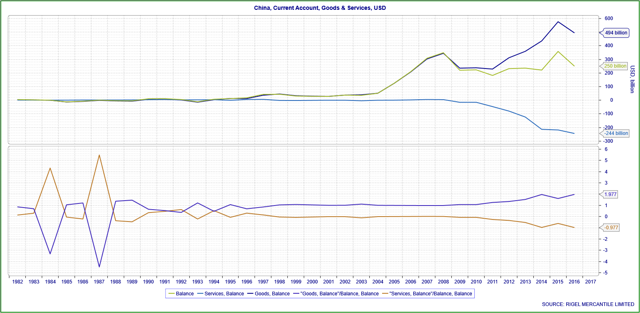 Out of the $244B deficit that China recorded in its Services component for 2016, a deficit of $217B was attributed to its travel balance. The Chinese people spend a lot of money on travel and tourism outside China.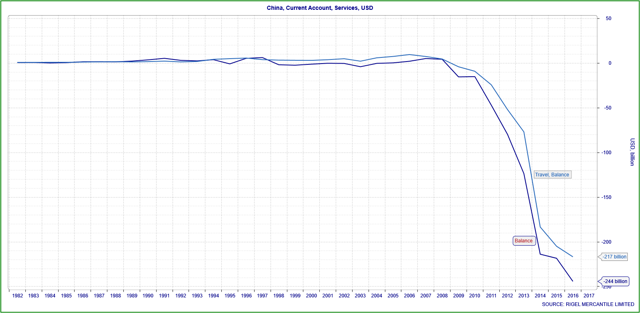 Given the fact that the Chinese have a voracious appetite for travel and the fact that China has found a new strategic interest in Greece, we don't think it's a coincidence that China's top airline has just announced direct flights between China and Greece. This, to us, is a clear sign that the Chinese government is encouraging their people to travel to Greece. Tourism is going to be the second biggest driving factor for Greece and the Chinese will lead this phenomenon.
Conclusion - A segue to our next installment on Greece
In conclusion, we will leave you with this: The two biggest driving factors of Greece's economy going forward will be Trade and Tourism. So, the keys to Greece's next economic boom have to be found in companies that stand to benefit from an increase in either of those two factors. Port operators and Airport service providers will have the biggest upside.
In the privatization spree of the past years, Greece has privatized its biggest port and most of its airports. Alas! The keys to Greece's next economic boom are not held by the Greeks; they are firmly in the hands of the Chinese and the Germans.
A Chinese shipping company called COSCO (China Ocean Shipping Company) Group Limited (OTCPK:CSPKF, OTCPK:CICOF, OTC:COIVF, OTC:CITAY, OTCPK:CSDXF, OTCPK:CICOY, OTCPK:CHDGF, OTC:CITAF, OTC:CSPKY, OTC:CSCMY) owns the largest and most important port in Greece, the Piraeus port.
A German airport management company called Fraport AG (OTCPK:FPRUF, OTCPK:FPRUY) owns around half of all Greek airports; seven of which are international airports.
In our next installment, we will delve into both these companies and hopefully identify the key with which to open Greece's economic doors. Stay tuned!
Disclaimer: Rigel Mercantile Limited specializes in Macro/Value Research and Systematic Trading. The views expressed above are our discretionary ideas that we have arrived at using discretionary analysis and, therefore, are limited to our discretionary portfolios only. Our systematic strategies may or may not have a position (long or short) in the securities mentioned above. Under no circumstances should the information contained herein be used or considered as an offer to sell, or a solicitation of an offer to purchase, any security or investment service. The information presented herein is presented in summary form and is, therefore, subject to qualification and further explanation.
Disclosure: I/we have no positions in any stocks mentioned, but may initiate a long position in FPRUY, FRA over the next 72 hours.
I wrote this article myself, and it expresses my own opinions. I am not receiving compensation for it (other than from Seeking Alpha). I have no business relationship with any company whose stock is mentioned in this article.
Editor's Note: This article covers one or more stocks trading at less than $1 per share and/or with less than a $100 million market cap. Please be aware of the risks associated with these stocks.