Looking forward in 2012 shows a bright future ahead for several stocks. Which do you pick from? I'll outline here a few of my top picks, and why I've chosen them. I've selected these stocks because of their strong performance to date both as companies and as investments, and their future prospects in terms of growth potential for 2012. These appear in no particular order.
Apple (NASDAQ:AAPL)
As much as I hate to admit it, I dislike Apple products. Why do I hate to admit that? Because it has kept me away from the stock and the company for so long. While I may dislike the products -- I'm a Google (NASDAQ:GOOG) and Microsoft (NASDAQ:MSFT) fan -- and while I may dislike the "culture," there is no arguing with the fact that the company and the stock are exceptional performers.
Consider Apple's 1 year chart :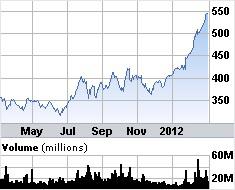 Even with recent increases, Apple is still trading at a discount considering their large stores of cash and strong position in their product lineup. With the impending release of iPad3, Apple should be considered a strong buy for a long term hold through 2012. My 2012 end of year price target is $750, or approximately 37% above Friday's closing price of $545.18.
SiriusXM (NASDAQ:SIRI)
I happen to love SiriusXM as a product. SiriusXM has a monopoly in their respective space for satellite delivery of radio, and though some detractors would like to paint the space as threatened by internet radio, I do not think this is a threat this year. SiriusXM recently had a price increase which I do not feel will result in significantly higher churn. Auto sales are expected to be the highest since 2008, and because SiriusXM derives the majority of subscribers from auto sales, expect a banner year for SiriusXM's bottom line.
Consider SiriusXM's 1 year chart :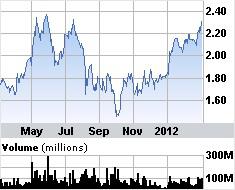 There is also the wild card of Liberty (LMCA) and the potential they will up their 40% stake to controlling interest or more after March 6th. If Liberty does this, expect a significant and sudden gain. Any way you slice it, SiriusXM is due for an exceptional year. My 2012 end of year price target is $3.50, or approximately 51% above Friday's closing price of $2.31.
Liberty Media Corporation
With SiriusXM making up over 51% of the market cap of Liberty, and Liberty's 40% stake in SiriusXM, the two go hand in hand and tend to move lock step with each other within the market. Investors looking for less volatility should choose Liberty over SiriusXM due to Liberty's diversified holdings acting as a bit of a hedge.
Consider Liberty's 1 year chart :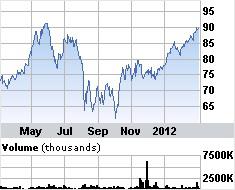 Whether or not Liberty makes a move to acquire SiriusXM, they will benefit through their massive stake in SiriusXM for 2012. What way SiriusXM blows, so does Liberty. My 2012 end of year price target is $120, or approximately 35% above Friday's closing price of $89.66.
Nvidia (NASDAQ:NVDA)
I love Nvidia and always have. As one who grew up on computer games in the 80s and 90s, and one who made his living off of a computer game for nearly 10 years, I have a special affection for the company. That said, I see wonderful upside to this volatile stock. Nvidia is the name when thinking of graphics power, and has positioned itself so that this will not change this year.
Tegra 3 processors are just starting to proliferate tablets and smart phones, exceeding performance of chips by other manufacturers. While I do see PC expansion card market waning, I feel Nvidia is positioning itself correctly moving forward. The portable market is growing quickly, and Nvidia has positioned itself well to take advantage of this going forward.
Consider Nivida's 1 year chart :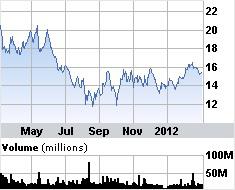 My 2012 end of year price target for Nvidia is $23 (approaching highs of 2011), or approximately 50% above Friday's close of $15.38.
Google
Like Apple, Google is an absolute behemoth. Dominant in the search engine space, Google has diverse interests under the umbrella of technology as well. Google Android based smart phones and tablets have provided a significant competitor for Apple within the portable space. Google is also dominating the mobile search space as well, which is rapidly growing. Do not let the high share price fool you. Google is a 100 car train that is going full steam ahead and difficult to stop.
Consider Google's 1 year chart :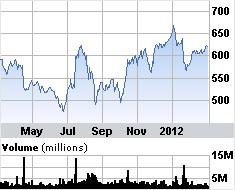 I agree with the sentiment of fellow Seeking Alpha contributor Scott Tapley on valuation in his recent article. My 2012 end of year price target for Google is $850, or approximately 37% above Friday's close of $621.25
The above companies have qualities in common that shouldn't be ignored. They all show profitability, excellent future prospects, and all are currently seeing appreciation as of this writing. These are excellent candidates for investment in 2012.
Disclosure: I am long SIRI. I may initiate a long position in NVDA, GOOG, AAPL or LMCA at any time.