Netflix (NFLX) and Domino's (DPZ) have been linked for some time. The rise of at-home entertainment has not surprisingly coincided with the rise of digital food ordering and food delivery. Thus, although "Netflix & Chill" became the mainstream phrase, it looked like "Netflix & Chew" was happening just as often.
That correlation between the two stocks has broken recently. NFLX stock has roared to all-time highs behind a powerful original content lineup which is fueling accelerated sub growth. DPZ stock, though, has fumbled, trading largely sideways since May of 2017 despite the company consistently reporting better-than-expected quarterly numbers.
While some might believe this "break-in-trend" represents an opportunity to buy DPZ stock at a discount, we take the counter position. We believe the "break-in-trend" has occurred due to investors realizing NFLX is a secular growth story in the ramp-up stages, while DPZ is a good growth stock at peak growth. Thus, we think DPZ stock is still slightly overvalued at these levels, and will wait for a bigger pullback before considering this a good "buy the dip" situation.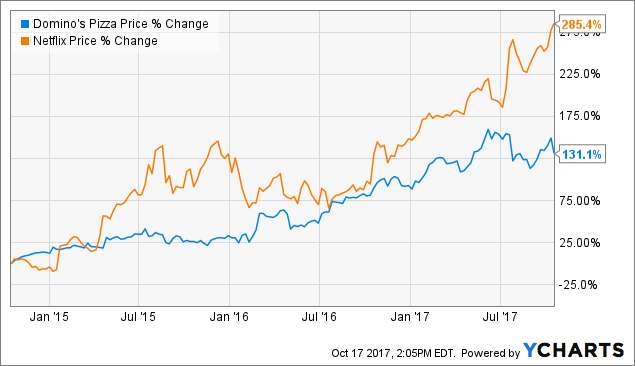 DPZ data by YCharts
Domino's has been a big winner for two reasons.
Firstly, the company reinvented itself back in 2010 when management created an entirely new pizza from the crust up. The response was exceptional. Comparable sales dazzled and the company got back on track to being the best-in-class in the pizza delivery industry.
Secondly, following that 2010 reinvention, the at-home economy started to take off. Over the next several years, the standard for "dinner and movie" night shifted from sit-down restaurant and movie tickets to pizza and Netflix. That shift has only accelerated recently as digital food ordering and delivery have developed into the norm. Naturally, Domino's was a huge winner because its delivery-focused model was particularly levered to benefit in this new era of food consumption.
But the DPZ advantage is starting to wear off. Digital food ordering and delivery is becoming increasingly commoditized. Look at GrubHub (GRUB), a digital food ordering marketplace. That stock is on fire this year. Or even look at Facebook (FB), who just rolled out food ordering capability on its platform.
As the food delivery space grows, DPZ will fade from being "the go-to option" to simply "a option" for food delivery.
That is why comparable sales growth is slowing to an alarming degree. Granted, the comparable sales numbers remain very strong at DPZ due to secular tailwinds in food delivery, but those robust comp numbers are coming down in a big way. US comps were up 14.1% at the beginning of the year. Now, they are up just 8.4%.
Although 8.4% is still a very good number, the near 600 basis point deceleration in comp growth is also quite noticeable, and a big part of that slowdown is more and more competition in the food delivery space.
All in all, then, DPZ's current sky-high growth rates won't last forever. Revenue growth will look more like 10% over the next several years. Rising labor and delivery costs will make it difficult to grow operating margins. Robust revenue growth should allow for some G&A leverage which, coupled with share buybacks, should turn that 10% revenue growth into mid-teens earnings growth.
But DPZ stock is trading at 28x 1-year forward earnings. That just seems far too rich for mid-teens earnings growth. In fact, this combination of a high-20s, low-30s earnings multiple on mid-teens earnings growth projections is what has led DPZ stock to trading sideways for the past several months.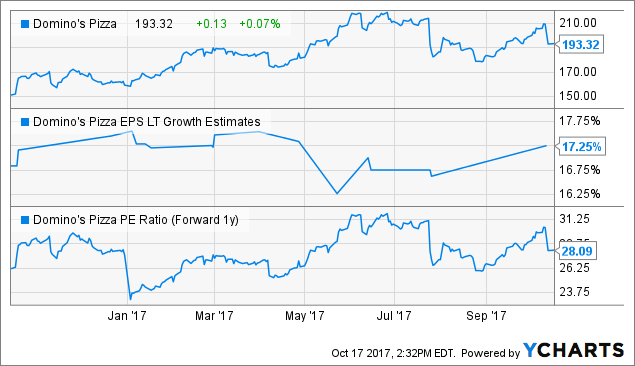 DPZ data by YCharts
All in all, we are letting DPZ stock cool down more before taking a bite on the dip. This stock got ahead of itself as investors built-up expectations for big growth to continue forever, but that just won't happen as competition in the food delivery space ramps up. At 28x forward earnings for mid-teens growth, DPZ stock doesn't yet possess a favorable risk-reward profile.
Disclosure: I am/we are long NFLX.
I wrote this article myself, and it expresses my own opinions. I am not receiving compensation for it (other than from Seeking Alpha). I have no business relationship with any company whose stock is mentioned in this article.