Summary
In Canada, sales of cannabis oil recently exceeded sales of dried cannabis by weight for the first time. Given the negative connotations of smoking, I think this trend will continue.
Upon analysis, it turns out that Licensed Producers converting dried marijuana into cannabis oil realize a "bump" in profitability of between 50% and 100%.
My winners to participate in this trend include the Licensed Producers I have been recommending: Aphria, Aurora Cannabis, Canopy Growth, Emerald Health and Organigram.
It is no accident that my smaller cap picks also benefit from this trend. I like Lexaria (increased bioabsorption and speed of edibles delivery), Namaste (sale of cannabis products through websites) and Radient (Microwave Assisted Processing for improved extraction).
Recently, I reported on Seeking Alpha "Health Canada Provincial Data…" the latest data shows sales of cannabis oil exceeded sales of dried cannabis by weight for the first time (see full report here). Here are a couple of charts from that report: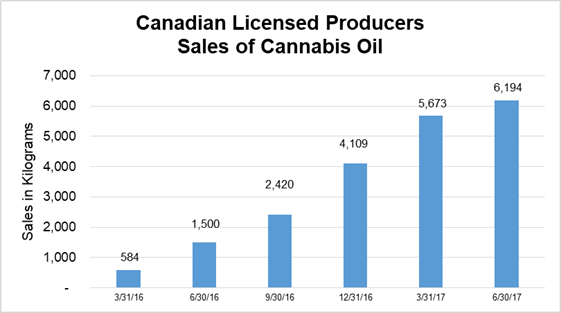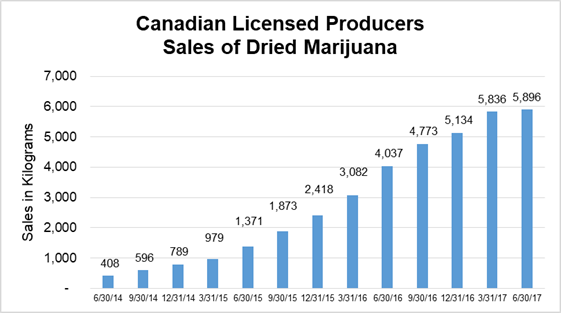 I believe smoking dried cannabis will probably remain popular with those who have been using cannabis for many years. For the newer and future generations, however, smoking is recognized as unhealthy and has become socially unattractive. Underlying the trend toward cannabis oils is consumer demand for a healthier alternative to smoking. Clearly, cannabis oils and edibles will continue to lead the way ahead.
It turns out, the cannabis industry enjoys positive leverage from this trend. While cannabis oils are outselling dried cannabis, at the same time oils are more profitable for the growers. To make the point, if it requires $10 worth of dried cannabis at retail to produce $5 worth of oil at retail, the economics don't work. Fortunately, $10 worth of dried cannabis at retail produces approximately $20 worth of oil at retail.
One process starts by soaking dried cannabis in a consumable alcohol such as ethanol to extract the THC and CBD. This is known as the Alcohol Extraction Process. Most commercial producers favor soaking the flower (BUD) only. It is possible to use more of the plant but in large scale production it may not be commercially profitable as the leaves and stems contain much lower amounts of cannabinoids. The exception is the "sweet" or "sugar" leaves that are smaller and grow near the flower tops which is also closer to the resin glands of the plant. These leaves generally have a much higher medical compound content and are often used by artisan growers that hand trim their plants. In any event, the alcohol extraction process is very efficient removing an estimated 90%-95% of the cannabinoids.
The next step is to evaporate the alcohol which has the effect of distilling the mixture leaving a concentrated resin. During this process the material becomes thick and viscous. It is a brownish color and the cannabinoid content level is elevated to high levels. It is interesting to note that when the concentration nears 100%, some cannabinoids become crystalline.
The viscous material is then dissolved in oil because CBD and THC, for example, are not water soluble. A variety of "healthy" oils is used in the industry including more commonly: coconut, grape seed, olive and sunflower oil. The cost of this oil is relatively small in terms of the overall cost of the conversion process and the final retail value of the product. Next, the mixture is tested for CBD content, for example, and diluted with additional oil until the desired percentage level is attained. In Canada, CBD oil is generally offered in the 2.5% range, although Emerald Health Botanicals offers a higher 5% CBD oil.
This process results in a conversion ratio of approximately 1:6, that is, one gram of dried cannabis produces around 6 milliliters of cannabis oil. A survey of Licensed Producer websites shows that 30 milliliters of oil sells for around CA $100. At this ratio, it requires approximately 5 grams of dried cannabis to produce the 30 milliliters of oil. At CA $8.00 per gram retail, the dried cannabis content has a retail value of CA $40 compared to a retail value of CA $100 as an oil. Even if I assume the additional costs of processing and packaging add a generous CA $15 to CA $25 to the CA $40 value of the dried cannabis input, the production cost is still only CA $55 to CA $75 so the increase in revenue is some 50% to 80%. Some of my contacts in the industry suggest the added margin is closer to 100%.
I owe thanks to several people for their assistance, especially Bin Huang, PhD, President of Emerald Health Botanicals, who explained the process to me in detail so I could communicate it in lay terms and Chris Damas, publisher of the BCMI Report, who comments on my Seeking Alpha articles from time to time.
In addition to helping us identify attractive investment opportunities, this information can also be useful for medical marijuana patients who want to know the processing involved in preparing their medication and as a general guideline for dosages. Assuming a 1:6 ratio, for example, a patient who is prescribed one gram of dried cannabis could purchase around six milliliters of oil. The ratio is fairly similar among Canadian Licensed Producers, but there are variations depending on the composition of the plant and the process used. So read the information on the package carefully.
Eventually, I think dried and oil products will sell closer to an "equivalency" basis. Oils will always sell at some premium reflecting the cost of production, but not as large as currently appears to the case. But I don't expect this will happen for a few years. Right now and for the foreseeable future, there is a shortage of cannabis relative to demand, and as long as that is the case, I believe this advantage will continue to accrue to the Licensed Producers.
Recently, Alan Brochstein in New Cannabis Ventures prepared a report on the major cannabis oil producers in Canada that included the following table (see full New Cannabis Ventures report here).

My summary of Brochstein's comments folows:
Aphria (APHQF) - For Q4, oils were a reported 31.7% of sales or about CA $1.81 million. Sequential growth from Q3 accounted for 83% of the increase in Q4 sales. APH held inventory of 1,091 liters of oil valued at CA $682,000 on May 31.
Aurora Cannabis (ACBFF) launched its oils in April, but it didn't break out the sales. Aurora suggested for August sales would exceed CA $3 million, with oils representing approximately 26% of sales.
CanniMed Therapeutics (OTC:CMMDF) reported in Q3 oils represented approximately 55% of sales or CA $2.63 million. Oil sales accounted for 78.6% of the growth in Q3 sales. CMMDF sold 1,114 liters in Q3, an increase of 208% while dried cannabis grams rose by 42%.
CannTrust Q2 oil sales at CA $2.39 million represented almost 53% of overall sales and drove 89% of the overall quarterly increase. CannTrust first sold oils in August 2016.
Canopy Growth (TWMJF) FY18-Q1 oil sales were 19% of revenue or approximately CA $3.02 million. The proportion of oil sales fell slightly from 22% in Q4. WEED recently brought online a massive extractor made by Advanced Extraction Systems and reported 6.5 million grams of dried cannabis awaiting conversion and 2,683 liters of oil in inventory.
MedReleaf (OTCPK:MEDFF) began selling oils in November 2016. FY18-Q1 sales of CA $1.50 million represented just 14.4% of sales, up from 9.3% in the prior quarter helping to offset a decline in sales of dried cannabis. LEAF disclosed oil represented 23% of June sales and it expects to get to 50% of overall sales.
Brochstein added:
"Oils are contributing to the growth of the leading LPs in Canada, and the producers are all well positioned to benefit over the next year and beyond as medical cannabis patients adopt these products over dried flower. How oils fit into legal cannabis sales is a topic for future discussion, as the types on non-flower products that are so popular in the black market and in the United States, including edibles and extracts with higher potency and different form factors (like shatters and waxes), are not yet permitted in Canada. Further, success in the current form of extracts doesn't suggest that the LP will be able to successfully create and market the products and brands that the consumer market will desire."
I agree with Alan's thoughts in general. I also take it to mean there are still many opportunities out there for Canadian Licensed Producers in the oils and edibles sector. Although approval of edibles in Canada has been delayed, the LPs will have this major oil conversion opportunity available to them in the meantime.
My picks to benefit from these trends are Aphria, Aurora Cannabis, Canopy Growth, Emerald Health (OTCQX:EMHTF) and Organigram (OGRMF). Also, it isn't an accident that my small cap picks also stand to benefit from this trend as well, for example, Lexaria Bioscience (OTCQX:LXRP), Namaste Technologies (OTCQB:NXTTF) and Radient Technologies (OTC:RDDTF).
Disclosure: I/we have no positions in any stocks mentioned, and no plans to initiate any positions within the next 72 hours. I wrote this article myself, and it expresses my own opinions. I am not receiving compensation for it (other than from Seeking Alpha). I have no business relationship with any company whose stock is mentioned in this article.
Editor's Note: This article covers one or more microcap stocks. Please be aware of the risks associated with these stocks.