Confidence
Consumer confidence can't get much better than it is today, but remember that it is a coincident indicator at best. We are now at levels not seen since 2004, but the rate of consumer spending growth is far below what the current level of confidence would suggest. The rate of consumer spending growth is slowing along with the rate of real wage growth, so I can only assume that the majority of the 500 households participating in the survey are either holding significant financial market wealth that is benefiting from the bull market or expecting that lower tax rates and less expensive healthcare are right around the corner.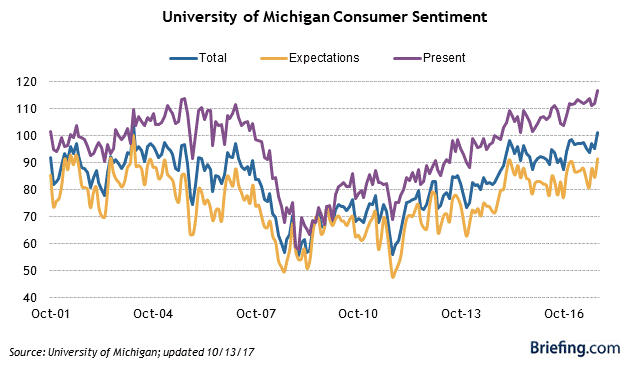 Business confidence took a notable dip last month, as the NFIB small business optimism index slid to its lowest level of the year, driven by a tumble in sales expectation and the outlook for expansion. The decline in confidence was across the country rather than confined to areas hit by the hurricanes. In fact, the NFIB suggests that the survey might be even weaker considering that survey participants in Texas and Florida were less likely to have responded. Undoubtedly, the lack of progress on healthcare and tax reform in Washington is weighing on small business owners. I expect no major legislation to pass through the remainder of this year.
Consumer Price Index
Consumer prices rose 0.5% in September, led by a hurricane-driven increase in fuel prices, but the core (minus food and energy) rose a mere 0.1%. This results in a 2.2% year-over-year increase in the overall rate, while the core is up 1.7% for the fifth month in a row. This is still well short of the Fed's target of 2%. I don't see the core rate rising above 2%, despite the 0.5% surge in average hourly earnings last month, which was also likely hurricane-related. Earnings rose because a significant number of low-wage workers in the leisure and hospitality industries were excluded from the pool. Yet despite what was probably a temporary increase, real incomes still declined.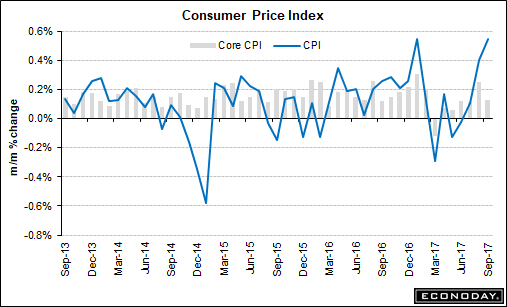 Real Income
Real average weekly income growth for production and non-supervisory employees has now fallen from what was 1.2% a year ago to a negligible 0.2%. This is the fuel that drives consumption, and we look at it in real terms because the rates on consumption and economic growth are also viewed in real terms. Most consumers must continue to borrow to increase spending.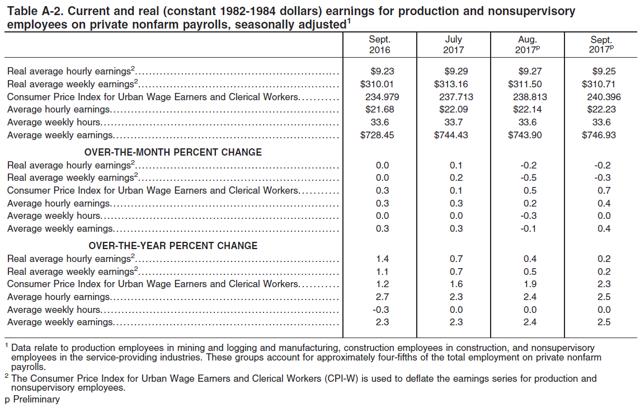 Retail Sales
Retails sales rebounded 1.6% in September due predominately to hurricane-related spending on autos and building material and price increases for gasoline.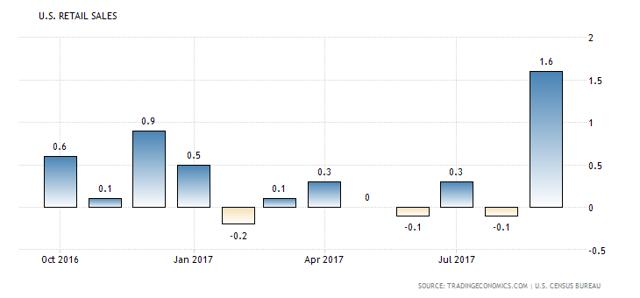 Core retail sales exclude autos, gas and building materials, as well as bar and restaurant sales. This metric rose a strong 0.6% in September, which will lift GDP expectations for the third quarter, but the trend in year-over-year core retail sales growth is downward. I think this can be explained by the deterioration in the rate of real income growth. The only developments I see reversing this downtrend are tax reforms that actually increase middle-class household incomes, which the current proposal fails to do, or a rise in average hourly earnings that begins to exceed the rate of inflation. This is also unlikely in my view.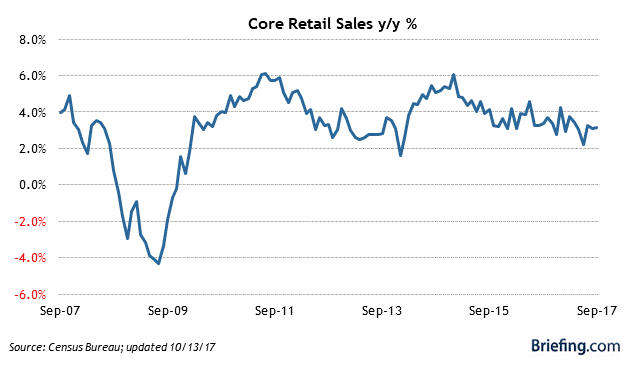 Bond Market's View Of The Economy
If this isn't your first rodeo, you know that the bond market is far more keen than the stock market when it comes to reflecting what is really going on in our economy. As the stock market indices are achieving new highs, long-term interest rates (10-year Treasury yield) continue to decline in a series of lower highs and lower lows, implying slower rates of growth and inflation. This runs counter to the outlook for a reacceleration in the rate of economic growth.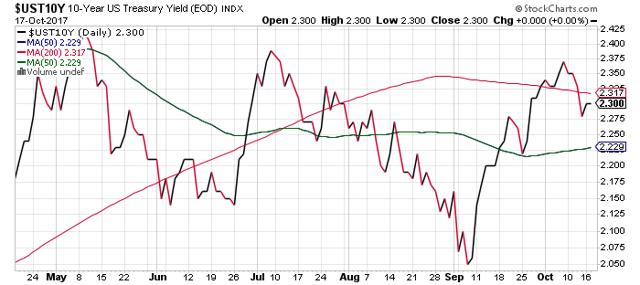 Investors often ask me why my commentary about the US economy is so negative when the stock market, which has historically been a reflection of economic prowess, continues to perform so well. Consider the fact that we are borrowing more than 3% ($640 billion) of our annualized economic output to grow the economy approximately 2%. I see not one sensible plan from our political leadership to restore fiscal responsibility and stability. Why? Any plan which does not involve some pain and hardship is not realistic, and we all know that politicians don't overtly dole out pain or hardship to their constituents. As well, the public doesn't elect politicians that highlight the harsh realities we will eventually face, much less those who promote realistic solutions.
Meanwhile, valuations for the broad stock market are more consistent with a world in which we are well on our way to restoring fiscal responsibility and a reacceleration in the rate of economic growth that isn't debt-induced. In my view, valuations are approaching levels that are as good as they get.
Disclosure: I/we have no positions in any stocks mentioned, and no plans to initiate any positions within the next 72 hours.
I wrote this article myself, and it expresses my own opinions. I am not receiving compensation for it (other than from Seeking Alpha). I have no business relationship with any company whose stock is mentioned in this article.
Additional disclosure: Lawrence Fuller is the Managing Director of Fuller Asset Management, a Registered Investment Adviser. This post is for informational purposes only. There are risks involved with investing including loss of principal. Lawrence Fuller makes no explicit or implicit guarantee with respect to performance or the outcome of any investment or projections made by him or Fuller Asset Management. There is no guarantee that the goals of the strategies discussed by will be met. Information or opinions expressed may change without notice, and should not be considered recommendations to buy or sell any particular security.