Investment Thesis
Tyson Foods (TSN) stands out in the suffering packaged foods industry. Their success to date can be contributed to management's dedication to their strategy and taking advantage of growth opportunities. Specifically, innovations to their protein offerings and their recent acquisition of AdvancePierre Foods have driven growth. Furthermore, TSN is focusing on cost cutting to make operations more efficient and has a strong 2017 and 2018 outlook. Innovation and financial strength coupled with a reasonable valuation leads to TSN having a buy rating.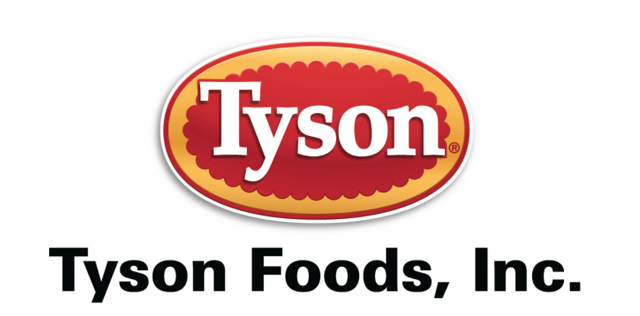 Recent Performance & Fundamental Analysis
TSN is ripe for investment after analyzing the company from a fundamental perspective. They are consistently generating more operating cash flow, EPS has been growing, and they are setting aside funds to return to investors through dividends and share repurchases. Operating cash flow grew from $1,178M in 2014 to $2,570M and $2,716M in 2015 and 2016, respectively, and a higher top line in 2017 is expected to trickle down to another year with a growing operating cash flow. EPS has realized growth with figures of $2.94, $3.15, and $4.39 in 2014, 2015, and 2016. Their dividend reached $0.9 per share for the year in 2017. In addition to this, TSN's 2017 guidance was raised during their third quarter 2017 earnings report, with Q3 revenue up 4.8% YOY and revenue of $38B expected for the year. The investor presentation is linked here. This data proves that TSN is growing well and is financially healthy.
Another main impression from the investor's presentation is management's focus on sustainability and future growth opportunities. Animal well-being and sustainable farms is a topic they are tackling head on, which is a hot button topic for some consumers. Addressing their sustainability concerns by showing what the farm of the future looks like to the public is smart because it is reassuring that they are conscious of their global footprint. However, a direct timeline for their sustainability plans was not provided. Management addressed that they see future growth opportunities through being open to acquisitions and by altering their product lines, which will be discussed in-depth later in this article.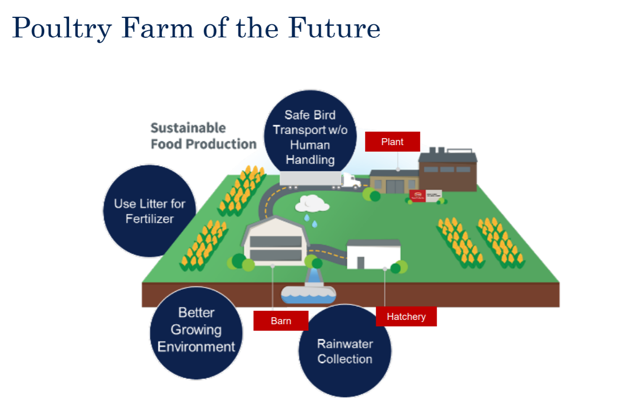 One contributing factor to TSN's recent success is their acquisition of AdvacnePierre foods. This target helped to bolster their portfolio of high protein prepared food options and $200 million of synergies are expected to be realized in the next three years. The Hillshire acquisition finalized in 2014 is estimated to have already benefited from over $1B in synergies. TSN management has made it clear they are looking to acquire to fuel growth, and so far, they have successfully integrated their target companies.
Differentiated Product Offerings
Tyson Foods is staying up to date with consumer tastes. Their acquisition of AdvancePierre foods will bolster their protein product sales. In addition to this, they have divested from their Sara Lee Frozen Bakery business, Kettle, and Van's. They are further penetrating the breakfast market with new products from their Jimmy Dean brand. This movement towards protein and away from unhealthier foods is smart as consumer taste changes. Unhealthy products simply aren't going to perform as well in today's increasingly health conscious society. Tyson Food's poultry, pork, and packaged goods segments have grown over 10% each this year.
The reason that offering high protein options is smart business is exemplified in the graph below. This is meat data from 1990-2022 in the United States (6 years of forecast) from OECD.org. The conclusion from this graph is that the meat industry has been extremely stable over the past 25 years, especially with recent growth in poultry and pork. Diversifying a product selection for a frequently eaten product will contribute to greater market share and ultimately higher revenue. The graph shows estimates for all three meat product groups to grow slightly from 2018-2022.
Tyson Foods is also acting on the trend of veganism and some consumers' diet trends. They bought a 5% stake in Beyond Meat, a young company that makes plant based burgers. Beyond Meat also offers chicken and ground beef replacement products. This positions TSN well for both meat and non-meat consumers by providing multiple protein packed products. Adapting to consumer taste will help TSN grow their top line.

(I made this graph myself using OECD data)
Valuation
An image of my discounted cash flow model is below. I project revenue growth to be 5% year over year from 2017-2020. This growth rate results in a figure that is near their 2017 and 2018 targets of $38B and $41B, respectively. I expect the revenue to continue to grow at this rate in 2019-2021 as they continue to innovate products and release new options to the market. Free cash flow percent of revenue in this model is 3%. This figure is reliable because this is their five-year average. Their 10-year average is 2.25%; however, the past couple years, TSN has achieved higher percentages of 4%-5%. I suspect this is accurate, if not conservative, when accounting for their cost cutting efforts. TSN has cut 450 jobs, mostly from their corporate office, to pursue a more efficient operation. Below you can see my calculations of WACC, which calculated to 4.28%, and a stock price per share of $106.92 per share using NPV analysis. TSN is currently trading at $70.11, so this model shows a potential 53% upside. This is a long-term price target for TSN, I do not expect a 53% jump in the near future.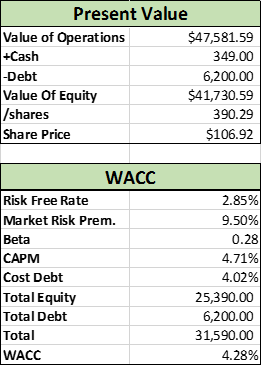 (Data is from Morningstar, I created the model myself)
The next valuation method to analyze the fair value of TSN is a comp model. The conclusion from the comp model is that overall in comparison to the broader market, TSN does look to be undervalued in almost every metric by a substantial measure. When comparing TSN to just the packaged food industry, it is a slightly different and less conclusive story. From a P/E perspective, TSN is undervalued, while looking at P/FCF, P/B and P/Sales TSN is slightly overvalued.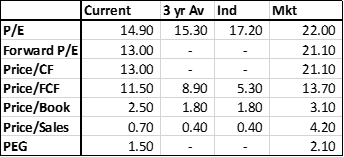 (Data is from Morningstar, I created the model myself)
Conclusion
Tyson Foods is currently a smart investment. Their recent performance and growth has been strong and the management team has a clear strategy that is being executed. They will remain competitive in the stable meat industry with their innovative and growing product offerings. In addition to this, TSN is committed to sustainability and is exploring plant based meat substitutes to broaden their customer base. The company is trading at a cheap valuation, and according to my DCF model, there is a tremendous amount of upside for this ticker.
Disclosure: I/we have no positions in any stocks mentioned, but may initiate a long position in TSN over the next 72 hours.
I wrote this article myself, and it expresses my own opinions. I am not receiving compensation for it (other than from Seeking Alpha). I have no business relationship with any company whose stock is mentioned in this article.
Additional disclosure: if you enjoyed this article please hit the follow button and comment below! Any questions or requests please email me at seanwarneke@gmail.com