Challenges in NAFTA talks have paved an opportunity for investors to buy the Canadian dollar on dips. Both the Canadian dollar and Mexican Peso have been adversely affected by stalling NAFTA negotiations between Canada, Mexico, and the United States of late. Talks will now be extended through to the first quarter of 2018, with the next round taking place in Mexico City in a month's time.
Following news that negotiations will re-convene in a month's time, the CAD and MXN actually rebounded a little on Tuesday, showing perhaps that the markets have already more than priced in the difficulties present in the NAFTA negotiations.
For the CAD, the currency has two big positive catalysts that may well support its price action: 1) Rebounding oil prices and 2) an increasingly hawkish Canadian central bank.
For the former, I wrote a month ago that oil prices have been stealthily creeping higher, and its upward trajectory have largely remained under the radar for most investors then. Since then, Brent Crude has made new 52-week highs, while WTI now trades above $50/bbl, a significant psychological mark.
Oil prices have a strong positive correlation with the CAD, given that Canada is a huge exporter of oil. With Brent Crude already making fresh 52-week highs, I believe it is a matter of time before WTI follows suit as well, and a backdrop of higher oil prices will be very CAD-supportive going forward.
For the latter reason, the Canadian central bank surprised the markets in September by raising its benchmark interest for the second time this year to 1%. The central bank appears to be firm on reversing the rate cuts it undertook to support the Canadian economy during the 2015 oil price crash.
Canadian Central Bank governor Poloz has stated that the future path and pace of rate hikes will be data dependent, and with unemployment at a relatively robust figure at just above 6%, and inflation data posting higher numbers for each month since June 2017, it is arguable that the Canadian central bank has sufficient grounds to gun for further rate hikes going into 2018. Canada releases CPI numbers this Friday, which will be closely watched.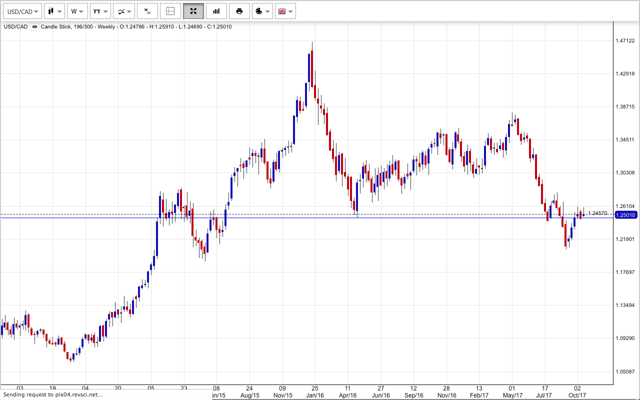 From a technical perspective, USDCAD currently trades around the 1.2450 support, as seen by the horizontal blue line. It previously made lows of around 1.2100 this year, which represents a good 350+ point move should the currency pair retrace back to test those lows. Given the positive catalysts in store for the CAD, coupled with the fact that NAFTA talks appear to have been priced into the currency's bearish price action of late, I suggest going short USDCAD with a take profit target at 1.2100 and a stop loss slightly above 1.2750.
Disclosure: I/we have no positions in any stocks mentioned, and no plans to initiate any positions within the next 72 hours.
I wrote this article myself, and it expresses my own opinions. I am not receiving compensation for it (other than from Seeking Alpha). I have no business relationship with any company whose stock is mentioned in this article.