By G C Mays
USDA's October World Agricultural Supply & Demand Estimates Report raised its estimate of U.S. corn (CORN) production and domestic use for the 2017/18 marketing year. Revised estimates of the recently ended 2016/17 marketing year show much higher domestic animal feed and overall use. The higher production forecasts are still lower than the previous year, however, this is not translating into a higher forecast of farm prices.
Corn Supply and Demand: Production, Use, Beginning and Ending Stocks
Estimates of corn production one month after the end of the 2016/17 marketing year were the same as September. However, estimates of corn imports are 50 thousand metric tons higher than September. The extra corn imports did little to offset the 1.6 million metric ton increase in total use. Higher domestic feed use of 990 thousand tons made up more than half the increase. The markedly higher use brought 2016/17 ending corn stocks down by 1.4 million metric tons.
Estimates of 2016/17 foreign corn production are 4.1 million metric tons higher. This production increase is not enough to offset higher total use of 6.8 million metric tons. Animal feed use is generally the largest use of corn. However, estimates of foreign feed use are down 440 thousand metric tons for the recently ended marketing year.
In the U.S., the lower carry over to the 2017/18 marketing year is more than offset by production forecasts that are 2.4 million higher than September. Driving the production increase is a forecasted yield increase of 1.9 bushels per acre.
Price
Estimates of the average farm price in the 2016/17 marketing year is $3.36 per bushel, $0.01 higher than the previous month. The forecast of the 2017/18 average farm price is $3.20 per bushel. If the current average farm price holds, it would mark the fifth straight year of declines after peaking at $6.89 per bushel in the 2012/13 marketing year.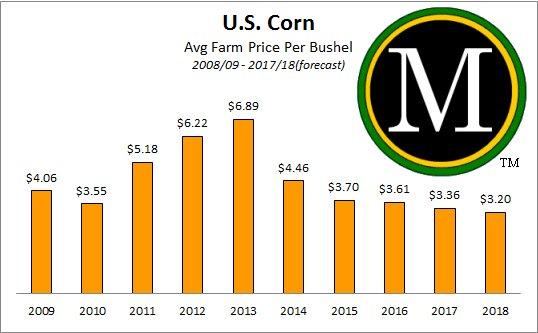 Exports
Corn sales have improved over the last couple of weeks. However, accumulated net sales remain down more than 30% compared to a year ago. Marketing year to date exports are down 44% year over year. Of the 13.7 million in committed orders, nearly seventy percent of that commitment is from countries in the western hemisphere, defined as North, Central, and South America.
At the time of my last published article on August 22, 2017 entitled, "Corn. Is It time To Go Long? Not Quite", the estimate of the average farm price for 2016/17 was $3.35 per bushel, for 2017/18 it was $3.30. December futures were $3.60 per bushel.
Friday, a day after the release of the October USDA WASDE report the estimate of the average farm price for 2016/17 was $3.36 per bushel, up $0.01; for 2017/18, it was $3.20, down $0.10. December futures closed at $3.49 per bushel, down $0.11.
While farmers have reduced corn acres planted since peaking at 97.3 million during the 2012/13 marketing year, both U.S. and foreign production continues to grow. Corn continues to offer a good diversification benefit to an overall portfolio, but in my opinion, consistent positive returns are still off in the horizon, especially as a standalone investment.
Disclosure: I/we have no positions in any stocks mentioned, and no plans to initiate any positions within the next 72 hours. I wrote this article myself, and it expresses my own opinions. I am not receiving compensation for it (other than from Seeking Alpha). I have no business relationship with any company whose stock is mentioned in this article.