Forget Netflix, Buy These 3 Dividend Stocks Instead
Summary
Netflix stock briefly raced past $200 after providing quarterly earnings results, and better-than-expected user growth.
Despite the hype, value and income investors should stay away from Netflix.
Instead, it may be better to invest in the following 3 media stocks, which all have much more reasonable valuations, growth potential, and pay dividends.
By Bob Ciura
There is no doubt about the tremendous returns Netflix (NFLX) stock has generated in recent years. Shares of the streaming giant have doubled in the past year alone. Looking back further, the share price increase has been nothing short of outstanding.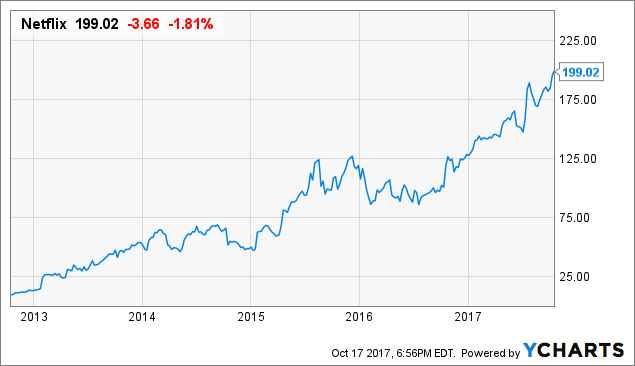 NFLX data by YCharts
But today, Netflix looks like a dangerous stock to buy for the long-term. The company operates in a highly competitive space and will have to spend billions to keep up with other content providers. As a result, the company is barely profitable, meaning it might never pay a dividend. Investors who are mindful of valuation, or those who desire dividend income, should stay away.
This article will discuss three stocks that are better long-term investments than Netflix. All three stocks pay dividends and can raise them each year. In fact, the first stock on the list is a Dividend Aristocrat, a group of companies in the S&P 500 Index, with 25+ consecutive years of dividend increases. You can see all 51 Dividend Aristocrats here.
The following three stocks stand to outperform Netflix over the long-term and pay dividends as well.
Media Dividend Stock #1: AT&T (T)
Dividend Yield: 5.4%
AT&T has a long history of dividend growth. It has increased its dividend for 33 years in a row. It also has a high dividend yield of 5.4%, more than double the 2% average yield of the S&P 500. AT&T is one of 397 dividend stocks in Sure Dividend's database with a 5%+ yield. You can see our full list of established 5%+ yielding stocks here.
It may seem surprising for a wireless phone, cable, and Internet service provider to be mentioned alongside Netflix. But AT&T and Netflix are increasingly becoming fierce competitors. AT&T is making a huge push into content, with its $85 billion pending acquisition of Time Warner (TWX).
Time Warner has a number of strong media properties, including TBS, TNT, HBO, and the Warner Bros. movie studio.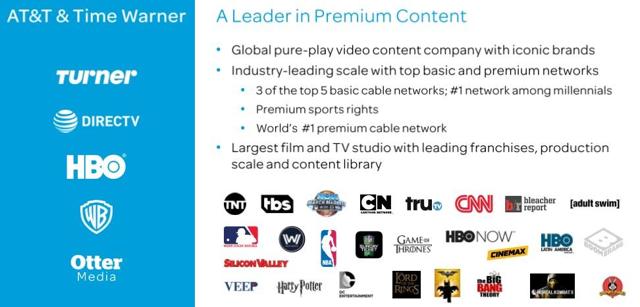 Source: Time Warner Acquisition Presentation, page 6
The Time Warner acquisition will boost AT&T's growth, which is already impressive. In 2016, AT&T revenue increased 12% to $168 billion, thanks in large part to the DirecTV acquisition. Adjusted earnings per share increased 5% for the year to $2.48. AT&T generated $17 billion of free cash flow in 2016.
The combined entity would have more than 140 million mobile customers and 45 million video subscribers worldwide. Not only that, but the acquisition will also allow greater leverage over advertisers. By owning both content and distribution, AT&T will have a valuable hedge against rising content costs.
Results have remained strong to start 2017. Revenue fell slightly last quarter, from $40.5 billion to $39.8 billion, but operating expense reductions helped offset this. And, the company generated strong growth in wireless subscribers, with 2.8 million net additions. The company's U.S. wireless business had its best-ever postpaid phone churn, of 0.79%. AT&T did see video losses of 199,000, however, management stated that DirecTV NOW additions are helping to offset declines in traditional TV subscribers.
Adjusted earnings per share increased 10% last quarter, and are up 7% through the first half of the year. For 2017, AT&T expects mid-single digit earnings growth, along with 7% free cash flow growth from last year.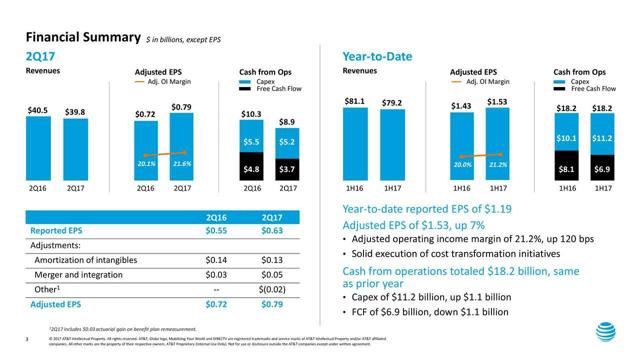 Source: Q2 Earnings Presentation, page 3
This should continue to allow AT&T to increase its dividend each year as it has for over 30 years. AT&T pays an annual dividend of $1.96 per share. 2016 earnings per share were $2.84, which means AT&T has a payout ratio of 69%. The company still has a healthy payout ratio, which leaves room for low single-digit dividend increases each year.
In the past five years, AT&T has increased its dividend by approximately 2% per year. Its dividend growth will likely remain around this level, as the company is taking on a lot of debt to finance its growth initiatives. AT&T has a credit rating of BBB+ from Standard & Poor's. The company ended last quarter with $132 billion of long-term debt. As a result, investors should be mindful of AT&T's debt load moving forward.
From an income perspective, AT&T is still highly attractive. This is especially true in comparison with Netflix, which does not pay a dividend at all, and might never, given its lack of consistent profitability. In addition, Netflix has a price to earnings ratio over 200.
While Netflix has a dangerously high valuation, AT&T has a price to earnings ratio of 14.6, based on 2016 adjusted earnings. AT&T has a much more modest valuation and a high dividend yield as well. It should have much more appeal for income investors, such as retirees.
Media Dividend Stock #2: Disney (DIS)
Dividend Yield: 1.6%
Disney has a below-average dividend yield of 1.6%, but it makes up for this with high dividend growth rates. In the past five years, Disney has increased its dividend by approximately 16% each year. Disney held its annual dividend steady in 2008 and 2009, during the Great Recession. But it has increased its dividend each year since, and will likely increase its final semi-annual dividend payout at the end of 2017.
Disney should be able to sustain 10%+ annual dividend increases, due to its strong brands, low payout ratio, and strong cash flow. Disney has extremely strong brands across its business. These businesses collectively generate huge cash flow for the company. Free cash flow has grown at a high rate over the past decade.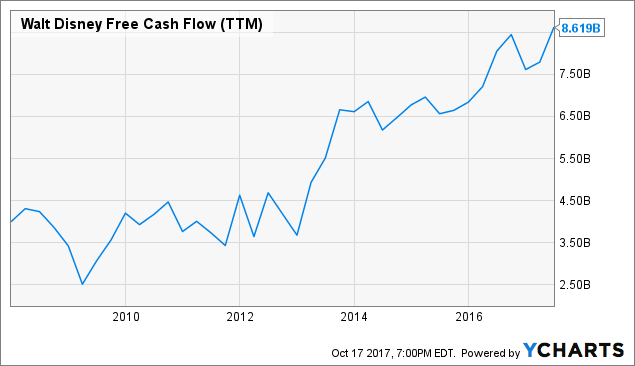 DIS Free Cash Flow (TTM) data by YCharts
The current environment is difficult for Disney. Revenue and adjusted earnings per share were flat over the first three quarters of fiscal 2017. The stock has declined approximately 6% year-to-date on concerns over the company's cable business.
In addition to its theme parks, resorts, and movie studio businesses, Disney has several cable and broadcast television networks, including ABC, ESPN, and The Disney Channel. ESPN, in particular, is a major worry because subscribers are declining.
"Cord-cutting" has taken its toll on ESPN. Consumers are increasingly cancelling their high-priced cable packages and are using streaming services like Netflix. Some are willing to do without ESPN, which has caused lower subscribers. Media network revenue was flat through the first three quarters of the fiscal year, while segment operating profit declined 11% in that time.
Fortunately, parks and resorts operating profit increased 17% over the first three quarters, to help offset some of the declines in the cable networks. There should be plenty of room for continued growth in this segment, thanks largely to China.
The recent opening of Disney Shanghai is an example of the company's huge potential in China, a key emerging market. According to Disney, more than 300 million people live within three hours of the park. The company expects the park to break even in 2018, with rising profitability afterwards.
And, Disney's movie studio segment is a separate growth catalyst. Segment revenue declined 9% over the first three fiscal quarters, but this was due to tough comparisons. Last year, Disney's studio business benefited from massive hits in Star Wars: The Force Awakens and Zootopia.
This year has lagged behind, but the movie studio segment should get a big boost from the December release of Star Wars: The Last Jedi. Going forward, there will undoubtedly be many more iterations of the hugely popular Star Wars series, along with plenty more blockbusters from Marvel and Pixar.
Lastly, when it comes to ESPN, there is hope for a recovery. ESPN has a crucial advantage, which is sports, which must be watched live. This will help shield ESPN from cord-cutting and helps Disney retain pricing power. ESPN affiliate revenue increased last quarter. Things are not as bad as they seem—Disney's Media Networks revenue was flat over the first three quarters.
Over the first nine months of 2017, Disney generated $6.1 billion of free cash flow, up 3% from the previous year. Dividends accounted for $1.2 billion in that time, for a free cash flow payout ratio of just 20%. This leaves plenty of room for double-digit dividend increases each year. Disney has a slightly lower dividend yield than the S&P 500 Index average, but its high rate of increases means it is an attractive stock for dividend growth.
Media Dividend Stock #3: Comcast (CMCSA)
Dividend Yield: 1.7%
Comcast also has a dividend yield below 2%, but like Disney, it makes up for this with high dividend growth. In the past 5 years, Comcast has increased its dividend by 14% compounded annually. The company also returns lots of cash to shareholders, through share buybacks. Along with announcing the 2017 dividend increase of 15%, Comcast notified investors it expects to repurchase $5 billion of its own stock this year.
Comcast's impressive cash returns are the result of a highly profitable business and earnings growth. The company is an industry leader in broadband service. And, just as AT&T is making a major push into content and entertainment, so is Comcast.
In 2013, it broadened its business model by acquiring 49% of NBCUniversal it didn't already own, for $16.7 billion. Last year, Comcast acquired Dreamworks for $3.8 billion. As a result, media now accounts for roughly 40% of Comcast's annual revenue. NBCUniversal grew revenue by 7% in 2016 and has grown at a high rate over the past several years.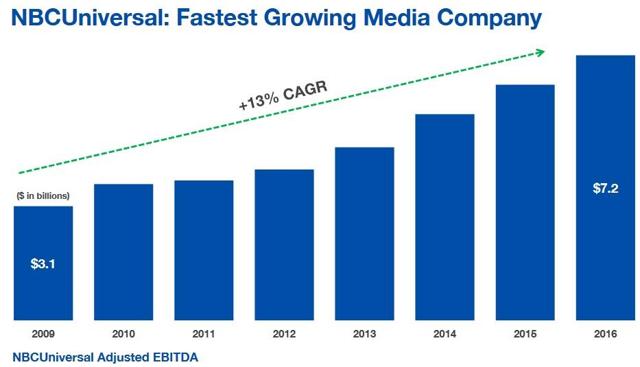 Source: Goldman Sachs Annual Conference, page 8
The NBCUniversal acquisition also gave Comcast a large theme parks business, which generated 13% revenue growth last year. And, the core cable business is still growing. Comcast is one of a few major service providers, which leads to healthy margins and pricing power. Internet service revenue increased 9% last year.
Overall, company-wide revenue increased 8% in 2016. Earnings per share increased 10% for the year. Comcast posted strong results to start 2017 as well. Revenue and adjusted earnings per share rose 9% and 26% in the first half, respectively. Cable segment revenue increased 6% in that time, along with 16% growth for NBCUniversal.
Internet service is a reason why Comcast should survive cord-cutting. Even if consumers cut the cord, they still need broadband. Comcast's high-speed Internet segment increased revenue by 10% over the first half of the year.
Even within media, Comcast is still doing well and can fend off Netflix. Cable networks and broadcast television revenue increased 6% through the first half. Comcast has many valuable media properties, including NBC, and its film studio.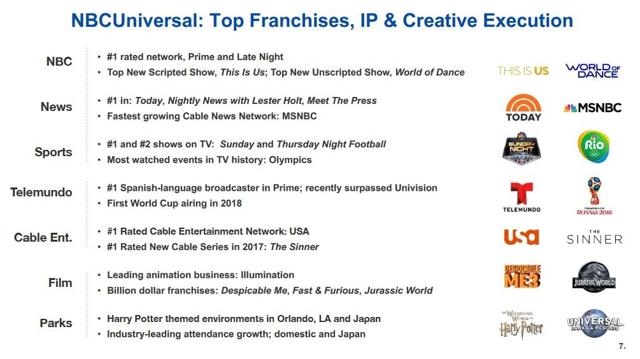 Source: Goldman Sachs Annual Conference, page 7
Similar to ESPN, NBCUniversal has the rights to a great deal of live sports, which is a key advantage. Comcast's sports offerings include Sunday and Thursday Night Football, as well as the Olympics.
Comcast has increased its dividend for nine years in a row. Next year, it will very likely earn a place on the list of Dividend Achievers, a group of stocks with 10+ consecutive years of dividend increases. You can see the entire list of all 265 Dividend Achievers here.
And, it should continue its pattern of 10%+ dividend growth. Comcast had a dividend payout ratio of just 35%, based on 2016 earnings.
Final Thoughts
Netflix stock is all the rage these days, and there is no doubting the amazing returns the stock has generated. But whether investors should buy the stock today is a much different question. With an alarmingly high valuation and inconsistent profitability, Netflix stock could generate poor long-term returns from here.
Investors concerned about valuation, or those who desire a mix of dividends and growth, should prefer AT&T, Disney, and Comcast in the media industry.
Looking for high-quality dividend growth stocks trading at attractive valuations as well? Our service Undervalued Aristocrats provides actionable buy and sell recommendations on some of the most undervalued dividend growth stocks around. Click here to learn more.
Disclosure: I am/we are long DIS. I wrote this article myself, and it expresses my own opinions. I am not receiving compensation for it (other than from Seeking Alpha). I have no business relationship with any company whose stock is mentioned in this article.