We were looking for a big rally in banks following JPMorgan Chase's (NYSE:JPM) reported earnings which were absolutely stellar. As the stock approaches the $100 level, we are growing more bullish, because the growth in the name seems to support the price. In this article, we will offer discourse on key metrics that support the bull case. While rising rates will be a huge benefit to the name in the long run, we believe that the reasons for owning JPMorgan Chase stock extend beyond just rising interest rates and into many other fundamental improvements, of which we will highlight several.
It's about performance
What do we look for in a name like this? Well, we are looking for slow and steady growth. Growth that leads to performance not just on the top and bottom lines but also in several key metrics that we follow closely for all major banks. The bank has been consistently improving and this is evidenced by the trends we will highlight for you.
For those who follow our work in the financials, you already are familiar with the key metrics that we are most concerned with. These key measures include a growing loan and deposit record, a decent efficiency ratio, as well as of course improving revenues and earnings, which we expect to grow in the single digit range year-over-year. In addition, we also need to be aware of toxic assets, so it is wise to have grasp on the provision for credit losses. These metrics can give us an indication of where the bank is heading, and can help us separate the strong from the weak in the sector.
Growing top and bottom lines
JPMorgan put out a strong quarter overall, and both the top and bottom lines continue to demonstrate growth over time. Managed revenue was $26.2 billion, up 2.7% year-over-year. This revenue growth is positive and is well within our expectations for single digit growth. It also continues a run of growth in Q3 revenues over the last several years:
Figure 1. JPMorgan Chase Third Quarter Revenues Over The Last Three Years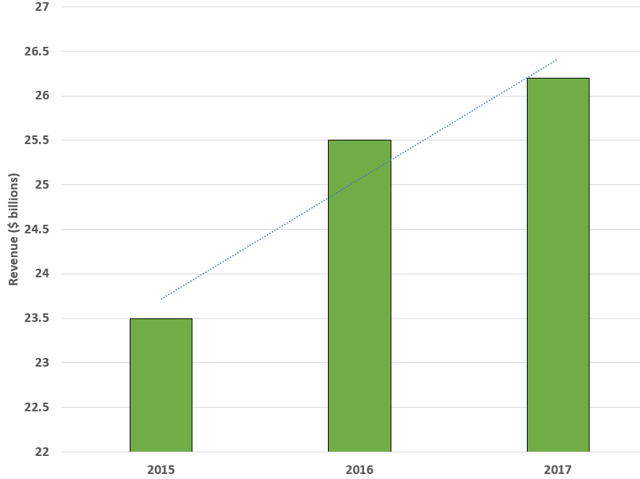 Source: SEC Filings, Chart made by Quad 7 Capital in excel
As revenue continues to rise, with the present $26.2 billion in revenues, the company crushed consensus analyst estimates by $970 million. This continues a recent pattern of the bank surpassing consensus estimates by a wide margin and gives ammunition for the bulls to run the stock up higher.
What is interesting is that the bear case is weakening in our opinion. When we covered Bank of America (BAC) in our Quad 7 Capital must read of the week, we hypothesized that the hurricanes may have impacted business slightly, although this impact was likely to be minimal with the global presence of the bank. For JPMorgan, this impact seems almost nonexistent. While revenues were strong, expenses were well managed and as such the company registered continued growth in earnings:
Figure 2. JPMorgan Chase Third Quarter Adjusted Earnings Per Share Over The Last Three Years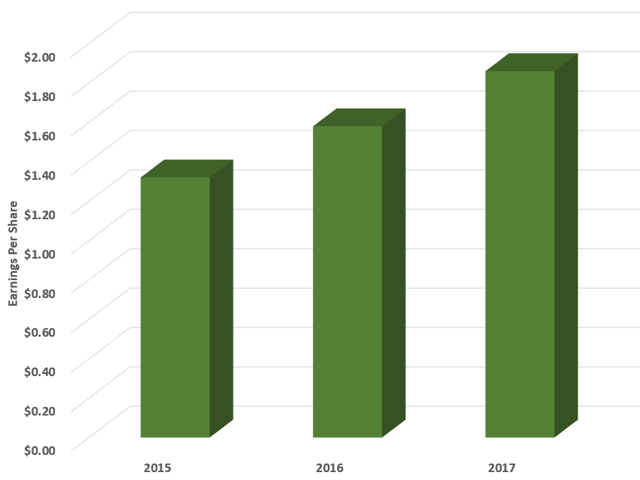 Source: Seeking Alpha JPMorgan Chase Earnings Page, Chart made by Quad 7 Capital in excel
In last year's Q3, the company saw earnings per share of $1.58 per share, or $6.2 billion. Here in the present quarter net income jumped to $6.7 billion and earnings per share increased 11% to $1.76. We should point out that these earnings crushed the per share consensus expectations by $0.11. For the most part, JPMorgan has consistently surpassed expectations. While much of the growth is organic, it is important to note the role of share repurchases on earnings per share:
Figure 3. Figure 2. JPMorgan Chase Third Quarter Share Repurchases Per Share Over The Last Three Years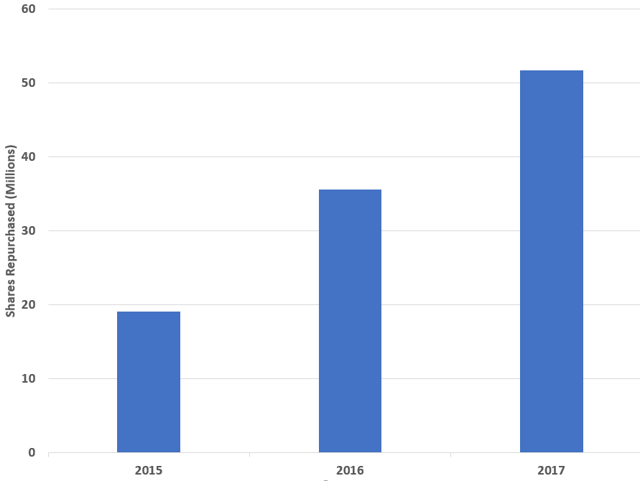 Source: SEC Filings, Chart made by Quad 7 Capital in excel
As you can see the bank has been buying back shares consistently. In addition, it has authorized more and more cash toward the repurchases. We will add that while not depicted in the chart, you should consider the impact of share repurchases happening in all other quarters. This drives up earnings per share, in addition to gains seen organically. Of course, the headline numbers only tell part of the story, so what drove these results?
Income from interest and non-interest sources
While headline numbers matter of course, we must remind you that we are always on the lookout for several key statistics. Two such figures are the income derived from interest and non-interest sources. The bank's net interest income and non-interest income are critical to watch, and these metrics continue to show sustained improvement:
Figure 4. JPMorgan Chase Third Quarter Net Interest and Non-Interest Income Over The Last Three Years.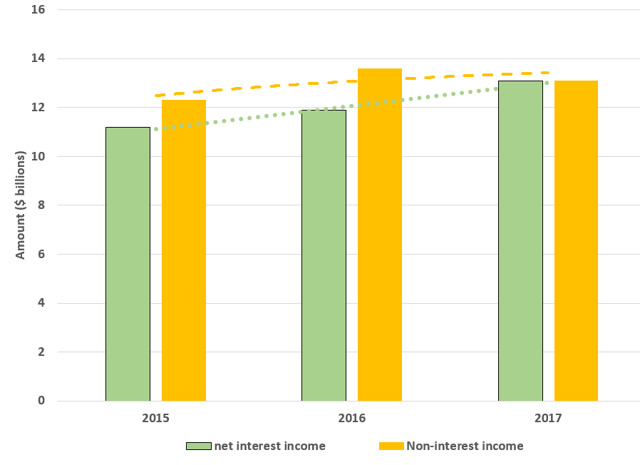 Source: SEC Filings, Chart made by Quad 7 Capital in excel
While net interest income continues to rise, non-interest income has seen a little volatility. However, over the years, the trend is higher for both measures as show in figure 3. In the present quarter, non-interest income fell slightly to $13.1 billion, compared to last year's comparable quarter which saw $13.6 billion on this metric. There are several reasons for the decline. Non-interest income fell because there was decline in investment banking revenue. Most notably there were fewer equity and debt underwriting fees. This weighed. Markets and investor services saw a strong decline too. We view these pressures as temporary and isolated, as there is much volatility in trading and investing services, as well as competition.
Turning to net interest income, it continues to grow substantially. In fact, net interest income jumped a whopping $1.2 billion over last year. It rose to $13.1 billion, from $11.9 billion last year. While this pattern is similar to what we have seen with other banks, it is important to note that this is highly correlated with rising interest rates over time. As you are aware, we have been bullish on financials, especially the strongest banks, because of rising interest rates. We will of course be watching consumer credit spending as rates rise. We do note that as part of being cautious, there is a rising provision for credit losses.
Provisions for credit losses rising
As provisions for credit losses mount we have to be careful because it may mean the company is taking on risky debt. At the same time, it can also mean that more debt is being taken on. We note that the provisions for credit losses have risen sharply in recent years:
Figure 5. JPMorgan Chase Third Quarter Provisions for Credit Losses Over The Last Three Years.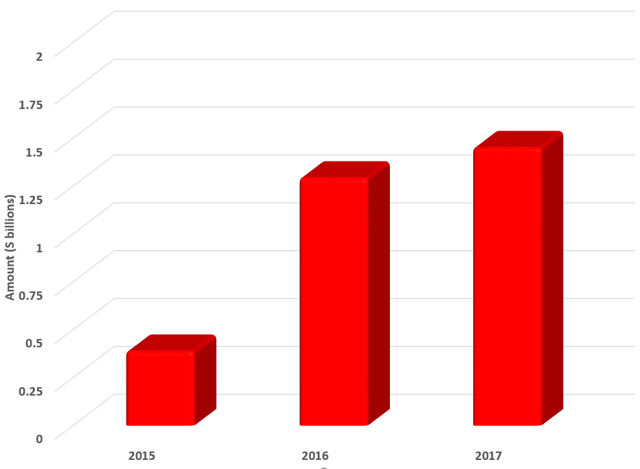 Source: SEC Filings, Chart made by Quad 7 Capital in excel
While the degree to the toxic asset load is unclear, the rising provisions for credit losses give us some pause. Credit losses are pretty clear. It means bad debt was issued, and generally results in net charge-offs. In the present quarter, the provision for credit losses rose for several reasons. One such reason is that there were some credit card losses, however there were fewer losses in mortgages which helped offset credit card loss. There was also a moderate level of auto losses in line with historical norms. Going forward this is something to keep an eye on. It is expected that as loans grow, so will provisions for credit losses.
Growing loans and deposits
One of the key metrics that we look for in any bank is the movement in loans and deposits. We have been clear about this in the past. The best banks continue to grow loans and deposits, as this is traditionally how banking works. While investment banking is risky and the volatility was noted above in non-interest income, loans and deposits are still the bread and butter of any bank. Both of these metrics continue to improve for the company:
Figure 6. JPMorgan Chase Third Quarter Loan And Deposit Totals Over The Last Three Years.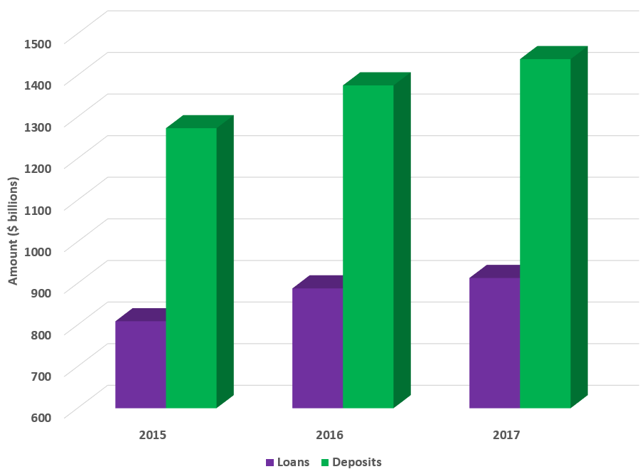 Source: SEC Filings, Chart made by Quad 7 Capital in excel
Loans were up and came in at $913 billion in the quarter, up from $888 billion last year. As for deposits, they continue to increase markedly. They rose to $1.439 trillion in Q3 2017, from $1.376 trillion last year. Based on the present trajectory of the bank and expectations for steadily rising interest rates, we project that loans and deposits will surpass $935 billion and $1.5 trillion, respectively, by this time in 2018. With the growth being realized by the bank, our final, and most critical question is whether or not the bank is improving its operating efficiencies.
Improving efficiency
The trend in JPMorgan's efficiency ratio is another reason we remain bullish. Recall that this critical metric measures the costs expended to generate a dollar of revenue. As a whole, JPMorgan Chase has seen a consistently improving efficiency ratio:
Figure 7. JPMorgan Chase Third Quarter Efficiency Ratio Over The Last Three Years.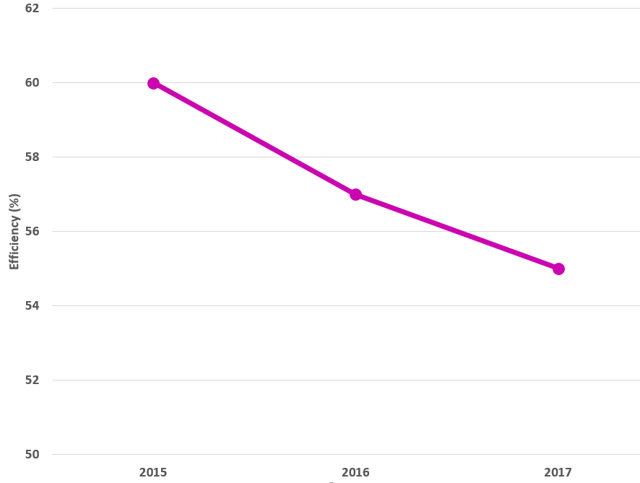 Source: SEC Filings, Chart made by Quad 7 Capital in excel
Overall there was an impressive 55% operating efficiency ratio for the bank. While we have generally stuck with a textbook target of about 50% for this critical indicator, JPMorgan may soon realize this figure. While there is still work to be done, this is the strongest Q3 we have seen in years on this metric. We predict that by the end of 2018, barring any unforeseen market catastrophes, overall efficiency will approach 50%.
Bottom line
Clearly JPMorgan's fundamentals continue to improve, and there is no sign that this will slow down. With interest rates rising into the future, it can only help net interest income, as well as the bottom line, longer-term. The financial cycle upswing is underway with interest rates set to rise. As the name approaches $100, we are bullish, but from an investment standpoint try and wait for a pullback.
Quad 7 Capital has been a leading contributor with Seeking Alpha since early 2012. If you like the material and want to see more, scroll to the top of the article and hit "follow." Quad 7 Capital also writes a lot of "breaking" articles, which are time sensitive, actionable investing ideas. If you would like to be among the first to be updated, be sure to check the box for "Email alerts on this author" under "Follow."
Disclosure: I am/we are long JPM.
I wrote this article myself, and it expresses my own opinions. I am not receiving compensation for it (other than from Seeking Alpha). I have no business relationship with any company whose stock is mentioned in this article.