The growth prospects of technology are easy to imagine. What's more challenging is how to invest thoughtfully across the sector. We find that several developments in the sector might be worth particular consideration:
Data analytics
Cloud computing
Cybersecurity
Semiconductors
Relative performance of U.S. technology sub industries to S&P 500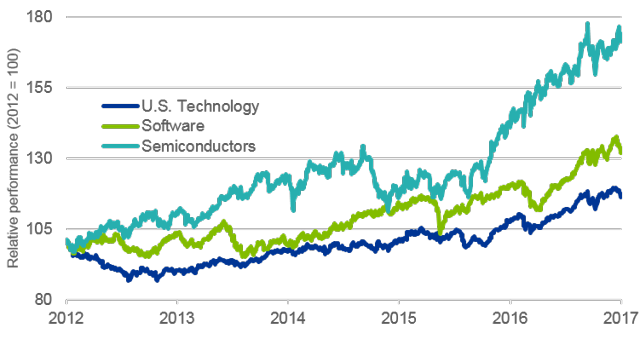 Source: BlackRock, Thomson Reuters, as of 9/30/2017.
Notes:U.S. Technology represented by the Dow Jones US Technology Index, Software by the S&P North American Technology – Software Index, and Semiconductors by the Philadelphia Stock Exchange Semiconductor Index. Index performance is for illustrative purposes only. Index performance does not reflect any management fees, transaction costs or expenses. Indexes are unmanaged and one cannot invest directly in an index. Past performance does not guarantee future results.
Valuations elevated – for good reason
While it is true that tech tends to trade at a premium, we are far from a dot-com bubble repeat, in our view. Many of today's tech companies feature robust earnings growth, strong balance sheets, and growing dividends. What's more, tech is currently one of the few sectors with a strong secular growth profile. Innovation doesn't ebb and flow with market technicals – it is a structural, disruptive force, permanently separating winners from losers. In that light, we believe it is rational for markets to place a premium on the sector. The premium for tech stocks may be justified if earnings can continue to grow into their valuations. Identifying the next revolutionary product on a company-by-company basis is no easy task. An alternative approach is to identify key themes cutting across the tech sector, driven by innovation and "winner take all" dynamics. We focus on data analytics, cloud computing, cybersecurity and semiconductors. Each trend has its own fundamental drivers, risk/reward profile, and synergies with other trends.
Data analytics
The growth of "big data" is bringing big opportunities. Major advances in machine learning algorithms, faster hardware, and cheaper computing power are helping companies leverage unparalleled amounts of data. These companies are using analytics to automate operations, understand customer behavior, and monetize data. Data analytics adoption is in its infancy, yet sectors like pharmaceuticals are already analyzing patient data at scale, finding biomarkers, and generating break-through drugs at lower costs and faster speeds.
Cloud computing
The "cloud" is a broad concept covering software as a service (SaaS), platform as a service (PaaS), and infrastructure as a service (IaaS). While SaaS is already being adopted by companies, PaaS and IaaS are still underpenetrated markets presenting nascent growth opportunities. The economics driving cloud migration are powerful and sustainable. Companies can access secure, scalable computing power on demand, and at lower costs than traditional IT systems. This is the power and scale needed to integrate sophisticated data analytics into business processes.
Cybersecurity
Brand and customer trust are critical to all companies, yet recurring headlines describing the latest hacks are constant reminders of the reputational and financial risks facing these companies. As companies increasingly rely on data analytics to power their business strategy -and as the cost and sophistication required to commit cyber-attacks continue to fall - they'll need to increase security budgets to safeguard their data. Despite cloud migration, which has its own security measures, many companies still believe in a second layer of onsite cybersecurity measures. As cloud migration continues, cybersecurity may find a second source of demand.
Semiconductors
The backbone and future of the tech industry rests largely with semiconductors. Every year more chips are required to power an increasing number of devices while end-user markets have broadened to include autos, communications, and internet of things applications. Industry consolidation has led to better supply discipline just as the demand base expands, which we believe may help dampen cyclical booms and busts yet preserve potential long-term growth opportunities. Growing demand for Artificial Intelligence (AI) and data analytics across all sectors may provide another boost for semiconductors as data analytics, collection, and storage drive demand for chips and semiconductor memory technologies.
Conclusion
Returning to the two concerns at the start, valuations are indeed elevated, but for good reason. Investors waiting for a more attractive entry point might risk prioritizing market timing ahead of owning potentially strong, durable growth trends. In our view, advisors can uncover long-term growth opportunities and enrich client conversations by monitoring dominant tech themes.
Public interest in cybersecurity has increased steadily

Semiconductor 2-yr compound annual revenue growth at 20%


Source: Google, as of 9/30/2017. Notes: Numbers represent search interest relative to the highest point on the chart for the given region and time. A value of 100 is the peak popularity for the term. A value of 50 means that the term is half as popular. Likewise a score of 0 means the term was less than 1% as popular as the peak.


Source: Bloomberg, as of 9/30/2017. Notes: Revenue is the aggregate of members in the Philadelphia Stock Exchange Semiconductor Index. Indexes are unmanaged and one cannot invest directly in an index. Past performance does not guarantee future results.
This post originally appeared on iShares.com
Disclosure: I/we have no positions in any stocks mentioned, and no plans to initiate any positions within the next 72 hours.
I wrote this article myself, and it expresses my own opinions. I am not receiving compensation for it. I have no business relationship with any company whose stock is mentioned in this article.