Introduction
Nike's (NKE) recently released their results for Q1 of 2017. Revenue growth is flat and footwear sales from the North America region dropped by 3% during the quarter. There is an overall weakness coming from the US retail industry and declining growth in the footwear market. In this article, we will first discuss how the footwear market has changed and affected Nike. Then we will discuss the brand value of Nike and we will conclude with a DCF valuation of Nike.
The footwear market has been growing tremendously over the past few years. Nike's revenue from the footwear segment has been growing at a year-over-year rate of nearly 10%. Some of the key drivers are the demand from millennial and the strategic business approach of limited supply by companies such as Nike (Jordan Brand) and Adidas.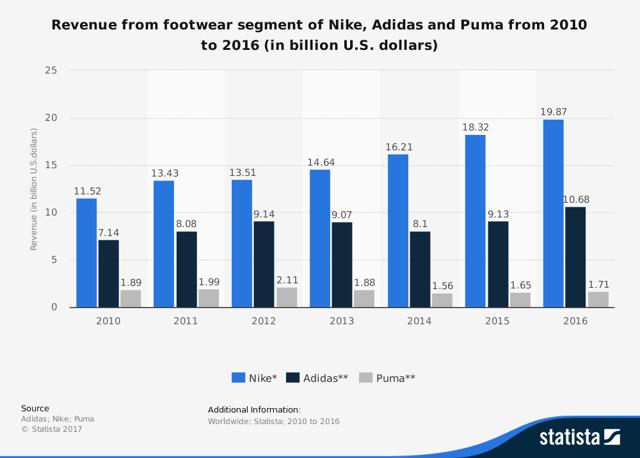 (Source: Statista)
Footwear has always been a huge part of Nike, over 60% of the revenue generated from the North American region comes from footwear. As reported by the market tracking company NPD Group, in the first eight months of 2017, Nike continued to dominate the footwear market in North America with 37% market share, down from 39% last year over the same eight months. While Adidas (OTCQX:ADDYY) (OTCQX:ADDDF) takes the second spot from Jordan brand, controlling 11.3% of the market, up from 6.6%. Jordan brand controls 9.5%, up from 9.4%. Despite the fact that Jordan brand is part of Nike, it is considered separately in this report.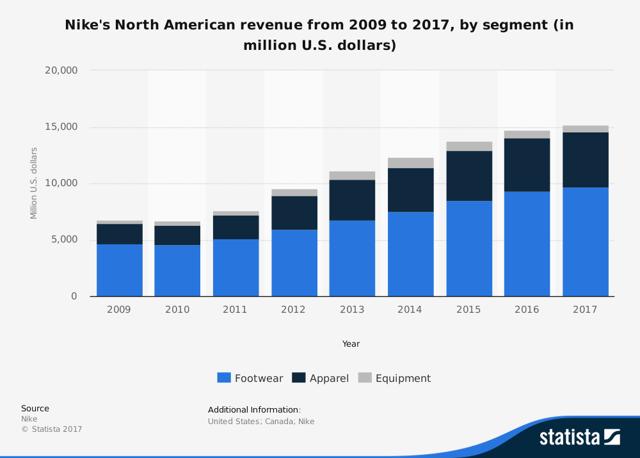 (Source: Statista)
It is definitely surprising to see Adidas is overtaking the Jordan brand for the second spot in the North America footwear market. It becomes important to understand why did the changes take place and whether Jordan brand and Nike can regain their market share. This question can be answered easily from the perspective of the secondary footwear market.
Secondary footwear market
According to Forbes, the secondary market for footwear is estimated to be worth more than $1 billion. It is a marketplace for people to resell limited edition or hyped sneakers at a profit. Hence, sneakers that are sold on these secondary footwear markets such as StockX and eBay are sold out in retail/online stores. For example, as a pair for Jordan Retro series drops on a Saturday morning, "Sneakerheads" or resellers will line up outside your local footwear store such as Footlocker to make the purchase, to either add it to their collection or resell it in the secondary market for a profit. Hence, knowing the change in trends within the secondary market shows whether particular models are continuing to sell out in the primary market.
As stated by Alec Leach of Highsnobiety in 2015, Nike does a great job at forecasting the demand of these limited releases. It is estimated that only 4% of each limited release (retro Jordan series) will show up on the secondary footwear market. With such a small fraction being resold, it allows Nike to take full advantage of its popularity and charge at a premium price while selling out the limited releases.
The chart below shows the top 20 models that people spent the most on in the secondary footwear market. Out of these 20 models, 15 of them are Nike/Jordan brand releases. However, this was back in 2015, a lot of things have changed and the popularity of these Nike limited releases (retro Jordan series) has declined dramatically.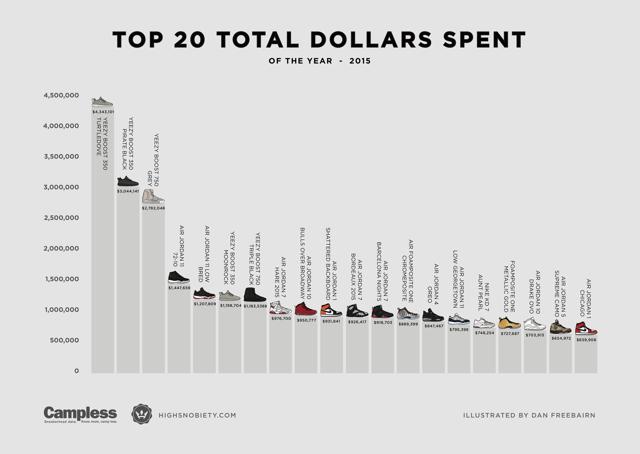 (Source: Highsnobiety)
In 2016, 7 of out the 10 models for Nike made it into the top 10. But the dollars spent on these top 10 models were significantly lower than 2015, suggesting an overall weakening in the secondary footwear market. Since the secondary market is driven mainly by the retro Jordan series, some of these limited releases from Jordan brand would begin not to sell out and sit on shelves.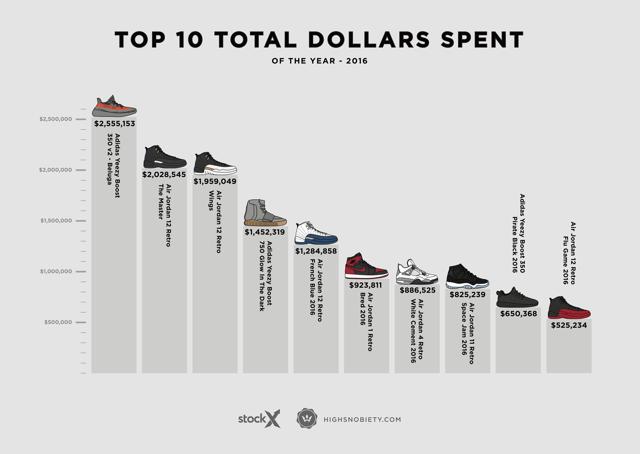 (Source: Highsnobiety)
For the first quarter of 2017, only 4 models from Nike/Jordan brand made it into the top 10. We are witnessing a shift in demand from the ever-popular retro Jordan series into the Boost series from Adidas. There are hardly any limited releases from Jordan brand that would sell out instantly now.
This is also one of the key drivers to why Footlocker sales declined significantly, the retro Jordan series were always available at Footlocker, and they would sell out almost instantly in 2015 and 2016. With the significant decline in demands for the retro Jordan series, they began to sit on the shelf, causing significant decrease in sales for Footlocker.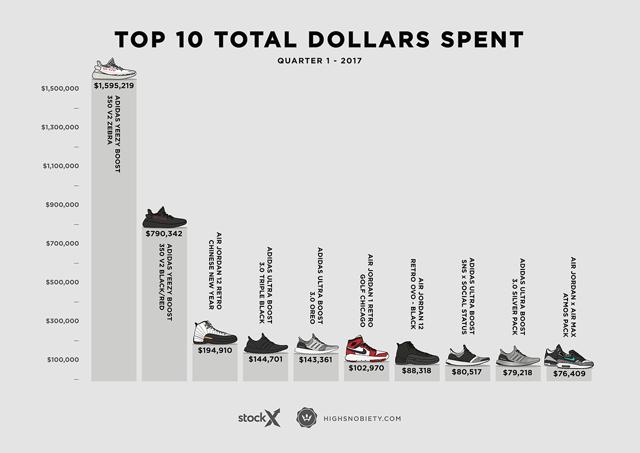 (Source: Highsnobiety)
In this instance, the secondary footwear market acts as an indicator to whether popular particular series might be (Retro Jordans, Yeezy), as they would only enter the secondary footwear market if they were sold out in the primary market.
Brand name
The swoosh from Nike is one of the most recognizable logos around the globe. According to Forbes, Nike is the 16th most valuable brand in the world with a brand value of $29.6 billion. This is an 8% increase from 2016. In comparison, Adidas is the 75th most valuable brand and their brand value is worth $7.9 billion, up 14% from 2016. They are the only two apparel brands that made it into the top 100.
According to a recent survey done by Piper Jaffray companies, examined the spending trends and brand preferences amongst 6,100 teens across 44 U.S. states. Results showed that Nike is one the major brands that experienced the largest decline within the apparel industry. The survey also suggested that teens are shifting to streetwear brand, such as Vans and Supreme. This could potentially become a problem for Nike if they are unable to attract younger customer with their more fashionable image. However, Nike still holds the spot for top clothing brand at 23% vote and top footwear brand at 46% vote. While Adidas received 4% and 11% respectively.
Profitability
Nike has proven to provide consistent profitability at its size. With a ROE of 33%, ROA of 13% and ROC of 27%. Both ROE and ROA are above the US textiles, apparel and luxury goods industry averages. While ROC is on par.

(Source: Simplywall.st)
In comparison to other footwear companies in North America, Nike has a much better performance in all three metrics.
| | | | |
| --- | --- | --- | --- |
| | ROE | ROA | ROC |
| Nike | 33% | 13% | 27% |
| Adidas | 19% | 7% | 19% |
| Under Armour | 11% | 6% | 11% |
(Source: Simplywall.st)
Valuation
In order to compare the valuation of Nike and its competitors, we've used a multiple analysis approach. By using EV/EBITDA, we are able to strip out differences in capital structure and difference in D&A.
| | | | | | |
| --- | --- | --- | --- | --- | --- |
| | PE (TTM) | EV ($M) | EBITDA ($M) | EV/EBITDA (TTM) | EV/Sales (TTM) |
| Nike | 21.63 | 81,225 | 5,350 | 15.18 | 2.36 |
| Adidas | 40.41 | 47,393 | 2,410 | 18.39 | 1.93 |
| Under Armour | 34.48 | 7,793 | 529 | 14.73 | 1.56 |
(Source: Gurufocus)
Nike proves to be undervalued in comparison to Adidas and Under Armour under our multiple analysis. To provide a better estimate of whether Nike is currently trading at a discount, we have constructed a DCF analysis by using a two-stage model.
EPS: $2.35
Growth rate (Next 5 years): 9.36%
Discount rate: 8%
Terminal growth rate: 4%
Years of terminal growth: 15 Years
Tangible book value: $7.04
Growth Value: $12.2
Terminal Value: $28.12
Fair value: $47.4
By using the above estimates, we arrive at a fair value of$47.4. This includes a tangible book value of $7.04, a growth value of $12.2 and a terminal value of $28.12. Overall, our DCF model suggests Nike is trading at a premium of roughly 10%. Based on our DCF model Nike requires a growth rate of at least 12.3% for the next 5 years to meet a fair valuation of its current stock price of roughly $52. This growth looks extended at the moment.
Conclusion:
The footwear industry has taken a step back from its rapid growth and Nike has taken the hit along the side. As shown by the continued weakness in the secondary footwear market. The hype among the retro Jordan series has disappeared. This is consistent with the survey done among teenagers, apparel brand preference is slowing shifting to fashionable streetwear brands such as Supreme. Despite our valuation suggesting trading at a slight premium, the quality of the company and its brand makes it a good asset. Knowing Nike's ability to innovate and adapt, we are comfortable with the current price, and even more so with an entry price of $47. We recommend a HOLD and increase the position at $47 share.
As always, thank you for reading. If you wish to follow our future articles, just click the "Follow" button next to our name at the top.
Disclosure: I am/we are long NKE, SKX.
I wrote this article myself, and it expresses my own opinions. I am not receiving compensation for it (other than from Seeking Alpha). I have no business relationship with any company whose stock is mentioned in this article.
Editor's Note: This article discusses one or more securities that do not trade on a major U.S. exchange. Please be aware of the risks associated with these stocks.