Introduction: the big picture
Tesla (NASDAQ:TSLA) is an okay manufacturing company and a great software company. Its competitors are great manufacturing companies and terrible software companies. With the advent of fully self-driving cars seemingly just on the horizon, car companies will need to be both great electric car manufacturing companies and great software companies. This is what makes Tesla so interesting to me and one reason why the Model 3 production ramp is such an important test for the company.
If Tesla can get as good at manufacturing as its peers and rapidly scale up to a volume of millions of cars per year, the main threat to Tesla (as I see it) is obviated. Tesla is in a somewhat precarious position today in that its still small scale means competitors could have access to vastly more driving data if they chose to equip their vehicles with the requisite sensors. If Tesla scales up to the size of a top ten car company, this incumbent advantage shrinks from access to potentially 100x as much data to just 3x as much data.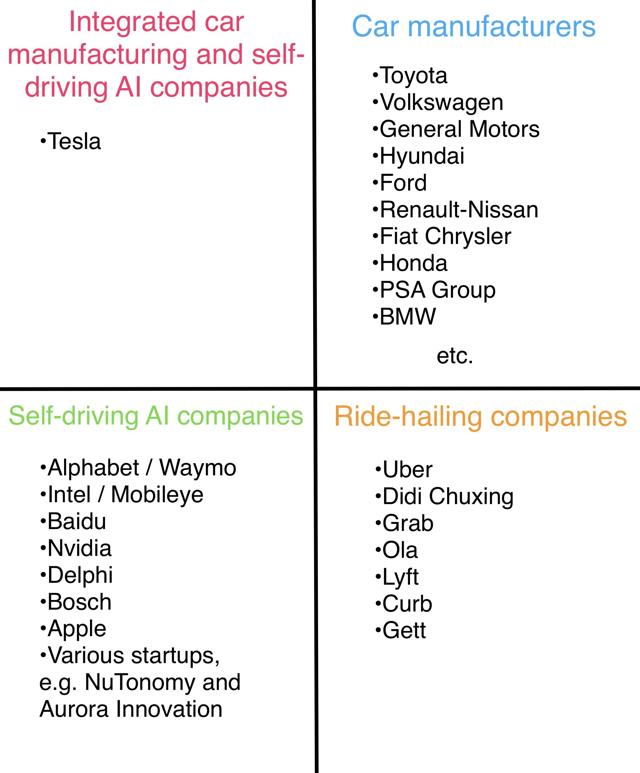 For more details on what this diagram means and why it's important, see my article Self-Driving: The Companies That Will Win (And Lose).
If Tesla can use its software expertise to build a fully automated car manufacturing facility, as CEO Elon Musk has envisioned, then Tesla will likely exceed its peers in both manufacturing and software. Last we heard, Tesla will not attempt to fully automate manufacturing until after production of the upcoming Model Y compact crossover. Success in this endeavour is not necessary for Tesla to grow, compete, and profit enough to delight investors. It would just be icing on the cake.
Model 3 demand: how high could it go?
For now, all eyes are on the Model 3. Tesla is aiming to achieve a 250,000 units per year run rate by the end of 2017. By the end of 2018, it plans to double that run rate to 500,000 units per year. We've seen reports that Musk estimates demand at 700,000 units per year or more, so the production ramp could continue into 2019 even if the aforementioned targets are achieved on time.
Even this might be a conservative estimate. So much turns on whether Tesla can improve its manufacturing process for the enough to make the Model 3 as reliable as cars from the likes of Toyota (TM) and General Motors (GM). This is key to achieving the broadest possible mass market appeal. Both because unreliability creates inconvenience and frustration and because it potentially increases the total cost of ownership through the price of repairs or warranties.
Model 3 body panels getting stamped at the factory. Source: Elon Musk.
One encouraging thought is that the Model 3 is the first car that Tesla has designed from scratch since the Model S began production in 2012. It is a brand new platform and the design emphasizes simplicity, minimalism, and manufacturability. The Model S was the first car Tesla made at any appreciable volume (only 2,500 Roadsters were ever built). The Model X was initially designed as a Model S with a chunkier body, although mission creep set in and new, complicated features were piled on like Falcon Wing doors. Hopefully in five years Tesla has learned a lot about how to design and manufacture cars.
If the Model 3 can match or exceed Toyota's cars in reliability, demand might not top out at 700,000 units per year. To achieve this, Tesla doesn't need to be organizationally as good as Toyota. It just needs to be good enough that the intrinsic advantage of electric cars — with a fraction of the moving parts that a gasoline car has — closes the rest of the gap.
What is the Model 3's real total addressable market?
Analyst Gene Munster finds that if you look at the Model 3's total cost of ownership rather than its selling price, it is more mass market than it first appears:
The base price of the Model 3 is 42% higher than the base price of the Toyota Camry; however, total cost of ownership of the Model 3 is just 13% higher than the total cost of ownership of the Toyota Camry. The Model 3 costs $7,220 per year, $847 more annually than the Camry at $6,373.
This means the Model 3's total addressable market is a lot bigger than many realize:
Consensus thinking is the Model 3 expanded Tesla's addressable market from about 1 million cars a year to 4 million cars a year. However, based on our cost of ownership work, we believe the Model 3 expands Tesla's addressable market to about 11m vehicles per year in North America alone.
With a total addressable market of 1 million cars per year, the Model S and Model X have a 10% market share based on the current run rate of 100,000 units sold annually. If the Model 3 claims half that market share — about the same share as the Model S — Tesla will sell 550,000 units per year in North America. That's about the production run rate Tesla is planning for the end of 2018.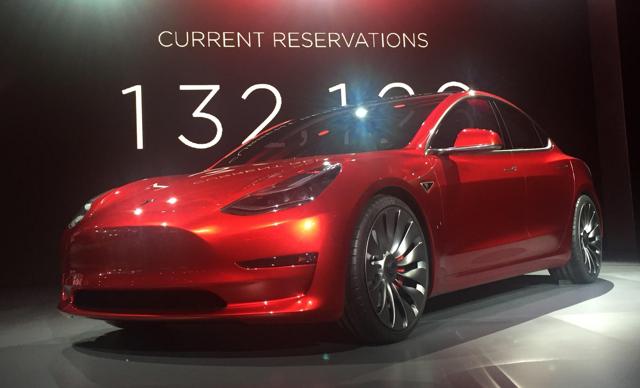 Photo credit: Steve Jurvetson.
But that's just North America. The European market alone is as large as North America's, with a similar income level. Conservatively then, the Model 3 would sell 1.1 million units per year globally if it took a 5% share of its global addressable market. (For the record, Gene Munster's projected 25% market share would put this number at 5.5 million.)
What's next: the Model Y and pickup truck
It's a fair assumption that the Model Y will sell at least as many units as the Model 3, since demand for crossovers generally is higher than demand for sedans. That puts combined Model 3 and Model Y sales at 2.2 million units per year, with 2.3 million total sales for Tesla when the Model S and Model S are included.
The path to being a top fifteen carmaker, then, is almost a no-brainer. Throw in a Tesla pickup truck that can out-muscle a Ford (F) F-250, plus sales in Asia, South America, and the rest of the world, and that should push Tesla into the top ten.
The long term: full autonomy
My view is that once Tesla reaches roughly the scale of the world's top car manufacturers, it is essentially unstoppable. It will be a great manufacturing and software company facing off against companies that, right now, are great at manufacturing but abysmal at software. With the advent of full autonomy, suddenly software will matter more than anything else. My bet on Tesla is essentially that it can become a great manufacturing company before other carmakers can become great software companies.
Production volume limits the amount of driving data that a company can collect. Driving data carries critical importance for the development of full self-driving software. Rapidly scaling production means Tesla can prevent competitors from gaining an insurmountable advantage in driving data. Right now, it looks like with the Model 3, Model Y, and the Tesla pickup truck, Tesla will have enough demand to get very big, very fast. Whether it will have the manufacturing chops to match production to demand — well, that's what we're all watching.
Conclusion
Demand for the Model 3 will probably be even more than what Elon Musk has been saying. The Model 3, Model Y, and pickup truck can propel Tesla into one of the top ten spots for production volume within the next five years. Even more important than vehicle sales themselves is the collection of driving data that this will enable.
In five years, it's very possible that all will matter in the auto industry is full autonomy, which requires great software that is developed and validated using driving data. If Tesla can master manufacturing, everything else is in place for it succeed. The demand is there. The software talent, experience, and culture is there. The data collection system is there. Now Tesla just has to build the cars.
Disclaimer: This article is not investment advice.