If you were up at 3:30-ish New York time (something I don't generally recommend), you saw a preview of how things can suddenly go "wrong."
We're barely two hours into the regular session on Wall Street as I write this, so I have no idea how we'll ultimately close, but what I do know is that a lot of folks were scrambling around on Thursday to "explain" what exactly happened to the Hang Seng and to risk appetite more generally overnight.
Two things about this. First, there's something absurd about it because given how far risk assets have run this year alone, you couldn't even count Thursday as a "blip" on the radar screen (the Hang Seng, where there actually was a meaningful move, is still up something like 30%, for instance). Second, it is abundantly clear what went "wrong" - we stepped on a geopolitical landmine in Spain and some derivatives went sour in Hong Kong. Throw in an errant comment from the PBoC's Zhou and thinks briefly fell apart.
Let me show you what I mean. Look what happened in Hong Kong in the minutes leading up to the close: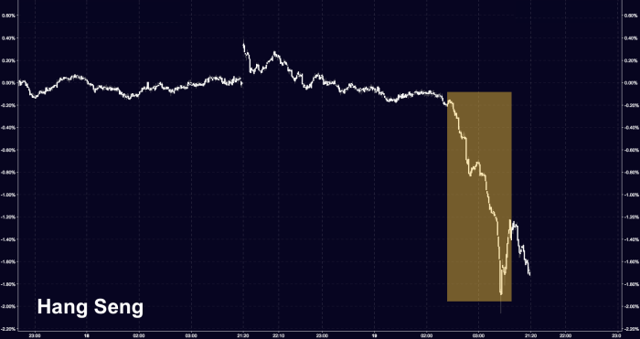 Okay, now look at the IBEX (EWP), the DAX, and the EuroStoxx (FEZ):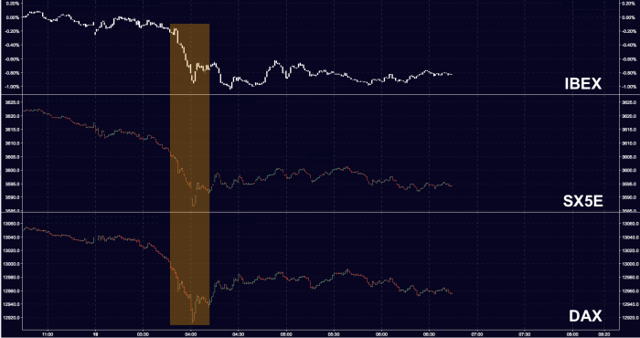 And then here's the VStoxx (which, by the way, hit an intraday record low on Wednesday):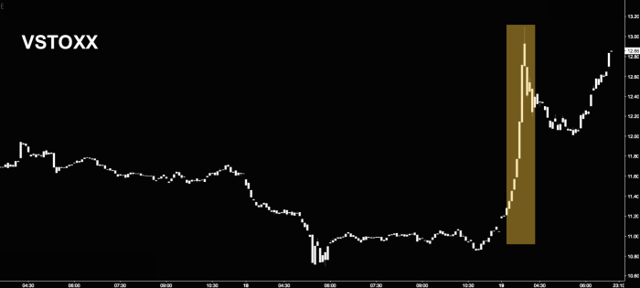 Oh, and S&P (SPY) futs too: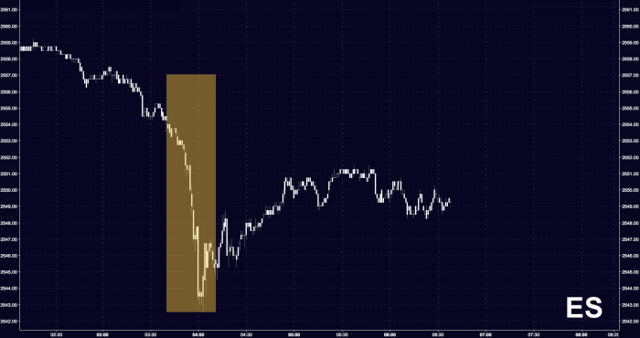 Here's Bloomberg's Cameron Crise with his take:
Sometimes, the glib explanation is the correct one. Why did stocks fall? Because somebody sold some.
Yes, "somebody sold some," but that selling by those "somebodies" just happened to coincide with the deadline for Catalonia to renounce their bid for independence from Spain (which they refused to do) and with the subsequent indication from Madrid that Article 155 will now be triggered. That means Catalonia's autonomy is about to be suspended and it represents what one might very fairly characterize as the worst-case scenario in the ongoing standoff between Rajoy and Puigdemont.
Clearly, it is not a coincidence that everything in the world just happened to selloff as those headlines hit.
As far as why the Hang Seng decline was much steeper than losses elsewhere, the answer would appear to be a buildup in bull/bear contracts (it's a derivative). According to traders, a bunch of the callable bull contracts were linked to levels between 28,150 and 28,199, so once we got down below that, those things were terminated and the losses accelerated culminating in one of the worst days for Hong Kong in almost a year: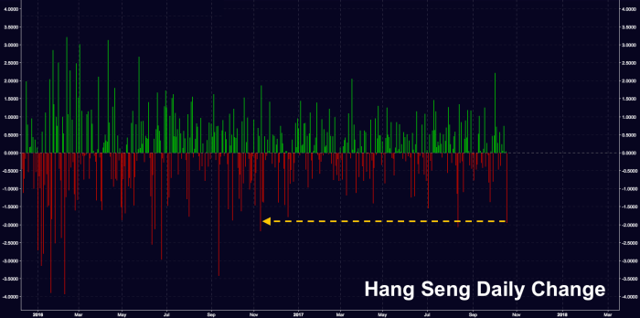 Meanwhile - and this is highly amusing - the PBoC's Zhou Xiaochuan made the unforgivable mistake of saying "Minsky moment" out loud, in front of people with working ears.
So who cares, right? Well, here's the thing. I realize that the vast majority of people who will read this aren't privy to 24-hour trader chatter so the problem might not be readily apparent. But believe me when I tell you that the cacophony was deafening between 4:00 a.m. and the cash open on Wall Street.
If people are this miffed about something that i) wasn't really a big deal in terms of the depth of the move, and ii) is easily explainable, just imagine what kind of chaos is going to ensue if something goes wrong in earnest.
The fragility of this market was on full display overnight. And it's these kinds of episodes that you will one day look back for clues when the bottom finally falls out.
Disclosure: I/we have no positions in any stocks mentioned, and no plans to initiate any positions within the next 72 hours.
I wrote this article myself, and it expresses my own opinions. I am not receiving compensation for it (other than from Seeking Alpha). I have no business relationship with any company whose stock is mentioned in this article.