Tencent (OTCPK:TCEHY) (OTCPK:TCTZF) partly owns Singapore-based Garena. It is, therefore, no surprise that Garena was chosen as the South East Asia publisher of Arena of Valor. Arena of Valor is the English/International version of Tencent's hit Chinese mobile MOBA (Multiplayer Online Battle Arena) game, Honor of Kings. Launching a mobile MOBA game for South East Asians is timely.
As per Statista's 2016 estimates, South East Asia's mobile gaming industry generated $828.5 million in revenue last year. This is expected to grow to $1.8 billion by 2020.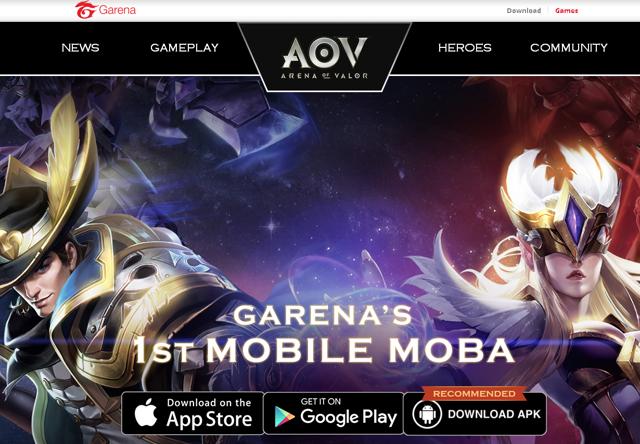 (Source: GARENA)
Statista expects mobile games to generate $1.2 billion in revenue in South East Asia this year. Garena is the largest online games operator in South East Asia. Garena is the right partner to popularize mobile MOBA gaming with Arena of Valor.
Further, Garena's leadership in South East Asia's video games industry should lead to Arena of Valor's rise to the revenue charts. Garena operates in all the top mobile gaming countries in South East Asia. Look at eMarketer's chart below. Five South East Asian countries tout more than 36% - 70% CAGR in mobile games revenue.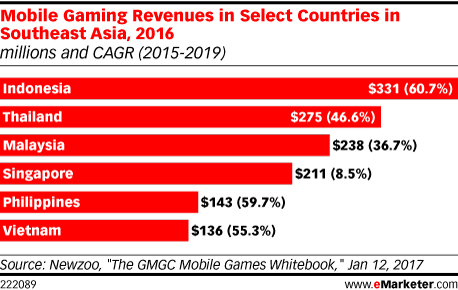 South East Asian nations also tout a well-balanced demographics of mobile gamers. On average, 30% of 21-35 years old male South East Asians play mobile games. Likewise, 18% of 21-35 years old females play mobile games too. These specific age group are likely employed and possess extra money to spend on their favorite mobile games.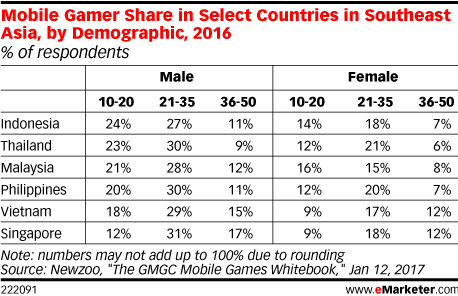 Why Arena of Valor Matters
The China-only Honor of Kings continues to reign as the world's top-grossing mobile game. Unfortunately, Tencent's imposition of a daily limit on how long teens can play Honor of Kings now likely affects Honor of Kings' future growth in China. Prior to the daily play time restrictions, Honor of Kings could generate monthly revenue of 1.8 billion Yuan ($271 million).
The implementation of daily time limit (2 hours for 18 years old and below, 1 hour for 12 years old and below) will likely reduce the average number of daily in-app purchases in Honor of Kings.
The international release of Arena of Valor should help Tencent offset the deceleration of Honor of Kings' growth in China. It is also high time that Tencent starts competing against Mobile Legends, the most popular English mobile MOBA game now in South East Asia.
Both Honor of Kings/Arena of Valor and Mobile Legends are copied from the PC MOBA game League of Legends (also owned by Tencent). Arena of Valor will definitely appeal to current and former players of League of Legends/DOTA/DOTA 2.
Going forward, my fearless forecast is that Garena's South East Asia pool of players can contribute $10 to $50 million in monthly bookings. Garena only needs to implement live in-game events and e-sports tournaments to attract active daily players and spenders in Arena of Valor.
The China success of Honor of Kings is largely because of it dominating that country's professional e-sports ecosystem. I am a former DOTA gamer. More often than not, players who want to compete in e-sports tournaments spend real money on in-app purchases to improve their level/skills in MOBA video games.
Garena Could Also Become The North American Publisher
Garena has already hired Goldman Sachs (GS) for its planned $1 billion U.S. IPO. Tencent previously announced that it also plans to launch Arena of Valor in the U.S. It makes sense to expect that Tencent will again pick Garena to be the North America publisher of Arena of Valor.
Aside from the appreciation of its stake in Garena, a future U.S. IPO can also be a precursor to the launch of Arena of Valor in America/Canada. Garena's management is aware that the U.S. mobile gaming industry is a lot larger than South East Asia's. Arena of Valor could kickstart Garena's entry in the U.S.
Going forward, a U.S./Canada launch of Arena of Valor could also potentially contribute $20-$100 million in monthly bookings.
Conclusion
TCEHY is a buy. The gradual roll-out of the international versions of Honor of Kings should improve Tencent's revenue from mobile games. MOBA is a favorite genre among video gamers. Two of the ten top-grossing PC games around the world are of the MOBA genre. They are League of Legends and DOTA 2. Tencent bringing MOBA games to the mobile platform is judicious.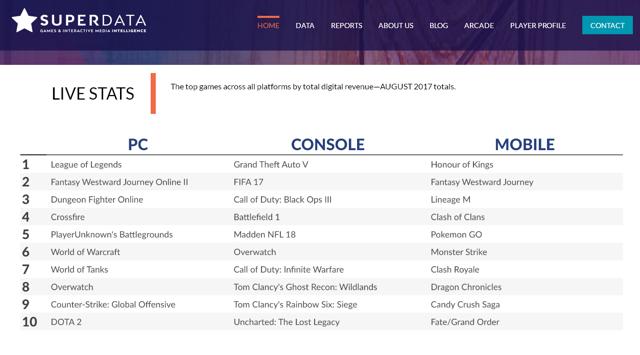 Unlike desktop PCs, a smartphone or tablet allows MOBA fans to play anytime, anywhere there is a good internet connection. I am strongly in favor of Tencent's mobile-first strategy for MOBA video games.
Disclosure: I am/we are long TCEHY.
I wrote this article myself, and it expresses my own opinions. I am not receiving compensation for it (other than from Seeking Alpha). I have no business relationship with any company whose stock is mentioned in this article.
Editor's Note: This article discusses one or more securities that do not trade on a major U.S. exchange. Please be aware of the risks associated with these stocks.