Dick's Sporting Goods (DKS) has been a stock I've written about a few times now in the past year or so. I just looked up a few of the metrics that I follow and found that I'm not surprised by the unfortunate performance of Dick's shares.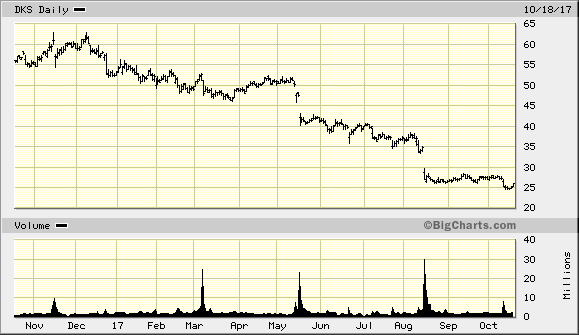 The share price over the past 12 months has been disastrous.
I published an article on September 30th, 2016, just over a year ago, suggesting that Dick's share price had come too far too fast.
The chart at that time looked like this: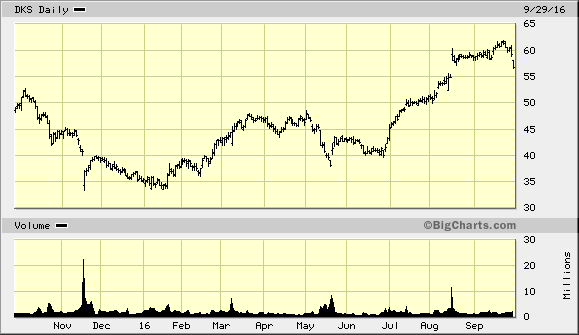 The basis of the reasoning was much relating to the rebound in gasoline prices and the projectable impact it might have on retail spending. I was especially concerned with the impact on the sporting goods, hobby and music store sector as being most vulnerabl - although I was not expecting the carnage to be as bad as it was.
The retail trade data on sporting goods, hobby and music stores has been dismal. It is this metric alone that I pay most attention to with regards to Dick's Sporting Goods' sales outlook.
Gasoline prices have accelerated year over year, and that indeed has had am impact on consumer spending in this rather discretionary sector.
The chart below shows the year over year percent change in price of gasoline. It has been mostly higher year over year since late 2016 as I was expecting.

Going back to the most recent earnings call, published on August 15th, 2017, the following was said by management at that time (emphasis added):
Now let me wrap up with our outlook for 2017. As Ed discussed, the retail marketplace is competitive and dynamic. And to protect and grow our market share, we will aggressively price offerings to improve our price perception with customers and drive traffic to our stores and online. And we have reduced our sales and gross margin expectations accordingly. As a result, we are lowering our full year guidance, and now expect non-GAAP earnings per diluted share to be in the range of $2.80 to $3, which includes approximately $0.05 coming from the 53rd week. This compares to our previous guidance range of 365 to 375. We now expect consolidated same-store sales to be flat to low single-digit negative for the year, compared to our previous guidance of positive 1% to 3%.
There are low expectation of sales growth for Dick's: flat to negative. At the same time, to remain competitive, they are sacrificing margins.
This is followed by:
For the third quarter, based on low single-digit negative consolidated comp store sales, we anticipate earnings per diluted share between $0.22 and $0.30. Operating margin is expected to decline year-over-year, driven by anticipated decline in gross margin, partially offset by SG&A expense leverage.
The market seems to be pricing that in based on current share price momentum as per the current share price.
September Retail Trade Data
The sales trends in this sector remain dismal. If I were to put up a longer term quarterly report of year over year sector sales, this would better give justice to the currently tough environment for this sector. Retail trade data in this sector has been declining year over year for the past 4 quarters.

So it's justifiable to suggest that this sector is going through its own recessionary times.
The Good News
I'm pretty confident that this will turn.
Once again, in the coming months or quarters, we should see gains in year over year sales in this sector.
This data comes out monthly. It is worth watching to help to gauge at what point will Dick's Sporting Goods be more likely than not to see more meaningful gains in comparable same store sales.
Until then, I will keep my readers abreast and follow up in November when October retail sales figures come out.
My belief is that when the retail trade date figures turn higher, the share price of Dick's will eventually follow suit.
I like Dick's Sporting Goods as a company a lot. This is a company that I'd like to own shares in. I'm thrilled to see the lower share price now and believe that once the industry recovers, after all the weaker players are gone from the market, Dick's with thrive.
I just don't know when that's going to happen. Until then, I'm watching the retail trade data to help predict share price reversal.
Dick's currently trades with a dividend yield of 2.61% and a P/E of 9.3. The book value per share is 17.92 and at the current price of 26.03 gives it a price to book value of 1.45. This is good value investor metrics here.
Here is a 10 year chart of Dick's for perspective: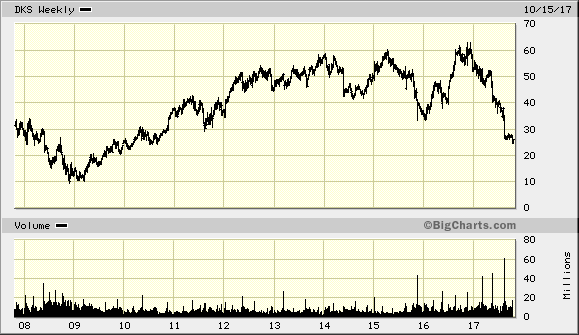 Thanks for reading.
Disclosure: I/we have no positions in any stocks mentioned, and no plans to initiate any positions within the next 72 hours.
I wrote this article myself, and it expresses my own opinions. I am not receiving compensation for it (other than from Seeking Alpha). I have no business relationship with any company whose stock is mentioned in this article.