Quick Take
Email service provider SendGrid (Pending:SEND) has filed an S-1 registration statement in its bid to raise $100 million in a U.S. IPO.
SendGrid provides a range of managed email delivery, marketing, and analytics services to online businesses.
The firm is a high margin technology company with an efficient approach to revenue growth, and the IPO will merit serious consideration once we know more details.
Company and Technology
Denver, Colorado-based SendGrid was founded in 2009 to provide online businesses with improved deliverability for their email and other online communications with customers, prospects, and company stakeholders.
Management is headed by Sameer Dholakia, who has been with the firm since September 2014 and was previously a Group VP and GM at Citrix Systems and CEO at VMLogix.
Below is a brief overview video of SendGrid's system:
(Source: SendGrid TV)
The company's technology is usually integrated via API and users can log in to view activity reports and other analytics information.
Investors have invested $80 million in several private investment rounds and include a prominent venture capital firms such as Bessemer Venture Partners, Foundry Group, and Bain Capital Ventures.
Market and Competition
According to a June 2017 market research report by Global Information, worldwide email revenues totaled $23.9 billion in 2017 and was forecast to reach $46.8 billion by 2021, almost doubling in size as the chart shows below.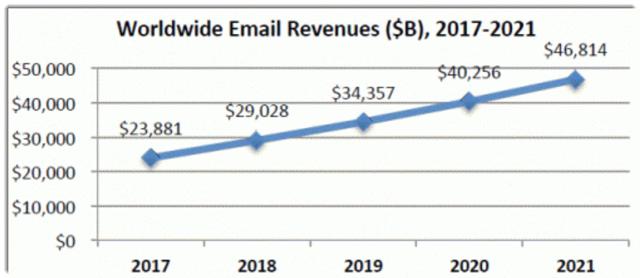 (Source: Global Information)
Major competitive vendors that provide email messaging services include:
Amazon Web Services (AMZN)
IBM (IBM)
Intermedia
Microsoft (MSFT)
Open-Xchange
Oracle (ORCL)
Synchronoss Messaging (SNCR)
Synacor (SYNC)
Constant Contact
Salesforce (CRM)
Adobe (ADBE)
MailChimp
Campaign Monitor
Endurance
So, the list of competitors is long and features major tech giants as well as smaller, privately-held direct competitors.
Financials and IPO Details
SendGrid's recent financial results can be summarized as follows:
Increasing

topline

revenue at an increasing rate
High and increasing gross margin
Positive and increasing cash flow from operations
Below are the company's operational results for the past three and ½ years (Audited GAAP for full years):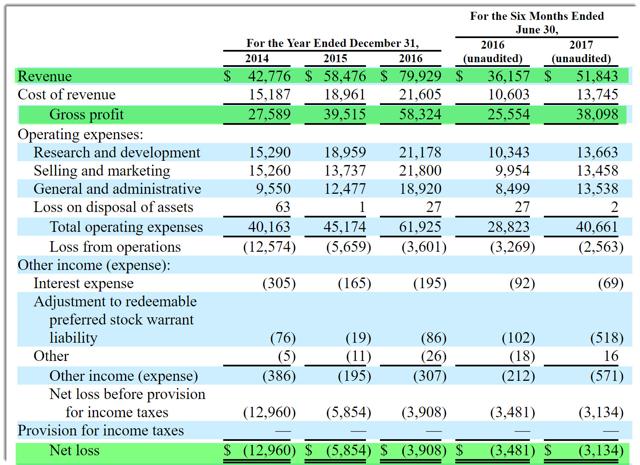 Revenue
1H 2017: $51.8 million, 43% increase vs. prior
2016: $79.9 million, 37% increase vs. prior
2015: $58.5 million, 37% increase vs. prior
2014: $42.8 million
Gross Margin (%)
1H 2017: 73%
2016: 73%
2015: 68%
2014: 64%
Cash Flow From Operations
1H 2017: $5.1 million cash flow from operations
2016: $9.7 million cash flow from operations
2015: $1.2 million cash flow from operations
2014: $9.6 million cash used in operations
As of June 30, 2017, the company had $37.6 million in cash and $30.8 million in total liabilities.
SEND intends to raise $100 million in gross proceeds from an IPO of its common stock.
Management says it will use the net proceeds from the IPO as follows:
Although we have not yet determined with certainty the manner in which we will allocate the net proceeds of this offering, we intend to use the net proceeds from this offering for working capital and other general corporate purposes, including developing and enhancing our technical infrastructure, platform and services, expanding our research and development efforts and selling and marketing operations, meeting the increased compliance requirements associated with our transition to and operation as a public company, and expanding into new markets.
Listed managers of the IPO include Morgan Stanley (MS), JPMorgan (JPM), William Blair, KeyBanc Capital Markets, Piper Jaffray (NYSE:PJC), and Stifel (NYSE:SF).
Commentary
SendGrid was launched to provide a simpler way for small businesses to improve the deliverability of their email communications.
After the initial wave of Internet adoption by users was met with an increasing amount of email spam, smaller firms weren't doing a very good job of ensuring their email was getting through to the intended recipients.
SEND created a simple, low-code way of improving deliverability through integrations with a wide variety of email systems while providing robust reporting and analytics.
In the ensuing years, SEND has landed more than 55,000 customers worldwide. One benefit of this large customer base is that SEND isn't reliant on a few large enterprises. Rather, its customer base is a lot of small customers that pay on a predictable, subscription-based revenue model.
A second benefit is that SEND's APIs, once integrated into a customer's email system, are extremely 'sticky.'
Average annual revenue per customer is shown in the chart below: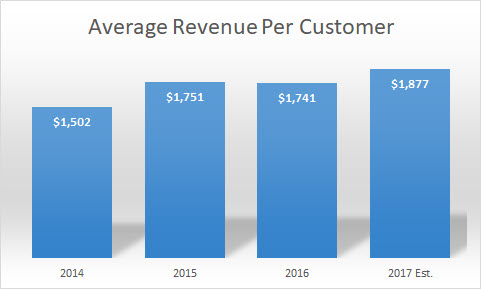 (Source: SendGrid S-1, VentureDeal)
So, the average amount of revenue SEND is obtaining from each customer is growing, a positive signal.
Furthermore, SEND's sales efficiency, which measures the revenue growth for every dollar spent on sales and marketing.
The chart below shows a healthy sales efficiency for SendGrid over the past three years. Any percentage over 75% indicates the firm should consider investing even more in sales and marketing to efficiently grow revenues.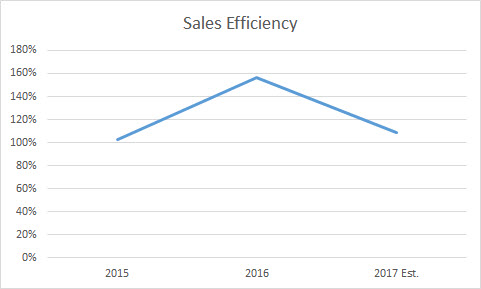 (Source: SendGrid S-1, VentureDeal)
However, management concedes that more of its business growth in the future will likely come from strategic partners and international, both of which may result in more costly marketing on a per unit basis.
SendGrid also has significant competition from a wide variety of well-resourced vendors in the marketplace.
While we don't know the expected share price of the IPO or the proposed post-IPO market capitalization, I am favorably inclined toward SEND's prospects as a potential IPO investment.
I'll provide a final opinion when we have further IPO details.
I write about M&A deals, public company investments in technology startups and IPOs. Click the Follow button next to my name at the top or bottom of this article if you want to receive future articles automatically.
Disclosure: I/we have no positions in any stocks mentioned, and no plans to initiate any positions within the next 72 hours.
I wrote this article myself, and it expresses my own opinions. I am not receiving compensation for it (other than from Seeking Alpha). I have no business relationship with any company whose stock is mentioned in this article.