The Permian Basin, 250 miles wide and 300 miles long, remains the most economic and productive oil basin in the US, and it is world competitive. Due to its stacked pay - from four benches to as many as 12 - producers often consider acreage costs in terms of three-dimensional cubes rather than two-dimensional surface area. Also because of its numerous benches, some estimate the Permian's hydrocarbon column to be three times as deep as Oklahoma's Stack and 10 times as deep as North Dakota's Bakken.
The US Department of Energy's most recent Drilling Productivity Report shows Permian Basin oil production of 2.6 million barrels per day (BPD) and gas production of 8.9 billion cubic feet per day (BCF/D). Permian's oil production is more than twice as much as the next closest region in the report, the south Texas Eagle Ford at 1.2 million BPD.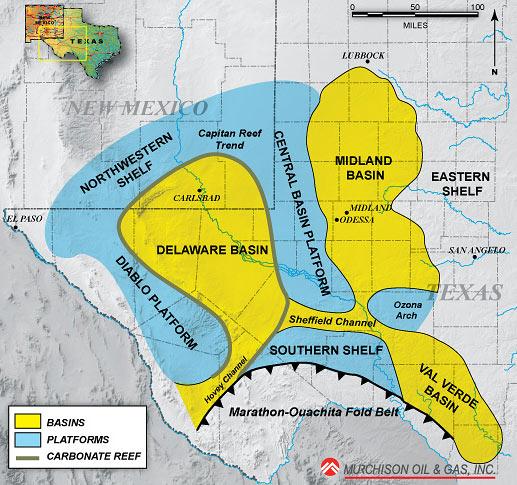 As the map above shows, the Permian has two "sides" - the traditionally explored Midland sub basin on the east, and the newer Delaware sub basin to the west. In between is the Central Basin Platform, which is not prospective for hydrocarbons.
According to Leslie Sutton in Drilling Info, the Delaware sub basin is two thousand feet deeper than the Midland sub basin, leading to stratigraphic discontinuities between the two, with sediments in the Delaware Basin having been exposed to twice as much pressure.
Although much attention is given to the newer Delaware sub basin, the Midland sub basin more than holds its own. The Midland has been drilled vertically to Spraberry targets since the 1940s. Producers thus benefited from the data of these thousands of wells when they began drilling horizontally in the last several years. In addition to the Upper and Lower Spraberry, newer horizontal targets include the Wolfcamp A and B. The overall zone is sometimes referred to as the Wolfberry.
The Midland side of the Permian basin thus also benefits from decades of infrastructure. Sufficient Permian oil takeaway capacity exists or is being built, about 3 million barrels per day. However, since more associated gas is produced with larger volumes of oil, a bigger concern is natural gas takeaway capacity.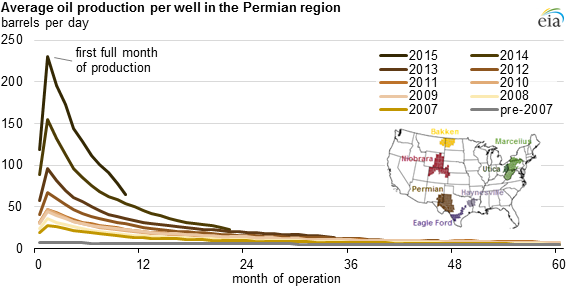 As the EIA Permian drilling type curves above show the falloff in horizontal well production volume is steep. To maintain production levels, let alone grow, companies must do considerable drilling, requiring considerable capital.
Also, Pioneer publicly observed in August that as horizontal wells and fields mature, their gas-oil ratio increases. Then, more low-valued gas and less high-valued oil are produced.
Midland sub basin projects make economic sense due to retooled technology, tighter well spacing, increased sand use, and reduced service costs. Even $40/barrel oil is sufficient to encourage growth because the Midland sub basin is the cheapest area in the US for which to drill for oil. Earlier this year, Bloomberg cited a Wood Mackenzie estimate of $25-$35/barrel breakeven price. Oil prices recently have been closer to $50/barrel.
Thus, while the glamour and prestige of the Delaware sub basin leads the news, the steady expansion of the Midland sub basin into horizontal drilling, using data from its decades of vertical wells along with its existing infrastructure, provides true investor value for companies able to acquire and horizontally drill contiguous acreage.