Introduction
We have been writing about the implications of a New Zealand First and a Labour alliance in a series of articles titled "Kiwis Don't Fly." Our first article in the series highlighted that the New Zealand dollar ("NZD") (Pending:NZDS) was susceptible to major cracks given the outcome of the provisional election results held on September 23rd. We wrote:
Apart from the fact that the nation faces uncertainty over its next governance, a more important implication of these results could be on the progression of its monetary and immigration policies. While both the National Party and the Labour Party are supporters of fiscal prudence, their interests diverge on a number of other issues; main ones being immigration and monetary policies.

If a marriage between NZ-First and Labour materializes, we fear that the New Zealand economy (NYSEARCA:ENZL), which has grown tremendously on the back of rising immigration, will take a hit. As a result, RBNZ's monetary policy will likely take a stimulatory tilt. Add in an expanded mandate for the central bank and this will be a perfect recipe for prolonged NZD weakness.
The second article in this series alluded to the importance of dairy trade for New Zealand's economy and put the spotlight on the most recent outcome of the Global Dairy Trade event, a bi-monthly online trading event that facilitates the global trading of large volume, generic dairy ingredients between buyers and sellers from over 80 countries. We wrote:
If the most recent GDT event is any indication of future dairy auctions then it doesn't bode well for the Kiwi. Election results on October 7th will be key, we will be watching them closely and continue to monitor the charts for clues.
In the third article we published the full and final results of the elections and expressed our bewilderment at the Kiwi dollar's unresponsiveness to the results. We wrote:
The trade is working out as we expected so far, but we expected the Kiwi dollar to have reacted much more poorly to the final news than it has as yet, which makes us wary of this being a "Sell the rumor, buy the news" type of event. Below, we review the NZD against the US dollar ("USD"), the Canadian dollar ("CAD") (FXC, CADS), and the euro ("EUR") (FXE, EURS).
Today, the Kingmaker has chosen sides. Mr. Winston Peters' New Zealand First party has chosen to form a coalition government with Ms. Jacinda Ardern's Labour Party. This is the exact outcome we were fearful of. For years, there were three main things about New Zealand that stood out as exceptional: 1) their policies on immigration, 2) their policies on fiscal prudence, and 3) their central banking, and monetary, policies.
While the new coalition might stick to New Zealand's fiscal prudence both parties are keen on expanding RBNZ's mandate from only targeting inflation to also targeting employment and perhaps currency management, and both parties want to significantly cut down on immigration: Labour wants to slash immigration by 20,000-30,000 annually, and NZ-First's Mr. Peters wants to slash migration to 10,000 a year - a drop of more than 60,000 annually!
The New Zealand dollar has fallen out of its bed and we suspect there might be a lot more room on the downside. The NZD looks vulnerable on charts, below we will review its performance against the US dollar ("USD"), the Canadian dollar ("CAD") (FXC, CADS), the euro ("EUR") (FXE, EURS).
NZD/USD - Currently at 0.7030
Levels to watch:
Support at 0.7178 has been broken and the market is now testing support at 0.7035.
If 0.7035 gives way a test of the 0.6860 level seems inevitable.
A weekly close above 0.7178 will eliminate our bearish bias.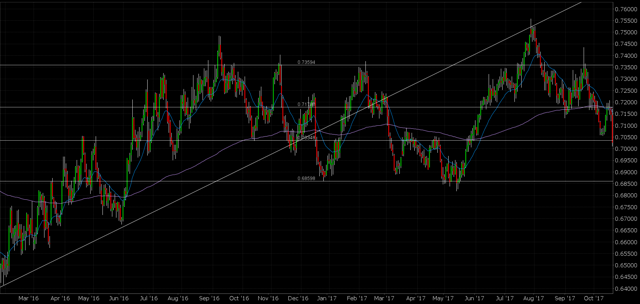 EUR/NZD - Currently at 1.6855
Levels to watch:
Resistance at 1.6718 was blown past in a violent fashion. It is important for this area to now become strong support. On a move higher, there is little resistance now until 1.7169.
We expect support at 1.6718 to hold but only a break of the trend line support, which now comes in around the 1.6460 level, will eliminate our bullish bias in this pair.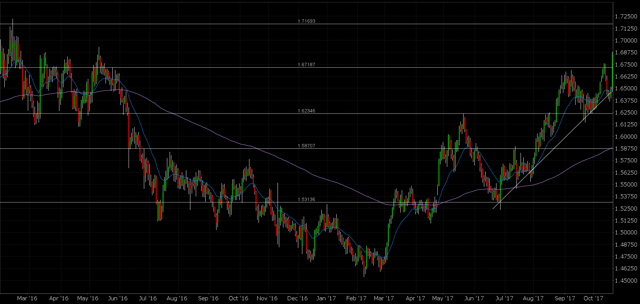 NZD/CAD - Currently at 0.8760
Levels to watch:
Support at 0.8890 has given way and the market is currently testing support at the 0.8750 level.
A break of 0.8750 will likely see this pair testing support at 0.8625.
A weekly close above 0.8890 will eliminate our bearish bias.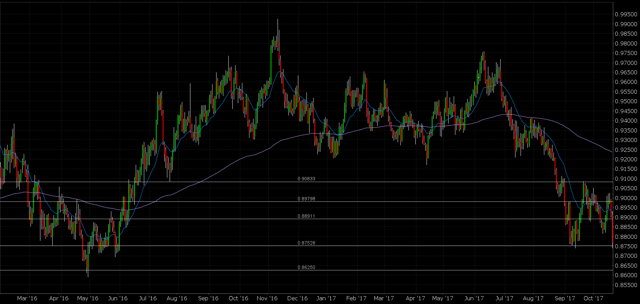 Disclaimer: Rigel Mercantile Limited specializes in Macro/Value Research and Systematic Trading. The views expressed above are our discretionary ideas that we have arrived at using discretionary analysis and, therefore, are limited to our discretionary portfolios only. Our systematic strategies may or may not have a position (long or short) in the securities mentioned above. Under no circumstances should the information contained herein be used or considered as an offer to sell, or a solicitation of an offer to purchase any security or investment service. The information presented herein is presented in summary form and is, therefore, subject to qualification and further explanation.
Disclosure: I am/we are short NZD/CAD.
I wrote this article myself, and it expresses my own opinions. I am not receiving compensation for it (other than from Seeking Alpha). I have no business relationship with any company whose stock is mentioned in this article.