The U.S. Treasury just announced that its reopening of CUSIP 912810RW0 - creating a 29-year, 4-month Treasury Inflation-Protected Security - auctioned with a real yield of 0.908%.
That after-inflation yield was on target with where this TIPS was trading on the secondary market this morning. It closed yesterday with a yield of 0.914%. Because this TIPS has a coupon rate of 0.875%, buyers got it at a discount. The adjusted price was about $100.84 for about $101.70 of value, after accrued inflation is added in.
Today's yield was slightly lower than the 0.923% generated at the originating auction on February 16 and shows how little long-term yields have fluctuated this year after bumping higher in the summer. In contrast, 5-year real yields have risen about 25 basis points over the same period. Here's the year-to-date trend for 30-year real yields:

Inflation breakeven rate. With a 30-year nominal Treasury trading today with a yield of 2.83%, this TIPS gets an inflation breakeven rate of 1.92%, meaning it will outperform a nominal Treasury if inflation averages higher than 1.92% over the next 29 years. Inflation expectations have been rising since summer after reaching 2017 highs early in the year. Here's the year-to-date trend for the 30-year inflation breakeven rate:

At this point, as I said in my preview article for this auction, long-term TIPS seem fairly priced against nominal Treasurys. Because 30-year Treasurys of all types are volatile investments, it's an interesting gamble on future inflation. Then again, a nominal return of 2.83% isn't very attractive. An EE Savings Bond will pay 3.5% if held 20 years.
Today's auction seemed to have some potential to disrupt the TIPS market: A long-term TIPS issued at a time when inflation remains iffy and the Federal Reserve is rolling back its stockpile of Treasurys. But this was only a $5 billion offering, and it seemed to go off without much of a hitch, based on the before-auction market yield and the after-auction non-reaction of the TIP ETF, which holds a broad range of maturities.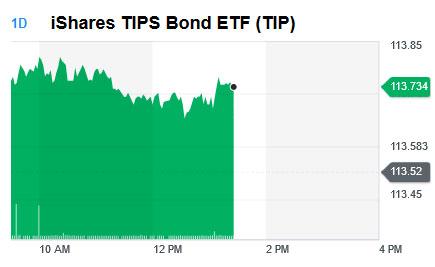 Today's auction closes out the history of CUSIP 912810RW0, and it is the last auction of this term in 2017. A new 30-year TIPS will be issued in February 2018.