Texas Capital Bancshares (NASDAQ:TCBI), a Texas regional bank is among a list of banks that have been changing their playbook and attempting to extend their lending activity outside of Texas. Analyzing the Bank's 2016 annual report and focusing on their Risk Assessment, one can see that this bank is walking a tightrope, and sooner rather than later this bank will face a significant downturn and lower profitability.
According to the bank's investment breakdown as of December 31, 2016, their lending focus has been on both Residential and Commercial as well as Construction. As indicated by their 2017 Q2 release, while their Loans Held for Investment (LHI) increased 14% from 2016 Q2; however, the bank provisioned $13 million for credit losses in same quarter, a $5 million increase from the first three months in 2017.
Additionally, according to the Dallas Fed presentation, the CRE credit quality has been deteriorating, and as of 2016 had approached pre-crises levels as seen below: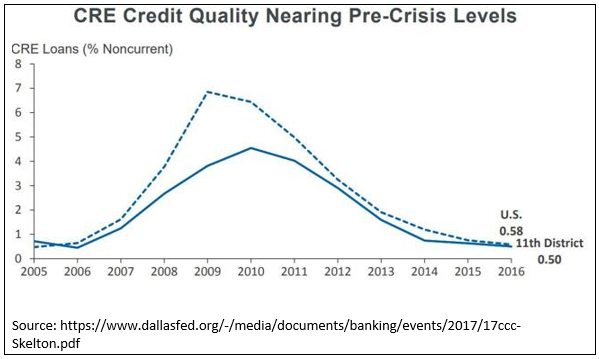 In the current bull market, their investment and risk strategy has clearly paid off. But as the market begins to transition out of the current cycle, their business model becomes riskier according to their own assessment. They need to maintain "above-peer" CRE loan growth or risk having an adverse impact on their profitability.
Given the falling CRE lending and higher overall rates, it is improbable the bank's lending activity will remain robust and maintain "above-peer" loan growth.
According to Green Street Advisors Property Index (CPPI), prices in 2017 have stagnated and have remained mainly flat. The latest CPPI can be foound here: CPPI Chart. Assuming that national prices either continue to stagnate in 2018 or even fall by as little as 5-10%, the risk to Texas Capital Bank's portfolio will lead to an increase in both non-performing loans as well as a significant decrease in their loan origination.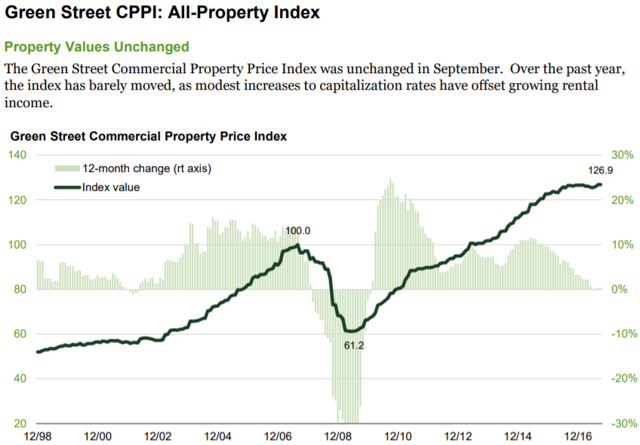 This bank is not a short-term shorting candidate, but upon reaching its ideal target of $105-$115 a share based on P/E and Elliot Wave analysis, they will begin to experience a protracted correction in the mid-2018 to early 2020 time frame.
Disclosure: I/we have no positions in any stocks mentioned, and no plans to initiate any positions within the next 72 hours.
I wrote this article myself, and it expresses my own opinions. I am not receiving compensation for it (other than from Seeking Alpha). I have no business relationship with any company whose stock is mentioned in this article.