Summary
Total demand for American natural gas is up 8% YoY to 460 bcf.
Total natural gas supply is up 7% YoY to 82.0 bcf per day.
We currently expect EIA to report an injection of 63 bcf next week.
This report covers the week ending Oct. 20, 2017. Daily data for Oct. 14 to Oct. 19 is estimated. Daily data for Oct. 20 is forecast. To read last week's report, please click here.
Total Supply/Demand Balance
We estimate that aggregate demand for American natural gas (consumption + exports) totaled just over 460 bcf this week (down 1.0% WoW, but up as much as 8% YoY). The deviation from the norm stayed positive, but declined slightly from +18% to +17% this week (see chart below). According to our calculations, aggregate demand for U.S. natural gas (on a weekly basis) has been above the nine-year norm since Feb. 24, 2017. The total number of heating degree days was below the norm for most of the week, but consumption remained strong (some 4% above the five-year average due to a combination of a number of structural reasons, geography, and coal-to-gas switching).
Total exports (i.e., pipeline flows to Canada and Mexico + LNG exports) hit a five-week high (almost 9 bcf per day) and were up almost 80% YoY. According to Marine Traffic data, no fewer than four LNG tankers (total natural gas carrying capacity of 14 bcf) departed from the Sabine Pass over the past seven days.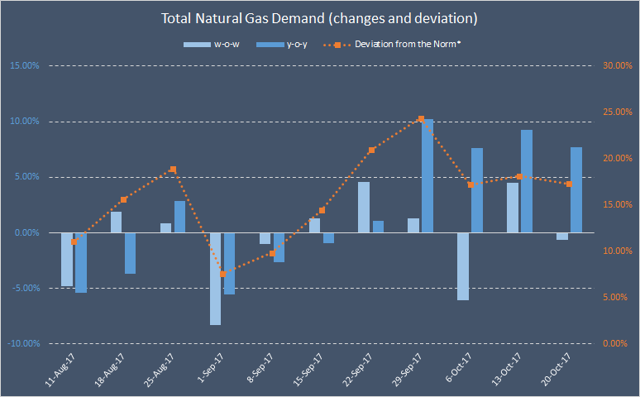 *Norm defined as simple average over the last nine years. Source: Bluegold Research.
We estimate that dry gas production has been expanding in annual terms for 20 consecutive weeks now. The annual growth rate has accelerated this week to 6%, which is the strongest rate in more than two years. We expect this trend of positive annual growth to continue, partly due to base effects and partly due to a genuine recovery in output. We also expect it to slow somewhat, but remain positive. The total aggregate supply of natural gas (production + imports) averaged around 82.0 bcf per day for the week ending Oct. 20 (up 7% YoY).
Overall, total supply/demand balance should be positive and is estimated to reach some +112 bcf, which is the highest weekly balance since Oct. 6. The volume is 17 bcf larger than a week ago, but is 12 bcf below the five-year average for this time of the year (see chart below). In absolute terms, and with all other things being equal, this kind of volume is neutral for natural gas prices since it is above last year's level, but also below historical norm. That does not mean, of course, that prices will stay flat. If you want to know how we are navigating thorough the current market environment and see our trading exposure, consider signing up for our exclusive content (see link below).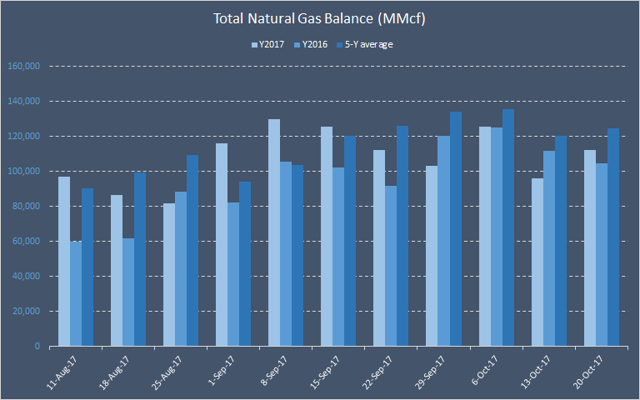 Note: The total supply/demand balance does not equal storage flows. Source: Bluegold Research.
Storage
This Thursday, the EIA reported an injection of 51 bcf, exactly in line with our expectations of +51 bcf. Total storage now stands at 3,646 bcf, which is 35 bcf (or 0.95%) below the five-year average for this time of the year. To see our storage forecasting track record, please click here. Despite an injection figure being ostensibly "bullish" (i.e., below market consensus), natural gas prices sold off on Thursday.
However, we believe that the recent weakness in price is due entirely to the fears of possible overproduction. There is nothing particularly bearish on the demand side (at least currently). We estimate that over the next three weeks natural gas consumption will be some 6% above the five-year average, while aggregate demand will be as much as 12% above the five-year norm. If this market is indeed forward-looking, it should rebound immediately. That's why we closed all of our short positions on Oct. 18. (Our Seeking Alpha fans receive a daily update our trading exposure -- sign up for our exclusive content, if you're interested.)
Currently, we expect the EIA to report an injection of 63 bcf next week (the final estimate will be released next Tuesday). Our latest projection is lower than the comparable figure in the ICE's latest report for the EII-U.S. EIA Financial Weekly Index, implying the possibility of a bullish surprise. Overall, at this point in time, we expect flows to storage to average 48 bcf over the next three reports. Natural gas inventories' deviation from the five-year average should decline from -0.95% today to -1.81% for the week ending Nov. 3. We are updating our forecasts on a daily basis.
Check out the evolution of storage forecasts in the chart below. Notice that we have been slowly revising our near-term storage forecast higher over the past two weeks. The total for three reports went up from +129 bcf on Oct. 6 to +145 bcf on Oct. 19. The largest bearish revision took place on Oct. 16, just before prices plunged (we wrote about the revision in this article). However, trading natural gas futures and ETFs is a more complicated exercise than simply following storage revisions. We continue to navigate through the market action and update our clients on our trading exposure on a daily basis.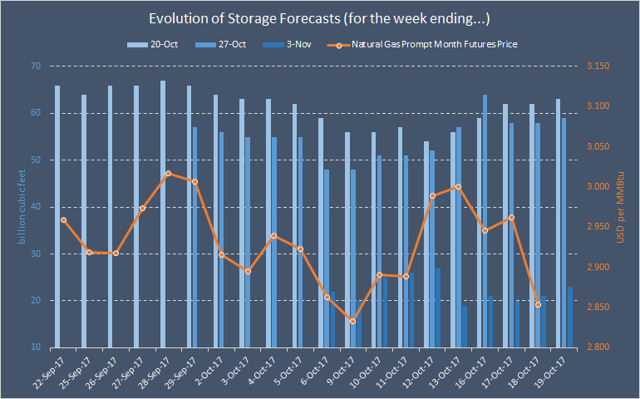 Source: Bluegold Research.
Disclosure: I/we have no positions in any stocks mentioned, and no plans to initiate any positions within the next 72 hours. I wrote this article myself, and it expresses my own opinions. I am not receiving compensation for it (other than from Seeking Alpha). I have no business relationship with any company whose stock is mentioned in this article.
Additional disclosure: We are long natural gas futures (winter contracts) and short in natural gas cash.