Market Volatility Bulletin: The Ghost Of Oct. '87 Pulls S&P Futures Down 20 Whole Points
Includes:
BXUB, BXUC, CRF, DDM, DIA, DOG, DXD, EEH, EPS, EQL, FEX, FWDD, GLD, HUSV, IVV, IWL, IWM, JHML, JKD, OTPIX, PPLC, PPSC, PSQ, QID, QLD, QQEW, QQQ, QQQE, QQXT, RSP, RWL-OLD, RWM, RYARX, RYRSX, SBUS, SCAP, SCHX, SDOW, SDS, SFLA, SH, SMLL, SPDN, SPLX, SPSM, SPUU, SPXE, SPXL, SPXN, SPXS, SPXT, SPXU, SPXV, SPY, SQQQ, SRTY, SSO, SYE, TALL, TNA, TQQQ, TWM, TZA, UDOW, UDPIX, UPRO, URTY, USA, USO, USSD, USWD, UUP, UWM, VFINX, VOO, VTWO, VV, XLE, XLF, ZLRG
by: The Balance of Trade
Summary
Wednesday's action saw markets meandering around all-time highs; IBM led Dow past 23,000.
Something spooked futures in the pre-open this morning.  The action appears to be short lived however.
Will the flow of central bank purchases rattle markets?
Further clarification on the content of CBOE's correlation index.
ES at-the-money options show the quarterly contract may represent relative value.
The S&P 500 (SPY) closed marginally higher Wednesday, the Nasdaq (QQQ) was flat, and the Dow surged by .70%, closing above the 23,000 milestone for the first time in its history. Interestingly, the Dow's increase can be largely attributed to the performance of just a single stock (NYSE:IBM), thereby demonstrating a major flaw of the index, and illustrating why its milestones are actually not all that important.

Energy (XLE) was the day's worst performing sector, despite modest gains in oil prices (USO). The conflict in Northern Iraq is still a cause for supply concern.

The best performing sector was financials (XLF), as continued speculation about the next Fed chair has contributed to increasing Treasury yields. The spread between 2-Year and 10-Year Treasuries is now at its lowest level since before the Financial Crisis.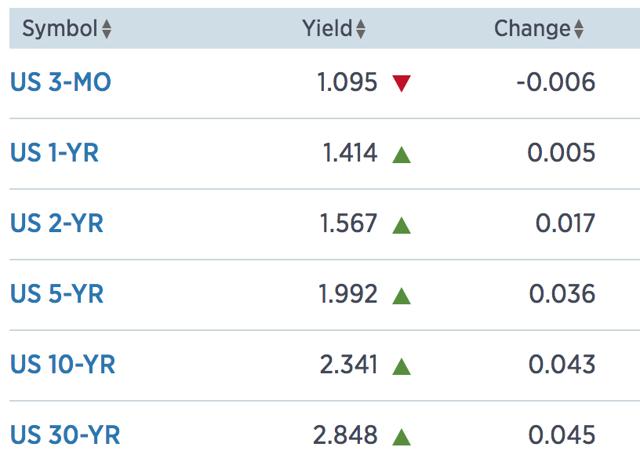 Highly followed bond fund manager Jeff Gundlach had this to say about the 2-Year yield:

CNBC reported Tuesday that Trump is expected to make the nomination prior to his trip to Asia on November 3rd. Here are the latest Fed Chair nominee probabilities from PredictIt: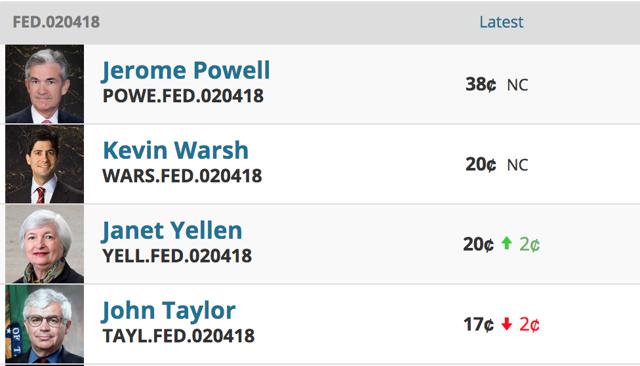 Influenced by speculation about the Fed chair as well as tax reform, the Dollar (UUP) overall saw modest appreciation, and gold (GLD) dipped.


No doubt what is on traders mind today is the large dip in the index headed into Thursday morning's open:
There is no specific reason that we've come across as to why the index thrust lower. The best we've heard is to tremors going back to the October '87 "Black Monday" event that will not soon be erased from investors' collective consciousness. As the visual above shows, the spill was sharp in its velocity, but also short-lived. It is worthy of mention that the "lows" of the pre-market session were less than one percent below the all-time high put in on October 18. We liked what regular reader Vol_Trader had to say on the matter:

Shout Out
Today's feature goes to The Heisenberg, for the article, " The Flow Show: Here's The Single Most Important Issue For Volatility"
The author's discussion centers around the following debate about the impact central banks have on markets:
Is it the stock of assets held on central bank balance sheets or is the flow of purchases that matters?
The Heisenberg's stance is that in the current environment the more influential factor is the flow. Here is his justification:
Yes, markets can take comfort in the overall size of CB's balance sheets and also in the fact that there is virtually no chance that those balance sheets are ever going to return to pre-crisis levels. But the purchases those bloated balance sheets represent are by definition already priced in. Therefore, it stands to reason that the ongoing supply of liquidity (or, put differently, the idea that central banks will continue to sell volatility) is what matters more going forward.
Based on this, he argues that if central banks have "underestimated the importance of the flow effect and overestimated the importance of the stock effect," quantitative tightening could result in devastation for those who are short volatility.
Deutsche Bank seems to agree:
We are likely to be nearing a low point for major market bond and equity vol, and if the catalyst is policy it will likely come from positive volatility QE 'flow effect' being more powerful than the vol depressant 'stock effect'.

2018 will see the world's most important Central Bank balance sheets shift from a 12 month expansion of more than $2 trillion, to a broadly flat position by the end of 2018, assuming the Fed and ECB act according to expectations. The QT that was feared surrounding the taper tantrum never happened in 2014/15, but will very likely occur in 2018/19."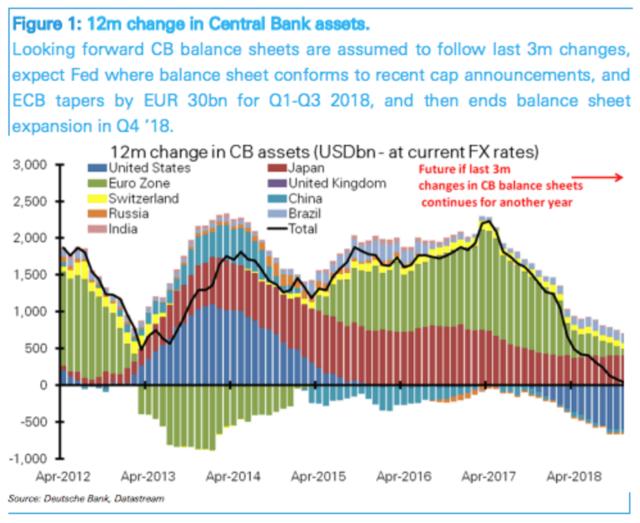 Source: Deutsche Bank
The Heisenberg believes this presents a strong case for anticipating higher volatility. Do you agree? Feel free to share your thoughts in the comments section.
Thoughts on Volatility

Phew! Well, VIX did try to get out of bed this morning! At a high of 11.77, the spot index has since slowed down considerably. We find the current level to be a little on the high side of its one-month range, as seen below:

A couple days ago we said the following:
Spot VIX is not tradable. So while it may be interesting to learn that spot is jumpy, that is not necessarily useful unless you can infer relationships to VIX futures.

Even though volatility has trended lower, there has bee a great deal of random mini-leaps higher. Nothing too note-worthy of course; if you don't follow vol you might miss it. But it does demonstrate that perhaps there is a logic behind opening a trade from the long end. You can definitely go and buy those long-vol plays, just (unfortunately) prepare to dump them again at a moment's notice.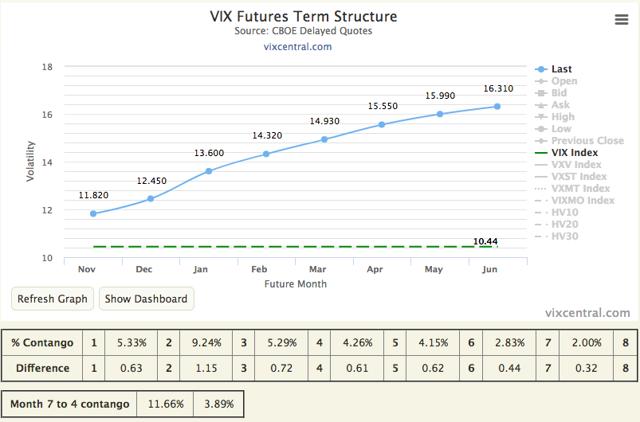 The morning's move in the spot VIX may frustrate those long the F1-F2, as the Nov futures may really hang much closer to F2 than it otherwise would in preparation for another sudden move higher.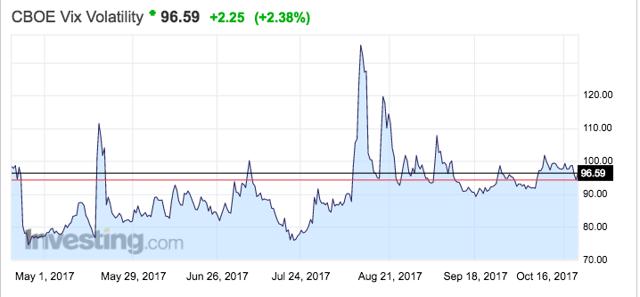 The morning's push high in spot should also serve as a reminder as to why VVIX has not followed spot VIX lower as it did at the very lows in late July.
Over the last couple days we have been speaking over the low levels of KCJ. But there has been some disagreement as to what the index is and what it measures. We thought it might be useful to quote CBOE on the matter for interested readers: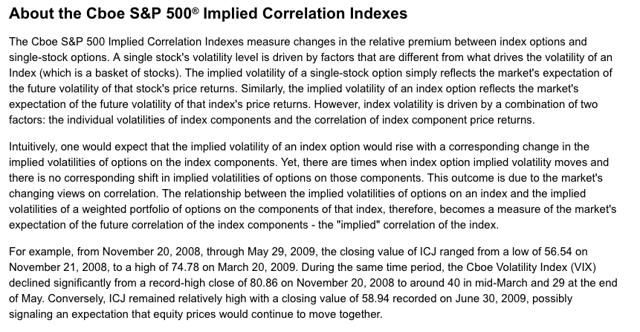 11:50AM EST
Organic at-the-money vol is testing out higher levels relative to its recent lows so far as the weekly and monthly expiries are concerned. Vol at the quarterly region remains unconvinced, only .2 vol points above its recent bottom.
The interpretation that we see is that markets are perhaps girding themselves for mild short term turbulence, but any such issues should be resolved in relatively quick order. Sustained moves higher in volatility would be confirmed by the quarterly.
As of the last couple days, we are increasingly of the mind that the value in ES options lies more towards the quarterly region and away from the monthly.
Conclusion
If this is your first time reading Market Volatility Bulletin, thanks for giving it a try. If you're a regular, we thank you for your ongoing contributions in the comments section. As always, trade ideas, questions, and general sharing are appreciated.
We compiled an instablog post that acted as a bibliography of sorts, compiling and categorizing comments from readers in relation to the Interactive Brokers margin requirements issue that we discussed in our three-part series.
The second of our two-part series on the likelihood of an XIV Event Acceleration was released yesterday.
We're always on the look out for good ideas to write about in terms of larger topics that impact volatility, equities, or markets in general. Please pass on your ideas for what you'd like to see more on, and we'll try to address and/or incorporate your thoughts into future pieces.
On this front, it looks like we'll be doing an interview tomorrow with Robert Green, CPA. A regular reader, toombsb, linked the two of us up and we're scheduling a time to discuss tax implications of vol-traded vehicles. If you as a reader have any questions on this topic, please submit them to us in the comment thread, or PM, or else e-mail us at thebalanceoftrade@gmail.com.
Please consider following us.
Disclosure: I am/we are short SPY. I wrote this article myself, and it expresses my own opinions. I am not receiving compensation for it (other than from Seeking Alpha). I have no business relationship with any company whose stock is mentioned in this article.
Additional disclosure: We actively trade the futures markets, potentially taking multiple positions on any given day, both long and short. It is our belief that the S&P 500 is meaningfully overvalued. As such, we typically carry a net short position using ES options and futures.