In its "Winter Fuels" October forecast released on Oct. 11, the U.S. Energy Administration, or EIA, forecast an increase in consumer gas prices this winter due to cold weather and increasing gas costs, with an emphasis on colder weather. Consumption is likely to rise.
EIA forecasts that average household expenditures for all major home heating fuels will rise this winter because of expected colder weather and higher energy costs. Average increases vary by fuel, with natural gas expenditures forecast to rise by 12%, home heating oil by 17%, electricity by 8%, and propane by 18%. Most of the increase reflects expected colder weather rather than higher energy costs. A warmer-than-forecast winter would see lower increases in expenditures, and a colder-than-forecast winter would see higher increases in expenditures
The storage chart below suggests that out of season natural gas stocks are acquired for storage, which seems to imply that in the late winter gas is bought to replenish storage as well as use. Near term, the COT and stock charts look weak, but gas is near a very long-term low. That means there's low downside risk, and with an EIA warning of rising winter consumption, the market is likely to react bullishly once it finds a price floor.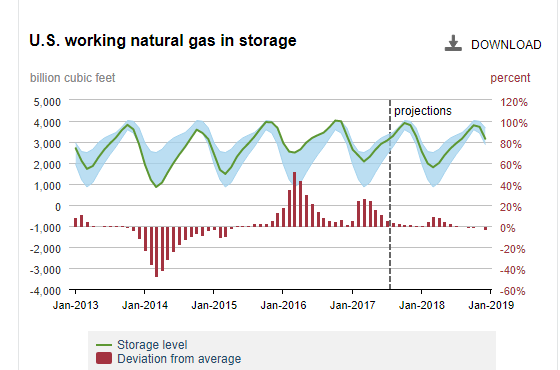 Seasonal Chart
Natural gas generally finds an October high and an end of November bounce, and then sells off into February. What does that mean for gas on long-term price lows, though?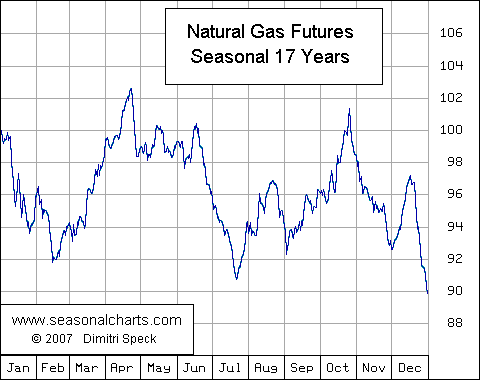 Source: seasonalcharts.de
COT Charts
Daily
Although short-term producers are maintaining long positions, in comparison managed money is becoming increasingly short. Also, the August technical support level has just been lost.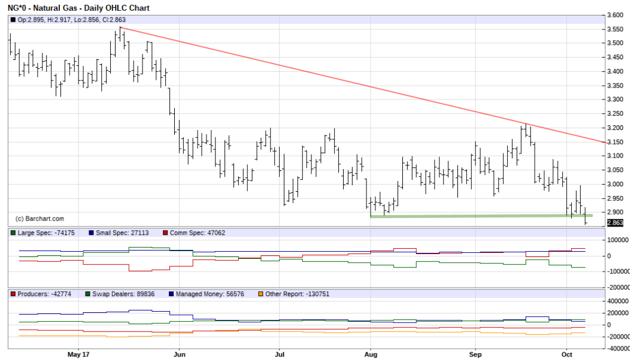 Weekly
On a weekly basis, managed money positions appear similar to that of the correction from the price high in 2014, although producers and "others" appear increasingly bullish.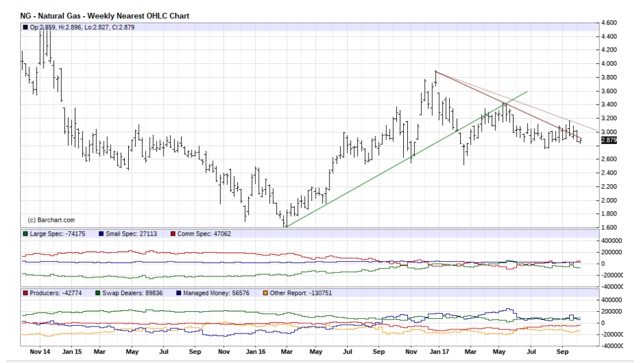 Monthly
On a very long-term basis, the tendency to spike down following a price high becomes apparent. Natural gas has a complicated fractal chart of head-and-shoulder increases and corrections. The five-wave correction from the 2005 high ended in 2012.
A potential new bull leg series is currently correcting, but it needs to end on a price that is higher than the low of 2016 (as was the case in the bull series starting 1995, and with a higher low again in the almost complete correction in 2002). Investors should still be wary of managed money trading back down to the extreme 2016 support zone again.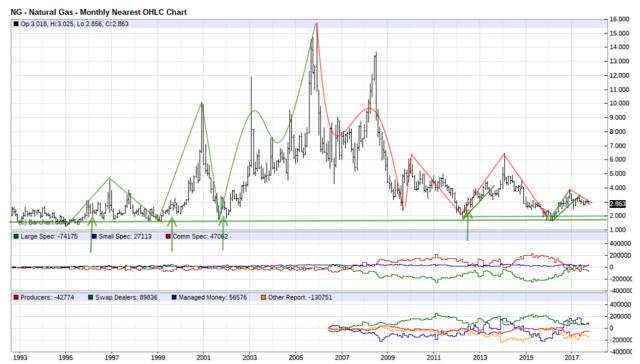 Source: barchart.com
Stock Charts
Daily
In the short term, we can see that natural gas has so far failed to break out of the June downtrend and appears to be heading for S1 support. The RSI still has room to fall, and although the fast stochastic is oversold, it can remain oversold for some while before reversing. The 200-day moving average is also creating overhead selling resistance, and trading has fallen below the 50-day moving average. Both are considered to be bearish patterns. To create a trend reversal, the black ADX over the MACD needs to begin to flatten, something that hasn't happened yet. This did occur in July, but was only sufficient for a short-term bounce before lower prices were achieved again.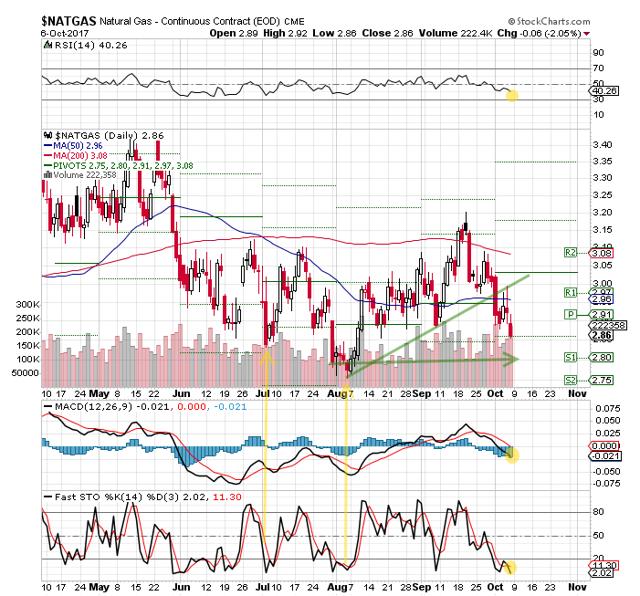 Weekly
Weekly natural gas is losing strength on the RSI oscillator, having fallen below 50. However, it's unlikely to find the 2016 low from a drop to an oversold level now. This requires a further bounce. The moving averages might become selling resistance to the upside and create an environment for a further correction later.
On the weekly chart, we can see that trading support has been on a rising trendline (the gray diagonal) for the last couple of years. But on a weekly level, the RSI is still weakening. Traders looking for oversold RSI conditions on a weekly level could break that support trend. There is support on the S1 level, but if a 61.8% or higher Fibonacci correction doesn't hold, natural gas could find itself testing the lows of 2016 again (note the higher 2015 price point). On the weekly chart, S1 is the strongest support after the bullish trendline, but that isn't likely to be achieved without at least a bounce on the daily chart from oversold conditions. Bulls will be eyeing a potential golden cross of the moving averages, but that wouldn't arrive until well into 2018 even if trading managed to hold the diagonal.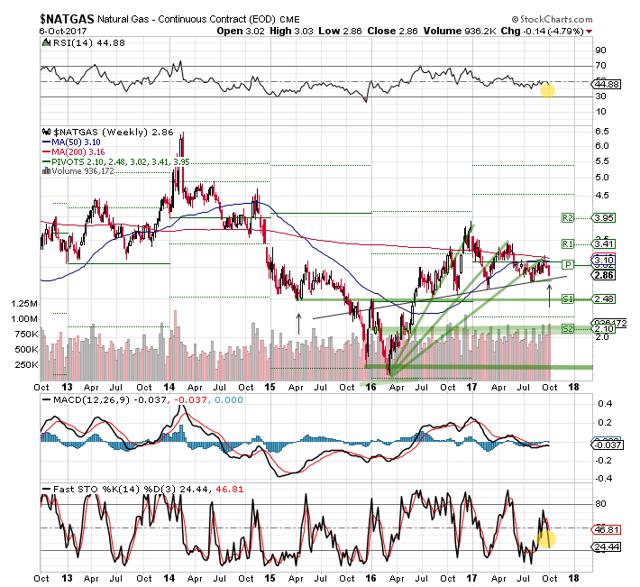 Investing in Natural Gas
It's possible to avoid contango in commodity futures by investing in ETFs, but even though some are liquid they don't track natural gas all that well. Some ETFs/ETNs are more bearish as the price of gas falls, which could create an improved return, but are hard to measure against natural gas itself. Stock charts offer a "perf" chart alternative to a sharp chart, where it's possible to compare current performance. The First Trust National Gas ETF (NYSEARCA:FCG), for example, is weakest price-wise in a bearish situation. ETF.com describes FCG as follows:
The only game in town for those looking to access the U.S. natural gas equities.
An average commodity ETF service ratio is 0.75% (a free calculator is available at begintoinvest.com).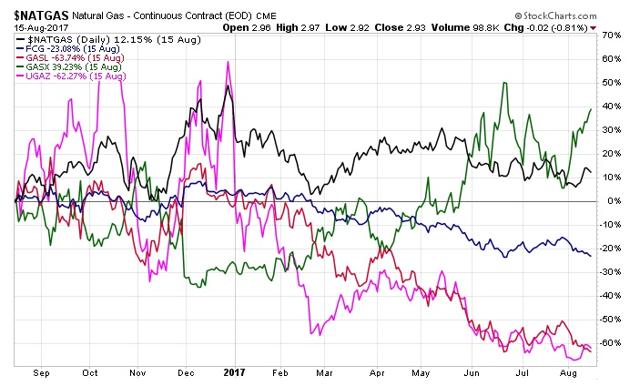 Source: stockcharts.com
Looking Ahead
Natural gas seasonally finds an end-of-October high, then trends down through the end of the year with an end-of-November bounce. This year gas is correcting, so we should expect an oversold bounce on the daily chart and for a bullish leg continuation once prices hold the rising diagonal trendline support on the weekly chart.
If, however, that diagonal trendline is lost, the weakness showing on the weekly chart can result in a test of the S1 support level on that chart. A failure of S1 could result in a fall to the 2016 or late 2015 lows, as S2 appears to be below the 61.8% Fibonacci correction point.
On the monthly COT chart a longer-term correction (albeit with bounces) appears to be in progress, with short-term trading maintaining a red diagonal bearish trend. Trading needs to confirm a break outside of this trend while holding a tested support level to confirm a new bull leg. A reversal from a higher price point than the 2016 low would indicate the beginning of a new bullish five-part series.
Disclosure: I/we have no positions in any stocks mentioned, and no plans to initiate any positions within the next 72 hours.
I wrote this article myself, and it expresses my own opinions. I am not receiving compensation for it (other than from Seeking Alpha). I have no business relationship with any company whose stock is mentioned in this article.