Summary
REITs are too often assumed to be homogeneous and affected similarly by economic factors, but each sub-sector has different performance drivers that can be very unique.
We can identify high-level themes that are typically associated with a specific sector but find a way to get exposure to that theme through REITs.
Timber REITs are a great way to get exposure to homebuilding and construction, and even though it is not a perfect relationship, they can be used early in the cycle.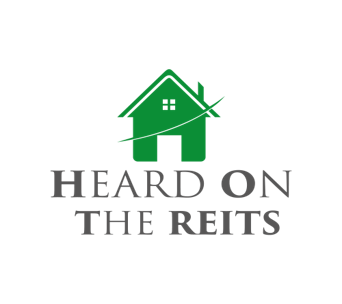 In the previous article about investing in REITs, we talked about getting broad exposure through an ETF and highlighted several ETFs that could be used for that exposure. It is by far the easiest way to invest in REITs without worrying about picking individual stocks or sectors, but it does have its drawbacks. For example, in the case of market-cap weighted ETFs, you will have greater exposure to the larger REITs and little to no exposure to the smaller-cap REITs. On the other hand, some of the equal-weighted ETFs tend to be highly concentrated and therefore may be more volatile.
What we didn't mention in the previous article that we think is important is what percentage of your portfolio to allocate to REITs. I hate to respond this way, but: It depends. It depends on each investor's investment profile, which includes too many variables for me to properly answer.
However, if we look at the market capitalization of REITs within the S&P 500, as an example, real estate makes up just 3%. So as a rule of thumb, an investor looking for a baseline level of exposure to REITs should therefore use 3% as a "neutral" allocation within the large-cap allocation of their portfolio. From there, exposure could be added or reduced depending on personal preferences, views on the sector, income needs, etc. It sounds like an immaterial amount, but if you invested in the SPDR S&P 500 ETF Trust (SPY) you would have around 3% exposure to REITs.
REITs as Alternatives to Traditional Equities
The other way investors can use REITs is to use them as an alternative to traditional equities with similar performance drivers. The example we like to use is to use timber REITs for exposure to homebuilding.
In September 2012, I wrote an article about Weyerhaeuser (WY) and followed up with two more articles in 2014 and 2015. It has been a while since we've published an article on the company, but it is still a part of my personal portfolio and was added to the Heard on the REITs portfolio in early August. Since we first wrote about the company, the stock has returned over 40% to shareholders, which compares favorably to the MSCI US REIT Index (RMZ), with a return of 28.9% over the same period.
Comparing the returns on Weyerhaeuser to two of the home-related ETFs, you will notice that there is a strong correlation in the price movements of Weyerhaeuser, with those of the iShares US Home Construction ETF (ITB) and SPDR S&P Homebuilders ETF (XHB).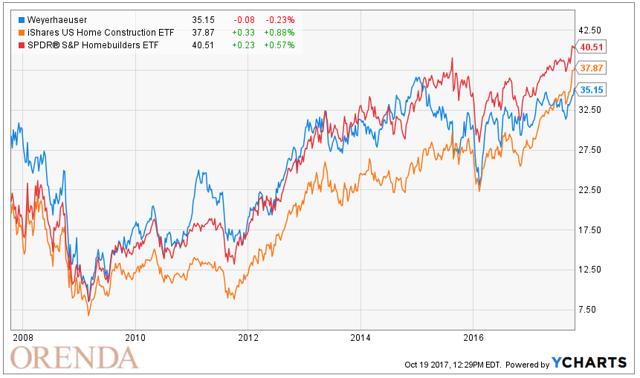 It's not a perfect relationship, and in this case, Weyerhaeuser underperformed both ETFs over the last 10-year period. What I'm trying to highlight here, if not painfully obvious, is that all REITs are mistakenly assumed to be impacted the same by economic factors, when in fact, each sub-sector of the broad US REIT universe has very different characteristics and performance drivers. If you think about the example above, it makes sense that Weyerhaeuser, a provider of lumber to the housing industry, would be impacted by a rise in construction and therefore could be a proxy for homebuilding – even if the performance of homebuilding could lag that of Timber REITs.
The relationship is not perfect because companies in each of these sectors are also driven by other factors that are unique to their specific industry. In the case of timber REITs, they can also be affected by Canadian imports, homebuilding overseas, forest fires, etc., while homebuilders may also be specifically impacted by shortages of labor, scarcity of land, and other factors.
Why We Use the Top Down/Bottom Up Approach
Not everyone will agree with the top-down/bottom-up approach, which I highlighted in a roundtable interview with Seeking Alpha. But it's these types of relationships that we try to uncover when we are looking to put together a portfolio. A top down analysis might reveal that we are in the early stages of a housing boom, in which cas we would look to invest in timber REITs that supply those homebuilders. In a broadly diversified portfolio that invests in more than just REITs, an investor may start with an investment in a timber REIT, rebalance to a homebuilder REIT such as ITB as the homebuilders start delivering units, and then rebalance again to a consumer discretionary name like Williams-Sonoma (WSM), in anticipation of increased purchases of home furnishings.
The bottom up process would specifically identify the companies within each of those sectors I mentioned – I only used Weyerhaeuser and Williams-Sonoma as examples, but it could have just as easily been any other company that was more attractive at the time.
Takeaway
My investment philosophy is highly dependent on the rationale and narrative of a potential investment. It's not good enough to know that a company has a solid balance sheet, strong cash flows, and cheap valuation. That approach works as well, but I prefer to understand a story, of which the specific company is but a chapter. Sometimes we discover those stories by finding companies that look attractive – we realize that the reason why it has a solid balance sheet and strong cash flow is because of the industry it operates in and the opportunities available to it. When that happens, we are left with just figuring out why it's still cheap – because there is always a reason.
As you read our Heard on the REITs articles both on the premium and free site, we hope we can articulate the "themes" behind the investments in addition to the reasons why we picked "that" company to play that theme. And as we always say to premium subscribers - if you have any high-level ideas that you think will come to fruition and want to know how to play it within the REIT universe, send it to us – it's a service we offer to subscribers on a first come-first serve basis.
This article will also be found in the Getting Started section of Heard on the REITs.
Please don't forget to click on the "Follow" link to the right of my name at the top of the article.
Heard on the REITs: Profitable, customizable REIT strategies from expert portfolio strategist Arturo Neto
Heard on the REITs is focused on more than single REIT stock ideas. It's highly valuable, in-depth, institutional-quality research designed to save you time while helping you become a better-informed REIT investor. What's more, you get personalized portfolio asset allocation guidance and actionable REIT investing strategies. At Heard on the REITs, I share my best ideas in a concentrated portfolio while implementing smart strategies to minimize downside risk. As a Heard on the REITs subscriber, you'll invest alongside the one of the top read REIT authors on Seeking Alpha. And until October 24, subscribers save $100 off the annual price, and $400 off the monthly. Join our community today!
The following samples were published for free but these highly analytical reports will only be available in the Premium service from now on.
Sample Premium Research Report
Disclaimer: Please note, this article is meant to identify an idea for further research and analysis and should not be taken as a recommendation to invest. It is intended only to provide information to interested parties. Readers should carefully consider their own investment objectives, risk tolerance, time horizon, tax situation, liquidity needs, and concentration levels, or contact their advisor to determine if any ideas presented here are appropriate for their unique circumstances.
Past performance is not an indicator of future performance.
This post is illustrative and educational and is not a specific offer of products or services.
Information on this blog is not an offer to buy or sell, or a solicitation of any offer to buy or sell the securities mentioned herein.
Information presented is believed to be factual and up-to-date, but we do not guarantee its accuracy and it should not be regarded as a complete analysis of the subjects discussed.
All expressions of opinion reflect the judgment of the authors as of the date of publication and are subject to change.
Any positive comments made by others should not be construed as an endorsement of my abilities to act as an investment advisor.
Disclosure: I am/we are long WY. I wrote this article myself, and it expresses my own opinions. I am not receiving compensation for it (other than from Seeking Alpha). I have no business relationship with any company whose stock is mentioned in this article.