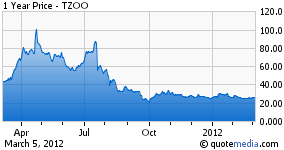 Our quest to unleash value at Travelzoo (NASDAQ:TZOO) continues. We have highlighted the burgeoning conflict between the interests of minority shareholders and the controlling shareholder, founder and director Ralph Bartel.
The silence and non communication from Mr. Bartel reminds us of an Ostrich sticking its head in the sand.
Our advice to Mr.Bartel is that this approach is not worth its lure. In December, we disclosed to Mr.Bartel a financial partner which had expressed an interest in working with us and him in a strategic transaction. Mr.Bartel declined to meet. As we have reported before, the values of TZOO peers such as TripAdvisor (NASDAQ:TRIP) and Priceline.com (PCLN) have far superior (3x) market caps relative to their top-line sales revenue. This is primarily due to the TZOO control shareholder discount.
Our suggestions are to pursue alliances with bigger entities, such as AOL (NYSE:AOL), who are in need of profitable businesses to add to their large but underutilized platforms.
Or in the alternative, Mr.Bartel can open up the books on the Asia Pacific assets he has sequestered for himself and show us what's going on there; TZOO shareholders have an "interested party" right to this information because Asia Pacific assets are subject to a royalty agreement with Travelzoo.
A simple way to expedite this process is to structure a deal where Bartel would receive a fair number of options in Travezool shares with a strike at the current price which using the Black-Scholes model would reflect the value of the Asia Pacific property. This transaction would be handled between the independent directors of TZOO and Bartel.This deal would need a fairness opinion from an investment bank. In this case, with a hyper growth strategy in place, the shares should rise and the value for minority shareholders as well as Mr.Bartel can be shared mutually.
Disclosure: I am long TZOO.