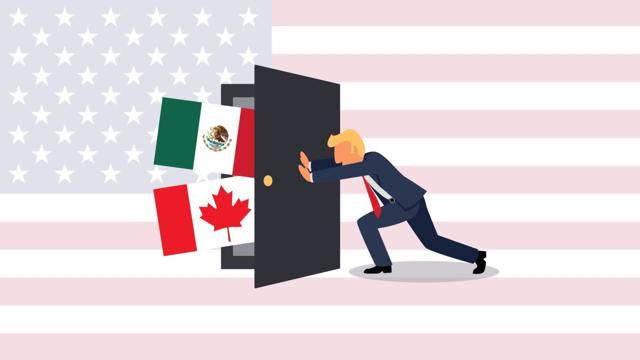 Source: Google Images
Overview
Let me just start out by stating that I have exposure to companies that will be strongly impacted by a termination of the North America Free Trade Agreement (NAFTA). It is not as easy to own a company these days that has no exposure with trade between the U.S., Canada and Mexico, especially ones with manufacturing operations. If you truly want to transcend regional borders, own technology, among other sectors.
To date, there have been four rounds of discussions regarding NAFTA between the three countries. The next upcoming round will be in Mexico City on November 17th, less than a month away. What has been consistent through the first four talks is that there remains a gap between the U.S. and Canada and Mexico regarding how to address each country's primary objectives for any renegotiation.
President Trump and the U.S. have clearly been pushing for changes to NAFTA, notably through a reduction of the U.S.-Canada and U.S.-Mexico trade deficits. But the U.S. focus has come off as one-sided for both Canada and Mexico. Reducing manufacturing within Canada and Mexico, while increasing production within the U.S., while at the same time increasing U.S. exports to both North American countries, is not politically acceptable to these nations.
As reported a couple of days ago, the U.S. is looking for specifics including more U.S.-made parts and materials, lax dispute-resolution mechanisms to allow more flexibility for tariffs and a new clause where NAFTA would need approval every five years, or end.
Other reports have espoused Mexico's position as being already prepared for a NAFTA termination. This gets us to the crux of where investors need to be paying attention. NAFTA has been a good deal for all three countries as business has grown for all regions. Politically, it has been a good deal as well – not until President Trump was elected were there any thoughts of revisiting the agreement.
Since President Trump has now shifted the focus to the deal being bad, both Canada and Mexico have followed suit, making similar claims regarding how it has not been the best deal for their respective countries – don't you love politics?
In my opinion, in taking a harder stance against the U.S., Mexico is preparing for the worst-case scenario. And why not? President Trump has been much more aggressive in speaking towards Mexico and trade, as well as in the whole wall discussion.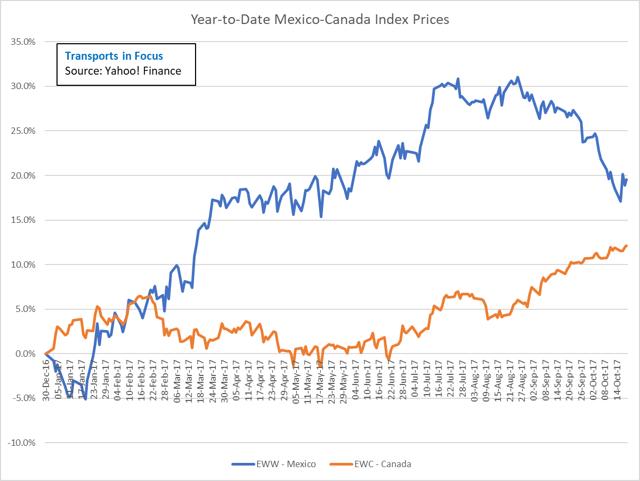 As the winds have shifted with talks now in full swing, Mexico's broad index has pared one-third of its gains earlier in the year. At the same time, Canada's market index has continued to trek higher, getting closer to parity with Mexico.
Over the past few weeks, similar trading patterns have emerged for U.S. companies with higher exposure to Mexico. Even companies within Mexico trading on U.S. exchanges have seen a decline from earlier performance. Examples have included Kansas City Southern (KSU), Calavo Growers (CVGW), Grupo Aeroportuario del Pacifico (PAC) and Controladora Vuela Compania de Aviacion (VLRS), among others.
But there are other companies exposed to Mexico including transports, agricultural, energy and many other sectors and industries. Most of these including substantial U.S. export businesses, expecting to continue to see growth over the long term.
As NAFTA negotiations continue to take shape, investors need to be thinking about the short term risks, namely a worst-case scenario where the deal is terminated. They also need to consider the long-term stability and potential even as Canada and/or Mexico could become less of a trading partner.
Select Company Focus
As stated earlier, I have exposure to NAFTA from the following companies:
Cal-Maine Foods (CALM)
Canadian National (CNI)

Calavo Growers

FedEx Corporation (FDX)
Greenbrier Companies (GBX)
Hub Group (HUBG)
J.B. Hunt Transport (JBHT)

Kansas City Southern

Lamb Weston (LW)
Matson (MATX)

Grupo Aeroportuario del Pacifico

Prologis (PLD)
Sanderson Farms (SAFM)
Schneider National (SNDR)
XPO Logistics (XPO)
All of these companies obviously have varying levels of exposure to Mexico. It also would be somewhat painstaking to attempt to dissect all of these companies at the same time. Seeking Alpha provided a high-level roundup of reactions to a worst-case NAFTA termination scenario. Within this overview, both transports and the poultry industries were highlighted – and these areas will be reviewed, mostly focusing on Mexico.
President Trump's aspirations to improve America are warranted and welcomed. The political dialogue among the U.S., Canada and Mexico has seemingly been most volatile and negative between the U.S. and Mexico. While Canada is at risk, the focus is on Mexico for many public companies.
Transports
The Seeking Alpha overview did a good job of highlighting the key rail operators, Kansas City Southern and Union Pacific (UNP) for Mexico and the Canadian rails, and also mentioned a couple of trucking firms in Celadon Group (CGI) and Werner Enterprises (WERN).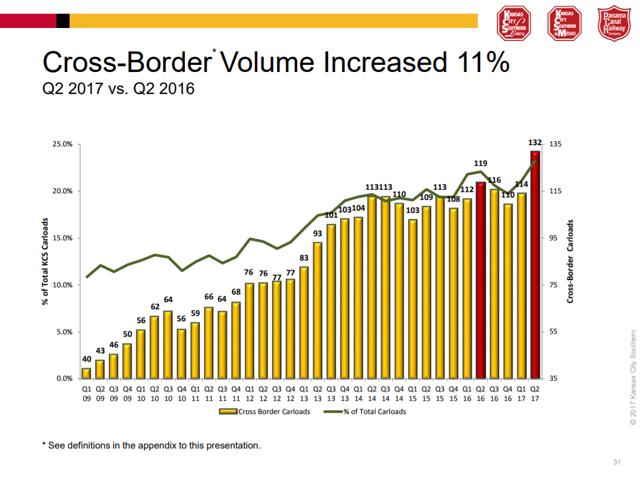 Source: Kansas City Southern Second Quarter Earnings Presentation July 21, 2017
But investors should be clear that Kansas City Southern's exposure includes service for cross-border trade, as well as domestically within the U.S. and Mexico. The Mexico side of the picture generated around 47 percent of Kansas City Southern's total operating revenue through the first half of 2017 at $600 million, with the majority coming from cross-border trade. Union Pacific had much less exposure proportionally, but generated around $1 billion for the first half of the year.
For trucking, both Celadon and Werner were good to mention, but there are many other companies with exposure including intermodal providers (especially for automotive parts), as well as companies like FedEx and United Parcel Service (UPS). The trucking market is highly fragmented with leading carriers likely to have around $200 to $400 million in operating revenues exposed to Mexico on an annual basis. Due to fragmentation, proportional Mexico revenues are likely to be at or below 10 percent.
Commodities transported to and from Mexico include parts and packaging, as well as agricultural, meats, and other finished goods for exports – and mostly finished goods to the U.S. as imports. It is worth noting that Mexico has traditionally held the highest U.S. content as a proportion of imports back to the U.S., with Canada being second. Forty percent of U.S. content has been estimated to have been included in finished goods imported to the U.S., with close to 25 percent for Canadian imports.
This point is important as President Trump will have two challenges in withdrawing from NAFTA. The first is clear as sectors exporting goods to Mexico will be at risk of geographical replacement. The second is that a decrease in imports from Mexico will impact production in the U.S. Both will have the potential for negative effects of reducing employment.
As mentioned, investors need to keep apprised of the short-term risks and the big picture. For transports, this requires a few different approaches for the three general company areas mentioned above. Kansas City Southern in the short term, clearly, has the most to lose from a NAFTA withdrawal. But longer term, the company would still benefit from its automotive industry facilities and businesses within the U.S. and Mexico. The political climate is also not likely to remain the same over the long term.
For companies like Union Pacific and the trucking industry, the impacts would be less severe. But investors should understand that in the short-term, markets would react negatively to all companies with exposure to electronics, machinery, automotive, furniture, and even medical instrument industries. This transcends most, if not all, of the transport sector.
Poultry Industry
The poultry industry has contrary potential impacts from a NAFTA withdrawal, depending on what side of the investment spectrum you are on. Looking to the shell egg industry, the impacts seem to be less severe.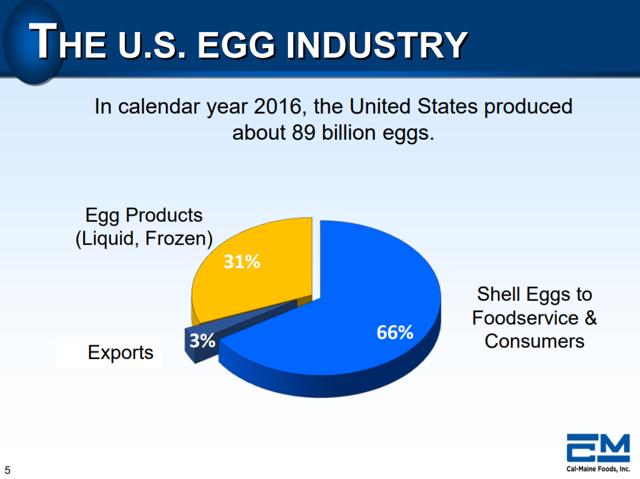 Source: Cal-Maine Investor Presentation August 2017
For calendar year 2016, only 3 percent of all U.S. produced eggs were exported outside of the country. Without even getting into exports to Mexico, this is a very low number. Historically, this is not necessarily been reflective of where export volumes have occurred, but the timing of lower exports and NAFTA risk could not have been better.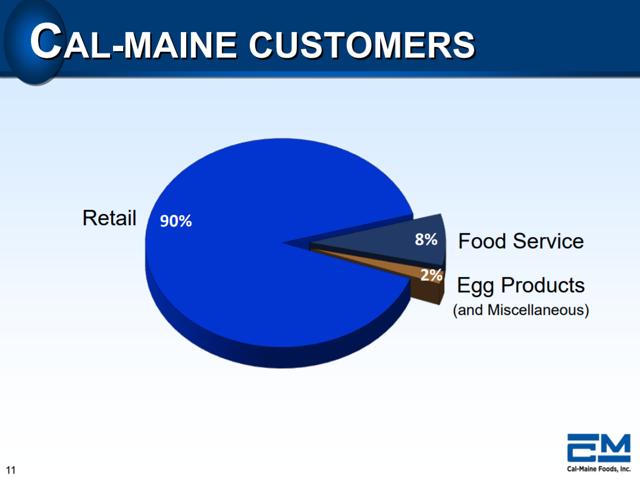 Source: Cal-Maine Investor Presentation August 2017
Specifically for Cal-Maine, the substantial majority of its egg production has traditionally served the U.S. market, whether for retail or foodservice. Cal-Maine has stated that the United States Department of Agriculture (USDA) has reported that egg export demand has improved of late, but that it has not fully recovered to levels prior to the avian influenza outbreak from 2015.
Due to the fragmented nature of the egg industry, it is likely that a NAFTA termination would not have as extreme of a direct impact on Cal-Maine, despite the company being the largest market leader.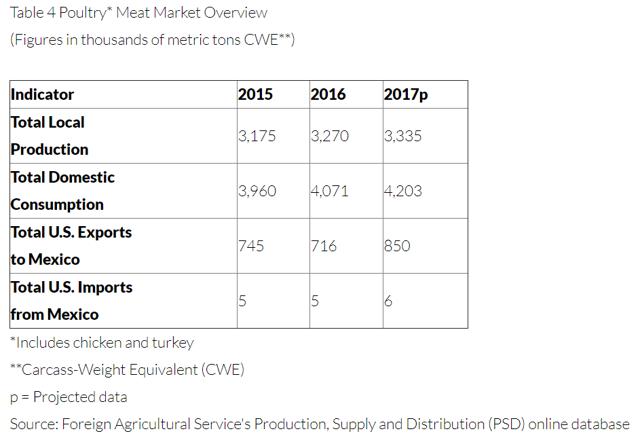 Source: Mexico – Agriculture Overview Report Last Published: 9/16/2017
For chicken producers, the opposite would be true. While eggs exported from the U.S. reflected only 3 percent of production in 2016, poultry including chicken and turkey reflected nearly 22 percent.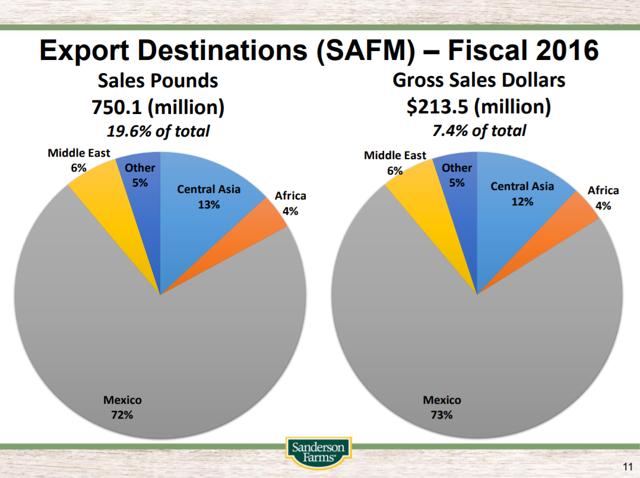 Source: Barclays Global Consumer Staples Conference September 5, 2017
Sanderson Farms' fiscal year 2016 export pounds sold reflected 20 percent of the total, with 72 percent having a Mexico export destination. This equates to just over 14 percent of Sanderson's total poultry pounds sold, which was just shy of 3.8 billion in 2016.
The net sales impact is much less when focusing on revenues. For Sanderson, the impact for fiscal year 2016 was less than 6 percent. Compared to other peers, Pilgrim's Pride (PPC) had roughly 15 percent of net sales to Mexico over the first six months of 2017. Larger scale chicken producers have a higher proportional exposure to Mexico. Tyson Foods (TSN) being the largest exporter from the U.S. Aside from these three market leaders, there is still a large fragmented market of private companies.
Joe Sanderson was quoted at the annual investors' conference as saying that a worst-case scenario would be bad for the agricultural industry and for Sanderson farms in particular. Some may be wondering how exports reflecting less than 6 percent of the business could be a bad thing. Looking at the industry and production capacity holistically, in the event Mexico sourced its U.S. imported chicken from another global geography, this could lead to a supply imbalance driving chicken prices lower domestically. Stable and/or increasing chicken pricing is one of the most important dynamics for increasing company sales and profits.
This type of scenario would lessen the U.S.'s competitive position globally for chicken exports. With other countries still having bans on U.S. chicken including India, China, Nigeria and Egypt. These nations have a population over 3 billion.
A NAFTA withdrawal from the U.S. would likely lead to selling pressure for poultry producers and other meat producers as well. Any lower valuation impacts in the short term would potentially offer long-term upside potential once the market had fully digested changes.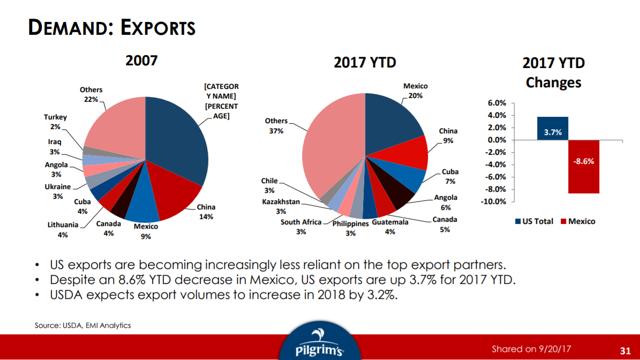 Source: Pilgrim's Investor Day September 20, 2017
On the positive side, Pilgrim's Pride provided this slide from its investor day presentation, depicting increased export demand, despite weakness from Mexico during 2017. This is the longer-term focus that investors should have regarding any perceived risks from NAFTA going away. Just as Mexico is prepared to look elsewhere, the U.S. still has abundant options for trade.
Summary
The biggest challenge for investors today is that we really do not know whether President Trump will one day actually attempt to undo NAFTA. Congress would still likely need to make a decision to withdraw, but the process would have a very negative effect with U.S. and Mexico trade relationships in particular. This has come more into the spotlight as renegotiation efforts have gone nowhere, and next year's new Mexican president also is a wildcard, leading to added uncertainties.
For transports, Kansas City Southern is at the highest risk. If the U.S. were to withdraw from NAFTA, the floodgates would be opened for a tit-for-tat type of relationship for border trade. This would have a short-term impact for Kansas City Southern as either country would look to increase the cost to import goods. This would lead to the consideration of trade with other nations.
The market could easily punish Kansas City Southern by a -20 percent decline or greater. But over the long term, the rebalancing of trade would still offer the company solid prospects even with a discounted valuation.
Trucking stocks and Union Pacific would offer stronger short-term buying opportunities depending on how far stock prices were initially hit, if NAFTA were terminated. The exposure just isn't the same as Union Pacific operates within Mexico via an equity interest in Ferromex, and the trucking industry relies upon third-party Mexican companies for power units. Relative operating revenue impacts would be less severe.
For Cal-Maine, markets could be extreme and the company still could be affected from NAFTA events. But with the company's primary customers being retail and including Wal-Mart Stores (WMT), The Kroger Co. (KR) and Costco Wholesale Corporation (COST), any strong selling as a result would represent a possible buying opportunity.
For chicken producers, there would likely be a significant market reaction to a NAFTA termination. However, the global market could be much quicker to offer alternative demand similar to what we have actually seen during 2017.
For the portfolio I have under management, recent information suggests taking a closer look at companies exposed to NAFTA. Renegotiations have gone poorly (not a surprise) and investors should have a strategy for the worst-case scenario. From what I've seen for transports and the poultry industries, fully liquidating positions is not necessary, unless an investor is not comfortable with the risk of losing value in current holdings in the short term.
I see no need to lighten positions in Cal-Maine or Sanderson more than normal. If I were exposed more heavily to Kansas City Southern, I would consider lightening up sooner than later – today it reflects 1.4 percent of the portfolio.
Investors with long-term outlooks for their investments need to be prepared for more volatility in the short term as it is uncertain whether NAFTA will remain in place. Panic selling is never good, but lightening up is a good idea based on uncertainties. Volatility will undoubtedly provide buying opportunities if change is drastic. For those with short-term investment horizons, now may be the time to lighten up and/or rethink investment strategies based on the risks.
Disclosure: I am/we are long CALM, CNI, COST, CVGW, FDX, JBHT, HUBG, MATX, SNDR, PAC, XPO, LW, PLD.
I wrote this article myself, and it expresses my own opinions. I am not receiving compensation for it (other than from Seeking Alpha). I have no business relationship with any company whose stock is mentioned in this article.
Editor's Note: This article covers one or more stocks trading at less than $1 per share and/or with less than a $100 million market cap. Please be aware of the risks associated with these stocks.