A little over a week ago, in an article titled "The Trump Administration Vs. Corn Belt Senators," I wrote about the looming conflict between the Trump administration's Environmental Protection Agency [EPA] and producers of corn ethanol and biomass-based diesel.
The EPA under former Oklahoma attorney general Scott Pruitt surprised biofuel producers at the end of Q3 by formally proposing to reduce the volume of biodiesel that must be blended under the U.S. revised Renewable Fuel Standard [RFS2] biofuel blending mandate while also reportedly working on a proposal that would have reduced the mandate's Renewable Identification Number [RIN] prices.
For more than a year, merchant refiners have been lobbying the EPA to reduce the prices of the RINs that companies such as Valero (VLO), CVR Refining (CVRR), CVR Energy (CVI), and PBF Energy (PBF) purchase in large volumes in order to comply with the mandate, and last month's announcements suggested that they were finally about to get their wish. As my previous article concluded, however, the result was not preordained:
About the only realistic short-term prediction at this point is that headline volatility will continue to affect the share prices of merchant refiners and biofuel producers as 2017 draws to a close. The good news for biofuels producers (and bad news for merchant refiners) is that a substantial number of U.S. senators have stepped into the fray in support of the biofuels mandate.
It now appears that the headline volatility will not even last until November due to a concerted response by the aforementioned Corn Belt senators (and governors). According to Bloomberg, President Trump has "intervened personally with the EPA" by directing Mr. Pruitt to "to back off any changes that would dilute" the RFS2.
Mr. Trump has also called Iowa's governor to reaffirm his election campaign pledge to fully support the blending mandate. The EPA's proposals, which were always on legally-dubious grounds given recent federal court decisions, appeared at the time that they were publicized to represent temporary relief for merchant refiners at best. Now it appears that they will not even achieve that.
Not surprisingly given their rallies in response to last month's news items, merchant refiners' share prices declined in the wake of Bloomberg's headline, led by CVR Refining and Delek US Holdings (DK). CVR Refining's response in particular could have been predicted given that the effort to reduce RIN prices was led by activist investor and CVR Refining owner Carl Icahn during his brief stint as special adviser to President Trump.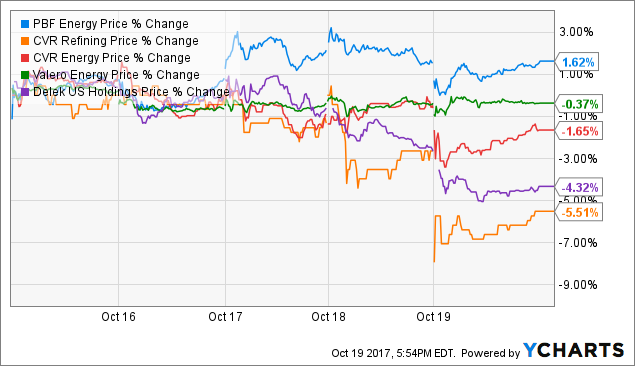 PBF Price data by YCharts
That said, the share prices of merchant refiners have continued to benefit from a tailwind in the form of the persistent spread between the prices of WTI crude and refined fuels that opened up in the aftermath of Hurricane Harvey. While this spread is not as high as it was last month, refiners are enjoying some of the strongest refining margins of the year (see figure), allowing investors to overlook the headline impacts of high RIN prices on merchant refiners' earnings reports.
The continued presence of these comparatively strong margins will be increasingly important given the prospect of record-high RIN expenditures being reported by merchant refiners when annual earnings are released early next year.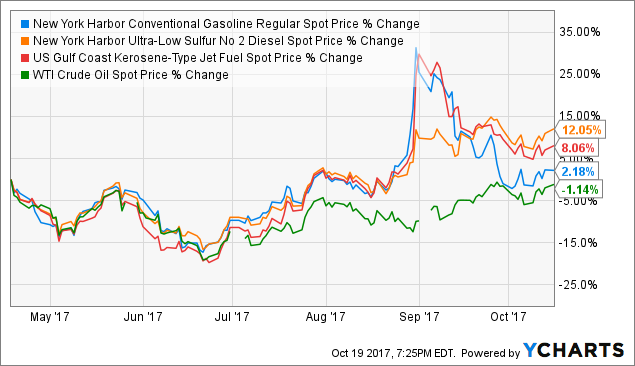 New York Harbor Conventional Gasoline Regular Spot Price data by YCharts
The response by biofuel producers, particularly biomass-based diesel producers, has been more surprising. Renewable Energy Group's (REGI) share price fell by roughly 15% in the aftermath of the EPA's September announcements and, while it regained some of that lost ground today, it is still well below its earlier highs (see figure). Meanwhile FutureFuel (FF), which as a diversified chemicals and biodiesel producer was not as negatively impacted by the September news, has seen its share price decline this week.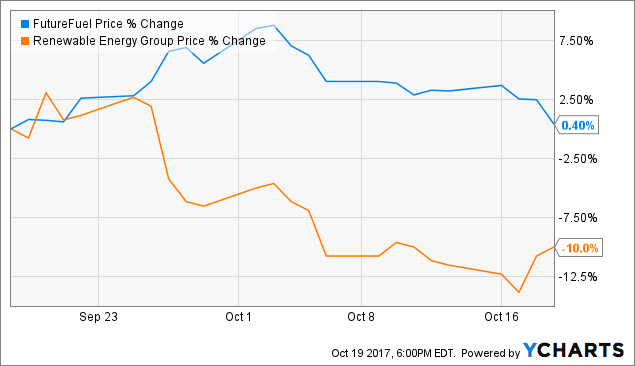 FF data by YCharts
The share prices of ethanol producers have also exhibited weakness of late, although much of this admittedly predates Wednesday's headlines. Archer-Daniels Midland (ADM), Green Plains, Inc. (GPRE), Green Plains Partners (GPP), Pacific Ethanol (PEIX), and REX American Resources (REX) are all on track to end the week lower, with only The Andersons (ANDE) remaining in positive territory over the last five days (see figure).
Corn ethanol producers are probably the least affected of the companies mentioned by RIN prices, however, and their recent share price underperformance likely reflects the fact that the harvest across the U.S. Corn Belt is largely behind schedule, raising the risk that an early cold snap will negatively affect harvest yields.
ANDE Price data by YCharts
The probability was always high that the Trump administration would ultimately walk back the EPA's proposed changes to the RFS2. In addition to the Corn Belt's historical over-representation in the U.S. Senate and the lack of a legal precedent for the EPA's proposals, the fact that Senator Chuck Grassley, a senator from Iowa who has been a major renewable fuels booster in the past, is also chairing the Senate committee that is investigating ties between Russia and the Trump election campaign, meant that the White House lacked much leverage for reducing the blending volumes.
Unfortunately, for merchant refiners, this backlash has prompted a rapid reversal by the White House, limiting their opportunity to take advantage of even temporarily-lower RIN prices. RIN prices are already in the process of returning to their YTD highs across the board (see figure). Investors can expect this new trend to be reflected in merchant refiners' end-year earnings calls.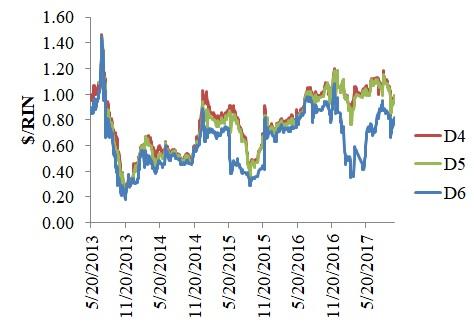 Source: EcoEngineers (2017).
Disclosure: I am/we are long PBF, FF.
I wrote this article myself, and it expresses my own opinions. I am not receiving compensation for it (other than from Seeking Alpha). I have no business relationship with any company whose stock is mentioned in this article.