Many tech analysts have classified Apple's (AAPL) new iPhone announcement, in the 12th September event, as uninteresting. Many have stated that the new products have some usability issues, as if it never happened before. Others have noted that the products don't have anything significantly new. Again, as if it never happened before.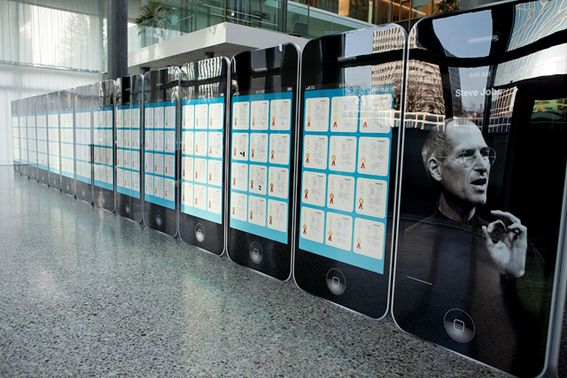 Photo source: USMG
The most important thing wasn't the phone
In my opinion, the three iPhones seem on par with competition and ready to sell like hot cakes just like in previous occasions. However, the most interesting stuff stemming from Apple's presentation wasn't about the new phones, it was about the pricing segmentation. This will have a huge impact on how the phones will sell.
A couple of years ago, the introduction of the iPhone 5C created a lower tier iPhone segment for an audience running on a lower budget. The iPhone X inverts the pyramid. Now, the cheapest phone, from the new generation, is the iPhone 8 starting at $699, for the simplest version. The iPhone X starts at USD $999.
You won't find many companies capable of raising prices 25%. It reminded me of Warren Buffett's concept of an economic moat. He still emphasizes that great businesses are a natural hedge for inflation because they can pass onto the consumer the cost of inflation. Apple is clearly testing this assumption by raising prices for its flagship phone.
Mobile phones and computers are a commodity
Computers and mobile phones tend to be commodities. Only the high-end spectrum of the market resists this trend, mainly because it incorporates the most advanced and exclusive tech. Since the rate of technological development is very high and imitators also are very fast, consumer electronics tend to get commoditized very fast.
In this regard, Apple's proprietary OS has conferred a differentiation element to the iPhone. In part, this has allowed Apple to be positioned as a premium consumer brand apart from its competitors, and to be able to extract a premium on its products. However, Apple's products have been on the same price bracket as flagship phones from Samsung (OTC:SSNLF).
With the iPhone X, Apple is taking a huge gamble on its brand. Apple is trying to prove that it can sell phones on a price point where no other mainstream brand can (or at least has tried to).
One interesting side note stems from Apple's dwellings on the Apple Watch, which might have been fundamental for this gamble. Apple's watch has been positioned as a hybrid between an electronics gizmo and a fashion accessory. The idea of decoupling the price of the iPhone from a high-end gadget status to an accessory status might have inspired Apple to make the same move on the iPhone.
Risks and Rewards of Apple's Strategy
If Apple succeeds, the rewards might be tremendous. First, Apple could disrupt the traditional marketing price points that have guided this industry for a long time. This could be a good way to attenuate the fading out of the explosive growth that Apple enjoyed during the last 10 years.
Additionally, it might open some doors to other tweaks in the product line-up. But most importantly, this might bring new tech to market at higher price points. In other words, products that wouldn't see the light of the day because they cost too much to make might now reach the market faster.
Apple might be positioning itself to grow its revenues without having to sell more products, it will just sell them at higher price points while anticipating tech and playing with its aspirational brand status. Obviously, this isn't a zero-sum game. If Apple is selling products in higher price brackets, it might lose some sales volume.
Overall, the new pricing points should impact the iPhone's ASP, and it might now reach a new record.
Graph 1 – iPhone Sales vs ASP over time (source: Apple Insider)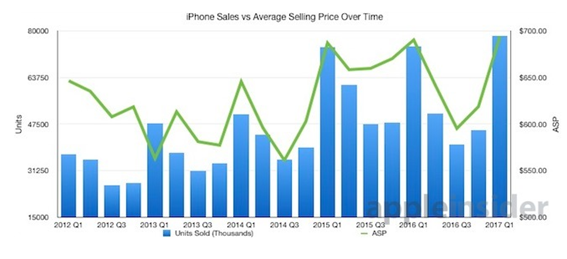 Piper Jaffray estimates that the ASP for fiscal 2018 will be around $710. However, the costs of the new iPhone X also will be higher. The OLED screen alone should cost around $110 per unit. As a comparison, all the iPhone 7 components should be costing around $220.
If we also consider the capitalized R&D costs and infrastructure needed to start this new product cycle, then we understand that these are huge upfront costs that must be spread over time. The higher costs will pressure margins at the beginning of the period, while providing some relief after a couple of quarters.
Therefore, what we are seeing is that the new segmentation strategy is not prone to achieve quick wins. Basically, Apple will likely face an initial period of higher costs with components and software development. At least, until the production learning curve and scale allows for lower costs. In other words, this new marketing setup might be a nightmare for operations.
Additionally, this new positioning is challenging. There are strong indications that this will impact consumer behavior. It was expected that consumers would start buying the iPhone 8 at a similar level that they used to buy the previous entry level iPhone. However, consumers might not yet be convinced that the entry is now at $699, meaning they are sticking with the iPhone 7 or waiting the iPhone X.
This threatens the iPhone 8 line and might force Apple to refine its marketing segmentation. Several problems come associated with an event of this kind. Having a pricing point badly covered might attract competitors. For instance, Huawei already is launching an iPhone X competitor at a lower price, meaning it will go head on with the iPhone 8 lines.
Impact on Apple's stock price
The new X line is going to have more expensive components, which means margins will be under pressure for the initial quarters of this product cycle. Additionally, all the initial R&D and manufacturing costs will weigh more during the begging of the product cycle.
On the same note, consumers might take a bit or even reject part of this new marketing proposition. So far, the 8 line seems to be overlooked by consumers while the iPhone X is still being produced at a slow rhythm, not contributing significantly to sales. This leaves the flank open and might attract competition.
All in all, I'm expecting the end of 2017 not being memorable in terms of financial results for Apple. Most likely, the stock price will follow. I think this will be a good opportunity to buy the dip.
Apple is a great consumer brand and it has been well nurtured. When you are trying to change a paradigm, mistakes are made. That's nothing new. Financial results will suffer and some adjustments to the overall strategy will be needed, but that's acceptable. In the long term, the company should be able to capture the new $999-plus price point and change the game once again.
The implications of an inverted price pyramid might stir things up for the following quarters, but, in the end, the higher ASP and lower costs stemming from the learning curve should prevail. In the long term, Apple should get higher sales and higher profits. If this scenario materializes, the stock price will follow.
Disclosure: I am/we are long AAPL.
I wrote this article myself, and it expresses my own opinions. I am not receiving compensation for it (other than from Seeking Alpha). I have no business relationship with any company whose stock is mentioned in this article.