Yamana's decision to face the taxman's music will be discussed in this week's Resource Sector Digest (Vol. 110 - October 16, 2017)
Brought to you by Itinerant and The Investment Doctor
Before we start, please consider our cordial invitation to join Itinerant Musings for exclusive access to actionable research on mining and energy stocks.
In case you missed out on previous editions of this newsletter, simply click here, here, or here to catch up.
Setting The Scene
Buried deep in Yamana Gold's (AUY) report for the full year 2012 one can find the following piece of information (page 83, footnote 13 - Contingencies).
"In December 2012, the Company received an assessment from the Brazilian federal tax authorities disallowing certain deductions permitted under debentures for the periods 2007-2010. The Company believes these debentures were issued on commercial terms permitted under applicable laws and as such, the Company believes that the assessment has no merit and is challenging same."
Didn't sound like a big deal then, and it certainly wasn't worth a mention in the corresponding earnings call. In subsequent reports and MD&As, the item was maintained in its innocuous place year-in year-out, and just to make sure eyebrows remained unraised, the following statement was added until as late as the Q1 2017 report:
"As such, the Company does not believe it is probable that any amounts will be paid with respect to these assessments with the Brazilian authorities and the amount and timing of any assessments cannot be reasonably estimated."
This tune changed rather drastically in this year's Q2 report:
"The Company has maintained and continues to maintain the view that it should ultimately be successful in its challenges of these assessments. However, a new law has recently been proposed that would allow companies to settle outstanding income tax matters in many cases for amounts substantially less than the amounts under discussion. The Company has determined to participate in the program under this proposed new law. This would represent a commercial resolution of this legal issue in a way that creates immediate financial certainty."
So, how much is Yamana prepared to pay in exchange for "financial certainty"? Turns out a whole lot, according to the latest news release:
"The Company has paid $30.5 million year to date, and has allocated another $14.8 million for a payment it plans to make in the next few weeks, and thereafter plans to pay $29.3 million by end of year."
The tally is $74.6M for the year 2017; and there is more: going forward, Yamana will most likely be required to pay $8.6M per year until 2029. In total, this tax bill is adding up to $177.8M.
Yamana goes on to point out strong cash flows and a cash balance of $125M at the end of Q3, only a tad down from the cash balance of $132.3M at the end of Q2. All good then? Not really, we think, as we ponder the company's working capital reported at just $63.1M at the end of Q2. Consequently, working capital (not cash) will be the item to watch closely when Yamana releases Q3 financial results after market close next Thursday, October 26, 2017.
And, there is another concern. Yamana is paying down its tax bill rather than its debt. And, that's a worry, as $110M in long-term debt will be coming due in 2018 and $233.2M in 2019.
In short: Yamana's balance sheet appeared stretched already before the Brazilian tax deal surfaced; and it will most likely look worse once this $177.8M liability is booked. Next week's earnings call will probably hail operational excellence and progress at Cerro Moro. However, in our opinion, the balance sheet will be the item most deserving of investors' attention, and don't let CEO Peter Marrone tell you otherwise.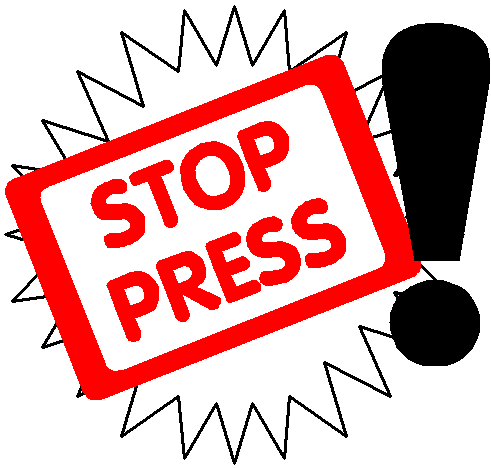 News Release of the Week
News release of the week goes to B2Gold (BTG) for completing mine construction and pouring a first gold bar at Fekola in Mali three months ahead of schedule. To boot, the company also reported strong Q3 operational results, driven by a very strong quarter at Otjikoto.
Drill Result Summary
Wheelings and Dealings
Not surprisingly, a royalty agreement has been struck between Osisko Gold Royalties (OR) and junior zinc explorer Osisko Metals (OTC:BWMXD). C$5M buys the former a 1% NSR on the Bathurst Mining Camp properties of the latter.
Nemaska Lithium (OTCQX:NMKEF) is eying another financing round and has issued an update on Whabouchi production in support of the initiative. The market was clearly impressed.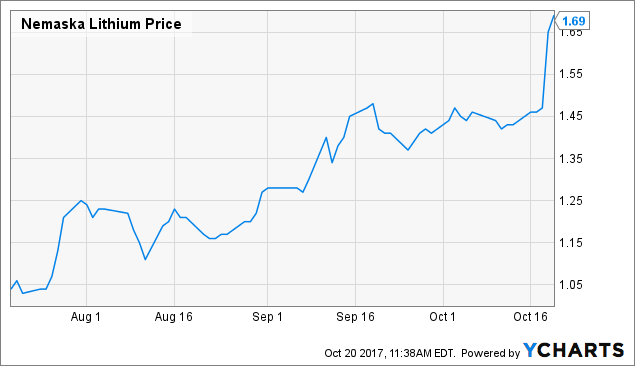 NMX data by YCharts
Millennial Lithium (OTCQX:MLNLF) has completed the staged acquisition of its Pastos Grandes property in Argentina. Itinerant Musings subscribers will be pleased to note the subsequent rally which has taken the share price well above C$2 over the past few days.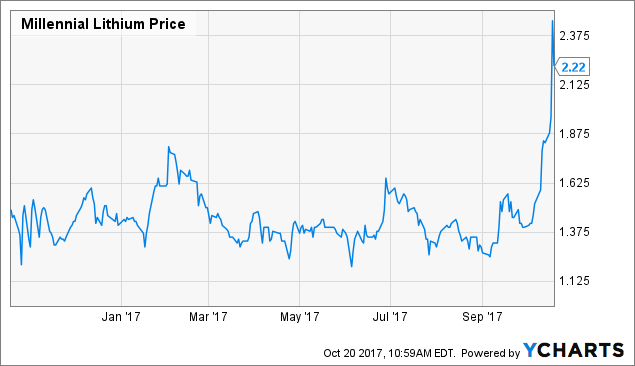 ML data by YCharts
Other News
Roxgold (OTC:ROGFF) reported solid operational Q3 results setting the company up to achieve the upper end of its already increased guidance. The company has already started construction works for the Bagassi South expansion project, ahead of the release of the associated FS scheduled for later in Q4.
Imperial Metals (OTCPK:IPMLF) reported production for Q3 from its two operating mines Red Chris and Mount Polley. Improvements from the previous quarter were insufficient to meet targets set in July, and consequently, guidance was cut. The company is still working on a financing plan and remains in non-compliance with covenants under its senior credit facility.
Garibaldi Resources (OTC:GGIFF) is the latest glamour stock with a property in the Golden Triangle. The performance shown in the chart below was achieved without releasing a single assay result, but on the back of otherwise promising news releases, and Eric Sprott participating in a recent financing. Last week's project update provided even more promises - AlphaMining Blog has some useful commentary.
GGI data by YCharts
Rye Patch Gold (OTCQX:RPMGF) reported disappointing production results from its La Florida mine in Nevada. Gold output remained below expectations as the company continues to target Q1 2018 for commercial production. A sub-sequent announcement of a three-year exploration plan did little to improve this scribe's opinion of the junior, rude Otto sums it up succinctly here.
McEwen Mining (MUX) is inching ever closer to starting development on its Gold Bar project in Nevada. The EPA has published a "notice of availability of the final environmental impact statement" paving the way for a Record of Decision to be issued in November. Mine construction is scheduled to start immediately thereafter.
And here, we pull the curtain on this edition, in expectations of our good Doc to take care of next week's edition; and in great hope to see youse all on the occasion.
And Before We Go...
Please consider a subscription to Itinerant's Musings, with exclusive access to our small and mid-cap ideas, a lively community, and regular commentary and outlook on metal prices. We'd love to have you on board.
Disclosure: I am/we are long MLNLF. I wrote this article myself, and it expresses my own opinions. I am not receiving compensation for it (other than from Seeking Alpha). I have no business relationship with any company whose stock is mentioned in this article.
Editor's Note: This article covers one or more microcap stocks. Please be aware of the risks associated with these stocks.